Found August 28, 2012 on NorthWest Sports Beat:
PLAYERS:
Russell Wilson
,
Jeff George
,
Josh Brown
,
Russell Brown
,
Drew Bledsoe
,
Mike Holmgren
,
Ryan Leaf
,
Mark Rypien
,
Trent Dilfer
,
Matt Hasselbeck
,
Willie Roaf
,
Jerome Bettis
,
Walter Jones
,
Shawn Springs
,
Joey Galloway
,
Ricky Proehl
,
Pete Carroll
,
Matt Flynn
,
Tarvaris Jackson
,
John Schneider
,
Sidney Rice
,
Kellen Winslow
,
Zach Miller
,
Doug Baldwin
,
Marshawn Lynch
,
Robert Turbin
TEAMS:
Seattle Seahawks
,
New York Jets
,
Cleveland Browns
,
Tennessee Titans
,
New England Patriots
,
Washington Redskins
,
Buffalo Bills
,
Notre Dame Fighting Irish
Interesting history I've always been fascinated by team numbers. Numbersology  as I call it. Yes I made that word up. My wife always tells me I have my own language of "Q-isms." That's another. The #3 is a number that we have only seen on display in Seattle a handful of times in the Seahawks short 36 year history. Three are quarterbacks, the rest kickers and punters. The seven men to wear the #3 since the 1976 expansion franchise called the Seahawks entered the league are…
John Leypoldt – Kicker – 1976-77 (24 Games)
Rick Donnelly – Punter – 1990-91 (19 Games)
Rick Mirer – QB –  1993-96 (55 Games)
Rohn Stark – Punter – 1997 (4 Games)
Jeff George – QB – 2002 (0 Games)
Josh Brown – Kicker – 2003-2007 (89 Games)
Russell Wilson – QB – 2012-?
It's currently being resurrected by its third quarterback now, and based on what I've seen in just over 6 quarters of exhibition football I have a sneaky feeling its going to be the most distinguished #3 this franchise has ever seen. Let's reminisce about the guys I can remember shall we? (Born in 72, so I remember a few of them) Josh Brown 2003-07 Current Team: Unemployed (CUT as of today by the N.Y. Jets)…my heart goes out to him.
Born: 4/29/1979 Tulsa , OK
College: Nebraska
Experience: 10th season You had a couple moments in time for the Seahawks didn't you Josh? Highs: For me there's two. The first one being the last second win vs. the Cowboys in the Super Bowl 2005 season. Who can forget BIG play Babs racing down the sideline after intercepting WSU's Drew Bledsoe. I can still see him running. It was wonderful to see the infamous Cowboys on the wrong end of yet another last minute comeback. Babs BIG play set up Josh Brown for the eventual game winning FG. A 50 yarder with 5 seconds left on the clock. (He'd already made a 55 yarder earlier that day) The team ran onto the field, Brown chucked his helmet and ran around Qwest like a crazy man. An epic day. Lows: Can there be anything other than Josh Brown essentially giving the Seahawks organization (Which had made him a millionaire for kicking a ball) the bird? HERE is the transcript of that conversation from Danny O'Neil of the Seattle Times. (Have a read)
The famous Brown quote "I felt like I put myself in the situation in the way that I played as to where I couldn't be kind of a prisoner to the businessman and go off what he thought was best for me." & "I think I've done everything that you asked and I would like to be compensated for it in such a manner as the market says. And the market spoke."
Ok Josh, whatever. I'll let you conveniently forget that botched 55 yard FG in Super Bowl XL. That would have been a nice one to have back! Anyways I digress. Josh Brown left the Seahawks in a stab-us-in-the-back kind of way and I will never get over that. It was fun to see him hack his way around St. Louis with their years of losing while he kicked for them. Hope that was worth it Josh. Jeff George 2002 Current Team: Retired, or possibly still playing Arena league. Possibly a backup in the Raiders organization, I'm not sure.
Born: 12/8/1967 Indianapolis , IN
College: Illinois
Experience: 14 Seasons Highs: NOT With the Seahawks. I'll spare you the details. See Atlanta 1994, 1995, and Oakland 1997. Lows: Why the Seattle Seahawks brought this guy in I'll never fully understand. Mike Holmgren must have really thought he was on the Titanic. 2002. George playing for his 32nd franchise. The Year was 2002. Holmgren's 3rd year in charge of the club. He was desperate. He needed arms so bad he even brought in Ryan Van **** (Who?), Ryan Leaf, and Mark Rypien. George I believe was the 18th, or 8th QB in the system that year. It was crazy. Trent Dilfer had won the starting job from Matt Hasselbeck (after single-handedly winning the Super Bowl vs. the Giants for Baltimore) and went down with a season-ending injury, Holmgren needed a spark for his 2-5 team. He had lost most of his faith in the young prodigy he'd brought with him from Green Bay, so what better a move than to bring in the gunslinger George. The same man who was seen in 1996 screaming at Coach June Jones. It was either George or try to talk Elvis Grbac out of retirement. We got the George. Thank goodness Hasselbeck found his inner peace and found a way to resurrect his career in the process or George (and his arm) might have played more than 0 minutes that season. Rick Mirer 1993-96 Born: 3/19/1970 Goshen , IN
College: Notre Dame
Experience: 12 Seasons Highs: Man, this is going to be tough to write. I DM'd @NWSBBrandon asking him if he could help me write anything positive about Mirer, and all I got was, "I think he completed a couple of passes once, but he was really good at running away." Thanks Brandon. The fanfare that Mirer came with was unreal. A highly successful college career at Notre Dame, saw him get drafted by the Seahawks with the second pick in 1993. Was that ever a mistake though. Too bad we didn't get that Drew Bledsoe guy. Look at the guys the club passed up. #3 Garrison Hearst. #8 Willie Roaf. #9 Lincoln Kennedy. #10 Jerome Bettis. #21 Robert Smith. #26 Dana Stubblefield, I could go on and on. There had to be something positive other than his draft day though right? Yes! THE RICK MIRER TRADE The Hawks got the 11th pick overall from the Bears in 1997. They also had the 12th pick. The two players ended up being Walter Jones, and Shawn Springs.  Lows: If draft day and a trade out of town were the HIGH points of his career in Seattle that doesn't bode well for the LOW, a list nobody wants to be on. Rick Mirer is in the top 5 on the list of TOP 10 DRAFT busts in the HISTORY of the NFL. There's no way to get around that. I wish it wasn't true, but it is. He flamed out bad. His last season in Seattle under Coach Dennis Erickson Mirer had five TD passes, 12 interceptions, and was the NFL's poorest-rated quarterback. He couldn't connect with Joey Galloway, he couldn't find Brian Blades, he couldn't find Ricky Proehl (everyone found Proehl) and he sure couldn't find James McKnight. Four uber-talented WR's. He was eventually replaced by John Friesz, but one could make the case that even Stan Gelbaugh (the emergency QB that year) was a better QB for Seattle. Things got so bad for Mirer after he left Seattle that he made the Seattle PI's "Most hated Seattle Sports Figures list". OH man.
Mirer was the Seahawks starting QB as a rookie and that year they went 6-10 and Mirer put up 2,833 yards, completing 56.4% of his passes. A mediocre quarterback at best. No winning seasons in his four years at the club.
As we all know he didn't last long at any of his subsequent teams either. The Bears in 1997, the Jets in 99, the 49ers in 2000, and the Raiders in 2003. I hear he's making wine now. Good for him. Let me bring this conversation full circle now. Russell Wilson can change how I feel about the history of the #3 uniform for the Seahawks The Wilson Era begins – 2012 Height: 5-11 (ON tip-toes)
Weight: 206
Age: 23
Born: 11/29/1988 Richmond , VA
College: Wisconsin
Experience: Rookie
High School: Collegiate School [Richmond, VA] All the guy did at Wisonsin was throw for 3000+ yards and 33 TD's. Yes he lost in the Rose Bowl but Wilson is not destined to have his career be written in the CFL like other "short-statured QB's". He is destined for greatness. Upon setting foot in the pro's all he did was wow the Seahawks during the team's rookie minicamp, so much so that Coach Pete Carroll immediately made Seattle's quarterback competition a three-way affair between Wilson, the new free agent signing Matt Flynn from the Packers and incumbent Tarvaris Jackson. You could feel the era beginning That is not the Seattle Seahawks homer in me talking. You could feel it in the way he talked, and acted, practiced and played. You could feel it in the way other coaches around the league respected him. You could tell by the way his own organization felt about him, and spoke about him. You could tell by watching his first three PRO games in the NFL. (Yes – the pre-season game variety)
Game 1. 12/16 75% 124 Yds 1 TD 1 INT 91.7 QB Rating 3 Rushes 59 Yards 19.7 Average 1 TD
Game 2. 10/17 59% 155 Yds 2 TD 0 INT 128.3 QB Rating 5 Rushes 33 Yards 6.6 Average 0 TD
Game 3. 13/19 68% 185 Yds 2 TD 0 INT 134.8 QB Rating 2 Rushes 58 Yards 29.0 Average 0 TD
Those stats aren't to shabby are they? This week of course the big news was coach Carroll naming Wilson the Week 1 starting quarterback. Pete said his play this preseason made the decision easy. Carroll went onto say "he wasn't suprised by Wilson, he was impressed by him." Carroll said "he wasn't suprised by Wilson, he was impressed." I'm impressed by #3 as well. We said the other day that you can't look past the fact that Wilson has frequently been mentioned as the first player in the facility and the last player to leave. Players rave about how hard he works in the gym and in the film room. His hard work on the field shows. Everyone so far has been impressed with Wilson as he has slowly taken over as the lead topic of all Seahawks conversations. He's the only interview the Seattle press want to speak to now that TO has left town. He's here to stay if he has his way He expects greatness of himself. He expects and demands greatness of his teammates. He says he's on an "eternal quest for knowledge." which is music to my ears. Russell Wilson is going to make us all see the #3 uniform of the Seahawks in a new light.
Thank goodness Pete Carroll and John Schneider have decided to do the OPPOSITE of everything that is conventional in the NFL.
Pretty cool as well that his college coach predicted Wilson would be the day 1 man… "By NCAA rules, I cannot bet – but I bet you I've told hundreds of people since draft day to where we are that he will be the starter"  - Bret Bielema The Seahawks are on the front pages of the National media now, Sports Center is talking about our club, and if I have my way we'll stay front and center on the homepage of NFL.com until Super Bowl XLVII, on February 3rd, 2013, scheduled to be played at the Superdome in New Orleans.
With Russell Wilson leading this team, throwing to Sidney Rice, Kellen Winslow, Zach Miller, and Doug Baldwin, a more than capable backup QB in Flynn, a beast in Marshawn Lynch and a Hulk in Robert Turbin, a more than reliable top-5 defense, and a Pete Carroll and John Schneider made-over roster I expect nothing but greatness.
Russell Wilson will make us remember his number in a very positive light. I can feel it. Greatness is on the horizon and he is wearing "3″. CLICK HERE CHECK OUT THE SEAHAWKS BLOG IN OUR CLUBHOUSE AT NWSB! © NWSports "Q" for North West Sports Beat, 2012. | Permalink | No comment | Follow NWSB on Twitter or join US on Facebook for real-time updates OR... | Share This on Twitter | Share NWSportsBeat.com on Facebook Post tags: #3, Brian Blades, James McKnight, Jeff George, Joey Galloway, John Leypoldt, Josh Brown, Matt Flynn, Moments In Time, Rick Donnelly, Rick Mirer, Rohn Stark, Russell Wilson, Seahawks Blog, Seahawks History, Seahawks uniform numbers, Seattle Seahawks, Seattle Seahawks History, Shawn Springs, Walter Jones, Wisconsin
Original Story:
http://www.nwsportsbeat.com/seahawks/...
THE BACKYARD
BEST OF MAXIM
RELATED ARTICLES
The Arizona Cardinals opened as a 2.5-point favorite against the Seahawks for their Week 1 game, but the line has switched by five points — the most of any other Week 1 line — and Seattle is now favored in the game. The Seahawks are favored by 2.5 points most sports books, and favored by 2 points at other places. The line change can be attributed to factors related to each team...
Rookie Russell Wilson was earned the Seattle Seahawks' starting quarterback job. That was the word from coach Pete Carroll on Sunday night after he announced that the third-round pick from Wisconsin will start when the regular season begins Sept. 9 at Arizona. Carroll said he's been extremely impressed by Wilson's performance, not only during training camp and preseason...
Despite being perceived as a quasi midget, Seattle Seahawks head coach Pete Carroll somewhat surprisingly named rookie Russell Wilson the team's starting quarterback this past weekend. The 5-foot-11, 206 pound Wilson, who the Seahawks took out of the University of … Continue reading →
Seattle Seahawks rookie Russell Wilson continues to look like one of the most dynamic rookie QBs in the league as he has the ability to run, pass and lead a team which not many others can. If Wilson was just a few inches taller he would have been a first round pick, but as it is, the Seattle Seahawks may have gotten away with highway robbery. If Wilson can continue to play well...
Rookie quarterback Russell Wilson has been given the starting job by head coach Pete Carroll. Wilson, a third round pick form the University of Wisconsin, beat out high-priced free agent Matt Flynn after a strong preseason performance. The starting job was though to be Flynn's after the Seahawks paid the former Green Bay Packer $10 million guaranteed money this past off-season...
Rookie Russell Wilson will be the Seattle Seahawks' starting quarterback for the regular-season opener. Coach Pete Carroll made the announcement during a conference call with reporters on Sunday evening. "He's earned this job," Carroll said. "It was a legitimate competition as we said from the beginning, and with the opportunity he's taken advantage...
Seahawks rookie QB Russell Wilson has officially been named the starter for Week 1, coach Pete Carroll said in a press conference Sunday.Fantasy Spin:Wilson is a dual-threat who could be a steal late in drafts. The third-rounder has passed for 464 yards and five touchdowns and rushed for 150 and a score this preseason.
The competition is over, and the rookie has won.  Pete Carroll announced tonight that Russell Wilson is the Seahawks' new starting quarterback.  He'll start the final preseason game against the Raiders, although there's been no indication of how long they plan on letting him play in the game, then keep the job for the regular season opener against the Cardinals.It should...
What started as a three-man competition to be the Seahawks' starting quarterback is down to only one, as coach Pete Carroll announced Sunday night that rookie Russell Wilson has won the job.
Braylon Edwards has made himself quite at home in Seattle. The receiver recently gave statements on the difference between his current QB, Russell Wilson and Jets Mark Sanchez who he played with during the 2010 season. Seattle Seahawks receiver Braylon Edwards has played with rookie quarterbacks before.  In Cleveland it was Brady Quinn.  In New [...]
SEATTLE-After a phenomenal preseason run, the Seahawks have stepped up and named Russell Wilson as their starting quarterback for the immediate future. To read this article please click the link below.
The success of rookie Russell Wilson this preseason in Seattle has given the team some peace of mind at the quarterback position, and they've dealt last year's starter Tarvaris Jackson to the Bills in exchange for an undisclosed draft pick. Jackson's starting job looked to be in jeopardy this offseason when the Seahawks signed former Packers backup Matt Flynn, but it...
NFL News

Delivered to your inbox

You'll also receive Yardbarker's daily Top 10, featuring the best sports stories from around the web. Customize your newsletter to get articles on your favorite sports and teams. And the best part? It's free!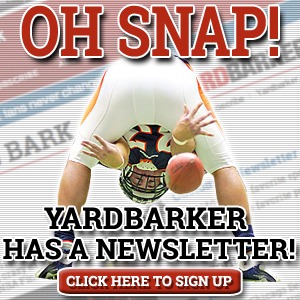 Latest Rumors
Best of Yardbarker

Today's Best Stuff

For Bloggers

Join the Yardbarker Network for more promotion, traffic, and money.

Company Info

Help

What is Yardbarker?

Yardbarker is the largest network of sports blogs and pro athlete blogs on the web. This site is the hub of the Yardbarker Network, where our editors and algorithms curate the best sports content from our network and beyond.