Found July 01, 2013 on Phin Nation:
Dolphins fans, welcome to the dog days of summer.  Now that the Heat have repeated as NBA champions and the NHL season is over, the only team South Florida has left to root for is the Marlins….Anyway, there is absolutely no Dolphins news to write about because the team is essentially on vacation from now until July 20th when training camp opens.  Wait a minute….did I just write that training camp opens in 19 days?  Football season is right around the corner my friends! photo courtesy of Dolphins.com As you are probably aware, PhinNation.com has been relatively quiet for the last month or so.  This is mainly because there hasn't been a lot going on….Unless you want us to write about the criminals on the Patriots or Mark Sanchez making an ass (literally) out of himself at a party. Today, I checked out the Miami Herald to see if there was anything going on.  I came across a story that explained how Ryan Tannehill recently went to Chad Pennington's home in Kentucky, to meet with the former Dolphins QB.  Pennington, you will remember, was a special QB consultant at one of the Dolphins mini camp practices earlier this offseason.  It appears he and Tannehill hit it off pretty well.  During his trip to visit Pennington, Tannehill received advice on everything from leadership to how to deal with the media. Pennington told Barry Jackson:  ""I gave him a few handouts that I found in my notes concerning leadership, favorite quotes, etc. that I thought may be useful." They talked for awhile about "teamwork, media interaction" and more, then "went to the horse races at Keeneland."" I don't know about you, but I love how active Tannehill has been this offseason.  He welcomed Mike Wallace to the team by taking him out to dinner the night he signed his free agent deal with the Dolphins.  Tannehill has also been organizing a number of throwing sessions with his receivers (Wallace, Hartline, Keller, etc).  It's clear that he knows what needs to be done.  Ultimately, Tannehill needs to produce on the football field.  But, from everything we've heard and read, it seems that he is taking his leadership role seriously.  He's not saying the things that leaders say, he's doing what leaders do.  Reaching out to Chad Pennington is just the latest example of that. For the latest Dolphins news from PhinNation, be sure to bookmark our site in your browser
Original Story:
http://www.phinnation.com/ryan-tanneh...
THE BACKYARD
BEST OF MAXIM
RELATED ARTICLES
WITH AN INCLINE, TOO
Chad Johnson, now a free man, proved he's still got NFL-caliber speed, sprinting on a treadmill that was set at 24 miles per hour.
While he played virtually none on either offense or defense, the Miami Dolphins had a real weapon last season in returner Marcus Thigpen. Thigpen scored the first touchdown of 2012 for Miami, a 72-yard punt return against the Houston Texans in the season opener. Thigpen has made an effort this offseason to work himself into the rotation on offense, but whether he spends much time...
This will be the final installment of the positional breakdowns of all the Miami Dolphins player units.  I want to thank Kenny, Patrick, Todd, and Shawn for doing their part in this effort. Mike came on board after this segment had started, and that is the reason we did not see a write up from him. Not to worry, though, Mike has been staying busy writing about the 15 most important...
The Dolphins made a lot of offseason moves that make them look like a contender in 2013, but it's easy to forget some of the guys who already were on the roster. Wide receiver Armon Binns is a player that may be overlooked now, but turn heads in training camp. He was signed by the Jacksonville Jaguars as an undrafted free agent in 2011, but was cut after training camp. He...
Everyone knows how good Miami Dolphins receiver Mike Wallace is as a deep threat. In fact, since Wallace as been in the NFL, he leads the league in catches of 40-yards or more. While many might think that Wallace can only be used as a deep receiver, you'd be wrong according to his teammates. Via the Miami Herald, his teammates praise Wallace for his ability to catch the ball on...
While the kings of the castle, the New England Patriots look as vulnerable as they have in 12 years, the Miami Dolphins feel this could be their year win the division. The Dolphins have expressed all offseason they felt ready to make the next step and going into July before training camp, their feelings haven't changed. A torrid free agency spending spree that landed the top...
Miami Dolphins receiver Mike Wallace has been labeled the fastest receiver in the league, but also labeled a one-trick pony by some, a label that some teammates jus don't see. "It's not, 'If I can't get the deep ball, I can't do anything else,' " cornerback Brent Grimes said, via The Miami Herald. "He has good hands, can run other routes...
According to the Miami Herald, the Dolphins haven't spoken with defensive lineman Paul Soliai about a contract extension and are expected to decide between him and Randy Starks next season. The Dolphins also haven't talked to 2014 free agent Paul Soliai about an extension. Miami likely will choose between Starks and Soliai next spring. Need NFL Tickets? The post Dolphins...
The mere possibility of Miami Dolphins second year quarterback Ryan Tannehill rushing for 500 yards was tantalizing enough to explore the fantasy football ramifications of the team's use of the read-option. That number, of course, was extrapolated from the Dolphins' deployment of the read-option package over the final month of the 2012 regular season. The conclusion, as told...
According to the Miami Herald, even though Dolphins defensive lineman Randy Starks would love a new contract, he's expected to report to training camp and not complain about being slapped with the franchise tag earlier this offseason. To his surprise, the Dolphins haven't made a multiyear offer to defensive tackle Randy Starks since slapping him with the $8.45 million franchise...
Barry Jackson of the Miami Herald stated in his column Sunday that any contract extension talks between the Miami Dolphins and Reshad Jones have yet to begin. Here's why this is so important. Jones pledged to miss OTA's this year unless the Dolphins vowed to sit down and talk about new paper. At the last minute, the Dolphins agreed and Jones showed up happily. Now training camp...
Chad Johnson, fresh out of jail after smacking his attorney in the rear when facing a judge during a probation hearing, really wants back into the NFL. Dude has bills, and needs that check. Since he cannot get a workout with an NFL team, the attention-starved wideout turned to YouTube after seeing what Arizona Cardinals rookie Robert Gill did on a treadmill. Last week, Gill, from...
Dolphins News

Delivered to your inbox

You'll also receive Yardbarker's daily Top 10, featuring the best sports stories from around the web. Customize your newsletter to get articles on your favorite sports and teams. And the best part? It's free!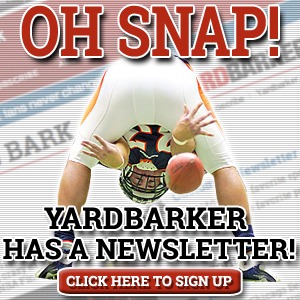 Latest Rumors
Best of Yardbarker

Today's Best Stuff

For Bloggers

Join the Yardbarker Network for more promotion, traffic, and money.

Company Info

Help

What is Yardbarker?

Yardbarker is the largest network of sports blogs and pro athlete blogs on the web. This site is the hub of the Yardbarker Network, where our editors and algorithms curate the best sports content from our network and beyond.