Found June 26, 2013 on The Saints Nation:
PLAYERS:
Aaron Hernandez
,
Scott Fujita
,
Scott Shanle
,
Jeremy Shockey
,
Roddy White
,
Drew Brees
,
Zach Strief
,
Will Smith
,
Jonathan Vilma
,
Marques Colston
,
Lance Moore
,
Roman Harper
,
Malcolm Jenkins
,
Pierre Thomas
,
Thomas Morstead
,
Jabari Greer
,
Kevin Houser
TEAMS:
New England Patriots
,
New Orleans Saints
,
Cleveland Browns
,
Atlanta Falcons
,
Baltimore Ravens
The news for Patriots' tight end Aaron Hernandez came fast and furious today. Just one year removed from a massive investment of 5 years $40 million by his team, Hernandez was arrested in connection with a murder and then released by the Patriots in quick succession today. I read a lot of reports about how some GM's took Hernandez off their board on draft day entirely because of his checkered reputation in college. I wouldn't be surprised in the least if the Saints were one of those teams who would refuse to take him, even in the 7th round. The Patriots did take him, though, in the 4th round and benefited from three largely spectacular seasons from him before this debacle. Based on the his reputation leading up to the draft, though, the warning signs were there that this guy could run into trouble and cause problems. The Saints' current regime has always shied away from messing with players that fit that description, which at times has seen them promote character over talent. I'll never forget what Scott Fujita said about the Saints after the 2008 season. They had been to the NFC Championship in 2006 and were successful, but in 2007 and 2008 had two mediocre seasons that saw the team fail to make the playoffs. He said something to the effect of: "we can talk about the character of this locker room all we want, at some point if we're not winning games it doesn't matter". I'm paraphrasing here, so my apologies if I didn't get that quote exactly right but the message remains accurate. That was a point where I feared the current regime's model of never compromising seeking high character players wasn't sustainable if you want to win. The primadonnas usually come with talent, and my concern was the Saints would passing on guys like that too often as a policy, which meant more guys like Scott Fujita, Scott Shanle etc... guys that worked hard and did everything right, but were limited athletically.  In the end, though, win, lose or draw, there's something about rooting for guys that I know are at least decent human beings that makes it a little more fun. Rooting for Jeremy Shockey never sat that well with me, and it would be worse if I had to watch Ray Lewis, Aaron Hernandez or Roddy White in black and gold. Does that mean every Saint is a model citizen? No. I've heard bad things about Sedrick Ellis in the past, Joe Morgan just got a DUI, Chris Ivory had a bad history in college and ultimately I think his character is what stopped him from breaking through with this team. Those are just three examples, but I'm sure there are countless others as well. The aggregate of the team is much higher than the average in terms of character, though, and that I do firmly believe. Part of it is the leaders that influence the younger players... guys like Drew Brees, Zach Strief, Will Smith, Jonathan Vilma, Marques Colston, Lance Moore, Roman Harper, Malcolm Jenkins, Pierre Thomas, Thomas Morstead, Jabari Greer to name some. Say what you will about these guys from a talent standpoint (some are elite, others are not) but it's undeniable they have had largely very positive influence on why you can characterize the Saints' locker room as "high character". These are largely good people that set good examples, they don't get into trouble (though some sketchiness has followed Smith and Vilma a little bit) and they vocally influence their teammates in positive ways. Of course the Saints suffered through Bounty Gate and that ridiculous accusation of wire tapping by ESPN Outside the Lines. There was also that Vicodin scandal that surrounded the team, as well as the Kevin Houser scam. Most of those incidents involved the top, and you know what they say about organizations... if it's corrupt at the top it will trickle it's way down. So my view of the Saints as an organization and players is biased and distorted, but I will admit it's taken a bit of a hit over the things they've gotten in trouble for the last few years. Hopefully lessons have been learned. Still, I remain steadfast in my belief that the people in the organization, particularly the players, are largely decent human beings. You could probably say that for many teams in the NFL, and the Aaron Hernandez situation could have happened to some other team. Hernandez being a thug doesn't condemn the rest of the Patriots players by any means. I do think, though, on average the Saints are passing on a talent like Hernandez.  Overall I'm comfortable with the Saints' policy to value character players over talent. It could cost them wins in the short term, but I do believe it will build a more solid foundation in the long term. As we saw from the Saints in 2007/2008 versus 2009 and as we saw from Aaron Hernandez today versus his first three seasons, both approaches have their merits and downfalls. Ultimately it comes down to your moral makeup, and despite the negativity that's surrounded the Saints lately from a character standpoint, I'm glad they likely won't have guys like Hernandez on the team any time soon. Even if that means we don't win another Super Bowl for a long time.
Original Story:
http://www.thesaintsnation.com/2013-a...
THE BACKYARD
BEST OF MAXIM
RELATED ARTICLES
You had to know this was coming, right? After Aaron Hernandez was arrested and led out of his house while handcuffed under a white tee yesterday, 'Hernandezing' has officially become a thing. Guide to proper 'Hernandezing': 1. Must be a white t-shirt. 2. Hands must be together in the back, as if cuffed. 3. Red shorts is always a plus. 4. Need dour expression. No smiling....
People describe these sayings as cliches. "Girls are attracted to bad boys." "Nice guys finish last." Maybe there is something to these cliches. aaron hernandez can have my babies, he hella sexy tbh — B. (@Breeyiana) June 26, 2013 I know Aaron Hernandez is involved in a murder but got damn he is sooo sexy Aaron Hernandez is too damn sexy to be charged with anything. —...
Thoughts on what Aaron Hernandez's arrest could mean for the Patriots - Going Deep - Boston.com:...
A.B. As you can see below, Aaron Hernandez's NFL career stats are no longer listed on NFL.com. At first glance I figured it was an error – maybe even a database or website issue with NFL.com. But after typing other random current NFL players in the search field, and their stats showing up, it seems Hernandez's missing stats may be intentional. Why the NFL would remove (if done...
The New England Patriots wasted no time distancing themselves from Aaron Hernandez after the tight end was arrested and charged with first-degree murder on Wednesday. Less than two hours after the arrest, the Pats announced they released Hernandez. They have continued to cut ties from Hernandez as he faces serious charges. Hernandez's jersey is no [...]
First there was planking. Then came Tebowing. A weak attempt to get Griffining going didn't last. Kaepernicking came close to becoming the next big thing, but I don't think it quite made it. However, we may finally have the next craze; the next thing that everyone is going to be doing. #Hernandezing. Yes, people being--well, people--are going to poke fun at...
Shortly after Aaron Hernandez was arrested this morning, the Patriots announced that they had released the tight end, ending his three-year tenure with the club. They ended the announcement of the release saying that they believed it was "simply the right thing to do." The decisive action could mean that the team also knows that this is about to get a whole lot worse. What a...
Two fairly small asides on a case that I really hope I don't feel compelled to discuss too often... First, inde- pendent of the merits of the case involving ex-Patriots tight end and burgeoning murder suspect of everyone Aaron Hernandez... just how little do you have to have going on in your life to go down to a court house to protest the innocence of a celebrity? Honestly...
The New England Patriots wasted no time in releasing tight end Aaron Hernandez following his Wednesday morning arrest and now they will suffer big salary cap ramifications as a result. https://twitter.com/AdamSchefter/status/349923379693879296 According to Adam Schefter of ESPN on Twitter, the Patriots have forfeited all rights to recoup bonus money or salary given to Hernandez...
After arresting Aaron Hernandez and another man in the Odin Lloyd case, police now have issued a wanted release for a third man.
What happened last night in the sports world? Patrick Kane was on Letterman just a few hours after spraying Blackhawks f…
NFL News

Delivered to your inbox

You'll also receive Yardbarker's daily Top 10, featuring the best sports stories from around the web. Customize your newsletter to get articles on your favorite sports and teams. And the best part? It's free!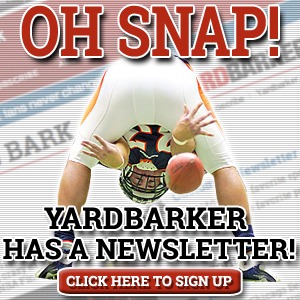 Latest Rumors
Best of Yardbarker

Today's Best Stuff

For Bloggers

Join the Yardbarker Network for more promotion, traffic, and money.

Company Info

Help

What is Yardbarker?

Yardbarker is the largest network of sports blogs and pro athlete blogs on the web. This site is the hub of the Yardbarker Network, where our editors and algorithms curate the best sports content from our network and beyond.