Found June 27, 2012 on The Saints Nation:
Andrew Juge of The Saints Nation stops by to explain why he is super geeked to finally be able to watch the coaches film to grade Saints players.  He and Ralph also discuss the one question they would love the national media to ask Roger Goodell. Also after reviewing all the NFL's evidence in the bounty case Andrew wonders how the hell Roman Harper avoided the Commissioner's wrath. They also try to predict when Joe Vitt will meltdown against the media after getting asked about the bounties for the millionth time. Also if Ralph's prediction of mass hysteria on twitter happens on Thursday morning Andrew promises an unspeakable act as payment for losing a bet.
*** WARNING EXPLICIT CONTENT ***
Podcast Powered By Podbean
Original Story:
http://www.thesaintsnation.com/2012-a...
THE BACKYARD
BEST OF MAXIM
RELATED ARTICLES
It would be a good thing to the Miami Dolphins if Chad Ochocinco can come through on his promise to Roger Goodell. The new wide receiver for the Dolphins sent a message to the the commissioner today on Twitter in only the way that Ochocinco can @nflcommish Dad… I love u but I will be [...]
Michael Vick made three major mistakes. 1- Thinking his friends wouldn't turn on him 2- Lying to the FEDS 3- Lying to Roger Goodell #3 was the reason he almost was banned for life from the NFL. He doesn't want rookies to make the same mistake he did. Of all the speakers and presenters at the annual Rookie Symposium, none will give the incoming players better advice...
Retired Steelers wide receiver Hines Ward said the players gave NFL Commissioner Roger Goodell to much control of player discipline in the collective bargaining agreement signed last year. "So Roger Goodell, even though a lot of players don't like having him in charge, the NFLPA, we signed off on the collective bargaining agreement," Ward told WFNZ radio in Charlotte...
Chad Ochocinco, yes thats still his name, tweeted to Roger Goodell, addressing him as "Dad", that he will be a problem this season. The Dolphins can only hope that will be the case because if Goodell does punish Ochocinco it will likely be for end zone celebrations. Chad Johnson ✔@ochocinco  @nflcommish Dad... I love u but I will be a problem this year.. all fine...
Getty Images Now that Miami Dolphins wide receiver Chad Ochocinco is no longer under the strict watch of the New England Patriots, he looks like he's back to his old ways. On Monday, Ochocinco mentioned NFL commissioner Roger Goodell on Twitter, telling him that he'll be a problem this year. @nflcommish Dad… I love u but I will be a problem this year..all fine money this...
Chad Ochocinco is no more! And apparently the recently re-established Chad Johnson is sending out a warning for the upcoming NFL season. Ochocinco, whose name change won't become official until July 4, changed the name on his Twitter account to reflect the return to his former identity. He then took to the Twittersphere to contact NFL commissioner Roger Goodell and forewarn him...
New Orleans Saints linebacker Jonathan Vilma informed federal judge Helen G. Berrigan by letter that he plans to file an injunction if NFL Commissioner Roger Goodell doesn't overturn his one-year suspension. Vilma is one of four players suspended for their role in the team's alleged bounty scandal. He was suspended for the 2012 season and has filed a separate defamation...
Chad Johnson is back in the news, for more than just changing his name back to Chad Johnson from Chad Ochocinco.  (Chad World Peace must have already been taken.)  He fired off a tweet to "dad", also known as NFL Commissioner Roger Goodell, promising to be a problem this year.  That tweet led to Mike & Mike calling out Chad Johnson on their radio show this morning...
Getty Images New Orleans quarterback Drew Brees believes that head coach Sean Payton won't stand up to NFL commissioner Roger Goodell's bounty ruling since he has to reinstate him next year in order to coach again. Brees also offered theory on why Sean Payton keep silent even as NFL flaws emerge _ intimidated because Roger Goodell must reinstate them. — Ed Werder (@Edwerderespn...
Saints News

Delivered to your inbox

You'll also receive Yardbarker's daily Top 10, featuring the best sports stories from around the web. Customize your newsletter to get articles on your favorite sports and teams. And the best part? It's free!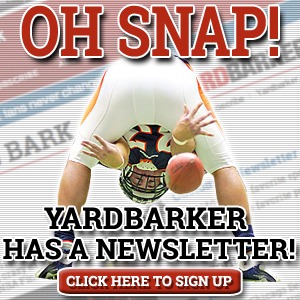 Latest Rumors
Best of Yardbarker

Today's Best Stuff

For Bloggers

Join the Yardbarker Network for more promotion, traffic, and money.

Company Info

Help

What is Yardbarker?

Yardbarker is the largest network of sports blogs and pro athlete blogs on the web. This site is the hub of the Yardbarker Network, where our editors and algorithms curate the best sports content from our network and beyond.