Found October 23, 2012 on The Saints Nation:
PLAYERS:
Will Smith
,
Josh Freeman
,
Junior Galette
,
Martez Wilson
,
Brodrick Bunkley
,
Doug Martin
,
Sedrick Ellis
,
Carl Nicks
,
Akiem Hicks
,
Tom Johnson
,
Scott Shanle
,
Curtis Lofton
,
Dallas Clark
,
Jonathan Casillas
,
Tiquan Underwood
,
Jonathan Vilma
,
Will Herring
,
Patrick Robinson
,
Vincent Jackson
,
Jabari Greer
,
Mike Williams
,
Corey White
,
Malcolm Jenkins
,
Connor Barth
,
Roman Harper
,
Isa Abdul-Quddus
,
Garrett Hartley
,
Thomas Morstead
,
Rafael Bush
TEAMS:
New Orleans Saints
,
Tampa Bay Buccaneers
For moments in this game the Saints' defense gave us the illusion they might be on to something, but let's be honest with ourselves and admit the Bucs' offense is really bad. To yield 513 total yards to that trash is enough to cement this defense's claim to worst of all time in NFL history. And that's just how bad this unit is. To their credit, they "held" the Bucs to 98 yards on 25 carries. For standard set by this defense, that is incredibly good. If you can promise me 3.9 yards a carry for the rest of the season I would take it hands down. Take away that one horrible 36 yard touchdown run and it looks even easier to stomach. The pass defense on the other hand, yeah, there is no excuse. Just horrible. And once again, the lack of a pass rush deserves it's share of the blame for that. I'm just not sure where this defense can even go from here, they just suck. On to the grades... Saints vs Buccaneers boxscore Will Smith: C (2.06) He had two tackles, one for a loss, a tipped pass, and a knockdown of Josh Freeman on one pass rush. He was often double teamed and a couple of times held blatantly with no flags to show for it. The results show he struggled but he was far from the worst on this defensive line. Cam Jordan: C- (2.23) It's hard to grade Jordan because he did make a huge play on fourth and goal where he chased Freeman to the sideline and forced him out of bounds short of the goal line to give the Saints the ball back. But he was once again completely stuffed trying to generate a pass rush and his stock in trade, run defense, was poor as well. He did tip one pass but had no tackles. So I did boost his grade slightly because of that one play but he was pretty bad overall and probably deserves a worse grade. Junior Galette: B+ (2.44) Perhaps the only guy I would say played "well" on this defense. He finished with 4 tackles, many of those looking very impressive absorbing contact and playing good run defense. He had 2 tackles for losses, was active, and also had a big sack before halftime. My only complaint is his pass rush move seems to be getting around the edge of the right tackle too often, which allows the quarterback to always step into a clean pocket, so I'd like to see him master moves other than the beat the guy around the edge with speed move. Martez Wilson: D (2.33) He was manhandled physically, pancaked numerous times trying to come off the edge rushing. He had no tackles, and he was flagged for offsides on a punt. Thankfully the Bucs had more than 5 yards to go for a first down so there was no harm in it, but he really is the master of incredibly stupid penalties like that. Brodrick Bunkley: B- (2.11) He played sparingly and had no tackles, but moved the interior on some critical plays. The push he got on those four goal line stops in particular was critical. The Saints are starting to use him less unless it's an incredibly obvious running down, but he's doing a good job of being physical and moving the pile when he's in there. He missed one tackle in the backfield, but slowed down Doug Martin enough to allow his teammates to stuff him. Sedrick Ellis: C- (1.78) He had two tackles, including one for a loss. But too often Carl Nicks pushed him off the ball and his pass rushing was again non existent. What a frustrating fall from grace from a 1st round pick that was very good early in his career. Akiem Hicks: C+ (2.33)  One of the few interior guys that got push and was disruptive. He generated an illegal hands to the face penalty and registered 1 tackle. I was at least reasonably satisfied with what he offered and continue to stay optimistic he can become an every down starter with seasoning. He left the game with cramps. Tom Johnson: B- (2.07) He had two tackles, played the run decently and was physical. I was most impressed by the motor and effort he had. Still, at times he was just overmatched and completely knocked off the ball by Nicks. Scott Shanle: C- (2.11) He left the game early with a non disclosed injury. He came back and didn't do much of anything. He did at least put a physical tackle at the second level on Martin when no one else seemed interested in bringing him down. He had 2 tackles but made almost no positive impact. Curtis Lofton: C- (2.95) He had 5 tackles, including one for a loss. A times he did a fantastic job recognizing the play, finding a lane to the ball carrier and tackling well. At other times he took bad angles. His coverage was a completely liability in this game and incredibly poor. He was constantly slow to the ball in coverage and beaten a few times. He was flagged for illegal use of the hands on the touchdown pass to Dallas Clark, which didn't stop the Bucs from scoring. Jonathan Casillas: D (1.84) I don't understand why the Saints continue to bring him in for coverage situations. I just don't get it. He plays a ton of zone and doesn't seem to have any ball awareness. He had 2 tackles and contributed almost nothing in run support. Horrible coverage on the first touchdown pass to Tiquan Underwood. Jonathan Vilma: C+ (2.33) It was nice to see him in there getting involved. If nothing else it was a nice boost to the team emotionally? Yeah, um, they gave up 500 yards. Maybe not. But he did almost have a pick tipping a pass and he drilled Freeman on a blitz... so that was cool to see. He also whiffed badly on a wide run by Martin going sideline to sideline. But he was rusty so it was nice to see him out there and doing a little. Hopefully he can expand his role next week as it'll probably be his last chance to play. Will Herring: C+ (1.80) He played sparingly but was credited with two tackles, including one for a loss (the 4th down play somehow went to Herring and not Jordan). No major mistakes and a small presence on special teams. Patrick Robinson: D- (1.45) He did break up a nice jump ball in the end zone. I'll give him that. Otherwise, he was primarily responsible for covering Vincent Jackson, and well, 7 catches for 216 yards and a touchdown. Enough said. He had 7 tackles. What a horrible year he's had. Jabari Greer: C (2.34) While he was beaten a couple times by both Mike Williams and Vincent Jackson, he was the best cover man by far. That's not saying much. He had 3 tackles and a defended pass. Corey White: D (1.39)  He had one tackle and was beaten in coverage often. He seems to always bite on the initial pump fake, direction the route initially takes etc... the longer a play develops, the more lost he gets. Another game to forget. Malcolm Jenkins: B (2.17) By and large he was bad. He missed a crucial tackle close to the line of scrimmage that allowed Doug Martin's 36 yarder to go for a score. That's just a play he has to make. Jenkins was poor over the top in coverage. But chasing down Jackson on that 95 yarder was incredible. Then, he was involved on two of the four stops near the goal line with physical play around the line of scrimmage. He single handedly saved a drive destined for 7 points to going scoreless. Pretty impressive A+ sequence right there. He led the team with 9 tackles. Hard to hate on him too much given the Saints won by 7 and he took 7 off the board right there. By the way, thank God Connor Barth missed that field goal! Roman Harper: D+ (2.45) The angle he took on that 95 yard pass to Jackson was criminal. He was routinely beaten like a drum in coverage. He often played linebacker in the nickel and that was a disaster. The Saints tried to blitz him on occasion but he was too slow getting to Freeman. He had 5 tackles. Isa Abdul-Quddus: B- (2.22) He came in as an extra safety when Harper played closer to the line of scrimmage. He did fine as the back end safety. He had 3 tackles and no major mistakes.   Garrett Hartley: B (2.78) To his credit, he took a practice swing on that 51 yarder and made it. But, his duty was relegated to just converting on five extra points. Thomas Morstead: B+ (2.89) He had 2 punts inside the 20 and averaged a whooping 51.3 on 4 punts. He averaged a net of 47.5 per punt which is just incredibly strong. He also drew a running into the punter penalty. Basically deserves an A+ if it wasn't for that kickoff out of bounds which is just inexcusable. Rafael Bush: B- (2.78) He had another tackle on special teams, which is a force of habit at this point.   My Defensive Player of the Game: Junior Galette My Special Teams Player of the Game: Thomas Morstead[follow] 
Original Story:
http://www.thesaintsnation.com/2012-a...
THE BACKYARD
BEST OF MAXIM
RELATED ARTICLES
THROUGH THE WIRE
Sean Payton has done some interesting things while he's been banned from the NFL, but nothing compares to the 48-year-old getting braces. Yes, those are braces on his teeth. The guy is running around New Orleans or wherever looking like Ted Stroehmann.Our research team seems to believe these braces were installed within the last week or so and debuted over the weekend at a couple...
New Orleans Saints head coach Joe Vitt says they will test out tight end Jimmy Graham's this week.  It sounds like they're hopeful he'll be able to play this week.Graham missed yesterday's game against the Bucs as he continues to deal with a high ankle sprain. 
New Orleans QB Drew Brees produced a stunning fantasy day on Sunday, throwing for 377 yards and four TDs in a win over Tampa Bay.Fantasy Spin:Brees accomplished almost all of these statistics in the first half when he threw for 313 yards and four scores. Regardless, it's his third straight 300-yard week and over his last four games, the NFL's single-season passing yards leader...
New Orleans Saints wide receiver Joseph Morgan provided one of the top highlights of week 7 in the NFL, with a 48-yard touchdown reception he had in the Saints' 35-28 victory over the Buccaneers on Sunday in Tampa Bay. What made the play so awesome wasn't the actual catch, but the incredible balance and kung fu-like moves Morgan showed off following the catch. He even...
New Orleans Saints wide receiver Joe Morgan is having a great day versus the Tampa Bay Bucs. He made a spectacular play to get into the endzone  for a 48-yard touchdown in the second quarter. Morgan broke free down the field, the pass was left short, but that didn't stop him from making the catch. Morgan then shook off one defender, and flipped the other defender over his shoulders...
According to the Associated Press, Saints interim head coach Joe Vitt is hopeful that tight end Jimmy Graham will be able to practice fully on Wednesday after missing this past … Continue reading »
Fresh off his seven-week bounty-related suspension, New Orleans interim coach Joe Vitt did not wait an extra second to rejoin the team in Florida. After watching Sunday's game from an undisclosed location in the Tampa area, he flew back to New Orleans with the Saints after they beat the Buccaneers 35-28 in a game Vitt was barred from attending. On Monday, he said his suspension...
Drew Brees of the New Orleans Saints continued to lead his team in the right direction on Sunday. In Week 7, Brees carried his team to a big win over their division rival, Tampa Bay Buccaneers. Brees began with a monster first half, and was able to close it out in the second. Brees finished with 377 passing yards, 4 touchdowns and one interception. His pinpoint passing once again...
NFL News

Delivered to your inbox

You'll also receive Yardbarker's daily Top 10, featuring the best sports stories from around the web. Customize your newsletter to get articles on your favorite sports and teams. And the best part? It's free!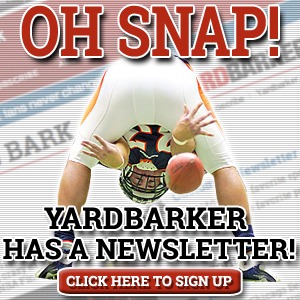 Latest Rumors
Best of Yardbarker

Today's Best Stuff

For Bloggers

Join the Yardbarker Network for more promotion, traffic, and money.

Company Info

Help

What is Yardbarker?

Yardbarker is the largest network of sports blogs and pro athlete blogs on the web. This site is the hub of the Yardbarker Network, where our editors and algorithms curate the best sports content from our network and beyond.