Found November 26, 2012 on The Saints Nation:
PLAYERS:
Frank Gore
,
Will Smith
,
Joe Staley
,
Cameron Jordan
,
Colin Kaepernick
,
Anthony Davis
,
Dwight Freeney
,
John Abraham
,
Martez Wilson
,
Sedrick Ellis
,
Akiem Hicks
,
Tom Johnson
,
Jonathan Vilma
,
Curtis Lofton
,
David Hawthorne
,
Jonathan Casillas
,
Patrick Robinson
,
Michael Crabtree
,
Randy Moss
,
Drew Brees
,
Jabari Greer
,
Mario Manningham
,
Johnny Patrick
,
Malcolm Jenkins
,
Roman Harper
,
Vernon Davis
,
Isa Abdul-Quddus
,
Delanie Walker
,
Garrett Hartley
,
Thomas Morstead
,
Travaris Cadet
,
Courtney Roby
,
Rafael Bush
TEAMS:
San Francisco 49ers
,
New Orleans Saints
,
Indianapolis Colts
,
Atlanta Falcons
It's kind of sad that the Saints' defense could shut down Frank Gore that well for three and a half quarters and hold an opponent under 400 yards for the first time and still lose... but this is your 2012 Saints. The defense didn't play great, mind you, and that drive in the 3rd quarter that started on the 49ers' five yard line in the 3rd quarter that ended in a 31-21 lead was killer, but they played ok overall. Certainly not their fault the team lost this game. Make the jump for the grades.   Will Smith: B- (2.45) Joe Staley gave him fits in pass rushing situations and largely dominated, but give Smith credit for showing good strength and power at the point of attack. He was incredibly useful against the run and was relentless in pursuit. Finished with 6 tackles. He did bite on a play action keeper that opened a lane for Kaepernick, though. Cameron Jordan: B+ (2.52) He never ended up with a sack but he was equally good stopping the run and rushing the passer. He applied constant pressure on Colin Kaepernick and made contact with him a couple of times but just couldn't bring him down. He finished with 5 tackles. The 49ers' right tackle Anthony Davis was repeatedly beat by Jordan despite his massive size. I have to hand it to Cam, he's really developing as a pass rusher. He still lacks the explosiveness to ever be elite like a Dwight Freeney or John Abraham, but his technique and pass rush moves are getting better.  Turk McBride: C+ (1.93) He was manhandled a couple of times but he also drew a holding call and tipped a pass that fell incomplete, so it wasn't all bad. Martez Wilson: C (2.39) Registered no tackles but did generate good pressure when he was in. Unfortunately he blew by Colin Kaepernick and gave the quarterback a lane to extend the play and gain yards with his feet. Broderick Bunkley: C (2.27) He was at time dominant in the trenches. Through three and a half quarter, anytime the 49ers tried to run in between the tackles they were largely neutralized. Give Bunkley a ton of credit for continuously clogging up the middle. He was ejected late for a really stupid personal foul that could see him suspended. Really stupid move that hurts his grade. He had one tackle. Sedrick Ellis: B+ (2.06) Too bad we haven't seen this kind of Sed Ellis all season. A complete game from the Saints' tackle. He had 5 tackles and pressured well, finishing with two knockdowns. He moved extremely well laterally and was physical in the trenches. Where has this been all season? He played to the whistle and helped his teammates finish numerous plays. Akiem Hicks: C (2.40) Showed his usual motor and strength, but seemed to be running after the play every time he was in. He had one tackle. Tom Johnson: B- (2.23) He had 3 tackles and got decent push up the middle. He's quietly playing some good football the last few weeks. Jonathan Vilma: C- (2.00) Missed countless tackles. That's been a common theme throughout since his return. Finished with 4 tackles. Curtis Lofton: B+ (2.79) Led the team with 9 tackles. He finished off a number of those plays around the line of scrimmage that the defensive line set up for him so nicely. He was victimized on a couple pass plays, once badly, but he got back to his tackling machine self.  David Hawthorne: B- (2.06) He's starting to run better and he's physical against the run. He had 6 tackles and one of his better games. The downside is he yet to show anything positive in coverage. Jonathan Casillas: C (2.13) Had one tackle and did little to nothing the times he was in the game. He did have a nice hit on special teams. Patrick Robinson: A- (1.94) Lined up mostly against Michael Crabtree and Randy Moss, he did a phenomenal job on both. Crabtree had 3 receptions, two actually coming from the other side, and Moss had none. He had 2 tackles, 2 defended passes and a big interception before halftime that should have been a bigger play if it wasn't for Drew Brees' brain cramp. P-Rob, to his credit, was outstanding all day in coverage. The bad news is he's been so bad all year than even with an A- he's still below 2.00. Jabari Greer: C (2.30) He mostly covered Mario Manningham and got beat on the 49ers' first touchdown drive a couple of times, getting juked out of his pants. He missed some tackles that made for bigger plays, too. He did make one impressive open field tackle to force a third down on a play that could have gone a very long way otherwise. Finished with 5 tackles but was spotty in coverage. Johnny Patrick: C (1.83) Did a decent job at times in coverage, but his most significant play was a 3rd down where he had a shot at Crabtree short of a 1st but he over pursued and took a bad angle to allow first down yardage.  Malcolm Jenkins: B (2.43) The only real negative I saw was a bad angle on Kaepernick's touchdown run. Otherwise, he was physical and tackled ok. He finished with 7 tackles and a broken up pass in the end zone against Moss where he had good coverage. An offensive pass interference prevented an interception there and it wasn't flagged. He also blocked a field goal and recovered it towards the end of the game. Roman Harper: B- (2.42) He had 7 tackles including one for a loss. Played often around the line of scrimmage and did an incredibly sound job on Vernon Davis who was held catchless! Unfortunately he did miss so make-able tackles that led to huge gains. Sometimes he just takes huge risks that aren't necessary. Isa Abdul-Quddus: C+ (2.25) Had 4 tackles including a monster hit on Delanie Walker that seemed to almost knock him out cold. It turned out to be a shoulder injury. No major mistakes playing the deep back end safety, but nothing great either.   Garrett Hartley: B- (2.76) Hard to give him a much better grade when he just made three extra points. He's the kicker on both of my fantasy teams and hasn't really produced the massive point totals I expected/hoped for. He did his job, though, and all three kicks were high and down the middle. Thomas Morstead: A- (3.33) One of his punts went off the side of his foot short, but he still finished with an average of 50.4 on 5 punts, a great net of 47.8, and 2 punts inside the 20. His kickoffs all went for touchbacks too. He continues to completely neutralize the opposing return game. Travaris Cadet: B (2.58) Did a pretty good job returning kicks and being aggressive taking them out from 5 yards deep. He averaged 29.6 per return and got most past the 20. Courtney Roby: B- (3.04) Was the first man down on almost every kick and caused some havoc, though he seemed to take bad angles on a couple. He deserves a little credit for distracting Ted Ginn into that fumble.  Rafael Bush: A (2.95) Came up with a huge fumble recovery that would ultimately give the Saints a 14-7 lead. He had nice awareness to fall on the ball and showed terrific hands to hang on to it as he absorbed big contact as he fell on it. He's turned out to be a terrific gunner and a great 1-2 tandem with Roby. These two have allowed Morstead to be more aggressive in his kicking because he doesn't have to fear outkicking his coverage as much. Kudos to both for playing such an integral role in the Saints' special teams cover units being so good.   My Defensive Player of the Game: Patrick Robinson My Special Teams Player of the Game: Rafael Bush
Original Story:
http://www.thesaintsnation.com/2012-a...
THE BACKYARD
BEST OF MAXIM
RELATED ARTICLES
Drew Brees happily entertains playoff possibilities for the New Orleans Saints, figuring that the question of whether a 5-6 team deserves to be in the NFC wild card race is irrelevant. He has a point. Despite an 0-4 start and their latest loss on Sunday to San Francisco, New Orleans remains one game out with five games left. To Brees, that means the Saints are virtually in control...
New Orleans Saints linebacker Jonathan Vilma and defensive end Will Smith have a busy few days coming up. Thursday night, they will play a crucial game against the Falcons in Atlanta. Friday morning, they will be in Washington, D.C., as part of their appeal of suspensions handed down in the Saints' bounty scandal. ESPN.com reported that the NFL Players Association will...
Today San Francisco 49ers wide receiver Kyle Williams announced that he  suffered a torn ACL during yesterday's win over the Saints. Regret to inform yall I will be out for the season with a torn acl.. Not how I saw things playing out but in the end I will be fine and — Kyle Williams (@KyleWilliams_10) November 26, 2012 Williams isn't a great receiver, but he's proven to...
The bad news in Ninerland today just got a whole lot better. According to Adam Schefter the 49ers are on verge of a five-year contract extension with LB NaVorro Bowman that will tie him to SF through the 2018. Deal done within 24 hours. With this contract extension The 49ers now have all four of their starting linebackers under contract through at least the 2015 season. Go Team Baalke…
Andrew Juge of the Saints Nation makes his weekly visit to break down the film from the loss to the 49ers. Ralph thinks the Saints might be closer to the playoffs even after the loss. Andrew explains why before Drew Brees' first interception the Saints had played their best half of football all year. He also thinks it's time to reevaluate how good Cam Jordan can be. Andrew...
It's official. The 49ers will go with Colin Kaepernick at quarterback Sunday against the Saints. SOURCE: Albert Breer, NFL NetworkFantasy Spin:Kaepernick has an excellent matchup this week against the Saints less than a week after shredding the vaunted Bears on Monday night.
By JANIE McCAULEY AP Sports Writer SANTA CLARA, Calif. -- San Francisco 49ers wide receiver and return man Kyle Williams said Monday he will miss the rest of the season with a torn ligament in his left knee sustained in Sunday's win at New Orleans. Williams, who starred at Arizona State, posted on his Twitter account that he has a torn anterior cruciate ligament in the knee...
Highlights from the 49ers victory over the Saints.
San Francisco QB Colin Kaepernick beat Drew Brees and the Saints in his first NFL start Sunday. Kaepernick finished 16-of-25 for 231 yards with two touchdowns.Fantasy Spin:Kaepernick ran in a score in the first quarter and threw a touchdown to Frank Gore in the third. He was also picked off once but cemented his status as the team's starting quarterback. The 49ers will rematch...
FLOWERY BRANCH, Ga. -- In his team's 31-27 loss to the New Orleans Saints on Nov. 11, Falcons left cornerback Asante Samuel was one of the primary reasons the game was as close as it was. However, this week the Falcons must prepare for quarterback Drew Brees and a Saints' passing attack that has flustered them many times in the recent past with the possibility -- at best...
Fantasy Football News - One of the more owned backups in the league was Kendall Hunter. As of this morning, he is now on injured reserve and will miss the remainder of the 2012 season. FFLockerRoom Take - Playing behind Frank Gore had many thinking Hunter would have a shot down the road to start but Gore has been healthy all year minus a few bumps and bruises. That leaves Anthony...
NFL News

Delivered to your inbox

You'll also receive Yardbarker's daily Top 10, featuring the best sports stories from around the web. Customize your newsletter to get articles on your favorite sports and teams. And the best part? It's free!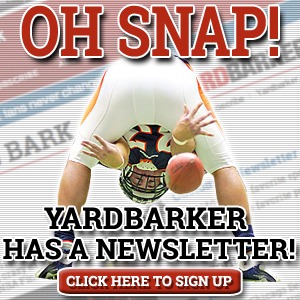 Latest Rumors
Best of Yardbarker

Today's Best Stuff

For Bloggers

Join the Yardbarker Network for more promotion, traffic, and money.

Company Info

Help

What is Yardbarker?

Yardbarker is the largest network of sports blogs and pro athlete blogs on the web. This site is the hub of the Yardbarker Network, where our editors and algorithms curate the best sports content from our network and beyond.