Found October 02, 2012 on The Saints Nation:
PLAYERS:
Malcolm Jenkins
,
Aaron Rodgers
,
Graham Harrell
,
Gregg Williams
,
Garrett Hartley
,
Will Smith
,
Martez Wilson
,
Junior Galette
,
Sedrick Ellis
,
Brodrick Bunkley
,
Cedric Benson
,
Tom Johnson
,
Akiem Hicks
,
Scott Shanle
,
Jermichael Finley
,
Will Herring
,
Curtis Lofton
,
Jabari Greer
,
Jordy Nelson
,
James Jones
,
Patrick Robinson
,
Corey White
,
Donald Driver
,
Roman Harper
,
Isa Abdul-Quddus
,
Darren Sproles
,
Thomas Morstead
,
Randall Cobb
,
Robert Griffin III
TEAMS:
New Orleans Saints
,
Green Bay Packers
,
Washington Redskins
There's nothing more to say about this defense than to sum it up by saying they suck. I hate to be that crass or simplistic, but right now they really don't do anything well. The run defense is porous, the pass defense is shaky at best when they are 100% healthy (which hasn't been often) and the pass rush takes bad to a whole new level. I have a theory that this defense has lost their aggressiveness. Along with fear of bounty backlash this defense has become soft. I'm sure the coaching staff using their words more carefully has intensified the player's not playing with more fire on the field. This defense has no mean streak. When Malcolm Jenkins poked Aaron Rodgers' eye and pulled his facemask, it was arguably the dumbest play of the season, but it was also the first time I truly saw this defense get nasty. And what happened? The backup QB Graham Harrell came in and he fumbled the ball giving the Saints a red zone stop and a turnover. Gregg Williams' defense wasn't always pretty or effective, but that was a perfect example of when it was at it's best, and Jenkins was one of his disciples. This defense doesn't have the talent to be good. This game was a perfect example of them not having the pass rush to cause any sort of disruption to an elite passing team. The only thing we can hope for is that they'll gnaw and claw their way into nasty physical play, which could result in them getting in some player's heads. Look at what the Rams did to the Robert Griffin III the week after he played the Saints. They had RGIII whining that they were "dirty" and that the Saints defense by comparison were classy. The Rams won that game. I don't know about you, but I'd rather be dirty and effective than classy and pathetic. I cringed when RGIII applauded the Saints' defense he had torched as respectful. That just makes me sick. Case in point, after Jenkins poked Rodgers' eye, he came back on the next drive and threw a pick. They had gotten in his head, at least temporarily. And to be fair to Garrett Hartley, there's no doubt in my mind the Packers were going down and winning that game with a field goal of their own if they needed to. This defense wasn't stopping them. And before you blame Spagnuolo too much, he tried everything. Rotated every combination. He rushed 3, 4, blitzed. Nothing worked. Make the jump for the grades. Saints vs Packers recap Saints vs Packers boxscore Will Smith: C- (2.00) He just isn't getting any pressure this year and this game was no exception. He had three tackles and knocked Aaron Rodgers down once. Too many times he was handled with only one man edge blocking. He's just not the player he was in his prime in my opinion. Cam Jordan: C- (2.25)  I noticed early in the game he was put at defensive tackle, likely in an effort to get more interior pressure because the Packers pass so much and to get Galette on the field. It didn't benefit the team at all. He finished with 3 tackles as well and was even worse than Smith getting after Rodgers. He also got flagged for a phantom illegal use of the hands penalty. Martez Wilson: C (2.58) He finished with two tackles, one on special teams that landed him my special teams player of the game (yes special teams were that bad) and another on defense. He played more as an edge rusher to little benefit. Junior Galette: C- (2.08)  Was flagged once for encroachment. Played a fair deal and did generate some pressure off the edge, but Rodgers would usually sidestep it masterfully before not feeling any pressure from elsewhere. He had no tackles, showed good effort in pursuit but had nothing to show for it. Sedrick Ellis: D- (1.75) A truly woeful performance from the Saints' once prized first round pick. His pass rushing skills in particular were atrocious. At this point I see no reason to re-sign him. He seems to have completely lost the skill he had in the first three years of his career. Brodrick Bunkley: C+ (1.83) He had no tackles and played less due to the nature of the Packers' offense. The Saints dared the Packers to run all game playing smaller personnel in the trenches and that's why a running back as washed up as Cedric Benson was able to get 84 yards on 18 carries. I want to give him credit, though, for being at the original of the play that caused Graham Harrell's fumble. He collapsed the Packers' line with his size and caused a falling offensive lineman to clip Harrell's ankle which caused him to stumble. That affected the tempo of the play and a stumbling Harrell fumbled trying to execute a handoff. That all happened because of Bunkley. He doesn't make that play and the Saints don't make it a game. Tom Johnson: C+ (1.78) The most memorable moment of the game for him was when he had his helmet ripped off, which drew a penalty, and he continued to pursue Rodgers without his hat. He had one tackle and at least hustled out there. Akiem Hicks: C (2.45) Played a decent amount but didn't get any push and finished with one tackle. Scott Shanle: C (2.17) Had four tackles and a beautiful defended pass in the end zone to break up a touchdown from the hands of Jermichael Finley. He was on Finley as well as Packer receivers in coverage, which just seems unfair. He did the best he could with mixed results but he wasn't much help in run support and missed a couple tackles. Will Herring: C (2.00) He didn't play all that much as the Saints often went to the extra DB, but when he did play he was a liability against the run and marginal in coverage. He had one tackle. Curtis Lofton: B+ (3.08) He led the team with 12 tackles. As I've already said the Packers would have scored 80 points if he wasn't on the field. He was by far the best player on the defense and without him they'd be even more lost if that's imaginable. His ability is lost in the abyss of putrid unit performance but he runs very well, tackles extremely well, and recognizes plays better than most. This guy was a good pickup and I like watching him play. Jabari Greer: C- (2.67) I had a beautiful open field tackle of Jordy Nelson near the goal line and was often left alone so Rodgers could target other receivers. Still, he was beaten by James Jones on a slant route for a touchdown and was flagged for interference on the final pass of the game which sealed the result. He had 6 tackles and showed some physicality against the run. He struggled in pass coverage but a lot of that can be blamed or non existent pass rush. Patrick Robinson: D+ (1.50) How do I even grade this guy? He was torched all day long by Rodgers. He was mostly man up on Jordy Nelson, giving him ample cushion, on the way to an 8 reception 93 yard 1 touchdown performance. He defended 3 passes and came up with a huge interception which gave the Saints a chance to win the game. In the end, though, he was targeted and victimized way too often and penalized for pass interference once when he was beat badly. Without the pick he probably deserves an F. Corey White: C- (1.58) He had 1 tackle but was burned plenty. At times he was ok in coverage. Nothing to get excited about. Comically he's been so bad this year a C- actually improves is GPA. Malcolm Jenkins: C- (2.17) He had 10 tackles and made some nice stops. He was flagged twice for 15 yard penalties, including a 3rd and 3 inside the ten when the Saints had the Packers stopped. Of all penalties this season that was one of the worst. But, he did knock Aaron Rodgers out of the game briefly on that play, Harrell would fumble, and Jenkins would be the man to recover that fumble. So in a weird way he set himself up perfectly to give his team and the defense new life. He also missed a couple open field tackles that were disappointing. He destroyed Donald Driver on a tipped ball that was nice to see. Overall, while he made loads of mistakes, he was the only one laying "remember me hits" out there. At least someone still tries to on this pansy defense. Roman Harper: B- (2.34) His coverage and run support was actually ok. He finished with 9 tackles and put huge licks on Cedric Benson a couple of times. He seems to be making less big plays in this defense though, so I question his fit in this scheme. I just think his skillset doesn't match up with what Spagnuolo needs. Isa Abdul-Quddus: C (2.00) He had 5 tackles and helped on the back end when Harper or Jenkins would play closer to the line of scrimmage as extra cover men, but I thought his wrapping up was atrocious. Too often he tried to tackle with a shoulder blow instead of wrapping up. A couple of times it led to extra yardage for the ball carrier. In coverage he was ok but didn't add much.   Garrett Hartley: C- (2.59) Up until the missed 48 yarder, which was missed by just a hair, he was perfect from on two very short field goals and three extra points. He was perfect from 43 yards to put the Saints ahead before that make was negated by a penalty. It's hard to blame him for the miss when you consider Dave Thomas' penalty andDarren Sproles' drop preceding it. Not to mention he made the kick before the penalty. But still, no denying he needs to make a 48 yarder with the game on the line and he didn't. That could have won it for the Saints assuming they then would have turned around and stopped the Packers short of field goal range... which is a very mighty assumption. Thomas Morstead: C (2.67) The good news is he never allowed a return on three punts. The bad news is he only averaged 36 yards per punt, including a horrible 28 yarder early in the game off the side of his foot. He did pin one punt inside the 10, though, and Randall Cobb didn't really do much with the three kickoffs he ran out.   My Defensive Player of the Game: Curtis Lofton My Special Teams Player of the Game: Martez Wilson
Original Story:
http://www.thesaintsnation.com/2012-a...
THE BACKYARD
BEST OF MAXIM
RELATED ARTICLES
The Green Bay Packers are through one quarter of their season so it is a good time to look at what the team could improve on, in list mode of course!Improvement # 1 – Figure out the offense's identityA big issue for this seasons Packers offense could be the lack of identity.  Last season it was all Rodgers all the time.  This year, however, the Packers have a somewhat stable...
GREEN BAY, Wis. -- Coming off of the Packers' best offensive game of the season in a 28-27 win over the New Orleans Saints and improving Green Bay's record to 2-2, quarterback Aaron Rodgers spoke with the media Wednesday. This week, Rodgers discussed the lack of long pass plays so far this season, Indianapolis Colts quarterback Andrew Luck and much more.Five question-and...
Green Bay Packers quarterback Aaron Rodgers was poked in the eye by New Orleans Saints safety Malcolm Jenkins during the Pack's big win on Sunday, forcing Rodgers to leave the game for treatment. Rodgers addressed the injury during his weekly appearance on 540 ESPN and added that he similarly suffered a similar injury during his high [...]
Colts Authority Daily Links 10/01/12 Kevin Bowen of Colts.com has a brief but good write-up in which he talked to Drew Stanton, Antoine Bethea, and Robert Mathis about...Aaron Rodgers and the Packers: The best thing you can do is try and put pressure on him," Stanton said. "As we've seen in the past, if you put pressure on him, it's more difficult to try and do things...
Captain Comeback Scott Kacsmar says the Atlanta Falcons did something no team has done since at least 1981. Also: an Aaron Rodgers comeback, New England's rout, and the Cardiac Cardinals/Eagles strike again.
The Green Bay Packers were able to win a passing shoot out with the New Orleans Saints by the score  of 28 to 27. The Green Bay Packers scored in the fourth quarter and were able to survive a questionable non fumble call by the regular officials this week. After the no fumble call the New Orleans Saints were able to march down the field to set up for the game winning field goal...
Aaron Rodgers faced the difficult task of replacing Brett Favre and Andrew Luck faced the difficult task of replacing another legendary quarterback, Peyton Manning. Mature and talented, Luck is off to a good start as he prepares to face the Packers on Sunday.
Now that nobody in Green Bay has fingernails left and some will be sporting new gray hairs on their head it is time to sum up the game. This game featured a battle between the starting quarterbacks as Aaron Rodgers threw for 319 yards and four touchdowns.  Not to be outdone Drew Brees threw for 446 yards and three touchdowns. In terms of offense, the Packers had a solid attack. ...
GREEN BAY, Wis. -- The regular referees were back, but the Packers still couldn't escape a few costly botched calls. But unlike Week 3, Green Bay was able to overcome the officiating mistakes and improve to a 2-2 record. Handing out grades following the Packers' 28-27 win over the Saints: Passing Offense: B Aaron Rodgers threw four touchdowns passes in this game, which...
Sunday marked the triumphant return of many Fantasy Football players. Last year's juggernauts such as Aaron Rodgers, Tom Brady, Cam Newton, Roddy White and Drew Brees finally lit up the fantasy scoreboards like their owners have been expecting them to. Even the 49ers came up with an eye popping performance (27 pts in ESPN standard [...]
The Packers will get accustomed to traveling south with their next three games on the road, all in the central part of the country. Quarterback Aaron Rodgers, however, sees the needle on the compass pointing the opposite way with regard to Green Bay's previously sputtering offense. "Heading in the right direction, definitely," Rodgers said Wednesday. Whether Pro...
NFL News

Delivered to your inbox

You'll also receive Yardbarker's daily Top 10, featuring the best sports stories from around the web. Customize your newsletter to get articles on your favorite sports and teams. And the best part? It's free!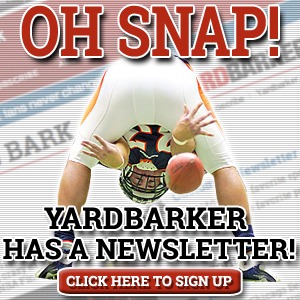 Latest Rumors
Best of Yardbarker

Today's Best Stuff

For Bloggers

Join the Yardbarker Network for more promotion, traffic, and money.

Company Info

Help

What is Yardbarker?

Yardbarker is the largest network of sports blogs and pro athlete blogs on the web. This site is the hub of the Yardbarker Network, where our editors and algorithms curate the best sports content from our network and beyond.