Found September 25, 2012 on The Saints Nation:
PLAYERS:
Jamaal Charles
,
Will Smith
,
Matt Cassel
,
Junior Galette
,
Martez Wilson
,
Brodrick Bunkley
,
Sedrick Ellis
,
Tom Johnson
,
Akiem Hicks
,
Scott Shanle
,
Curtis Lofton
,
David Hawthorne
,
Jonathan Casillas
,
Will Herring
,
Jabari Greer
,
Patrick Robinson
,
Dwayne Bowe
,
Corey White
,
Malcolm Jenkins
,
Roman Harper
,
Garrett Hartley
,
Chase Daniel
,
Thomas Morstead
,
Courtney Roby
,
Rafael Bush
TEAMS:
Kansas City Chiefs
,
New Orleans Saints
Another game, another woeful performance by the defense. They were gashed for 510 yards and will continue their dominance as dead last in the NFL as a unit. They only gave up one touchdown, though, and honestly they played well enough to earn this team a win this week. They were bad, don't get me wrong, but it was an improvement over the first two weeks. Yes, 510 yards is shocking, and yes, Jamaal Charles gashed them worse than Jack the Ripper treats call girls in Scotland Yard. But they did have three sacks, three turnovers, and only gave up one touchdown. For much of the game it was a throwback to Garry Gibbs blueprint "bend but don't break defense". My buddy Henry had the comical yet astute observation that the Saints defense is the new age bend but don't break: "break but don't shatter". Make the jump for the grades... Chiefs vs Saints coverage Chiefs vs Saints recap Chiefs vs Saints boxscore   Will Smith: B (2.11) He's been catching a lot of heat but I thought this was by far his best game of the season. He faced a very good left tackle and was still able to apply some pressure. He had 6 tackles, a sack, knocked downMatt Cassel 3 times and provided decent pressure. He also held his ground decently in run support but was slow in pursuit. Overall I would take this effort from him every week. Cam Jordan: C- (2.45) He had 5 tackles but wasn't as stout as usual against the run, leaving big lanes and doing a poor job of filling open gabs that Jamaal Charles could run through. Per usual, his pass rushing kind of sucked. He also had a meaningless fumble recovery just at halftime. Junior Galette: B+ (2.22) He had two tackles but they were both sacks and his did a great job of providing pressure when he was in. Hopefully he sees more playing time. He also forced a fumble. Martez Wilson: D (2.78) People have complained about him not seeing more time but that 91 yard run by Jamaal Charles is a perfect example of why he doesn't see the field yet. He's a liability in running situations and he was positively mauled on that play. He had 1 tackle and didn't make an impact rushing the passer. Brodrick Bunkley: D (1.67) He finished with 2 tackles and was benched for a couple significant stretches. A very poor performance and he did not control the line of scrimmage and was responsible for the defense's poor run support. Is this Aubrayo Franklin all over again after all? Sedrick Ellis: C- (2.11) His pass rushing as just ok, on occasion he would disrupt Cassel a little, but all too often he was dominated at the line. He finished with 4 tackles. Tom Johnson: C (1.50) He finished with 2 tackles, including a loss and looked good in spot duty save one play where he left a massive lane for Charles to gash the Saints. Akiem Hicks: A- (3.17) The rookie got extended playing time and was very disruptive up the middle. This kid needs to start here pretty soon. He had 8, yes, 8 tackles! He's been one of the very few bright in this horrendous start to the 2012 campaign. At least the Saints seem to have hit on the high draft pick investment in a promising young defensive player for once. Sure, he wasn't perfect, but he was physical, disruptive and active. That's a lot more than you can say for the team's veterans. Scott Shanle: C- (2.22) Ghost performance by the Saints' vet. Most alarming is how swallowed he'd get by oncoming blockers which left him completely unavailable to bring down the ball carrier. He finished with 4 tackles. Curtis Lofton: B+ (3.00) He led the team with 13 tackles, ran hard sideline to sideline, and I thought he was excellent in coverage. Sadly he can't do it all by himself and he needs help. I still love this pickup in free agency, though. David Hawthorne: C+ (1.67) He had a beautiful stuff at the line of scrimmage on the Chiefs' first play from scrimmage. He then had to run laterally to tackle a screen flare, which has been an issue for him with the knee problem, and missed his open field tackle but his tackle was enough to carry the momentum of the runner out of bounds after a short gain. Later on the drive, he left the game with an apparent hamstring issue and would not return. His departure was noticed, and while I thought about not grading him at all I wanted to at least recognize the good impact he made before he left. His GPA was so bad going into this game it needed a little boost. Jonathan Casillas: C- (2.11) His play recognition was poor, with the exception of a misdirection play he did well to contain. He seemed to disappear later in the game (injury?). He had 4 tackles and was poor against the run. He was also gift wrapped a fumble recovery but a referee whistle cost him a deserved gimme touchdown. Will Herring: D+ (2.00) He came in a lot in passing situations and was a major liability against the run. The guy just can't shed blocks well at all. He was useful on special teams. Had 2 tackles. Jabari Greer: A- (3.17) When he was beaten, the coverage was solid and there's not much more you can ask for. His coverage was excellent all day. He made some nice tackles, was fairly physical and came up with a huge interception - the team's first in three games. He's clearly the best defensive back on the team right now. He had 5 tackles. Patrick Robinson: B+ (1.56) Making up for two very bad weeks (D- both times!), he was also excellent. Matched up against Dwayne Bowe much of the day he made life difficult for the former LSU star. He was beaten at times but made all the plays tough. His coverage was exceptional when you consider the amount of time Matt Cassel had to throw the football. He had 8 tackles, including a number of very nice open field ones, and 3 defended passes. Corey White: C+ (1.55) Still got picked on a little bit but he's getting better. Had 5 tackles and was mostly ok in coverage. He didn't let anyone run free behind him. Malcolm Jenkins: B+ (2.33) He was extremely physical over the middle, did a good job of saving the team a couple times with last defense tackles, and he was good with coverage help. I was encouraged with what I saw from Jenkins this week. Somehow he developed closing speed. Cassel seemed to throw a lot of high balls and Jenkins made some guys pay for it, particularly Bowe. He was credited with 8 tackles, a defended pass, and a tackle for a loss. Roman Harper: B (2.22) Like Jenkins I was encouraged by his showing. Most surprising and impressive was how strong he was in coverage. True, he dropped what would have been a tough interception in the end zone thanks to his stone hands, but he brought the pain and broke up passes. He had 11 tackles, 1 for a loss, and 2 defended passes. In run support he was hit or miss. He did absorb blockers better than most linebackers, but at times he took risks getting to the ball carrier and it backfired into big runs because he didn't contain. Still, an encouraging performance by both safeties.   Garrett Hartley: C- (2.89) He nailed a 40 yarder perfectly but missed a 38 yarder. No excuse for that, it was a gimme. The reaction of Chase Daniel and his teammates leads me to believe Hartley could be a locker room outcast. Kickers normally are, but Morstead seems to be much more generally accepted. I didn't get that sense from Hartley, but that's pure speculation and I could be wrong. Regardless that miss was a back breaker. He was perfect on three extra points. Thomas Morstead: B- (2.89) I don't know what's going on with him this year but he allowed 5 kickoffs to be returned, what's up with that? A lot of his punts were very returnable as he routinely outkicked his coverage. He did average an ungodly 55.8 yards per punt and had a career long 70 yarder that went for a touchback. His net was 10 yards lower, but a still very respectable 45.8. Courtney Roby: B- (3.33) He had a tackle and downed a punt, was good as a gunner as usual and normally the first man down. He hurts his grade a bit due to an offensive holding call that negated a nice run by Sproles. Rafael Bush: B- (2.67) Made a beautiful open field tackle on a kickoff.   My Defensive Player of the Game: Jabari Greer My Special Teams Player of the Game: Courtney Roby
[follow] 
Original Story:
http://www.thesaintsnation.com/2012-a...
THE BACKYARD
BEST OF MAXIM
RELATED ARTICLES
When the bounty suspensions were handed down by Roger Goodell this summer and the New Orleans Saints found out they were going to be without head coach Sean Payton for the season -- and without assistant head coach (and obvious choice for interim coach) Joe Vitt for the first six games -- I promise you that more than a few of the Saints players thought, "No problem." That...
(Eds: Updates throughout. With AP Photos.) By BRETT MARTEL AP Sports Writer Drew Brees readily acknowledges he is an eternal optimist - and won't buy into the notion that an 0-3 record is proof the Saints are doomed without suspended coach Sean Payton. When he reviewed video on Monday of New Orleans' collapse in a 27-24 overtime loss to Kansas City a day earlier, he took...
Mike Tanier has a nice piece on Drew Brees, Dan Marino, and Johnny Unitas: We should, of course, cherish the memories of Unitas and other legends. But we cannot do so at the expense of the present. Drew Brees is an all-time great at his prime. We must appreciate him while we have him. Every time we lapse into nostalgia, it's a backhanded insult to a legacy that is still growing.
The NFL filed a motion in U.S. District Court in New Orleans on Monday to try to enforce a stay on the discovery phase in Jonathan Vilma's defamation lawsuit against commissioner Roger Goodell, the New Orelans Times-Picayune reported. In essence, the league wants the court to prevent Vilma's legal counsel from requesting evidence related to the NFL's investigation...
This was a strange one. The Saints' offense largely looked pretty good leading up to a 24-6 lead and then nothing. The motor was completely shut off and there was no semblance of threat from them for the remainder of the contest. It went from effective to watching LSU's offense against Alabama's defense in the national title game all over again. What happened to this...
If I told you prior to the start of the 2012 season that the New Orleans Saints would be 0-3, and the Green Bay Packers would be 1-2, you'd think I was ludicrous.However, the truth of the matter is, the two teams find themselves on a collision course in Week 4; and those records are deadly accurate.After a disappointing Week 3 loss to the Kansas City Chiefs, the Saints are...
Everybody knew that Peyton Manning is great, but perhaps it took us witnessing the team without him last year to realize just how valuable he is. We are getting the same thing this year with the other Payton (with an "a"), Sean, the coach of the Saints. In a season already filled with surprises, the biggest shocker in Week 3 is the same thing from the opener, how disappointing...
Remember when Cal Ripken Jr. broke Lou Gehrig's MLB record for consecutive games played? Fans had been counting down to that moment for months, if not years. One of the game's all-time good guys was about to break a hallowed record held by one of the game's legendary figures. When the mantle was passed, time stood still. For the baseball purist, it was a goosebumps moment.So...
With the Chiefs 27-24 overtime victory over the New Orleans Saints, it's hard to believe that next Sunday, if Kansas City wins against San Diego at Arrowhead, they'll be playing for first place in the AFC West.
Pardon my biblical analogy, but I am a seminary student in New Orleans. It's the best I have to offer.In Acts 2:14-39, Peter preaches the first ever recorded Gospel sermon to the Jews living in Jerusalem. He explains how Jesus of Nazareth is the Messiah they were waiting for by examining the Old Testament Scripture and using Jewish culture. The sermon is quite good in its construction...
NFL News

Delivered to your inbox

You'll also receive Yardbarker's daily Top 10, featuring the best sports stories from around the web. Customize your newsletter to get articles on your favorite sports and teams. And the best part? It's free!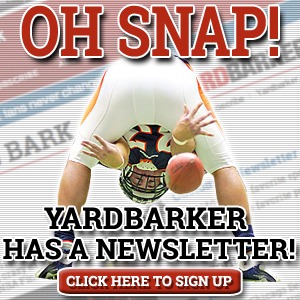 Latest Rumors
Best of Yardbarker

Today's Best Stuff

For Bloggers

Join the Yardbarker Network for more promotion, traffic, and money.

Company Info

Help

What is Yardbarker?

Yardbarker is the largest network of sports blogs and pro athlete blogs on the web. This site is the hub of the Yardbarker Network, where our editors and algorithms curate the best sports content from our network and beyond.