Found July 23, 2013 on The Saints Nation:
PLAYERS:
Keenan Lewis
,
Jabari Greer
,
Patrick Robinson
,
Michael Vick
,
Jason David
,
Fred Weary
,
Chris Carr
,
Rob Ryan
,
Corey White
,
Korey Lindsey
,
Rod Sweeting
,
Randall Gay
,
Dion Turner
,
Davis A.J.
TEAMS:
New Orleans Saints
,
Philadelphia Eagles
,
Cleveland Browns
If this secondary is going to show any improvement whatsoever, then the sacred cow of the offseason, Keenan Lewis, will have to live up to the investment. Last year was a dreadful performance from top to bottom beyond words. Besides Lewis and some back end additions at safety, the Saints really haven't done much to solidify the cornerback position in the offseason. Depth is still a massive concern. Here are the players: Keenan Lewis: Already mentioned above, he's the key to this position showing some improvement over last season. On paper he's superior to anything the Saints had a season ago, but let's not get overly excited either. While Lewis is a steady cover man, he's not a playmaker. In fact, the main reason he's not a high ticket corner is he lacks the ability to make a turnover. Lewis is great at being physical and causing breakups, but he's not a 5+ interceptions a season type guy. That's ok, though, anything is an improvement. He is a lock to start. Jabari Greer: When healthy Greer has always been a solid overall corner. He makes up for lack of size with a nice combination of superior intelligence, effort, speed and toughness. When he's banged up he alternates between passable and mediocre. I'm not sure he was a top corner in his prime, and now that he's aging I question if he is still starter material on a good team. But Greer is a good guy to have on your team from an influence and accountability standpoint. He's tough, he'll play well in patches, and he will lead by example. If he can stay healthy he still has some gas in the tank. He's a roster lock, and should start. Patrick Robinson: He's shown great ability in spurts, and overall played quite well in 2011. Unfortunately 2012 under Spags was a trainwreck. He's possibly the best playmaker of the corners, as evidenced by his pick six against Michael Vick last season and his ability to jump routes, but that was by far outweighed by his head constantly swimming last year. When P-Rob is playing bad, it's Jason David/Fred Weary/Toi Cook bad. I'm not ready to fully throw him in that category, but man, if he has another season like last year he starts to be worthy of consideration. In the meantime this season possibly playing in the slot could lower his role, competition, and risk for being exposed. Hopefully that adds up to him developing at a better clip. He's a roster lock, and likely the nickel guy unless he can unseat Greer. He does have 7 interceptions over the last two seasons which is a team best. Chris Carr: The 9 year vet was a surprise free agency signing by the Saints and will battle for a spot on the roster. I have this weird feeling the Saints will only keep four corners this year because of the depth at safety, and Vaccaro/Jenkins' ability to play the slot. Carr has started for some good Ravens defenses and he played under Rob Ryan in Oakland, so he's familiar with the scheme. He's the favorite to win that 4th spot in my opinion.  Corey White: He started 4 games last season as a rookie, and played in 10. Those were all largely a complete disaster, though he did show some things later in the season before getting hurt. I view last year as a throwaway, so he'll get another shot with a new coach and scheme. He'll compete with Carr for the dime back position. A. J. Davis: Many fans seem to like Davis as a darkhorse. He was in training camp last year but lost out on a shot due to injury. He'll try it again this year but seems like a long shot. Korey Lindsey: From Baton Rouge, the Southern Illinois product has been a prospect liked by many teams, as he's bounced from the Cardinals, Colts, Jaguars and Redskins in the last year. He's been on the active roster of a couple, and the practice squad of the rest. So he's been real close to seeing some time on the field. This camp might be make it or break it for his career though. The fact that other teams has seen something in him seems promising, though not much.  Rod Sweeting: He's an undrafted rookie free agent, and funny enough NFL.com's draft write up on him compared him to former Saint Randall Gay. I would take that in a heartbeat. It seems like he possesses everything you'd want in a corner except speed. He'll need to show some special teams ability, like a lot of these guys, to have a shot. Dion Turner: He was briefly with the Packers and Dolphins last season, and this is his second year. He's a long shot as well. Prediction: I'm going to make the suprising prediction that the Saints retain just four corners and SIX (!) safeties. This because the Saints have so many safeties that are adept at special teams (Abdul-Quddus, Leonhard, Bush) and others that can play the slot (Jenkins, Vaccaro). Therefore, I think Lewis, Greer and P-Rob are locks, with White and Carr fighting for the fourth spot. I'm going to pick Carr due to his experience for now, and White being a surprise cut. He was so bad last year I just have no faith in him. Maybe he, or some of these other guys latch on to the practice suad.   
Original Story:
http://www.thesaintsnation.com/2013-a...
THE BACKYARD
BEST OF MAXIM
RELATED ARTICLES
Who is playing left tackle? Though the New Orleans Saints defense was bad last season, the biggest and most important question comes on offense. No matter what improvement the defense sees, it will be all for naught if Drew Brees is on his back. As of now, it has become a three horse race between Charles Brown, free agent signee Jason Smith, and rookie 3rd rounder Terron Armstead...
The New Orleans Saints have placed safety Roman Harper, cornerback Patrick Robinson, and linebacker Victor Butler on the PUP list. The #Saints have placed LB Victor Butler, S Roman Harper, and CB Patrick Robinson on PUP list, I'm told. — Ian Rapoport (@RapSheet) July 23, 2013 The Saints can activate Harper, Butler and Robinson at any time during camp. Need NFL Tickets? ...
When New Orleans Saints linebacker Curtis Lofton says the defense has something to prove, he's not kidding. After a historically bad 2012 season, new defensive coordinator Rob Ryan was hired to fix the problems that made the unit the worst in the NFL. Lofton is penciled in to be an inside linebacker in Ryan's 3-4 scheme, but says he's has been working at outside linebacker...
New Orleans Saints Executive Vice President/General Manager Mickey Loomis is looking forward to 2013 after a really tough season last year. Head coach Sean Payton returns and some neccessary changes have been made. Now it's time to forget all about the dismal showing in 2012 and show the league that the Saints still have a solid team and will find success again. "I think...
The Saints' defense is shouldering a lot of expectations: when training camp opens later this week, all eyes will be on Rob Ryan's fledgling Black and Gold version of the 3-4 scheme. "When you start from the gutter, the only thing you can do is come up. They were in the gutter last year! They were pretty horrendous. They have nowhere to go but up," says former...
Since Sean Payton returned from his bounty ban in January, the Saints have steered clear of scandal or contract holdouts in a blissfully uneventful offseason. With the focus back on football, optimism abounds in the Big Easy. ''Here we are, really for the first time in four years, where you feel like this is a normal offseason,'' quarterback Drew Brees said recently...
The New Orleans Saints have placed linebacker Victor Butler, safety Roman Harper and cornerback Patrick Robinson on the physically unable to perform list, according to Ian Rapoport of NFL.com. Rapoport indicated that it's not surprising to see Butler hit the PUP list. He suffered a torn anterior cruciate ligament (ACL) in June, and there's a chance he could miss the entire...
The most uncertain and unsettling position on the Saints' roster is linebacker. We're not entirely sure who the starters are, how the players will be used, and which guys will have prominent roles in this new defense. What we do know is there will probably be a decent amount of mixing and matching, with heavy rotation. The uncertainty is exciting, though, because with a new...
As training camp opens today, I'm excited to blog about what I view as the deepest and most intriguing tandem position on the roster. The Saints have a lot of veteran and young talent that all deserve to make this team. Traditionally the team has kept four or maybe five safeties. This year, I really think six should be kept. I'm surprised at the team's desire to stockpile...
A happy 22nd birthday to Saints rookie left tackle Terron Armstead - who says he's going after the job of protecting Drew Brees' blind side at full speed when training camp opens Thursday. It's a tough task for a rookie - even though Armstead believes he's mature enough to step up. In honor of his birthday - Armstead tweeted (@optimusprime_72) "The birth of...
New Season, New Podcast! Now with better sound and Kick @#$ Open! Andrew Juge of the Saints Nation joins Ralph to preview training camp and wonders if they got Sean Payton drunk what would he say is the biggest worry heading into 2013.  They also try to figure out what are the keys to the Saints offense returning to 2011 form. Andrew breaks down the running game struggles and...
NFL News

Delivered to your inbox

You'll also receive Yardbarker's daily Top 10, featuring the best sports stories from around the web. Customize your newsletter to get articles on your favorite sports and teams. And the best part? It's free!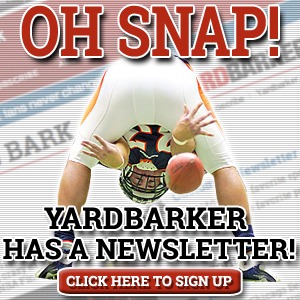 Latest Rumors
Best of Yardbarker

Today's Best Stuff

For Bloggers

Join the Yardbarker Network for more promotion, traffic, and money.

Company Info

Help

What is Yardbarker?

Yardbarker is the largest network of sports blogs and pro athlete blogs on the web. This site is the hub of the Yardbarker Network, where our editors and algorithms curate the best sports content from our network and beyond.