Posted July 26, 2012 on AP on Fox
PLAYERS:
Drew Brees
,
Steve Spagnuolo
,
Lance Moore
,
Malcolm Jenkins
,
Jimmy Graham
,
Jonathan Vilma
,
Roman Harper
,
Scott Shanle
,
Sedrick Ellis
,
Jonathan Casillas
,
Akiem Hicks
TEAMS:
New Orleans Saints
,
St. Louis Rams
A semblance of normalcy has returned to the New Orleans Saints, who started practicing Thursday with recently re-signed star quarterback Drew Brees back on the field. Brees even decided his first practice following a months-long contract holdout was as good a time as any to throw deep. ''I said, `Hey, we're going throw some balls down the field that maybe we shouldn't today, but let's just go make some plays,''' Brees said. If only the fans who'd lined up to get into Thursday evening's opening training camp session could have seen it. Lightning in the area led the Saints to move the practice indoors, where space is limited and only so many guests can watch. For Brees, who recently inked a five-year, $100 million contract, the practice also marked his first chance to work against a scheme installed by new defensive coordinator Steve Spagnuolo. It started off well for the offense, with Lance Moore diving to snag a long passed that was tipped by Malcolm Jenkins. ''The receivers caught some long balls on us today,'' said assistant head coach Joe Vitt, who is also the linebackers coach. Vitt said the defensive backs were in pretty good position but followed coaches' orders not to challenge receivers too aggressively because players were not in full pads. ''The secondary guys were there, the receivers made some outstanding catches, but now as we get into our padded practices, the DBs have to make the plays on those balls,'' Vitt said. ''And like I said before, Drew (Brees) is going to put those balls in places where he is going to give the receivers a chance to catch the ball, which is great work for our corners.'' Brees, meanwhile, expects Spagnuolo's scheme to give him a solid test before training camp is done. ''The fact that we have new defensive system with Steve Spagnuolo and the respect I have for him ... and knowing the mindset he brings, this is going to be a great camp, competitive camp,'' Brees said. ''We will have thrown a lot at each other.'' Jenkins meanwhile, said the new defense is a work in progress that will be refined over the course of five preseason games, starting with the Hall of Fame game against Arizona on Aug. 5 in Canton, Ohio. Asked if defensive players were comfortable with the scheme, Jenkins said, ''I wouldn't say comfortable. We're still learning it.'' ''The good thing is we're putting in a lot of the hard stuff early,'' Jenkins added. ''There will be a little confusion. But it will get easier. I think everyone's trying to learn and settle into what their roles are.'' Vitt and several of Brees teammates said Brees seemed as sharp as if he never skipped all of the club's voluntary practices and mandatory minicamp. ''He's made the best of a tough situation ... by coming here in great shape,'' Vitt said. ''He came in today and showed his great leadership qualities that he has, great accuracy on the ball, good zip. He's got a lot of pent up frustration; he hasn't played since (last season's playoff loss at) San Francisco. He was happy to be out there.'' Tight end Jimmy Graham said he could tell Brees has had ''a lot of time to think and definitely a lot of time to work out,'' noting that Brees was trying to race him in condition sprints on Wednesday. ''He is definitely in shape. He is definitely ready,'' Graham said. ''He's also come up with some new material for inspiration so I'm excited to hear him. I'm excited to hear all of his little sayings.'' NOTES: Before practice, Vitt spent part of the day in federal court testifying on behalf of linebacker Jonathan Vilma, who was asking a judge to temporarily block his suspension in connection the NFL's bounty investigation while his lawsuit against the league plays out. Four current Saints defensive players also were excused from part of the day's activities to testify. They were Roman Harper, Scott Shanle, Sedrick Ellis and Jonathan Casillas. ... Rookie DT Akiem Hicks, who broke his right hand during offseason practices, was the only player who did not practice. Vitt said he could return by Sunday.
Original Story:
http://msn.foxsports.com/nfl/story/Sa...
THE BACKYARD
BEST OF MAXIM
RELATED ARTICLES
The Saints will quite possibly enter 2012 with a brand new set of starting linebackers, but the competition in training camp promises to be fierce. As things stand, the veteran linebackers on the Saints' roster include David Hawthorne, Curtis Lofton, Scott Shanle, Will Herring, Jonathan Casillas and Chris Chamberlain. I'm not including Jonathan Vilma who will likely be suspended...
The agent for Thomas Morstead says the Saints' punter and kickoff specialist has agreed to a six-year extension worth $21.9 million. Vann McElroy says the deal pays Morstead an average of $3.65 million during the final six years of what now becomes a seven-year deal running through the 2018 season. That would make Morstead the second-highest paid punter in the NFL behind Oakland...
Getty Images On Thursday, New Orleans Saints head coach Sean Payton said that they're working on creating a statue to commemorate Steve Gleason's blocked punt from 2005. Payton says they recognize Gleason's play as a major turning point in the Saints' franchise history. "We're working on, and have a long-term vision of a statue right there in Champions Square of him blocking...
Serious cap problems coming as soon as 2013 didn't stop Mickey Loomis from making a massive investment in the team's star punter Thomas Morstead. Morstead's contract extension is good for 6 years at $21.9 million, although only just less than $7 million is guaranteed. Unless his contract gets cut short, then, he'll be a Saint for the next 7 years. Morstead's contract...
He may be gone for the upcoming season, but suspended coach Sean Payton definitely is not forgotten. How could he be, when there's a self-portrait literally hanging over the Saints' collective heads? As FOX reporter Jennifer Hale shared via Twitter, the team on Friday added a giant-sized picture of Payton atop their indoor training facility. The picture features a serious...
The NFL calls a report it has offered a settlement and reduced suspension to Saints linebacker Jonathan Vilma ''completely inaccurate.'' Vilma has been suspended for the 2012 season for his role in the Saints bounty program, which he adamantly has claimed did not exist. Citing anonymous sources, ESPN.com reported the league offered Vilma an eight-game suspension...
Marques Clark stopped playing organized football when his eligibility with Division II Henderson State ran out in 2006. Drew Brees helped him get his first shot in the NFL this month. It just so happens that Brees does offseason throwing at a San Diego-area high school where Clark got a job about two years ago as a wide receivers coach. Brees noticed Clark working out there and...
NFL News

Delivered to your inbox

You'll also receive Yardbarker's daily Top 10, featuring the best sports stories from around the web. Customize your newsletter to get articles on your favorite sports and teams. And the best part? It's free!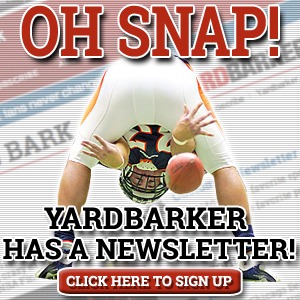 Latest Rumors
The Backyard

Today's Best Stuff

For Bloggers

Join the Yardbarker Network for more promotion, traffic, and money.

Company Info

Help

What is Yardbarker?

Yardbarker is the largest network of sports blogs and pro athlete blogs on the web. This site is the hub of the Yardbarker Network, where our editors and algorithms curate the best sports content from our network and beyond.