Found May 11, 2012 on isportsweb.com:
(photo credit: www.chargers.com)
As almost all San Diego fans know, an improvement needed to be made to the Chargers pass rush this off season.  The front office addressed this on a few different fronts.  They drafted Melvin Ingram, the top rated pass rusher in the draft by many experts and teams, and Kendall Reyes, a versatile DT/DE from Connecticut with 32.5 tackles for loss and 11.5 sacks in college.  They fired defensive coordinator Greg Manusky and gave the job to John Pagano, brother of former Ravens Defensive Coordinator and current Colts Head coach Chuck Pagano.  Pagano said that he will be making his players focus on fundamentals, such as proper tackling form, but the question is whether he will be more aggressive than Manusky with his blitzing.
These improvements will be under intense scrutiny this season and the testing begins right away.  Out of the top 7 teams for fewest sacks allowed last season, the Chargers will face 5 this season.  4 of those teams the Bolts will play in the first 5 weeks of the season.  The Raiders, tied for 4th with only 25 sacks allowed last season, are up first in week 1.  Week 2 the Bolts defense will square off against the Titans offensive line which allowed only 24 sacks last season, good enough to be tied for 2nd in the league with the Saints who the Chargers will play in week 5.  Then in week 3 the Chargers will face the Falcons who only allowed 26 sacks in 2011.
These 4 contests in the first 5 weeks could make or break the Chargers defense, and season, this year.  If the Chargers can manage to come out of those 4 games with 8 or more sacks it will be a huge confidence boost for both the defense and the fans and will most likely result in a winning record through the first 5 games.  If the Chargers only manage say, 6 or less sacks, morale on the defense will be low, fans will be upset, coaching and front office jobs will probably be threatened, and the Bolts will likely have a losing record.
(photo credit: www.cbssports.com)
Melvin Ingram will possibly be the pass rusher with the most pressure to perform.  He has very high expectations coming out of college as arguably the top rated pass rusher.  He will need to prove that his short arms are not a liability at the NFL level.  Ingram will also need to prove to the Chargers and the Fans that he was worthy of a 1st round pick and not wind up on the list of GM A.J. Smith's recent first round busts such as Larry English and Craig "Buster" Davis.  If Ingram performs as advertised and the defense is more aggressive this season, he could very well have double digit sack numbers this season and be in the running for DROY honors just like the guy he has been training with all off season, division rival Von Miller, did last season.
(photo credit: www.chargers.com)
Another player who will be watched closely is long time Charger Shaun Phillips.  After posting a team leading 11 sacks in 2010, Phillips only managed a career low 3.5 sacks in 2011.  Phillips will need to return to form this season if the Chargers want to get back to numbers like they had in 2010 when they tied for 2nd in the league with 47 sacks.  Phillips will also be key in helping the Chargers secure the top spot in the division.  Phillips has the most experience out of all the OLB's against new Denver Broncos QB Peyton Manning as a Charger having played in 7 games vs the Manning led Colts.  However, all of the Chargers OLB's will need to figure out how to be more effective against Manning.  English, Antwan Barnes, Jarret Johnson, and Phillips have all played at least one game against Manning.  Johnson and Phillips have 1 sack a piece on Manning for their careers, Barnes, English and Ingram have 0.
For San Diego to put enough checks in the "Win" column to make the playoffs this season the pass rush must show improvement.  The Chargers were the worst defense in the league last season when it came to 3rd down defense and their record suffered because of it.  Sacking the quarterback or at least getting in his face and forcing him to rush his throw are the best ways to get off the field especially on a 3rd and long situation.  Allowing teams to complete passes to move the chains on 3rd down is demoralizing, it keeps your defense on the field longer, and possibly the most hurtful, keeps Philip Rivers and his weapons on the sideline longer.
This doesn't all fall on the OLB's though.  The big guys in the trenches need to step up as well.  NT Antonio Garay managed only 2.5 sacks last season after posting 5.5 in 2010. NT Cam Thomas should continue to improve as he see's more playing time after doubling his sacks from 2010 to 2011 netting 2 and 4 sacks respectively.  While it isn't a nose tackle's job to get sacks, grabbing a sack every few games helps bring on double teams, leaving less blockers for the LB's to run free.  The OLB's will need Luis Castillo to be healthy and get back to drawing double teams and eating blockers so they can run free and make sacks.  Our young DE's Reyes and Corey Liuget also need to perform to a level worthy of where they were drafted.
If Phillips can return to form, if Ingram plays as advertised, if Barnes (the one bright spot from the Chargers pass rush last season with 11 sacks) can play as well or better than last season, and if English can finally produce like he was expected too when Smith took him in the first round, quarterbacks will once again fear the Bolts defense.  That is a lot of "ifs," and in all likelihood not all of them will come true, but even just half of those coming true would be an instant improvement over last season.
Original Story:
http://isportsweb.com/2012/05/11/san-...
THE BACKYARD
BEST OF MAXIM
RELATED ARTICLES
A near-capacity crowd was expected to join Junior Seau's former teammates and NFL opponents in celebrating his life at Qualcomm Stadium on Friday evening, the U-T San Diego reported. A lineup of speakers will share their memories of the former San Diego Chargers linebacker at the event, hours after his family's own private funeral service. Officials said the crowd could...
(Reuters) – A crowd of 15,000 fans celebrated the life of former football star Junior Seau in a memorial on Friday at a San Diego stadium, as they cheered on his grieving family and listened to speakers describe his generosity and sense of humor. Seau, regarded as one of the best defensive NFL players of his generation, died on May 2 at his home in Oceanside, just north of San...
San Diego said goodbye to Junior Seau on Friday evening as best it could. Chargers fans cheered highlights of his greatest plays, laughed at stories of his charm and humor and cried at their shared loss. The Chargers honored Seau by officially retiring his uniform number, 55. Team president Dean Spanos made the announcement toward the end of the "celebration of life" ceremony...
  Junior Seau No. 55 San Diego Chargers Linebacker Size: 6-3, 248 lb Birthdate: January 19th, 1969 San Diego, Ca Place of Death: May 2nd, 2012 San Diego Chargers (1990-2002) Miami Dolphins (2003-2005) New England Patriots (2006-2009) Career Stats: Tackles: 545 Sacks: 56.5 Forced Fumbles: 3 Interceptions: 18 Accolades: - 12x Pro Bowl (1991, 1992, 1993, 1994, 1995, 1996...
The Chargers are almost bucking tradition before the first offseason workouts start in earnest: their top picks have agreed to deals. For years the Chargers would square off with draft picks, most notably Philip Rivers in 2004 and Shawne Merriman in 2005, and see which side would blink first. Often those negotiations grew contentious and that year's prized rookie would miss...
San Diego said farewell to a hometown hero and legendary football player honoring the late Junior Seau, officially retiring the number 55. Seau, passed away on May 2nd from a self-inflicted gunshot wound, was buried in his hometown, Oceanside, on May 11th. The San Diego Chargers honored Seau at Qualcomm Stadium with approximately 20000 fans in attendance. Guest speakers included...
Football is a very violent game that many of us love to play and love to watch. You have to have a strong will to play the game. Football is not a game for the weak of heart, evidenced by Junior Seau the former San Diego Chargers and New England Patriots linebacker. Injuries are a big part of the game. The injuries come along with the violence. Some folks play the game and never...
Chargers News

Delivered to your inbox

You'll also receive Yardbarker's daily Top 10, featuring the best sports stories from around the web. Customize your newsletter to get articles on your favorite sports and teams. And the best part? It's free!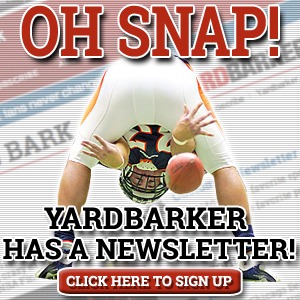 Latest Rumors
Best of Yardbarker

Today's Best Stuff

For Bloggers

Join the Yardbarker Network for more promotion, traffic, and money.

Company Info

Help

What is Yardbarker?

Yardbarker is the largest network of sports blogs and pro athlete blogs on the web. This site is the hub of the Yardbarker Network, where our editors and algorithms curate the best sports content from our network and beyond.