Found June 18, 2012 on Lost My Way:
LaDainian Tomlinson has announced he will sign a one-day contract with the San Diego Chargers so he can retire from the game of football where his career began. The Chargers drafted Tomlinson out of TCU in the first round back in 2001. LT found instant success in the NFL and will retire as the league's fifth all-time leading rusher.    
The 2006 NFL MVP has spent the past two seasons in New York searching for a Super Bowl to add to his resumé. Although coming up short, LT has done enough in his 11 seasons to assure him a spot in the Pro Football Hall of Fame. He only trails Emmitt Smith and Jerry RIce for most touchdowns in league history. In 2006, Tomlinson accounted for 31 touchdowns, a single-season record. 
LT didn't have the best transition from the Chargers as his age and the wear on his body was starting to show. He began to suffer from injuries that had many questioning his toughness and whether or not he was worth the money to keep in San Diego. Eventually the organization came to terms that he was too expensive to keep on and cut him loose.
LT has been an outstanding athlete his entire career and it's a little disappointing that he never won a Super Bowl for all his efforts. Even being a player that has received the admiration of his colleagues, you have to think that retiring from the NFL without a ring has to leave a small hole that can't be filled. I imagine it would be a hole a lot like when somebody takes the last of the bacon during breakfast before you could eat any.
TL;DR
LaDainian Tomlinson will be returning to San Diego for a one-day contract to finish his NFL career where he started.
LaDainian Tomlinson to retire
[ESPN]
Posted by Mowry and Atkins under Sports
Original Story:
http://www.lmwlostmyway.com/1/post/20...
THE BACKYARD
BEST OF MAXIM
RELATED ARTICLES
The San Diego Chargers will announce later this afternoon that they will sign RB LaDainian Tomlinson to a one-day contract in order to allow the veteran running back to retire as a member of the team which drafted him 2001. Tomlinson was a free agent after playing out his two-year contract with the New York Jets, but drew no interest from teams around the league. The five-time Pro...
LaDainian Tomlinson is heading back to the team that made him a superstar. But only for a moment. Tomlinson, the fifth-leading rusher in NFL history, will sign a one-day contract that will make him a San Diego Charger one last time and then promptly retire on Monday at an midday news conference, according to tweets sent out by the team's Twitter account. L.T. had spent the last...
LaDainian Tomlinson confirmed today what many had expected all offseason, that the future Hall of Famer would be hanging them up. Tomlinson will officially retire with the Chargers on Monday, after signing a 1 day contract with the team. Tomlinson spent 9 years with the Chargers after being selected with the 5th overall pick in the 2001 NFL Draft and had all of his best years with...
LaDainian Tomlinson announced his retirement Monday in San Diego, and there was no debate about his place in Chargers' history. "Few players, if any, have meant more to this franchise than LT. He was the heart and soul of this team through one of the most successful decades in our history," said team president Dean Spanos. "I couldn't wait to watch him play...
The San Diego Chargers said earlier today that LaDainian Tomlinson will re-sign with the team tomorrow and announce his retirement. Tomlinson was with the Chargers from 2001 through the 2009 season, winning the league MVP honor in 2006. Ceremonious 1 day contracts are nothing new to the NFL. Late last year, another great running back, Fred Taylor, signed a 1 day deal with the Jaguars...
LaDainian Tomlinson has decided to call it a Hall-of-Fame career, as he announced he will sign with the San Diego Chargers and retire where it all started for the 11-year veteran. Tomlinson will retire in 5th place on the all-time rushing yards list behind only Emmitt Smith, Walter Payton, Barry Sanders and Curtis Martin. What is even more impressive is that LT is in extremely rarified...
TCU star's impact on Horned Frogs is not forgotten LaDainian Tomlinson's TCU career remains among the best in college football history. Photo: Dallas Morning News. The moment LaDainain Tomlinson first touched a football in a Pop Warner game, the legend started. Tomlinson, a Waco, Texas native, would go on to have one of the most successful careers in the National Football League...
There comes a time in life when we all realize that we're not as young as we once were. Unfortunately, this also happens in the sports world, that time when an athlete realizes he can longer run, catch, pass or jump like he once could and now it's time to hang it up and begin a new chapter as a former player. Well, former TCU star running back LaDainian Tomlinson, or &quot...
Former San Diego Chargers running back LaDainian Tomlinson signed a one-day contract to retire yesterday as a member of the franchise which drafted him in 2001. Tomlinson, a two-time NFL rushing leader finishes his career as the fifth leading running back with 13,684 yards. As the NFL game becomes more of a passing led offense, with teams creating more two-back tandems in backfields...
And to think this will all be behind us in the very near future. I'm missing Bountygate already! The NFLPA's outside counsel released a statement yesterday regarding Bountygate that can be found here. It's no secret that I almost never favor the NFLPA over the NFL, and this is no exception. To my less-than-unbiased perspective, the statement only sounds like a lot of...
NFL.com senior analyst Gil Brandt has been around football for a long, long time.  Upon LaDainian Tomlinson's retirement this week, Brandt decided to rank his top ten running backs of all-time.  At 79 years old and having worked as the vice president of player personnel of the Dallas Cowboys from 1960 to 1988 and as an analyst since then, Brandt is certainly well-qualified to...
Be sure to follow me on Twitter for more Broncos updates throughout the day. Denver Broncos News Analyzing Tomlinson's career, Saints' appeal, Banks' comeback | Peter King Much news for what's normally a sleepy Monday in June — bounty appeals today in New York, for instance — but let's start the last Monday column before I take my summer break with some numbers from...
NFL News

Delivered to your inbox

You'll also receive Yardbarker's daily Top 10, featuring the best sports stories from around the web. Customize your newsletter to get articles on your favorite sports and teams. And the best part? It's free!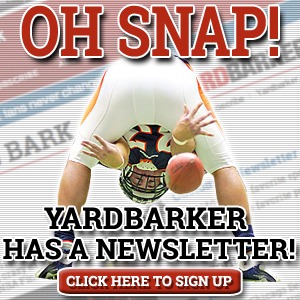 Latest Rumors
Best of Yardbarker

Today's Best Stuff

For Bloggers

Join the Yardbarker Network for more promotion, traffic, and money.

Company Info

Help

What is Yardbarker?

Yardbarker is the largest network of sports blogs and pro athlete blogs on the web. This site is the hub of the Yardbarker Network, where our editors and algorithms curate the best sports content from our network and beyond.