There is already speculation that Mark Sanchez has startedto lose the respect of his fellow New York Jets behind his poor play and lackof leadership; bringing Tim Tebow in will only make that situation worse.
Sadly the Jets felt that Tebow would help unite theirfractured locker room which is the reason why they traded a fourth and sixthround pick to the Denver Broncos on Wednesday in order to acquire him. On topof adding Tebow the Jets also receive a seventh round pick in the deal.
This trade will not help the Jets though. Tebow attractscircus-like attention where ever he goes and that will only be amplified by thebright lights of playing in the Big Apple. Imagine Tebow-time to the tenthpower because the media attention in New York will be exponentially greaterthan what Tebow saw in Denver.
The thing that should concern people the most though is theJets' logic concerning how Tebow can help this team. Seriously, how doesbringing in a more popular quarterback help the incumbent starter?
Tebow began last season as Denver's third-string quarterbackbut after starter Kyle Orton began to falter, Broncos' fans and Tebow-fanaticspressured management to give him a shot.
And we see how that situation ended. Tebow helped theBroncos win the division and led the Broncos to a playoff win over thePittsburgh Steelers. Orton was waived during the season and picked up by theKansas City Chiefs.
To his credit Sanchez has led the Jets to the AFCChampionship game twice but his play last season shows that he hasn't made muchprogress during the three seasons he has been in the league.
As a matter of fact many would cite his poor decision-makingas the reason the Jets didn't make their third straight playoff appearance lastyear. Sanchez threw a career-best 26 touchdowns last year but also committed acareer-worst 26 turnovers.
And neither quarterback is very accurate. Tebow threw under50% last season but he has started only 14 regular season games in his two-yearcareer. He also didn't get any reps in training camp during the preseason whichdidn't help him any.
Sanchez on the other hand has been New York's starter forthree years now and can't seem to complete 60% of his throws. His 56.7%completion rate last year was a career best which isn't saying much.
Not to make excuses for Tebow because his statistics wereextremely poor but he did master the one statistic that matters most to aquarterback and that is wins. Tebow led the Broncos on a six-game winningstreak which helped the Broncos win the division and secure a playoff berthlast year. The Jets only won three games in the second half of the season underSanchez.
Tebow really isn't that far behind Sanchez in the accuracydepartment so if Sanchez continues to falter then Tebow may take his job whichwouldn't bother head coach Rex Ryan in the least.
Ryan is a fiery head coach and he likes driven, gutsyplayers like Tebow. Tebow's presence would be a godsend for Ryan who wouldfinally have that strong-willed field general he covets to lead his team intobattle every Sunday.
And remember, Tebow wasn't just successful making playsoffensively for the Broncos last season. He also inspired the defense to playbetter in order to give him a chance to pull out wins for them. Now justimagine how good the Jets could be if Tebow can do that for them.
So look for more drama to follow Tebow as he continues hisNFL journey in the green and white. Tebow's presence in the Jet's locker roomwon't bring players together; instead it will only serve to further divide theteam.
And things may get sticky if players end up having to choosebetween Tebow and Sanchez. All in all, look for the Jets to have a pretty interesting season this year; especially if Tebow comes in and leads the Jets on arun like the one he led the Broncos on last season.
Roosevelt Hall is an NFL Blogger for The Sport Mentalist and an NBA Blogger for The Sport Mentalist 2. He is also a Sports Reporter for Pro Sports Lives. He can be contacted at RHall_TPFB@Yahoo.com and be sure to follow him on Twitter @sportmentalist.
Also check out these stories: Emmitt Smith's rushing record won't be broken Tim Tebow Will Never Measure Up Matt Flynn won't disappoint Seahawks
Original Story:
http://thesportmentalist.blogspot.com...
MORE FROM YARDBARKER
NFL News

Delivered to your inbox

You'll also receive Yardbarker's daily Top 10, featuring the best sports stories from around the web. Customize your newsletter to get articles on your favorite sports and teams. And the best part? It's free!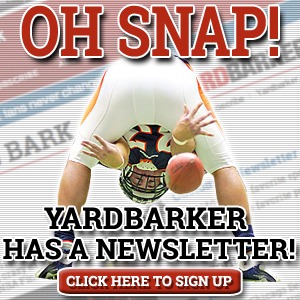 Latest Rumors
Best of Yardbarker

Today's Best Stuff

For Bloggers

Join the Yardbarker Network for more promotion, traffic, and money.

Company Info

Help

What is Yardbarker?

Yardbarker is the largest network of sports blogs and pro athlete blogs on the web. This site is the hub of the Yardbarker Network, where our editors and algorithms curate the best sports content from our network and beyond.