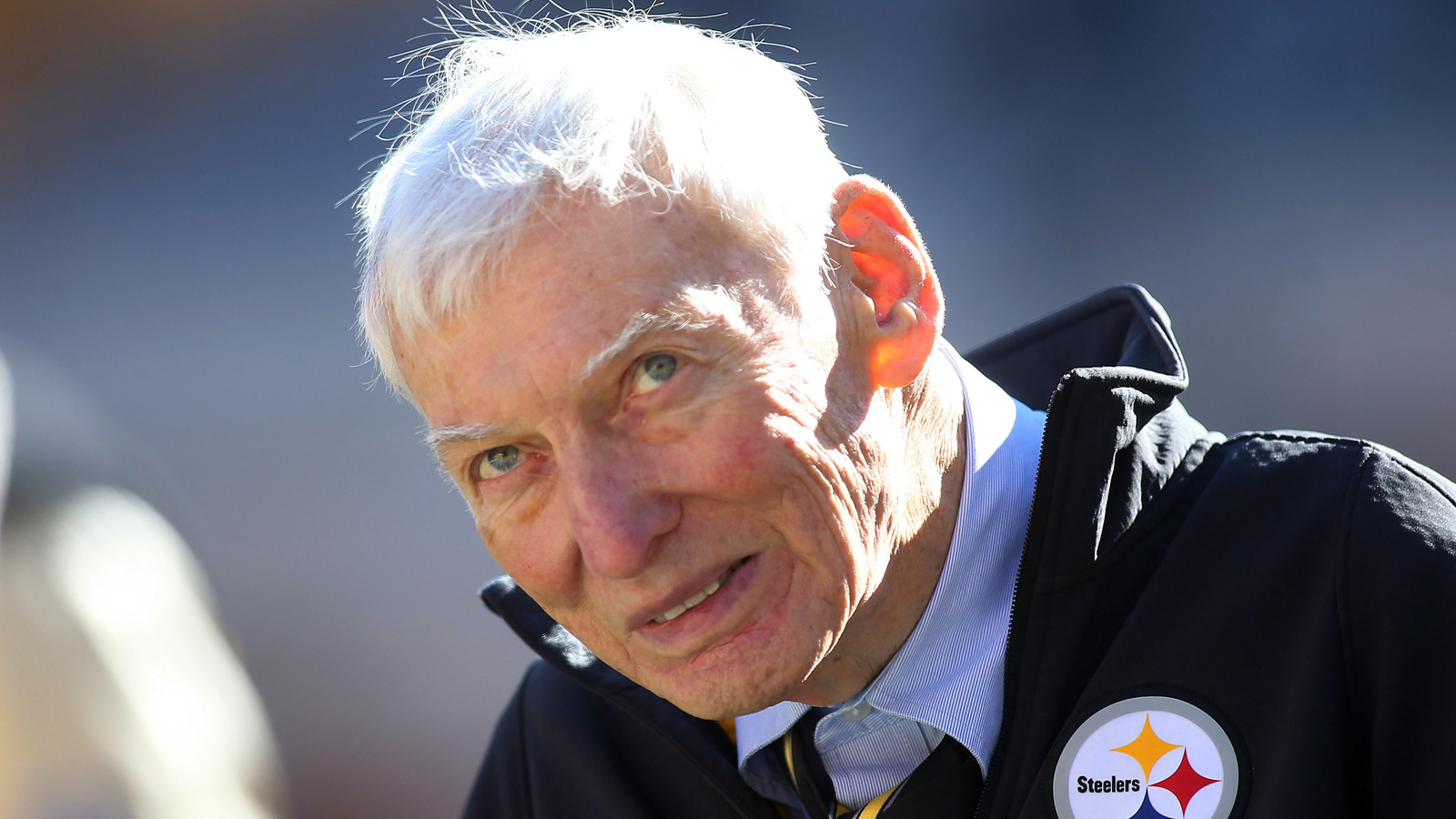 Nov 8, 2015; Pittsburgh, PA, USA; Pittsburgh Steelers chairman Dan Rooney in attendance as the Steelers host the Oakland Raiders at Heinz Field.
Charles LeClaire-USA TODAY Sports
Today, flags are flying at half-mast in Steelers Nation. That's because the Steelers family worldwide has lost a senior member. Daniel Milton Rooney, Chairman of the Pittsburgh Steelers passed away Thursday at the age of 84.
Preceded by his father Art Rooney Sr. who died in 1988 at the age of 87, these two men represented the city of Pittsburgh better than anyone before or since their time on this Earth. Whether you met either father or son in person, anyone that is a native of Pittsburgh or a fan of the Steelers will tell you that they feel like they knew these two giants personally.
If you never had the opportunity to meet Art Sr., it was still easy to love the man. He was such an endearing, amazing person with a heart as big as the universe. His character and attitude was handed down to his son and family. Much like his father, Dan Rooney was about as nice and gentlemanly a man you could know. Both father and son were absolutely respected by their players. Men who donned the Black and Gold uniforms would tell you they wouldn't want to play for any other ownership. Unlike his father, Dan Rooney extended his personal life beyond just the Steelers. In 2009 President Barack Obama would appoint him the Ambassador to Ireland, a post he held until December 14, 2012.
I was fortunate to have met Dan Rooney, albeit very briefly, in the bowels of EverBank Field years ago when the Steelers were in Jacksonville to play the Jaguars. Although it was just a few seconds, Rooney stopped and allowed me to be photographed with him. Along with his father, they turned the Pittsburgh Steelers into winners after being known for most of the franchise history as losers. It will be my hope that the Steelers honor Rooney with a patch on the player's jerseys during the 2017 season. Or, perhaps a decal on their helmets. Dan's son and Art Sr.'s namesake, current team President Art Rooney II, released the following statement:
"It is a sad day for me and my family. My father meant so much to all of us, and so much to so many past and resent members of the Steelers organization. He gave us his heart and soul the Steelers, the National Football League, and the City of Pittsburgh. We will celebrate his life and the many ways he left us in a better place."
NFL Commissioner Roger Goodell also went public with his sentiments:
"Few men have contributed as much to the National Football League as Dan Rooney. A member of the Pro Football Hall of Fame, he was one of the finest men in the history of our game and it was a privilege to work alongside him for so many years. Dan's dedication to the game, to the players and coaches, to his beloved Pittsburgh, and to Steelers fans everywhere was unparalleled. He was a role model and trusted colleague to commissioners since Bert Bell, countless NFL owners, and so many others in and out of the NFL. A voice of reason on a wide range of topics, including diversity and labor relations, Dan always had the league's best interests at heart. For my part, Dan's friendship and counsel were both inspiring and irreplaceable. My heart goes out to Patricia, Art, and the entire Rooney family on the loss of this extraordinary man."
Rooney's wife Patricia, mentioned above, married the man 65 years ago. Along with Art II, there are six other children. And, they gave Dan Rooney 20 grandchildren who also bore five great grandchildren for the late Chairman. Dan Rooney is also survived by four other brothers.
Naturally, current and past players are pouring in with sentiments. Off the top are the condolences posted on social media by Antonio Brown:
"Dear Mr. Rooney, When we first met in 2010 you embraced me with open arms. You made me feel welcome. You looked at me as more than just another jersey number. One of the most genuine, and humble human beings I've had the pleasure of knowing. You motivated me not only to excel on the field but also in life. This season, the number 84 on my uniform will represent the 84 years you spent on this earth making an impact on the lives of others. I'll miss you my friend. Thank you for everything
–AB"
To read many more comments from those who knew Dan Rooney best, you can find them here.
I myself would like to extend my deepest condolences to the entire Rooney clan. And, thank them for all they've done for Steelers Nation. Thank them for giving us the greatest team in the history of professional football. No owners get a deeper respect around the world than the Rooney family. His viewing will be Monday, appropriately enough at Heinz Field, from 2:00 p.m. to 7:00 p.m. His funeral is scheduled for Tuesday at St. Paul Cathedral in Oakland.
An original version of this article appeared on Harv Aronson's website, All 'Burgh Sports, which you can check out yourself by clicking here.
MORE FROM YARDBARKER:
QUIZ: Name every head coach in the history of the Pittsburgh Steelers
With only three head coaches in the last 48 years, the Pittsburgh Steelers are the standard bearers for coaching sustainability and retention. The 16 coaches in franchise history including two Hall of Fame players and one Hall of Fame coach. How many of the leaders of the Steelers can you name?
Clue: Years Active
Note: Includes seasons as the Pittsburgh Pirates
MORE FROM YARDBARKER
Steelers News

Delivered to your inbox

You'll also receive Yardbarker's daily Top 10, featuring the best sports stories from around the web. Customize your newsletter to get articles on your favorite sports and teams. And the best part? It's free!