Found November 29, 2012 on Fox Sports:
PLAYERS:
Arian Foster
,
Calvin Johnson
,
Drew Brees
,
Philip Rivers
,
Jay Cutler
,
Richard Sherman
,
Brandon Browner
,
Matt Schaub
,
Eli Manning
,
Hakeem Nicks
,
Victor Cruz
,
Knowshon Moreno
,
Ronnie Hillman
,
Lance Ball
,
John Fox
,
Shonn Greene
,
Bilal Powell
,
DeAngelo Williams
,
Angelo Williams
,
Jonathan Stewart
,
Cam Newton
,
Rashad Jennings
,
Maurice Jones-Drew
,
Jalen Parmele
,
LaRod Stephens-Howling
,
Beanie Wells
,
Danny Amendola
,
Sidney Rice
,
Danario Alexander
,
Ryan Broyles
,
Titus Young
,
Pierre Garcon
,
Robert Griffin
,
Davone Bess
,
Steve Smith
,
Vincent Jackson
,
Eric Decker
,
Brian Hartline
,
Scott Chandler
,
Jermaine Gresham
,
Antonio Gates
,
Dallas Clark
,
Josh Freeman
,
Dwayne Allen
,
Andrew Luck
,
Robert Griffin III
TEAMS:
Houston Texans
,
Detroit Lions
,
New Orleans Saints
,
San Diego Chargers
,
Chicago Bears
,
Seattle Seahawks
,
New York Giants
,
Denver Broncos
,
New York Jets
,
Carolina Panthers
,
Minnesota Vikings
,
Jacksonville Jaguars
,
Arizona Cardinals
,
St. Louis Rams
,
Washington Redskins
,
Miami Dolphins
,
Tampa Bay Buccaneers
,
Buffalo Bills
,
Cincinnati Bengals
,
Indianapolis Colts
,
Baylor Bears
,
Stanford Cardinal
Through 12 weeks, our Position vs. Fantasy Defensive Points Allowed has become a pretty good tool to help you find friendly matchups. As always, please remember that the players listed are mostly meant to be borderline guys, who need reasons for you to play or bench them. You won't see recommendations to start Arian Foster, Calvin Johnson and Drew Brees, because you should always start Arian Foster, Calvin Johnson and Drew Brees. Make sense? Good. Notes: 1. The fantasy points per game (FPPG) referenced below are from FOXSports.com standard leagues. 2. At tight end, the difference between the best and worst defenses is just 5.5 FPPG. The points-based recommendations for that position likely aren't as helpful as they are for QB, RB and WR. Thursday game: Saints at Falcons Quarterbacks Stay away: Philip Rivers, Chargers (vs. Bengals) Rivers has been off his game this season. He has 14 interceptions, and is barely cracking the top 20 quarterback list in most formats. This week, he faces the eight-ranked Bengals' fantasy defense (16.3 FPPG allowed to opposing QBs). Nah. Also: No luck on the suspension front for Jay Cutler, as Seattle starting cornerbacks Richard Sherman and Brandon Browner have appealed their drug-test penalties and will play this week. The Seahawks rank third with 13.3 FPPG allowed to opposing quarterbacks, and we should be looking at a low-scoring, smashmouth game at Soldier Field that Dick Butkus would enjoy. Play, play, play: Matt Schaub, Texans (at Titans) The run-centric Texans have become Air Schaub, with 842 passing yards over the past two games. While we shouldn't expect that pace to continue, a matchup with the 28th-ranked Titans (22.1 FPPG) should provide Schaub with another opportunity to post solid numbers. Also: Eli Manning's rebound game against the Packers wasn't perfect, as he completed just 16 of 30 passes. However, the Redskins have been getting lit up by opposing quarterbacks, as they've allowed 23.2 FPPG to rank 30th in the league. Manning, Hakeem Nicks and Victor Cruz should all post big numbers in what could be a Monday night shootout. Running Backs Stay away: Knowshon Moreno, Broncos (vs. Buccaneers) Moreno's 2012 coming-out party was a surprise, as most of us thought until an hour before gametime against the Chiefs that Ronnie Hillman and Lance Ball would share the Broncos' backfield load. This week, the Broncos host a Buccaneers' top-ranked rushing defense (81.5 rushing yards per game) that also happens to be above-average for fantasy purposes (17.7 FPPG to opposing RBs). Also, would you be surprised if John Fox threw us another curveball and gave Hillman and Ball more work? If so ... good luck. Also: Shonn Greene has lost third-down and red-zone duties to Bilal Powell. That's not good for a guy who's averaging less than four yards per carry and needs volume to provide fantasy value. This week, the Jets will host a Cardinals' defense that ranks 10th against opposing fantasy runners (15.7 FPPG). Unless Powell slips on a banana peel in the locker room, Greene's days as a fantasy RB2 appear as done as Fireman Ed's "J-E-T-S, JETS, JETS, JETS" chants. Man, that guy was clever. Play, play, play: DeAngelo Williams, Panthers (at Chiefs) In most weeks, I use this space and my Running Back Committee article to rail against the Panthers' (and Saints') crowded, unpredictable backfields. However, this situation might have taken a turn for the stable, as Jonathan Stewart sprained an ankle against the Eagles on Monday night. If Stewart can't play against the 22nd-ranked Chiefs' fantasy defense (19.6 FPPG), Williams will be an interesting play as a low-end RB2. Sure, Cam Newton will still be a threat to steal goal-line carries, but that doesn't mean Williams can't help you. Also: This guy again? Rashad Jennings is the last man standing in the Jaguars' backfield, with Maurice Jones-Drew (foot) still out and Jalen Parmele (groin) out for the year. Jennings wasn't exactly terrific in the handful of games he had earlier this season as the starter (2.86 yards per carry in four starts), but we're here to discuss matchups, and he's got one against the Bills' league-worst fantasy defense (24.3 FPPG to opposing RBs). Jennings should get close to 20 touches against a soft D, and sometimes that's enough to make someone an RB2. It sounds like LaRod Stephens-Howling's ribs are better, meaning that he could steal some of Beanie Wells' work this week. However, a matchup with the Jets' 27th-ranked fantasy defense (21.4 FPPG to opposing RBs) means that Wells can still be a solid RB3 or flex option. Beanie projects as a top-30 fantasy back, and that's not terrible. Wide Receivers Stay away: Danny Amendola, Rams (vs. 49ers) Amendola didn't practice Wednesday, but still projects to play despite a foot injury. The problem appeared to limit Amendola in Week 12, when he had just one catch for 38 yards, and he's got a tough battle against the 49ers' fourth-ranked fantasy defense (17.6 FPPG allowed to opposing WRs). Avoid if you can. Also: Sidney Rice averages just 48 receiving yards per game, but his fantasy production has been pretty good thanks to six touchdowns. Against the Bears' eighth-ranked fantasy defense (18.2 FPPG), Rice's chances to score figure to be scarce, and if he doesn't score, he can't help you. Malcom Floyd has taken a back seat to Danario Alexander in the Chargers' pass offense. With 47 receptions, 704 yards and four touchdowns, Floyd isn't bad, but he's got a tough test coming against the Bengals' fifth-ranked fantasy defense (17.7 FPPG allowed to opposing WRs). Play, play, play: Ryan Broyles, Lions (vs. Colts) Titus Young was back at practice Wednesday, but he worked with the second stringers, and the Lions aren't saying when he'll play again. In Young's Thanksgiving Day absence, Broyles stepped up, catching six passes for 126 yards on a dozen targets. On Sunday, the Lions host the Colts' 28th-ranked fantasy defense (25.9 FPPG allowed to opposing WRs). If you can't find a way to start Broyles, you might be thinking too much. By the way, reports indicate that Young "purposely lined up in the wrong spot on the field multiple times" against the Packers in Week 11. It's possible that no player has ever been deeper in a coach's doghouse than Mr. Young. Also: It ... is ... alive! On Thanksgiving Day, Pierre Garcon had his first good game since Week 1, catching five passes for 93 yards and a touchdown. When healthy - and he seems healthy enough now - Garcon figures to be Robert Griffin III's top receiving target. The Giants' defense played very well against the Packers on Sunday night, but they still rank 27th against opposing fantasy wide receivers (25.6 FPPG). I'd be comfortable starting Garcon in a WR3 or flex spot, and that's partly because I want to see the Giants' D play well again before buying into their resurgence. As my colleague Mike Harmon noted on this week's Fantasy 15 podcast, Miami's Davone Bess has ranked among the top 20 in targets over the last three weeks, ahead of big fantasy names such as Steve Smith, Vincent Jackson and Eric Decker. That doesn't mean Bess is a fantasy stud, but he appears to be at least on equal footing with Brian Hartline in the Dolphins' pecking order, and he's on pace for an 80-catch, 1,040-yard season. Against the Patriots' 29th-ranked fantasy defense (26.2 FPPG allowed to opposing WRs), Bess is a decent WR3/flex play. Tight Ends Stay away: Scott Chandler, Bills (vs. Jaguars) Remember when Chandler caught four touchdown passes in the season's first four games, and everyone loved him? Yeah, not so much any more. Chandler has just 15 receptions for 191 yards and a score over the past six games, and faces a Jaguars' defense that ranks eighth with 6.4 FPPG allowed to opposing tight ends. If you ask me about starting Chandler this week, the answer will be NO. Also: Jermaine Gresham is tied for ninth in receptions (47) among tight ends, ranks seventh in yards (558) and has four touchdowns. Gresham isn't a terrible play against the Chargers' sixth-ranked fantasy defense (6.3 FPPG allowed to opposing TEs), but he's on the borderline of this analyst's top 12. Antonio Gates doesn't have a tough matchup this week, but he's caught just 13 passes for 144 yards in his last five games. He'd be on my bench if I owned him. Play, play, play: Dallas Clark, Buccaneers (at Broncos) Look at Dallas Clark, with 11 catches for 123 yards in his last two games! Clark appears to be gaining trust from QB Josh Freeman, and visits the Broncos' 30th-ranked fantasy TE defense (10.8 FPPG allowed to opposing TEs) in Week 12. If you own an injured or underachieving tight end, Clark (owned in 11.4 percent of FOXSports.com leagues) is someone to think about. Also: Come on, Dwayne Allen. You've been inconsistent, catching just three passes in Week 12 after grabbing six (on 11 targets) the week before. Andrew Luck seems to like you, and you're up against the 28th-ranked Lions' fantasy defense (9.0 FPPG allowed to opposing TEs) on Sunday. Time to step up again, OK? Good luck in Week 13!
Original Story:
http://msn.foxsports.com/fantasy/foot...
THE BACKYARD
BEST OF MAXIM
RELATED ARTICLES
Houston Texans quarterback Matt Schaub was honored when his jersey and cleats were flown to Canton, Ohio to the Pro Football Hall of Fame. Schaub was being honored for his 527 yard passing day (43 completions on 55 attempts) with 5 touchdowns against the Jacksonville Jaguars on November 18th. The monumental day landed Schaub with the second best passing day in NFL history tying...
Nearly a week after the now infamous kick to the groin of Houston Texans quarterback Matt Schaub, Ndamukong Suh spoke to the media regarding the incident. Unsurprisingly Suh denied any intention on the kick simply stating that his foot inadvertently hit Schaub when he was going to the ground. Suh on his kick of Schaub: "I was being dragged to the ground and my foot inadvertently...
SONG THAT NEVER ENDS
Lions defensive coordinator Gunther Cunningham ripped Matt Schaub for his comments about Ndamukong Suh and defended Suh's hit.
Either Ndamukong Suh just got away with murder (ok, just a little kick), or his leg went mysteriously up in the air in an akward manner as Matt Schaub's acorn sack collided with his foot; just a simple misunderstanding. NFL commissioner Roger Goodell said at a Lions charity event Tuesday night that it's very difficult for the league to know exactly if DT Suh's intent...
Earlier in the week, Houston Texans QB Matt Schaub told Houston radio station SportsRadio 610 that he wouldn't want Ndamukong Suh as a teammate and that Suh wasn't "Houston Texan" worthy… whatever that means. Of course the question came after the now much publicized Thanksgiving Game between the Lions and Texans where not only one of the most egregious NFL rules was unearthed...
After not suspending Ndamukong Suh, the NFL announced Wednesday that they would fine the Lions DT $30,000 dollars for his kick to the groin of Texans quarterback Matt Schaub during last Thursday's Thanksgiving Day game from Ford Field. During his weekly meeting with the media on Wednesday, Suh said the kick was unintentional due to his awkward fall when being dragged down. Suh...
Titus Young wasn't at practice Tuesday and his status remains very much in doubt. The NFL said Monday that Ndamukong Suh wouldn't be suspended after his foot caught Houston quarterback Matt Schaub in the groin area.
Ndamukong Suh was fined $30,000 -- but not suspended -- for kicking Houston quarterback Matt Schaub in the groin during Thursday's Lions loss. Continue reading →
By Dave Schwab of Doc's Sports We are 12 weeks into the NFL regular season, so the line between the contenders and the pretenders in the league has pretty much been set. What has yet to be determined is which of these contenders should truly be considered the best team in the NFL right now heading into the crucial month of December? No.1 Houston Texans Houston has to be extremely...
Detroit Lions defensive tackle Ndamukong Suh was fined $30,000 by the NFL on Wednesday, but says he didn't kick Houston Texans quarterback Matt Schaub on purpose. That's why Suh insisted he doesn't need to apologize to Schaub. "I was dragged to the ground," he said. "A lot of things happen to me. It's part of the game." Suh spoke to reporters...
ALLEN PARK, Mich. (AP) -- Detroit Lions defensive tackle Ndamukong Suh was fined 30,000 by the NFL on Wednesday, but says he didn't kick Houston Texans quarterback Matt Schaub on purpose. That's why Suh insisted he doesn't need to apologize to Schaub. Suh spoke to reporters Wednesday for the first time since his left cleat connected with Schaub's groin area in Detroit...
Per MLive.com's Anwar Richardson's Twitter feed, the NFL has fined Detroit Lions defensive tackle Ndamukong Suh $30,000 for his kick to Houston Texans quarterback Matt Schaub's groin: In the first quarter of the Lions-Texans game on Thanksgiving, Suh appeared to kick Schaub in the groin after tripping over a Texans offensive lineman while pass rushing. Per the Lions beat...
NFL News

Delivered to your inbox

You'll also receive Yardbarker's daily Top 10, featuring the best sports stories from around the web. Customize your newsletter to get articles on your favorite sports and teams. And the best part? It's free!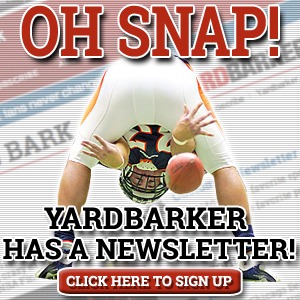 Latest Rumors
The Backyard

Today's Best Stuff

For Bloggers

Join the Yardbarker Network for more promotion, traffic, and money.

Company Info

Help

What is Yardbarker?

Yardbarker is the largest network of sports blogs and pro athlete blogs on the web. This site is the hub of the Yardbarker Network, where our editors and algorithms curate the best sports content from our network and beyond.