Found January 02, 2013 on Fox Sports Southwest:
PLAYERS:
Matt Schaub
,
Peyton Manning
,
Tom Brady
,
John Elway
,
Eli Manning
,
David Tyree
,
Ben Roethlisberger
TEAMS:
Houston Texans
,
New England Patriots
,
New York Giants
,
Pittsburgh Steelers
,
Cincinnati Bengals
HOUSTON -- The one thing everybody seems to "know" about Matt Schaub is that he is not quite as good as he seems. This has come to define the Houston Texans quarterback's relationship with Houston Texans fans. Nobody thinks Schaub isn't any good at all. Everybody can remember those 4,000-yard seasons. They can pick out a handful of anecdotes to prove Schaub's toughness. Tellingly, most Houstonians even seem to think the Texans would have gone to the Super Bowl last year had Schaub been healthy. If he is good until proven bad, it would be difficult to construct an argument that would get a "bad" conviction in court. And yet, boy, there's a little something missing, isn't there? It was barely a month ago when it seemed Schaub had finally filled in that ambiguous space. The Texans were going to coast into the AFC's No. 1 seed. Schaub was healthy and playing about as well as anybody. The Texans have never relied on Schaub the way Peyton Manning and Tom Brady are relied upon he was never going to be the big star but Schaub had finally shown he was capable of doing it all throwing for gobs of yards (when asked), remaining healthy and leading a great team. Through it all, there were always the "Yeah, but he's still Matt Schaub" people around town. These are people with long, selective memories. They long ago said Schaub lacked that indefinable quality that makes a Super Bowl quarterback, and were willing to ride out his good play long enough to be proven right. Which is exactly what has happened. Through 12 games, Schaub had completed 64 percent of his passes for 3,062 yards (255 per game), 21 touchdowns and nine interceptions. The last four weeks, his completion percentage is the same, but his yards per game are down (236) and he's thrown three interceptions against one touchdown pass. Most disturbingly, the Texans are averaging just 16.3 points over the last month, in which they went 1-3. As always, the blame is bountiful enough to be shared by all, but it is clear Schaub's play has dipped as the games got bigger, fulfilling the prophesy of so many stubborn fans. "I've got to pay better," Schaub said. "Our whole team, everyone across the board has to pick their game up especially this time of year, but I definitely do." Texans fans will recognize this as a highly Schaubian remark. He likes to deal in generalized truth. Who could argue against his thesis that everybody, himself included, needs to play better this time of year? Give them what they want without giving them a headline. It is a skill every bit as learned as reading the blitz. Schaub would have you believe he doesn't really care what people outside the Texans locker room think of him. Everybody says that, of course, but with him it does come off as believable. He's 31 years old with a wife and a couple of young kids. He has played in the NFL for nine seasons. At some point you just are what you are, you know? He probably is not going to become John Elway the last four or five years of his career. But there is still time for him to become something. As you'll recall, John Elway didn't quite become John Elway until the end of his career, either. This is not to say Schaub has that kind of talent, but it is to say that, even nine years into Schaub's career, we don't really know what he is yet. The quarterbacking hierarchy is established in the postseason. And this is why Schaub is such a tricky study. Whatever it is that separates him from the great ones is not measurable, and might not even exist. Eli Manning became great in part because David Tyree trapped a ball against his helmet. Ben Roethlisberger is a two-time Super Bowl champion, but he was 9-for-21 in the first one. Peyton Manning was a confirmed choker, until he wasn't. Legacies happen to quarterbacks as much as legacies are created by them. What has happened to Schaub, for the most part, is that he has been on teams that simply were not good enough to compete. For most of his career, he has been an effective or prolific quarterback on teams with defenses so bad it didn't matter how good the offense was. Last year Houston fixed that, but he was injured for the playoff run. So at age 31, Schaub gets his first real chance to change people's minds about him. Saturday the Texans play the Cincinnati Bengals in the Wild Card round of the AFC playoffs. It will be Schaub's first playoff start. He says he is not anxious. "I've been the same guy since I stepped foot here," he said. "This is how I am."
Original Story:
http://www.foxsportssouthwest.com/01/...
THE BACKYARD
BEST OF MAXIM
RELATED ARTICLES
According to multiple reports,   Texans placing ILB Darryl Sharpton (hip) on IR and re-signing Mister Alexander to replace him. Sharpton loss a blow to run defense. — John McClain (@McClain_on_NFL) January 1, 2013 With Sharpton landing on the injured reserve the Texans have brought back second year inside linebacker Mister Alexander. Darryl Sharpton was injured last season when...
The Houston Texans placed linebacker Darryl Sharpton on injured reserve because of a hip injury, the Houston Chronicle reported on Tuesday. Houston takes on the Cincinnati Bengals in the first round of the AFC playoffs on Saturday. Sharpton was injured during Sunday's loss to the Indianapolis Colts. He began the season on the physically-unable-to-perform list because of...
Texas grocery store beer display artist Roger O'Neal sent word earlier this week that his team is responsible for this masterpiece at a store in Houston. It has been two years since we first published 15 Greatest Super Bowl Grocery Pop Art/Beer Displays, and these artists still flood our inbox at this time of year. Want to do something cool with your art degree? Get in touch with...
The Houston Texans are hosting the Cincinnati Bengals on Saturday to begin the NFL playoffs for the second straight year. This time, Matt Schaub will be in the spotlight. Schaub will make his first postseason start as the stumbling Texans try to eliminate Cincinnati in the wild-card round, a year after they did so with a third-string quarterback. Houston's first playoff game...
Between now and the Houston Texans' 3:30 p.m. kickoff Saturday against the Cincinnati Bengals, you will see reams of analysis and scouting objectives. But that's for the lamestream. This is the alternative Texans scouting report. Offense Matt Schaub, Quarterback Middle name is Rutledge, meaning he was one step away from being a lacrosse player who wears deck shoes...
The Houston Texans are hosting the Cincinnati Bengals on Saturday to begin the NFL playoffs for the second straight year. This time, Matt Schaub will be in the spotlight. Schaub will make his first postseason start as the stumbling Texans try to eliminate Cincinnati in the wild-card round, a year after they did so with a third-string quarterback. Houston's first playoff game...
Bengals at Texans-4.5 For the second year in a row, the NFL playoffs kickoff with the Cincinnati Bengals traveling to Houston to face a Texans team favored slightly in the point spread. This year's wildcard match-up has a completely different feel from a year ago. The Houston Texans were excited just to make the postseason this time last year, but after a complete meltdown in December...
After losing 2 of their final 4 games the Houston Texans have fallen from the AFC's #1 seed to the #3 and will be playing this weekend against the Cincinnati Bengals to open the playoffs at home. Though the Texans have struggled they'll have to forget about it quickly with the playoffs now at hand."You have to have a short-term memory in this league. It's more important now...
The four are back together in a reunion episode that isn't very happy aside from that fact. Mike, Pat, Aaron and Cleaver all dive into the questions of if the offense is broken, how much Gary Kubiak is to blame and if it's okay to declare that Wade Phillips no longer walks on water. The boys also talk about the Texans playoff chances in wild card weekend as well as the field...
LAST WEEK: 11-5 REGULAR SEASON: 168-86-1 (66%) Def. The Texans have been really disappointing the last few weeks, but I don't see that continuing this week. Everyone knows that Schaub has been struggling, but Dalton hasn't been too sharp either. I think his struggles will outweigh Schaub's in this playoff game. Both of these rosters are very similar...
The Race for Steak continues. Only 11 games to go…  CURRENT STANDINGS 1. Rob Celletti (137-112-7) 2. Chris Gross (129-120-7) 3. Mike Donnelly (129-122-5) 4. Chris Celletti (126-124-6) 5. Joe Caporoso (114-135-7) Joe Caporoso Last Week (12-4) Cincinnati (+4) at Houston - This is a popular pick…almost popular enough to make me want to change it. However, Matt Schaub has never...
NFL News

Delivered to your inbox

You'll also receive Yardbarker's daily Top 10, featuring the best sports stories from around the web. Customize your newsletter to get articles on your favorite sports and teams. And the best part? It's free!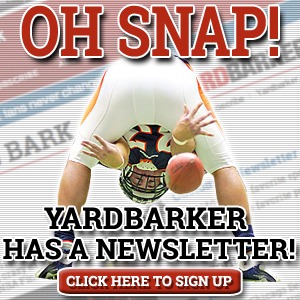 Latest Rumors
The Backyard

Today's Best Stuff

For Bloggers

Join the Yardbarker Network for more promotion, traffic, and money.

Company Info

Help

What is Yardbarker?

Yardbarker is the largest network of sports blogs and pro athlete blogs on the web. This site is the hub of the Yardbarker Network, where our editors and algorithms curate the best sports content from our network and beyond.