Found July 22, 2012 on Fox Sports Arizona:
PLAYERS:
Lee Evans
,
Joe Flacco
,
Ray Rice
,
Terrell Suggs
,
Courtney Upshaw
,
Paul Kruger
,
Jimmy Smith
,
Cary Williams
,
Corey Graham
,
Jacoby Jones
,
Ed Reed
,
Lardarius Webb
,
Terrence Cody
,
Haloti Ngata
,
Ray Lewis
,
Anquan Boldin
,
Drew Brees
,
Sean Payton
,
Carl Nicks
,
Jimmy Graham
,
Darren Sproles
,
Marques Colston
,
Junior Galette
,
Martez Wilson
,
Will Smith
,
Ben Grubbs
,
Mark Ingram
,
Pierre Thomas
,
Jed Collins
,
Cam Newton
TEAMS:
Baltimore Ravens
,
Jacksonville Jaguars
,
New Orleans Saints
To get you fully prepared for the unofficial start of the 2012 NFL season, we're ranking every team from worst to first in the weeks leading up to the opening of training camps. Every day, we'll be previewing two teams, one from each conference, analyzing them from top to bottom and giving you all you need to know to be an informed fan. What's the major storyline heading into camp? What's the key training camp battle to watch? Who's the young guy to watch? Is there any hope? Today's two teams: The Baltimore Ravens and the New Orleans Saints. No. 8: Baltimore Ravens Training Camp Site: Under Armour Performance Center, Owings Mills, Md. Training Camp Start Date: July 25 BetOnline.com Preseason Super Bowl Odds: 14-1 What I Like About You: The Ravens were a Lee Evans reception from the Super Bowl a year ago, Joe Flacco and Ray Rice are in big contract years and the defense has a lot to prove with Terrell Suggs out for (at least the start of) the year. What I Dont Like About You: Not having Suggs the 2011 Defensive Player of the Year will be a massive blow. Additionally, unsung producer Jarret Johnson, the other OLB, departed for San Diego in free agency. There are questions along the offensive line, too. The Burning Question: Will the defense survive without Suggs and Johnson? You dont just replace a guy like Suggs, but the Ravens are going to try their damnedest to get some sort of production from his fill-ins. All eyes will be on rookie Courtney Upshaw, but hell more than likely be the one taking over Johnsons old spot at left outside linebacker. The guy filling in for Suggs will be fourth-year veteran Paul Kruger. Never a starter, Krugers had some pass rushing success from the defensive end position in spot duty. Can he do at least a somewhat admirable job of filling in for one of the leagues most unstoppable pass rushers? Well have to wait and see. Key Training Camp Battle to Watch: Second cornerback, Jimmy Smith vs. Cary Williams vs. Corey Graham: Smith got burned a few times early on in his rookie season but showed flashes of greatness. Williams, meanwhile, played well above expectations a season ago, and could be the surprise starter on opening day. Grahams a great special teams guy but could be an outside possibility, too. The New Veteran in Town: Jacoby Jones, wide receiverreturner: Ed Reed is too valuable to be returning punts and Lardarius Webb is too talented a cornerback to be returning every kickoff. Insert Jacoby Jones, a guy who (ironically) fumbled a return in the Ravens-Texans playoff game a year ago. As a third receiver-type and return man, Jones is a game breaker. His addition to the lineup wont get a lot of press, but may help immensely in the special teams portion of the game. The Young Gun To Watch: Terrence Cody, defensive tackle: Entering his third year now, Codys ready to make the leap into the elite tier of defensive linemen. Lining up inside next to Haloti Ngata, hes a run-stuffing machine whos only gotten better and better in his first two years. Now fully healthy and with his weight under control, hes going to be a breakout player in 2012. Theres lots of excitement over the strides hes made and how he looks this offseason. Now, he just needs to deliver the goods when the season starts. Schrager Prediction: The Ravens have won playoff games each of the last three seasons, with last years AFC championship game a crushing finale to what looked like a Super Bowl season. Ray Lewis, Ed Reed and Anquan Boldin only have so many years left, but theres a really bright group of young talent on the roster. This team will be competitive for years to come, but I just dont know if the Ravens can get past the Suggs injury and progress further than they did a year ago. As has become the norm in Maryland, the Ravens will likely win 10 or 11 games and come up just short of the Super Bowl again next January. Final Prediction: Second place, AFC North No. 7: New Orleans Saints Training Camp site: New Orleans Saints Training Facility, Metairie, La. Training Camp Start Date: July 24 Preseason BetOnline.com Super Bowl Odds: 12-1 What I Like About You: Drew Brees. Drew Brees. Drew Brees. The mans back, the mans motivated and the mans getting paid. The Saints and their quarterback are going to have a chip on their shoulder this year. Watch out. What I Dont Like About You: Sean Payton's in the Bahamas, Jon Vilmas out for the year, Carl Nicks is in Tampa and the world thinks the Saints are a bunch of head-hunting villains. So much for Americas feel-good story. This will be the uncomfortable storyline that will hover from above and lurk from below all season. Burning Question: Can the Saints win without Sean Payton calling the shots? Sure they can. Drew Brees is the real master of the Saints offense, not Payton. Though Im sure it wont be exactly the same, the fact is that Pete Carmichael is still in the film room, Aaron Kromers still coaching the line and Jimmy Graham, Darren Sproles, and Marques Colston are still catching passes. Payton is considered an offensive wunderkind and the wizard behind the Saints offense, but Brees is the man that makes the magic happen. I have no doubt hell be able to thrive without his head coach in his headset. Training Camp Battle to Watch: Defensive end, Cam Jordan vs. Junior Galette vs. Martez Wilson vs. Turk McBride: Jordans the expected starter, but in Steve Spagnuolos defensive scheme, converted linebacker and former high school superstar Martez Wilson could actually be the guy to watch, here. A quick and nifty pass rusher, he may fit Spags athletic, attacking philosophy more than Jordan. Galette and McBride will both make the team as backups, but could put their names in the cap if they have breakout training camp sessions. McBrides been around the league for quite a bit now; perhaps he jells lining up against fellow veteran pass rusher Will Smith. The New Veteran in Town: Ben Grubbs, guard: No ones going to replace what Carl Nicks brought to the Saints last season (Im arguably the biggest Carl Nicks fan in America), but Grubbs is a hell of a fallback plan. A Pro Bowl player with the Ravens, Grubbs is a mauler with surprisingly quick foot speed and great in-game intelligence. Grubbs isnt Nicks, but few guys are. Hes right up there in that second tier. The Young Gun to Watch: Mark Ingram, running back: Its amazing to see what the Saints offense was able to do last season considering much of it was without the services of their first-round pick and the only running back selected in the first round of last years draft. Ingram is a punishing runner, both hard to bring down and tremendous within the tackles. Heel and toe injuries kept him from being full strength in 2011, but hes healthy now. A full offseason to learn the playbook will help, too. Pierre Thomas and Darren Sproles make for a tremendous 1-2. Add Ingram in there, with Jed Collins doing the road paving up front, and you have one of the most dynamic and diverse backfields in the league. Schrager Prediction: Ive read a lot about the Falcons being the favorites in the NFC South this year, everyones all sorts of juiced up about the Panthers in Year 2 of the Cam Newton era and the Buccaneers were everyones biggest winners this offseason. Well, the mighty Saints are still the division kings. Sean Payton, Jon Vilma and Carl Nicks can be elsewhere, but as long as Drew Brees is under center, the Saints are the team to beat in the NFC South. They can win it all this year, but I see them coming up short in the playoffs. Either way, theyre my pick to win what could be the most competitive division in football. Final Prediction: First place, NFC South
Original Story:
http://www.foxsportsarizona.com/07/22...
THE BACKYARD
BEST OF MAXIM
RELATED ARTICLES
Unlike other quarterbacks in his division Drew Brees, quarterback of the New Orleans Saints, is a man of the people. Why charge people for an autograph? Fresh off his new record setting contract he's putting his pen to use by signing anything and everything fans are bringing him. This time he signed a sub sandwich [...]
It seems like an obvious statement to make, but Ed Reed is a key to the Ravens' defense, and John Harbaugh thinks he'll have the Ravens' star safety back. Harbaugh told 105.7 The Fan, "He's going to play this year and be here. It looks like that is the case." Ray Lewis has always been the face of the Ravens' defense, but linebackers are not the premium...
New Orleans Saints quarterback Drew Brees is stepping into suspended teammate Jonathan Vilma's fight against the NFL over his season-long suspension. Vilma's attorneys filed an affidavit Saturday in federal court in New Orleans supporting Vilma's effort to discard the suspension imposed over his alleged involvement in a program offering bonuses to injure opponents. ...
After an offseason of "will he, won't he" in regards of Ed Reed's desire to play in 2012, Reed has confirmed what many, including teammate Ray Lewis, have believed all along, the Reed will play football this season. 2012 will be Reed's 11th NFL season, all with the Ravens. Reed, who skipped minicamp, was seen at the Ravens facility this week and is expected to be there...
New Orleans Saints linebacker Jonathan Vilma and lawyers for the NFL arrived at federal court Monday for a settlement conference in Vilma's lawsuit seeking to overturn his season-long suspension in the Saints bounty investigation. Flanked by his attorneys as he headed into federal court, Vilma said he was'' hoping we can get something accomplished.'' The conference...
Though it didn't originally look like it, multiple sources are reporting that a deal between Joe Flacco and the Ravens could be close. NFL.com's Daniel Jeremiah puts the odds at 75%, while ESPN's Chris Mortensen said that the Ravens are "optimistic" about getting a deal done with Flacco ahead of Training Camp. Meanwhile, Flacco himself expressed confidence about the situation...
Even with coach Sean Payton banished from the NFL for the season, along with linebacker Jonathan Vilma, the New Orleans Saints expect to make a run at playing in a Super Bowl on their home field next February. There are two main reasons for their optimism. One is that most key players from a team that went 13-3 in 2011 are back. The other is that when Payton broke his leg in a sideline...
Getty Images According to Ian Rapoport of NFL.com, the New Orleans Saints have placed linebacker Jonathan Vilma on the reserve/suspended list. It's a procedural thing, but the #Saints placed @JonVilma51 on the reserve/suspended list, I'm told. Doesn't sound like it means much — Ian Rapoport (@RapSheet) July 23, 2012 The Saints likely made the move to free up his roster spot...
Suspended Saints linebacker Jonathan Vilma is back in federal court on Thursday, seeking a temporary restraining order that would allow him to return to work while his lawsuit against NFL Commissioner Roger Goodell is pending. Goodell suspended Vilma for the entire season for what the NFL has said was his leading role in a player-funded bounty program that paid cash bonuses to Saints...
One of the best parts of being a football fan is wearing your team's jersey proudly on gameday. No matter how your team is performing, or where you have to be on a Sunday, you know that your jersey looks great. But which jerseys are the most fitting for the NFL? Think about it. Each NFL franchise picked a logo and team colors for a reason. Whether it's to look tougher, flashier...
Arian Foster, Ray Rice, LeSean McCoy and Maurice Jones-Drew (in some order) are going to be the first running backs taken in most fantasy drafts.  Who should be the next back off the board?  Unlike in past years, running back gets ugly quick once you get past the big four.  Marshawn Lynch, Ryan Mathews, Chris [...]
NFL News

Delivered to your inbox

You'll also receive Yardbarker's daily Top 10, featuring the best sports stories from around the web. Customize your newsletter to get articles on your favorite sports and teams. And the best part? It's free!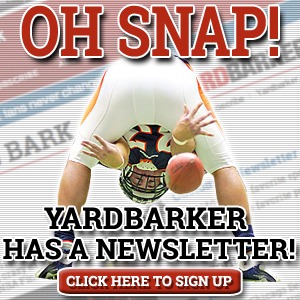 Latest Rumors
The Backyard

Today's Best Stuff

For Bloggers

Join the Yardbarker Network for more promotion, traffic, and money.

Company Info

Help

What is Yardbarker?

Yardbarker is the largest network of sports blogs and pro athlete blogs on the web. This site is the hub of the Yardbarker Network, where our editors and algorithms curate the best sports content from our network and beyond.