Found August 08, 2013 on NorthWest Sports Beat:
The Glory Hogs Yada Yada Percy Harvin's hurt yada yada. Now that I've gotten that out of the way, where was I? Ah yes, the Seattle Seahawks wide receivers that will be healthy from week 1 forward and their projected stats lines. They may not have the flashy big play ability of Harvin for the majority of the season (and potentially longer), but there are no shortage of stars in this receiving corps. While it was great to imagine what this offense could have done with four starting caliber receivers, I'm no less excited with the three that the Seahawks have been left with. Sidney Rice is healthy, Golden Tate's rapport with Russell Wilson can only be getting better and Doug Baldwin has no nagging injuries going into the preseason. That's more than good enough for me. The Spread So, when evaluating the Seahawks receiving corps one has to keep their expectations guarded. Seattle is still a run first team, and for as long as Pete Carroll is running the show I expect it to stay that way. This is why Wilson's yardage is nowhere near the level of some of his more heralded veteran peers. It's also the same reason the Seahawks leading receiver, Sidney Rice, had a modest 748 yards last season. Darrell Bevell doesn't like to call passing plays often, but oh how effective they are when he does call them. The quality-over-quantity methodology to Seattle's air game is evidenced by Russell Wilson's stellar 7.93 yards per attempt last season. Only three quarterbacks (RGIII, Aaron Rodgers and Cam Newton) finished ahead of Wilson in yards per attempt, and that's some good company to keep. Barring a sophomore slump (knock on wood), there is no reason to expect anything less from Wilson this season. This approach to the passing game doesn't lend itself well to absurdly high yardage (from the quarterback and receivers alike), but the silver lining is that high YPA generally has a direct correlation with Super Bowl winning teams. How to Use These Wideouts There has to be added emphasis upon where the receivers are lining up based on how the Seahawks do things. Since they are a run-first team, they will generally use heavier sets that either have two tight ends, or maybe one and a fullback etc. etc. when they are on first or second down. Whether Seattle puts Tate or Baldwin into Harvin's slot will have a huge impact on their stats lines. While the starting two receivers can expect to be used on nearly every offensive snap, the slot receiver will be looking at limited action; seeing time generally on third down or obvious passing situations when the team is trailing. Does Doug Baldwin step up and take Harvin's spot? (Photo: Google) It seems all but guaranteed that in Harvin's absence that his former and current teammate, Sidney Rice, is still the top dog in the passing attack. After Rice though, things get a little murky. The obvious fill in as a starter seemed to be Golden Tate, but all reports out of training camp seem to indicate otherwise. From what I can gather, the Seahawks have been using Baldwin to the same effect that they had game-planned to use Harvin. This has me thinking the whole "replace Harvin" thing will be done by committee. Tate isn't suited to the slot, and Baldwin's versatility will lend itself well to lining up just about anywhere. The second starter at receiver could just as easily change from play to play based on what Darrell Bevell has in mind. Interesting, right? Another wrinkle in the Seahawks plan at receiver – and it's worth mentioning it's of the positive varitety – has been the emergence of Jermaine Kearse in training camp. Seriously, all accounts from training camp have been glowingly positive about Kearse — and not just because he's a hometown kid who played at Washington. Surely even Pete Carroll's most optimistic of outlooks didn't have Kearse coming back to camp this charged. Great problem to have, really. What You've All Been Waiting For… My Seahawks Wide Receiver Predictions (minus Percy Harvin) Sidney Rice 47 receptions, 744 yards, 7 TDs Doug Baldwin 40 receptions, 663 yards, 4 TDs Golden Tate 34 receptions, 544 yards, 5 TDs Jermaine Kearse 17 receptions, 149 yards, 0 Tds Like em? Hate em? Give me your thoughts on my stats predictions for Seattle's receiving corps in the comments section down below. CLICK HERE TO CHECK OUT THE SEAHAWKS BLOG PAGE IN OUR CLUBHOUSE SECTION AT NWSB!
Original Story:
http://www.nwsportsbeat.com/seahawks/...
THE BACKYARD
BEST OF MAXIM
RELATED ARTICLES
Seahawks rookie running back Christine Michael looked good in Thursday night's preseason opener against the Chargers. Michael got his share of opportunities in Seattle's 31-10 win over the San Diego Chargers. He ran six times for 21 yards in the first half. In the second half, he turned it up a notch, carrying 10 times for 66 yards — including a 24-yard run — for a total...
Seattle Seahawks RB Christine Michaels has been making a lot of noise at training camp, and coach Pete Carroll and his staff wanted to put him to the test. Michael got his share of touches in Seattle's 31-10 win over the San Diego Chargers.
The Seattle Seahawks have released wide receiver Early Doucet after he struggled with an injury in his first practice with the team, according to Darin Gantt of NBC Sports. The team stated that their reason for releasing Doucet so soon after acquiring him is because he "failed to disclose a physical injury" prior to signing his contract. It is currently unknown what that injury...
On a team that counts continuity among its greatest strengths, the Seattle Seahawks are hoping that change can be a good thing for the defensive line. Veterans Cliff Avril, Michael Bennett and Tony McDaniel were brought in to add depth and their value could become even greater while Bruce Irvin serves a four-game suspension and Chris Clemons recovers from knee surgery that has his...
The Seattle Seahawks signed defensive tackle Martin Parker today and released tight end Michael Palmer. The #Seahawks have signed DT Martin Parker and released TE Michael Palmer. — John Boyle (@johnpboyle) August 6, 2013 Need NFL Tickets? Loading... ZergNet The post Seahawks sign DT Martin Parker appeared first on Pro Football Zone.
Let There be Depth! I don't care that for the most part I was watching second and third string players. I don't care that this game meant absolutely nothing. It was Seattle Seahawks football, and for the first time in over six months it graced the screen of my dirty, dust-covered television. Life's good. The Seahawks kicked off their preseason last night with a week 1 romping...
Fight To The Death Going into the week one preseason match up between the Seattle Seahawks and the San Diego Chargers, an important position battle is on the line that has gotten very little media play. What happens if Russell Wilson goes down? For a team with Super Bowl aspirations, and an offensive attack that can lead to a few hits on the franchise quarterback, the need to have...
Even though it was an exhibition opener, the Seattle Seahawks looked like a team worthy of big expectations. And the San Diego Chargers? Well, they looked like the same old Chargers. Tarvaris Jackson threw two touchdown passes and Brady Quinn, also battling to be Russell Wilson's backup, threw for another score as the Seahawks beat San Diego 31-10 Thursday night in Mike McCoy...
The Seattle Seahawks have beat the San Diego Chargers 31-10 in their first preseason game. In a game that ultimately means nothing at the end of the season, there was some good things to take away from this game. Philip Rivers finally looked comfortable in an improved offensive line. Unfortunately for the Chargers, there isn't much depth behind the starting five offensive linemen...
getty images The Seattle Seahawks will visit the San Diego Chargers in each teams first preseason football game of the season. Ah. Preseason. Where the games do not matter but the roster spots do. If nothing else it will be interesting to see how San Diego plays under first year coach Mike McCoy. Kickoff for this game is set at 10:00 pm ET. The spread favors the Seahawks by 2.5 points...
Guest posting from our friend, Carlos Sardinas of the great C&C Football Factory show on BlogTalk Radio. The title of this article may seem ludicrous to some of you, but hang in there and let me explain the eerie similarities between the two clubs. Image: USATSI Seattle turned heads in 2012, posting 11 wins and challenging the dominant San Francisco 49ers for the division...
NFL News

Delivered to your inbox

You'll also receive Yardbarker's daily Top 10, featuring the best sports stories from around the web. Customize your newsletter to get articles on your favorite sports and teams. And the best part? It's free!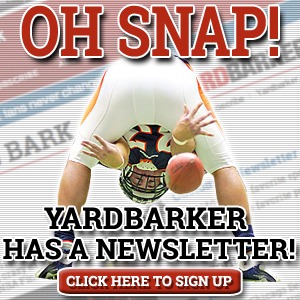 Latest Rumors
The Backyard

Today's Best Stuff

For Bloggers

Join the Yardbarker Network for more promotion, traffic, and money.

Company Info

Help

What is Yardbarker?

Yardbarker is the largest network of sports blogs and pro athlete blogs on the web. This site is the hub of the Yardbarker Network, where our editors and algorithms curate the best sports content from our network and beyond.