Found April 04, 2012 on Race Review Online:
The New Orleans Saints are quickly becoming the bad boys of the NFL. Just recently, Sean Payton indicated how sorry he was for the bounty program that Gregg Williams ran as the Saints defensive coordinator. But Payton has eschewed his position and is filing an appeal of his suspension of one year that was handed out by Commissioner Roger Goodell. Why file an appeal if you've already said that you're sorry? Because it buys Payton time to set up the season he wants to control in absentia.
Where is the contrition? Where is the remorse? The filing indicates where Payton's heart is and it reveals his true character and it's not a pretty sight to behold. Payton was the leader of the pack and he could have stopped the bounty program in its tracks when he found out about it. But he didn't and in that moment of history when he failed to do the right thing he revealed what was more important to him: victory at any cost. That is the wrong message to send to millions of fans who rely on the NFL to run a clean and honest program.
Imagine if a competitor of yours paid someone to harm you enough to the point where you couldn't work to support yourself or your family. That is what the Saints were doing when they ran the bounty program. It is wrong and Payton, by filing an appeal, reveals how he truly feels toward life and his profession.
If Payton were to forgo the appeal, I could have envisioned Goodell shortening his suspension by half a season, equal to what the GM of the Saints received. Payton could have become a very visible and model of integrity by speaking out against the reckless environment that he oversaw. He could have redeemed himself.
Recall 2009, when the Saints went to the Super Bowl. During Super Bowl week, the Saints were a problem child to the NFL. They were late to meetings, wouldn't produce players at photo shoots, and generally thumbed their noses at the NFL.
This appeal will not be granted by Goodell, and will just further infuriate him and actually proffer further damage to the Saints, all because of arrogance and ego.
Note that Gregg Williams is not filing an appeal. Why not? Because Gregg Williams is guilty as charged and wants more than ever to return to the NFL to coach one day. He knows that the NFL is serious about cleaning up the game. He has taken responsibility for what he did and is accepting the consequences of his actions.
The Saints are making a big mistake in appealing and this puts their integrity and relationship with the league on the line. Goodell should act swiftly and purposefully to show all interested parties that the league will not stand for such behavior.
Original Story:
http://sports-at-work.com/20120404202...
THE BACKYARD
BEST OF MAXIM
RELATED ARTICLES
Sean Payton got tagged with a 1 year suspension and the Who Dat Nation is fired up. The gist of their anger seems to be that Payton was punished too harshly and was being used as an example. The fans have done what most angry, rabid protesters have done in the 21st century to air their grievances–they've gone straight [...]
It's still unclear when New Orleans Saints head coach Sean Payton will meet with NFL commissioner Roger Goodell to hear the coach's appeal for his one-year suspension. What's even less clear, though, is who will be patrolling the New Orleans sideline this season as Saints head coach. Payton has reached out to Bill Parcells, and for now, the longtime head coach looks like...
The NFL says the New Orleans Saints, head coach Sean Payton, assistant Joe Vitt and GM Mickey Loomis will have their appeals hearing Thursday for punishment connected to the team's bounty system. League spokesman Greg Aiello says in an email to The Associated Press on Tuesday that former Saints defensive coordinator Gregg Williams did not appeal his indefinite suspension. Earlier...
Roger Goodell, the same man who levied the suspension, will hear Sean Payton's appeal on Thursday. And the odds are slim that Goodell will shorten his season-long suspension of Payton for basically misleading NFL investigators and not putting a stop to Bountygate when the league first checked out the allegations at the end of the 2009 season, just weeks before Payton and the...
When the 2012 NFL season kicks off later this year, one thing is almost for certain- Sean Payton will not be joining the New Orleans Saints. Despite some public outcry for Payton to be fired, he has been slapped with a worthy suspension of one year meaning he will likely rejoin the team for the 2013 season when most of the controversy blows over. But for now, the Saints must...
Sean Payton's Saints dominated Bill Parcells' Cowboys in 2006. It is very possible that the New Orleans Saints will hire Bill Parcells to serve as the team's interim head coach in 2012 while Sean Payton serves as a suspension. It has been six years since Parcells coached the Cowboys, so this is not exactly a Cowboys story. On the other hand, Payton was an assistant under...
After February 7th, 2010, I decided that I would never again play the part of "the franchise victim." The Cinderella story for my New Orleans Saints had been realized. The dream was now a reality. And honestly, "lovable loser" was a title I was all too thrilled to finally shake off. Fast forward two years, I get the sense that some Saints fans are vying to be considered...
• So Sad: Miami Marlins kill off Mermaids program • So Sad #2: Wild eyed ARod at WrestleMania • Jeremy Lin's post-surgery pic is so, so sad • VIDEO: Jimmy Buffett's 'Free Sean Payton' shirt • Joanna Krupa Bikini Volleyball Time! • 'Surfing' magazine releases its swimsuit issue • WANT: Russia's Next Top Model show is decent • Bikini Model To Photo Stalk...
The waiting game has started for New Orleans Saints head coach Sean Payton and general manager Mickey Loomis. Both men, along with assistant coach Joe Vitt, met with NFL commissioner Roger Goodell on Thursday to have their appeals heard in the team's bounty scandal. NFL.com reported that Goodell could rule as early as Friday on the appeal, although a decision is more likely...
Saints News

Delivered to your inbox

You'll also receive Yardbarker's daily Top 10, featuring the best sports stories from around the web. Customize your newsletter to get articles on your favorite sports and teams. And the best part? It's free!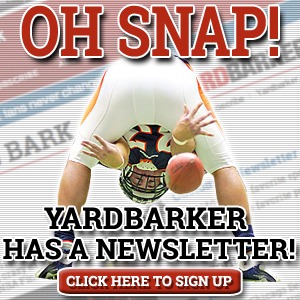 Latest Rumors
The Backyard

Today's Best Stuff

For Bloggers

Join the Yardbarker Network for more promotion, traffic, and money.

Company Info

Help

What is Yardbarker?

Yardbarker is the largest network of sports blogs and pro athlete blogs on the web. This site is the hub of the Yardbarker Network, where our editors and algorithms curate the best sports content from our network and beyond.