Found August 01, 2012 on NorthWest Sports Beat:
PLAYERS:
Braylon Edwards
,
Carson Wiggs
,
Mike Williams
,
Jim Harbaugh
,
Doug Baldwin
,
Sidney Rice
,
Antonio Bryant
,
Bruce Irvin
,
Josh Portis
,
John Moffitt
,
Max Unger
,
Tom Cable
,
Paul McQuistan
,
Frank Omiyale
,
Anthony McCoy
,
K.J. Wright
,
Bobby Wagner
,
Barrett Ruud
,
Jameson Konz
,
Matt McCoy
,
Matt Flynn
,
Russell Wilson
,
Tarvaris Jackson
,
Pete Carroll
,
John Schneider
,
Brandon Browner
,
Ricardo Lockette
,
Robert Turbin
TEAMS:
Seattle Seahawks
,
San Francisco 49ers
Save The Date: Seahawks vs. Cardinals
The Countdown Is On – Game 1 Is In 41 Days – September 9th, 2012
1:25PM PT - University of Phoenix Stadium
Before the players took the field this morning, Dave Softy Mahler tweeted out news about the Seattle Seahawks newest addition.
Breaking #Seahawks news: WR Braylon Edwards will sign with team today, league source tells me

— Dave Softy Mahler (@Softykjr) July 31, 2012
Braylon Edwards signed a one year deal with the team.  He was in Seattle for a tryout early last week.  To make room, the Seahawks released kicker Carson Wiggs.
Small Observations
Edwards is wearing Mike Williams' old #17, and looked in shape and healthy today.  Hopefully he will be another receiver for the 'Hawks that Jim Harbaugh regrets not keeping (thanks for Doug Baldwin though!).
Edwards, along with Sidney Rice and Antonio Bryant were catching passes from the quarterbacks away from the rest of the receivers early in practice, no passes were dropped and Rice looked healthy and in shape going up for a few balls.
Bruce Irvin along with the rest of the defensive line was out doing drills and that kid is as fast as advertised, he absolutely tore through the course.  I can't wait for Clemons and Irvin bearing down on Sam Bradford on third downs next season.
Offense
Josh Portis threw some very nice balls during the small session with Bryant, Rice and Edwards and again in a scrimmage towards the end of practice.  He didn't throw any interceptions that I saw.
John Moffitt was taking snaps at center, which caught my eye after the extension to Max Unger.  Nothing out of the ordinary though, Tom Cable loves his players to play multiple positions (Case in point Paul McQuistan, Frank Omiyale).
Anthony McCoy and Cam Morrah have done an excellent job catching passes so far this camp.  McCoy's drops have been an issue thus far in his career, but he has looked solid so far.
All of the tight ends have been more involved in the passing game, and less used in blocking, which is a necessity if the offense is going to take a step forward this year.
Defense
KJ Wright was noted for making calls during this off season's OTA's and continued today, taking Bobby Wagner aside a few times and instructing.  With David Hawthorne gone it is great to see him taking an advanced role in this defense.  It's also frustrating that he's shown more than Aaron Curry ever did.
The newest Seahawks WR Braylon Edwards. (Photo Credit Seahawks.com)
Barrett Ruud, Jameson Konz and Matt McCoy did not practice today, instead watching from the sidelines in sweatpants.  All three of them are coming off season ending injuries so it could just be the team taking it easy with them, similar to Sidney Rice.
Defensive back Coye Francis has performed very well so far, and made a few plays on the ball today.  He could be a candidate for the practice squad this season.
Quarterback Competition
For the 4th consecutive day, Matt Flynn was the best quarterback on the field today.  He is quickly pulling away from the pack, and Russell Wilson is far back.  Both are ahead of incumbent starter Tarvaris Jackson though.
Wilson threw three interceptions today, and it seemed as though all three quarterback's weren't at their best today.
Pete Carroll and John Schneider have certainly noticed the two pulling away, and are reportedly taking calls on Jackson.  
What They're Saying
Newest Seahawk Braylon Edwards spoke to the media after practice today:
The reporters made it awkward immediately, asking Edwards about Brandon Browner and his' relationship (they had a few skirmishes last season when he was a member of the 49ers):
"We, as players never take things off the field.  I'm happy we can fight for the same team now though".
Asked what he brings to the team: "Size and speed, I bring to the table.  Positive attitude, and I'm just out here trying to get better" 
Tomorrow is an off day for the team. There you have it folks.
More coming soon on our Seahawks blog.
Stay tuned for our next Camp Confidential as well from NWSB.
You can watch Seahawks training camp live everyday at http://www.seahawks.com/videos-photos/live.html
CLICK HERE CHECK OUT OUR SEAHAWKS BLOG AT THE NWSB!
© Alistair Corp for North West Sports Beat, 2012. | Permalink | No comment |
Follow NWSB on Twitter or join US on Facebook for real-time updates OR... | Share This on Twitter | Share NWSportsBeat.com on Facebook
Post tags:
12th man
,
Antonio Bryant
,
Barrett Ruud
,
Bobby Wagner
,
Braylon Edwards
,
Bruce Irvin
,
Camp Notes
,
Coye Francis
,
Frank Omiyale
,
Jameson Konz
,
John Moffitt
,
Josh Porits
,
KJ Wright
,
Matt Flynn
,
matt mccoy
,
Max Unger
,
Paul McQuistan
,
Preseason Notes
,
Ricardo Lockette
,
Robert Turbin
,
Russell Wilson
,
Seahawks News
,
seahawks rumors
,
Seahawks video
,
Seahawks vs. Cardinals
,
Seahawks.com
,
Seattle Seahawks
,
Seattle Sehawks
,
Sidney Rice
,
Tarvaris Jackson
,
Tony Ventrella
,
training camp
,
Week 1
Original Story:
http://www.nwsportsbeat.com/seahawks/...
THE BACKYARD
BEST OF MAXIM
RELATED ARTICLES
The VMAC Scoop Moving Seahawks training camp to Renton has bothered me since I first heard a rumor that it was going to happen. Why? Training camp is just better in Cheney There is no pay to park, there are no buses that move people to and from the facility like cattle in stinky over crowded school buses and most importantly the players are away from the distractions of everyday...
SEATTLE - Wide receiver Braylon Edwards is set to sign a one-year deal with the Seahawks, a league source told KJR 950's Dave Softy Mahler. Edwards wasn't signed after a workout just before Seattle opened training camp last week, and then headed to South Florida for a tryout with the Dolphins. It appeared the Seahawks' interest had passed when they signed another veteran...
Seahawks News | Links Hey there folks and Happy Wednesday to you! Surfing around for your Seahawks coverage for today? Looking for Seattle Seahawks, News, Links, Gossip, links, Analysis and observations? We all love the Seahawks right? But we all don't have the time to go thru the web to try to find the latest news and the articles from the best writers on the planet. The men...
Save The Date: Seahawks vs. Cardinals The Countdown Is On – Game 1 Is In 41 Days – September 9th, 2012 1:25PM PT - University of Phoenix Stadium A crowd of around 1200 Seattle Seahawks 12th man fans showed up for practice today, an extremely good turnout for a weekday.  They were treated to some great plays by Ricardo Lockette and great balls by Matt Flynn.   Small Observations...
Last week Braylon Edwards worked out with the Seahawks during the same workout as Antonio Bryant. It looks like that Seahawks liked what they saw enough to sign him to a contract. i My man Dave Softy Mahler of Sportsradio 950 AM in Seattle tweeted it first. Adam Schefter from ESPN has confirmed the deal. Last year for the 49ers he caught 15 passes but was subsequently released...
The Seattle Seahawks signed veteran wide receiver Braylon Edwards to a one-year deal. Edwards recently tried out for the Miami Dolphins following his Seahawks tryout. Three years ago, Edwards, 29, caught 53 passes for 904 yards and seven touchdowns for the New York Jets. He was limited to nine games for the San Francisco 49ers last season, catching 15 passes for 181 yards and no touchdowns.
Braylon Edwards has been one of the top free agents on the open market for months. Four months ago we reported that the New York Jets had expressed interest in bringing him back. He worked out for the AFC East rival Miami Dolphins last week, but wasn't immediately signed. Some loose reports suggested the Dolphins were still legitimately interested. Regardless of whether Miami was...
Life is good.  Players are hard at work on the practice fields, live Seahawks football will return to our televisions in a matter of days, the weather is perfect for barbecuing meat to perfection over hot coals1, and the training camp news from the VMAC is both encouraging and abundant.  Maybe even too abundant – with reports coming in daily from the Seattle Times, the Tacoma...
Comments on the Seattle Seahawks by the AP Pro32 panel (ranking in parentheses): SEATTLE SEAHAWKS (22) Clark Judge (CBSSports.com, 12): Trust me, these guys will push 49ers in NFC West. Cris Collinsworth (NBC Sports, 18) Rookie Bruce Irvin has to take pressure off Chris Clemons on pass rush. Pat Kirwan (SiriusXM NFL Radio/CBSSports.com, 21): It's all about the QB in Seattle...
NFL News

Delivered to your inbox

You'll also receive Yardbarker's daily Top 10, featuring the best sports stories from around the web. Customize your newsletter to get articles on your favorite sports and teams. And the best part? It's free!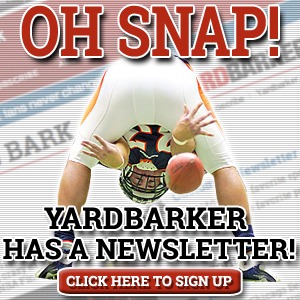 Latest Rumors
Best of Yardbarker

Today's Best Stuff

For Bloggers

Join the Yardbarker Network for more promotion, traffic, and money.

Company Info

Help

What is Yardbarker?

Yardbarker is the largest network of sports blogs and pro athlete blogs on the web. This site is the hub of the Yardbarker Network, where our editors and algorithms curate the best sports content from our network and beyond.