Found August 14, 2012 on Denver Sports Chat:
Denver, CO. How good, and pleasantly strange, was it to see Peyton Manning taking snaps in live action last Thursday night? For all Denver Broncos fans, it finally had to really sink in that signing Peyton was not a dream. Although he didn't look perfect, he did look very close to his old self, slingin darts like he has so many times in the past. This year has so many expectations, and anything less than a very deep voyage into the playoffs would be considered a major disappointment. On paper, the Denver Broncos have the second toughest schedule in all of the NFL, and it is littered with land mines and potential pitfalls. As this offense continues to work and iron out the wrinkles, September is quickly approaching. Peyton Manning and his crew will get a lot more time on the field in the next two preseason games, but it would be naive to think they will be clicking on all cylinders by the time the regular season opener rolls around. With the schedule appearing to be a dicey gauntlet, starting off well in September is going to be crucial.
 


 
Of the sixteen games on the slate for 2012, seven are against teams that made the playoffs in 2011. Factor in six more games against division rivals, and there will be very little time for the Denver Broncos to take any deep breaths this year. Of the four games in September, the first three are against 2011 playoff teams. Of course the opener against Pittsburgh will include plenty of motivation from the visitors to avenge their playoff loss. In week 2, Denver travels to face Atlanta in their home opener. The Falcons are extremely tough in their building, with one of the best home records in the NFL the past few years. After that Monday Night tilt, the Broncos come back home to face Houston. Former Bronco and current Texans coach Gary Kubiak will want nothing more than to deal his old team a loss in week #3. In the final game of September, the arch rival Raiders come calling, and anything can happen when these two teams get together. So as you can see, the NFL did the Denver Broncos no favors with their early season schedule. Quite honestly, this team needs to find a way to end September with at least a 3-1 record. October doesn't get any easier, as the first two games are at New England and at San Diego in a Monday Night battle. This schedule has the potential to put Denver behind the eight-ball before they even sniff November. Knocking off the rust for Peyton Manning is going to be critical in these next two preseason games. A slow start in September could put a serious kink in any realistic Super Bowl plans that the Broncos may have.
Peyton Manning, on the road in January, in Foxboro. We have seen that before, and it wasn't pretty. With the fact that Denver has one of the hardest schedules, combined with the fact that New England has the easiest, this is a possible scenario in five short months. It is still very, very early, as other AFC teams will have something to say come playoff time. But coming out of the gate strong and racking up early season wins will be vital for the Broncos as the season progresses. If it's up to Peyton and the rest of the team, avoiding January trips to New England, Pittsburgh, or Baltimore will be very desirable.
The post September victories critical for Denver Broncos 2012 success appeared first on Denver Sports Chat.
Original Story:
http://feedproxy.google.com/~r/Denver...
THE BACKYARD
BEST OF MAXIM
RELATED ARTICLES
Denver Broncos quarterback Peyton Manning was a guest on Jim Rome's show today acknowledging that his arm is not quite the same as it was when he was 22. "I still have strength to recover, still have work to do," Manning said. "I am 36 years old. My arm has a lot of yards and a lot of touchdowns on it, so it's probably not going to be the same as it was when it was 22...
After a substantial 31-3 win over the Chicago Bears, the Denver Broncos are feeling pretty good about their team at this moment. All of this being said, everyone who has praised the Broncos and the efforts of No. 18 at the helm, are forgetting that the savior that is Peyton Manning only played in one series during the contest. A total of 12 plays versus the Bears is hardly anything...
BROTHERLY LOVE
Eli Manning says that brother Peyton is the better quarterback. There wasn't a debate in the past, but there may be one now.
Denver, CO. It's amazing how one man can shift the tide for an entire division in the NFL. Peyton Manning has that kind of power. Once everyone learned that he had chosen the Denver Broncos as his new home, the aftershocks were felt for weeks throughout the entire league. It seemed to instantly vault the Broncos into contender status, and the AFC West got quite a bit stronger...
Champ Bailey's thumbs got quite the workout in the offseason as he bombarded Peyton Manning with texts pleading with him to come to Denver. Manning returned just two of them. The first one basically said, ''Thanks, I'll get back to you.'' The second one, now, that's the one that got Bailey excited. ''Let's go!'' it read. And so...
When Peyton Manning signed with the Denver Broncos giving them a much needed upgrade in the passing department over Tim Tebow, the expectations immediately increased for Demaryius Thomas and Eric Decker. Going from a 50/50 guy to one of the game's all-time greats will do that. Now in his third season, will Thomas realize his potential and join the ranks of third-year receiver...
A Florida Gator picking off Peyton Manning of the Tennessee Volunteers? Impossible! Peyton Manning never beat the Gators and never will ever since he was drafted. Major Wright of the Florida Gators took Manning's pass and stole it from him. Bonus! MANNING FACE!
AP Photo Denver Broncos wide receiver Eric Decker told NFL AM on the NFL Network that he was very excited when he found out Peyton Manning  had decided to sign with the Broncos. "I was excited," Decker said. "I can't tell you, I guess, the feelings I had. It was like I was a little kid (on) Christmas morning. (I was) more excited for the opportunity to play with one of the...
Broncos quarterback Peyton Manning told Jim Rome on Rome "My arm has a lot of yards and a lot of touchdowns on it, so it's probably not going to be the same as it was when it was 22, but I still think it can complete some passes."Fantasy Spin:Manning looked a little rusty, but healthy in the Broncos first preseason game. If he and the receiving corps get on the same...
RGIII impresses in preseason debut. What teams essentially look for out of a rookie quarterback making his NFL debut (preseason or otherwise), isn't that he completes most of his passes or leads his team on a touchdown-scoring drive. Those things are nice, of course, but what is most important is that the young signal caller has command of the huddle, displays composure, and is...
The NFL pre-season is at least two weeks too long and only made longer by the constant rehashing of the agreed upon storylines of the preseason.  Here's what we know so far: Peyton Manning is a Denver Bronco and NFL experts everywhere will be required by law to state a percentage value for his current level of quarterbacking.  He's at 85% Chuck! Tim Tebow is a New York...
NFL News

Delivered to your inbox

You'll also receive Yardbarker's daily Top 10, featuring the best sports stories from around the web. Customize your newsletter to get articles on your favorite sports and teams. And the best part? It's free!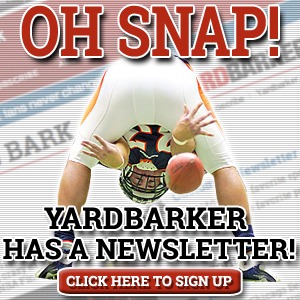 Latest Rumors
The Backyard

Today's Best Stuff

For Bloggers

Join the Yardbarker Network for more promotion, traffic, and money.

Company Info

Help

What is Yardbarker?

Yardbarker is the largest network of sports blogs and pro athlete blogs on the web. This site is the hub of the Yardbarker Network, where our editors and algorithms curate the best sports content from our network and beyond.