Found October 02, 2012 on Denver Sports Chat:
Denver, CO. So here we are, it is "Patriots Week", as this much-anticipated 2012 regular season game is finally here. When the schedule came out back in April, this was one of the games that all die-hard NFL fans had to have circled. Broncos versus Patriots, but a somewhat bigger matchup is the long-standing rivalry between Peyton Manning and Tom Brady. This game will have the attention of the entire NFL world this Sunday, for a variety of reasons. Whether it's because of this individual rivalry between two of the greatest signal callers in NFL history, or because it's an important matchup of two 2-2 AFC teams, or because it's a rematch of the AFC playoff game from last season…..storylines aplenty in this one, as there should be something for everyone come Sunday. Both the Broncos and Patriots have shown so far this season that they have some key ingredients that may make each or both teams serious playoff powers this January. But both Denver and New England have also shown that they are susceptible to making mistakes against good opponents. This matchup this week is more than just a 2012 regular season game. It's a grudge match of sorts, and even though it is just October, there is plenty on the line. The loser goes to 2-3, and will be fighting an uphill battle to climb back into the AFC race. But the winner will receive some much-needed momentum, and will immediately be one of the favorites in the Conference. Both teams are coming off victories in week 4, and are feeling good about their chances in this upcoming battle in Foxboro. Although both Denver and New England each have reasons why they should win this game, too many things point to the Patriots coming out on top. Here are the 7 reasons why the Broncos will come up short in week 5……
1 – Brady Over Manning - Although they have both had success against each other over the years, Brady has the decided edge when it comes to wins. Brady has won 7 of their 11 all-time matchups, and the Patriots have proven to be a thorn in Peyton Manning's side, especially in Foxboro.
2 – Broncos Horrible Safety Play - Having weak safeties against any team is not good, but against New England, it typically is a major problem. Mike Adams and Rahim Moore are potentially in for a long day this Sunday, as they have to contend with The Gronk. Gronkowski poses a huge problem for any defense, but especially against this Broncos D where their safeties are some of the NFL's worst.
3 – Patriots Home Record - The loss by New England to Arizona a few weeks ago was a shocker for many reasons. One of them was the fact that the Patriots hardly ever lose at home, especially since Tom Brady took control of the team back in 2001. This team loves playing in Foxboro, as they are 23-2 in their last 25 home contests.
4 – Peyton Manning Not What He Used To Be - Say what you will about Manning's great game against Oakland in week 4, and he did have a fantastic outing. However, there are certain teams that you shouldn't judge players against, and the Raiders are one of them. In the previous three games against Pittsburgh, Atlanta, and Houston, Peyton looked a bit off, and his decision-making was surprisingly erratic. His arm seems to be ok so far, but not quite what it was even two years ago. He will need to be extremely precise this week, and against good teams, he just hasn't been so far in 2012.
5 – Patriots 2011 Playoff Win - The Broncos got dominated in every way possible in the playoff loss last year in Foxboro. Yes, the team is quite different now, with a lot of different players. However, many of the same players return to the scene where Denver lost 45-10. Think the nightmare from last January will come back into their minds when they hit the field this Sunday? Yeah, I think so.
6 – Brandon Lloyd and Josh McDaniels - Brandon Lloyd has been a class act during his entire career, and had his best season as a pro in Denver in 2010. He totaled 1,448 yards and 11 TD's as a Bronco that year. Heading into 2011, he was seeking a contract extension and wanted to stay in Denver. Instead, he was shipped out of town, and on to St. Louis. He signed with New England during this offseason, and has been one of Tom Brady's favorite targets in 2012. Think Lloyd will want to exact some revenge on the organization that dealt him away last year?……For Josh McDaniels, his stay in Denver ended up going south quickly, as he was fired in 2010. He is now the offensive coordinator once again for the Patriots, where he has always done well. Like Lloyd's situation, ya think Josh will want to stick it to the Broncos just a little more than any other opponent? Yeah, there's a good chance he will.
7 – Patriots Expect To Win, Broncos Just Hope To - The cultures for both New England and Denver are some of the NFL's best, however, there is one big difference currently. The Patriots simply expect to win every single game they play, because they are the most successful franchise in the NFL over the past decade. On the other hand, the Broncos are in the process of regaining that sort of feel, where they expect to win each week. They are on their way to that, but aren't there yet. With Peyton and several young players at key positions, the team is still learning how to play together and that may take all year to work itself out. Denver should get hot as the schedule eases up a bit in November and December, but they just won't have enough to get the win against New England…..Patriots 38, Broncos 27…..
Denver Sports by J Simp

href="http://www.shareasale.com/r.cfm?b=415824&u=643885&m=7124&urllink=&afftrack=">
The post 7 reasons why the Broncos will lose to the Patriots appeared first on Denver Sports Chat.
Original Story:
http://feedproxy.google.com/~r/Denver...
THE BACKYARD
BEST OF MAXIM
RELATED ARTICLES
D.J. Williams will miss three more games after the NFL suspended the linebacker for violating the league's policy and program substance of abuse. The Denver Broncos linebacker was convicted in August of driving while ability impaired. Williams is already serving a six-game suspension for violating the NFL's banned-substances policy after he supplied a "non-human&quot...
With Broncos – Patriots this week, we have a special guest, Dana Draper with 60 Max Power O. Since his return to football, Peyton Manning has played four games, but on Sunday afternoon, he'll renew his rivalry with the New England Patriots, and is there anyone more qualified than Bill Belichick to game plan against him? This will be the 13th meeting between the two, and if...
The Manning brothers are legendary for their postgame-loss faces, but you may recognize the new Peyton Manning-face. After the Broncos' 31-21 loss, Manning channeled his inner Olympic gymnast by pulling McKayla Maroney's "not impressed" face. Will Manning's face lead to an internet meme like Maroney's? That remains to be seen. Manning was impressive in the...
The Broncos defense has looked fairly solid this season with the additions in the secondary and a few draft picks in the front seven, but the defense could look a little better if they had linebacker DJ Williams. DJ Williams suspended 3 more games by the NFL (Ron Chenoy/US Presswire) Williams was suspended prior to the start of the season for six games for submitting "non-human...
Linebacker D.J Williams of the Denver Broncos won't be allowed to play until November 12. The NFL decided today that they would add three more games to his already six-game suspension. Williams was punished for violating the league's policy and program for substances of abuse following his conviction in August of driving while impaired. He started the season [...]
Denver Broncos linebacker D.J. Williams, who is serving a six-week suspension for violating the NFL's substance abuse policy, had three more weeks added to the punishment on Friday from an August drunk driving arrest. The Denver Post reported that the three extra weeks tacked on to Williams' suspension means he cannot return to the team until Nov. 12. He will miss games...
A rivalry is about to be renewed in the NFL as Tom Brady faces Peyton Manning for the first time as the signal caller for the Denver Broncos. It's always difficult to make bold predictions when these two first ballot Hall of Fame quarterbacks meet, but let's take a look at three big, bad bold predictions for the Sunday afternoon match up at Gillette Stadium.Bold Prediction...
The Denver Broncos came to Gillette Stadium in Foxboro, MA on Sunday afternoon to face a familiar opponent and they brought an old foe, Peyton Manning. Fortunately for the New England Patriots as has happened more times than not Manning's team, this time the Broncos, folded in the late game pressure and the Patriots won 31-21. Denver started out with a good opening drive only...
Denver Broncos (2-2) at New England Patriots (2-2) We were without it for a year, but NFL fans will get to see Brady/Manning once again this year, their 13th meeting. What Aaron Rodgers and Drew Brees have done over the past few years is very impressive, but no one compares to Brady and Manning when you look at the last 10 years or so as a whole. This is one of the greatest rivalries...
Manning and Brady have matched up 12 times with Brady taking 8 of those Denver Broncos (2-2) @ New England Patriots (2-2) 4:25 p.m. Both Tom Brady and Peyton Manning will be in the Hall of Fame someday but today they will both be focusing on the present.  Each team needs to win this key AFC contest to give their team a boost. The loser will have three losses in their first...
FOXBORO, Mass. -- New England Patriots coach Bill Belichick was asked after Sunday's 31-21 win over the Denver Broncos about the latest matchup of future Hall of Fame quarterbacks Tom Brady and Peyton Manning. "They're both great," the Patriots coach said. "Nobody I'd rather have than Tom Brady, but Manning's a great player." Both were able...
So today we got the Broncos in town this week, and here are a couple of things to watch for. As always, follow me @CultOfBelichick-Safety play With Steve Gregory out, the safety position that has been plaguing the Patriots comes into even greater focus. We are going to have Tavon Wilson getting his first start against Peyton Manning, one of the best ever at manipulating safeties...
Broncos News

Delivered to your inbox

You'll also receive Yardbarker's daily Top 10, featuring the best sports stories from around the web. Customize your newsletter to get articles on your favorite sports and teams. And the best part? It's free!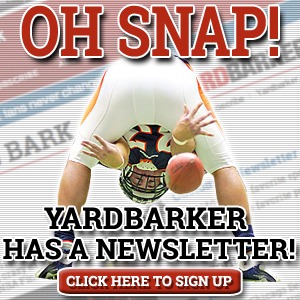 Latest Rumors
Best of Yardbarker

Today's Best Stuff

For Bloggers

Join the Yardbarker Network for more promotion, traffic, and money.

Company Info

Help

What is Yardbarker?

Yardbarker is the largest network of sports blogs and pro athlete blogs on the web. This site is the hub of the Yardbarker Network, where our editors and algorithms curate the best sports content from our network and beyond.