Found August 12, 2012 on Fox Sports Ohio:
PLAYERS:
Jabaal Sheard
,
Von Miller
,
Pat Shurmur
,
Joe Thomas
,
Travis Benjamin
,
Scott Fujita
,
Mohamed Massaquoi
,
Dimitri Patterson
,
Scott Paxson
,
Jordan Cameron
,
Phil Taylor
,
Usama Young
,
Ben Watson
,
Frostee Rucker
,
D`Qwell Jackson
,
Marcus Benard
,
Eddie Williams
,
Chris Gocong
,
Trent Richardson
,
Josh Gordon
,
Colt McCoy
,
Josh Cribbs
,
Marvin Lewis
TEAMS:
Cleveland Browns
,
Denver Broncos
,
Cincinnati Bengals
BEREA, Ohio The Browns have longed for a dominant pass rusher from the defensive end position for over a decade. They hope theyve found one in Jabaal Sheard. The second-year defensive end from Pitt accounted for 8 sacks as a rookie, but he thinks he left more on the field. The last time the Browns had a defensive end account for at least 8 sacks was when Keith McKenzie had the same number back in 2000. There were probably some sacks I couldve had if I finish the play, Sheard said. Its something I definitely want to be great at. I definitely want to be the best at my position, thats what I work for. I dont know yet where I standthere are some elite guys out there, he said. But I hope one day I can be one of those guys. Sheard (6-2, 255) had 55 tackles as a rookie with five forced fumbles, a fumble recovery and two passes broken up. Sheard was named to the Pro Football WeeklyProfessional Football Writers Association (PFWPFWA) All-Rookie team. He finished second in the AFC among rookies in sacks to Broncos linebacker Von Miller, but he dedicated himself this past off-season to becoming better at stopping the run. You just always look to get better, Sheard said. You always think you did good, but that isnt good enough. Theres always time for improvement and I definitely want to improve in the run game. Pat Shurmur said a lot of stopping the run is recognition and familiarity with the position. Hes got to understand obviously this game and where he fits in his gaps and situations where its going to be a run. Sheard agreed. Sometime before the play (happens, its) recognizing whats coming, Sheard said. Seeing where they are loaded, you can see the fullback offset and the tight end to me, I got a better chance theyre going to run toward me, just noticing that and technique a little bit. With the tight end, getting rid of him faster and getting a chance to get off and make the play in the backfield. As long as you know whats coming, it always will help you, he said. You know where to lean to, you know where their power is at and you know where your help is coming from on defense. So its definitely the preparation before the play. Sheard admits he lost his focus as a rookie, at times. But sometimes I lose focus on what I need to focus on, as far as the tight end, he said. I want to fight back into the tackle when all I need to do is attack the tight end. Sheard started his rookie at right end and spent his first days at the NFL level in practice going up against perennial Pro Bowl left tackle Joe Thomas. After the first game of the regular season, he flipped over to the left side and has been there since. I was nervous a little bit when I came out, then I got out on the field and I was going against Joe, he said. So I was like, I dont know if I can really play here. Playing against Thomas could make any player doubt, let alone a rookie, but the work against the best prepared Sheard for the season. We got into the games and it was just football is football. Notebook 15 Miss Practice: The biggest story coming out of Sundays practice was that the Browns had 15 players on their roster that didnt practice. Shurmur is not talking about injury specifics this season and his answer regarding WR Travis Benjamin and LB Scott Fujita not being out there was that they were a little sore from the game. Neither were listed on the injury report in Detroit. Shurmur was asked if there was any update on the four players that left the game against the Lions including, WR Mohamed Massaquoi (head), DB Dimitri Patterson (ankle), DL Scott Paxson (knee) and TE Jordan Cameron (back). Not really, he said. Theyre a little nicked up. Shurmur was asked if there was any clarification about Massaquois injury since Shurmur termed it a concussion after the game, but Massaquoi posted on his Twitter account that it was precautionary as the reason he left the game. I told you what happened (after the game), Shurmur said. He had a concussion. Massaquoi, Patterson and Paxson were not on the field, while Cameron was on the field riding the stationary bike. Benjamin and Fujita were also not on the practice field. Massaquoi will have to follow the NFL protocol for head injuries. Others not practicing and on the bike were DL Phil Taylor (pectoral), DB Usama Young (hamstring), TE Ben Watson (undisclosed), and DL Frostee Rucker (undisclosed). LB DQwell Jackson was on the sideline watching practice, but did not participate. LB Marcus Benard (undisclosed), FB Eddie Williams (undisclosed), LB Chris Gocong (Achilles) and RB Trent Richardson (knee) were also absent rounding out the contingent. Dress Rehearsal: Shurmur said that the first team offense and defense will play the entire first half against the Packers Thursday in the second preseason game. Typically, the third preseason game is considered the dress rehearsal, but the Browns and the Eagles are scheduled to play in that game and then two weeks later, the two teams open the regular season. Typically, its the third (preseason) game and this year Philadelphia is our third (preseason game)and theyre our opening game, Shurmur said. Gordon Update: WR Josh Gordon had a rough night in his first preseason game. He had three targets but no catches. Hes a rookie in the NFL and has to learn by doing, Shurmur said. Hes extremely talented, but needs to stay motivated. I would anticipate him playing his way through it by the season. He just needs to keep working. In practice Sunday, Gordon stopped on a pass downfield from QB Colt McCoy and was immediately replaced by WR Josh Cribbs. Im definitely working my way through it, he said. Im practicing the next couple of days and want to be more prepared (for Green Bay). Gordon said he felt like he did alright for the first game. Not a Tweeter: Shurmur seemed a bit irritated when told that WR Mohamed Massaquoi tweeted that his head injury was precautionary, contradicting Shurmur calling the injury a concussion. I dont like (tweets), Shurmur said. Thats my policy. I encouraged (the players) to not do it, but (if they do I) encourage and inspire them to be professional and not disclose (Browns business). Recently, Bengals coach Marvin Lewis banned his players from tweeting, but Shurmur said he wouldnt do that. Im not going to pick a fight with Twitter, he said. I know social media is a part of our society.
Original Story:
http://www.foxsportsohio.com/08/12/12...
THE BACKYARD
BEST OF MAXIM
RELATED ARTICLES
We looked past the diamond encrusted pendants that swung from his neck like a pendulum. We looked past the sunglasses indoors phenomenon that was so eloquently embraced. We did so because what happened on the field of play; a highly talented player isn't exactly the norm when it comes to post-1999 Cleveland Browns football. Having a player who can make a game-changing play at nearly...
No! Precautionary! Cant wait to get back to work! @jmccurry08: @momass11 no concussion? congrats on the win #GoBrownies — Mohamed Massaquoi (@MoMass11) August 11, 2012 This is what Browns receiver Mohammed Massaquoi said to a fan last night asking if he had suffered a concussion. The third-year Georgia product left Friday night's preseason game against Detroit after sustaining...
This is a little meta because Jamison Hensley was quoting Adam Schefter's mailbag in creating his own blog post about Colt McCoy being a trade fit with the Green Bay Packers. Schefter's thoughts are nothing new, really, except to say that Aaron Rodgers still needs a capable backup now that Matt Flynn has moved along to Seattle. Hensley's take is what I am quoting and responding...
. Highly touted Cleveland Browns rookie running back Trent Richardson gave dynasty league and early drafters a bit of a scary when news that he had soreness in the knee he had surgery on in February. . Things really got tense when word came out that he will travel to see Dr. James Andrews. is also talk of a second scope. That is not news you want to hear for somebody that...
More bad news for the Browns, at the same time they found out that star cornerback Joe Haden could be suspended for 4 games, Trent Richardson will have to undergo surgery on his left knee. That surgery is just a scope so it's as minor as it comes, but this is the 2nd time that knee has been operated on this year, so it's not what you want to see from the player you just spent...
Joe Haden, the 7th overall pick in the 2010 NFL Draft, is reportedly in danger of being suspended for 4 games, according to ESPN Cleveland, after testing positive for Adderall during a routine drug test. Adderall is a classified as a performance enhancing "stimulant" by the NFL. The NFL has reportedly told Haden he tested positive and that they are reviewing the drug test. Haden...
Nine passing attempts isn't a lot. It only seems that way when one is picked off, another bounces off the pads of an opposing cornerback who's streaking for your end zone, and a tenth is ruled a fumble. Eight penalties in the first half, and allowing your opponent 6.4 yards per carry in the same half, though? That's just Shurmurball. DRINK! Like Brandon Weeden in 2012, Joe...
AP Photo According to Mike Florio of ProFootballTalk.com, a source has told him that Cleveland Browns cornerback Joe Haden used Adderal as a "pick me up" during an offseason visit. "A league source tells PFT that the locker-room scuttlebutt in Cleveland is that cornerback Joe Haden tested positive for Adderall after taking the ADD medication as a "pick-me-up" during an...
Trevin Wade looks like he may be another seventh-round selection with a chance to start in the Browns' secondary to start the 2012 season.
The Cleveland Browns won their first pre season matchup against Detroit but as I have said one million times, IT IS JUST PRE SEASON. Every writer and analyst in the US will tell you there is much to be desired. Pre season games show you as a coach, what your skilled positions have to offer in the new season and where young players fit in. As far as the Browns are concerned, this...
Injuries happen in the NFL. It's pretty much inevitable. Between grueling practices and preseason games, the fantasy football owner of now has to keep their fingers crossed that high-ranking fantasy options can not only stay healthy during the regular season, but can stay upright throughout August. One such player who has made the news in the past week has been Browns RB Trent...
While We're Waiting serves as the early morning gathering of WFNY-esque information for your viewing pleasure. Have something you think we should see? Send it to our tips email at tips@waitingfornextyear.com. Quickly recapping the GLC victory: "Come on, Browns fans — don't tell me I was the only one who had a goofy smile on their face when Jeff Wolfert's 45-yard field...
NFL News

Delivered to your inbox

You'll also receive Yardbarker's daily Top 10, featuring the best sports stories from around the web. Customize your newsletter to get articles on your favorite sports and teams. And the best part? It's free!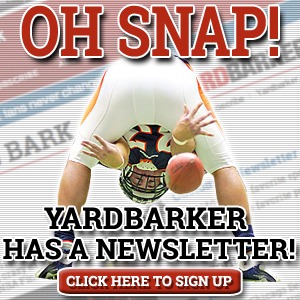 Latest Rumors
The Backyard

Today's Best Stuff

For Bloggers

Join the Yardbarker Network for more promotion, traffic, and money.

Company Info

Help

What is Yardbarker?

Yardbarker is the largest network of sports blogs and pro athlete blogs on the web. This site is the hub of the Yardbarker Network, where our editors and algorithms curate the best sports content from our network and beyond.