FOXBORO, MA - JANUARY 10: Tom Brady #12 of the New England Patriots looks on during warm ups against the Baltimore Ravens during the 2010 AFC wild-card playoff game at Gillette Stadium on January 10, 2010 in Foxboro, Massachusetts. (Photo by Jim Rogash/Getty Images)
The NFL has long been a copycat league, and after watching the New York Giants trot out a star studded defensive line and smack around Tom Brady for the second time in five seasons, who could blame Buffalo's General Manager Buddy Nix for trying to mold his team in their image.  We all know about the personnel upgrades the  Bills have made during the off-season, but catering your scheme to best fit the players on your team is what separates mediocre teams from playoff contenders.  As such, newly promoted defensive coordinator Dave Wannstedt has transitioned the Bills into a 4-3 base defense to take advantage of their newfound defensive line depth.   Using statistics based on the 2011 season let's take a look at how the switch from a 3-4 to a 4-3 base defense might pan out.       Buffalo is hoping a healthy Kyle Williams will shore up the Bills rush defense. Rush Defense The Bills ranked 28th in the league last season in total yards allowed rushing, and an even more abysmal 30th in the NFL in touchdowns allowed on the ground with 19.  Here's how the rest of the league's defenses fared as broken down by base defense. (To qualify, teams must have spent at least 50% of their snaps in either base formation) 4-3 Defenses against the Run in 2011: In total on the season, teams employing a 4-3 base defense gave up an average of 1,967.27 yards rushing.  This equates to 122.95 yards per game.   That is a modest total considering only 37% (12/32 teams) averaged higher than 122.95 yards rushing per game.  In general teams had a higher rate of success rushing the ball against a 4-3 base defense. Additionally teams sporting a 4-3 base defense gave up an average of 13.5 rushing touchdowns on the season, which equates to 5.06 points per game given up on the ground.  This number is more respectable when you realize that only 14 NFL teams scored more than 13 rushing touchdowns on the season.  So despite the high yardage totals, the 4-3 defenses yielded only average point totals against opposing rush offenses. 3-4 Defenses against the Run in 2011: In total on the season, teams employing a 3-4 base defense gave up an average of 1,754.78 yards rushing.  This averages out to 109.67 yards per game.  That is very impressive when you consider that 65% of the league (21/32 teams) averaged higher than 109.67 yards rushing per game.  Teams employing a 3-4 base defense were very successful keeping opponents below their season average on the ground. Teams operating out of a 3-4 base defense gave up an average of 11.21 rushing touchdowns on the season, which equates to 4.20 points per game allowed via the rush. In a league in which so many games are decided by a field goal or less, the two fewer touchdowns per season allowed on average by 3-4 defenses versus 4-3 defenses is significant. Pressuring the Quarterback Buffalo's inability to get to the quarterback was equally as pronounced as their poor rush defense.  They finished tied for 27th overall with 29 sacks last year.  Seven of the twelve playoff teams from the 2011 season compiled at least 40 sacks during the regular season.  If the Bills are to end their playoff drought, they'll need to find a way to improve upon last year's totals.   The 14 teams, including the Bills, that ran a 3-4 base defense in more than 50% of their snaps in 2011 averaged 37.78 sacks on the season.  The 18 teams that operated out of a 4-3 alignment for more than 50% of their snaps in 2011 averaged 36.61 sacks in total.   That difference is very negligible, and when you factor out the league low 23 sacks by the Tampa Bay Buccaneers, the rest of the 4-3 defenses averaged 37.41, or less than half a sack apart from the 3-4 teams over the course of 16 games.  These totals are not nearly significant enough to declare either base formation superior to the other in terms of quarterback pressure. Analysis Assuming the players all take to the new alignment and everyone understands their role coming out of camp, I'm not sure if the shift to a 4-3 on its own will have much to do with the Bills success or failure on defense.  Their upgrade in talent alone should go a long way to remediate rush defense and sack issues.   What we can glean from last season's numbers is that the teams who align their defense with their on field talent produced above average results.  Case in point, the top three teams in terms of total sacks were the Minnesota Vikings, Philadelphia Eagles, and New York Giants.  Each team featured at least one defensive end that averaged over a sack per game in Jared Allen, Jason Babin, and Jason Pierre-Paul.  The San Fransisco 49ers lead the league in rush yardage against, and they fielded a linebacking corps that included  Navarro Bowman who finished 2nd in the NFL in solo tackles with 111.  With the additions of Mario Williams and Mark Anderson to bookend Marcel Dareus and Kyle Williams, the Bills strength is on the line, so it makes sense for them to operate out of a 4-3. Lastly, if Buffalo is to make any noise this season they are going to have to improve upon their 1-5 divisional record last season.  It should be worth noting that Mark Sanchez and Tom Brady went a combined 14-6 against 3-4 base defenses last year, but only 8-6 against 4-3 alignments.   The post Shifting Alignments, A Shift In Results? appeared first on Queen City Sports.
Original Story:
http://www.queencitysports.net/shifti...
MORE FROM YARDBARKER
NFL News

Delivered to your inbox

You'll also receive Yardbarker's daily Top 10, featuring the best sports stories from around the web. Customize your newsletter to get articles on your favorite sports and teams. And the best part? It's free!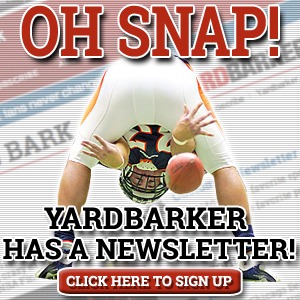 Latest Rumors
Best of Yardbarker

Today's Best Stuff

For Bloggers

Join the Yardbarker Network for more promotion, traffic, and money.

Company Info

Help

What is Yardbarker?

Yardbarker is the largest network of sports blogs and pro athlete blogs on the web. This site is the hub of the Yardbarker Network, where our editors and algorithms curate the best sports content from our network and beyond.