CHICAGO - DECEMBER 28: Quarterback Jay Cutler #6 of the Chicago Bears looks to pass against the Minnesota Vikings in the first half at Soldier Field on December 28, 2009 in Chicago, Illinois. (Photo by Jonathan Daniel/Getty Images)
By Chris Cavoto I've been a Chicago Bears fan for as long as I can remember. I know my mother took me to the parade celebrating the 1985 Super Bowl Champions when I was younger and that is probably when my fandom began. I thought after watching the Bears lose to the Kansas City Chiefs that I had witnessed rock bottom as a Bears fan. The Bears proved me wrong the next week as they blew a 10 point lead in the 4th quarter to Tim Tebow and the Denver Broncos to lose 13-10 in OT. To watch the Bears lose in a game that was dominated by defense was enough to question my rooting interest for the rest of the season. I'm not talking about giving up my fan card for the Bears because that will never happen, but to wonder what I am hoping for at the end of the season. A couple of weeks ago, it was Super Bowl or bust for these Bears, but after 3 straight losses those hopes have been dashed. After injuries to Jay Cutler and Matt Forte, the hope was to hold on long enough for those 2 to return from injury and lead the charge into the playoffs. After two heartbreaking losses in a row, my question now is should Cutler and Forte play this season at all? Now I'm not talking about holding either player out if they 100% ready to go, but if they are not. From interviews, on the field play, and comments of their teammates I am lead to believe that both Cutler and Forte are competitors and want to play again even if they are not completely ready. While I admire this spirit (and would love it in all athletes), I am conflicted on whether or not I want either back on the field unless they are ready. The reason I am even considering this is that the Bears are out of the playoffs right now and need help to get back in. If the Bears lose to Seattle on Sunday this conversation is moot because there is no chance of making the playoffs after that, but if they win there is still hope. My question is that hope enough to risk further injury to Forte or Cutler if they come back and are not at full strength? Is the chance of playoff success this season enough to chance the future? In a word, my answer is no. I am not willing to risk Forte or Cutler this season because at this point, unless the fates change their mind, the Bears are not going to make the playoffs and would be better served to look toward next year with their offensive stars. To even write this pains me as a fan because as a fan, I believe that the Bears can win every game no matter what. Right now though, the rational side of me realizes this season's outcome is looking bleaker with every passing game. In someway this Sunday's game against Seattle will go along way in deciding what the Bears should do in my opinion, but there is more. If Atlanta, Detroit, and the Giants lose, the Bears will be tied and back in the hunt.for the playoffs. Maybe then Cutler and Forte should come back, but until the Bears win Sunday my rallying cry is "Wait till next year". Follow me on Twitter @chitownsfinest5 for more Bears info, rants, and commentary         For more great articles, check out Chicago Sports Addict.
Original Story:
http://cjsportsnflblog.com/2011/12/sh...
MORE FROM YARDBARKER
NFL News

Delivered to your inbox

You'll also receive Yardbarker's daily Top 10, featuring the best sports stories from around the web. Customize your newsletter to get articles on your favorite sports and teams. And the best part? It's free!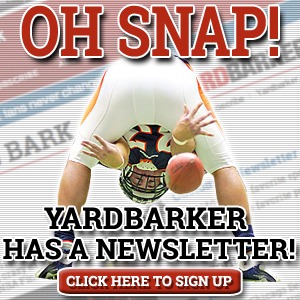 Latest Rumors
Best of Yardbarker

Today's Best Stuff

For Bloggers

Join the Yardbarker Network for more promotion, traffic, and money.

Company Info

Help

What is Yardbarker?

Yardbarker is the largest network of sports blogs and pro athlete blogs on the web. This site is the hub of the Yardbarker Network, where our editors and algorithms curate the best sports content from our network and beyond.