Found December 14, 2012 on Buzz On Broad:
What is with everyone that thinks Howie Roseman should be fired and Jeff Lurie is disrespecting the fans by not addressing the media? For weeks now, everywhere I turn I hear about how the Philadelphia Eagles should fire Roseman along with Andy Reid and everyone else at season's end.  I also hear a lot of people seemingly angry at Lurie for remaining quiet while the team is crumbling around him (or for not firing Reid before the end of the year). Just this morning, these two subjects were all the rage on sports radio 94WIP.  However, it's not just there I've heard these things, but also on Twitter and other online web sites. Simply put, I just don't agree with either notion and frankly, I don't understand why people feel this way if they were to look at things with a little bit of logic. First, let's take a look at Howie Roseman... The main reason I've heard that he should be fired is for poor drafting.  Roseman was promoted to General Manager in 2010 and that was the first draft where he was running the show (for the most part). First off, the man is young and still a novice at his trade.  Secondly, how much real decision-making on the draft picks he had/has is unknown and a subject for debate.  But, for the sake of argument, let's just grade him on the drafts under his watch. In 2010, everyone focuses on the Eagles trading up from pick No. 24 to 13 in order to take Brandon Graham instead of Earl Thomas or JPP.  At the time, everyone viewed JPP as a boom-or-bust type of player and for the most part, viewed Graham as the "safe pick." Granted, I wanted Thomas at that pick and was shocked by taking Graham, but at least the Eagles took a safety with their next pick (more on that later). Graham has struggled for the most part, but let's consider a few things.  During his rookie year, he was mostly played out of position at defensive tackle because Sean McDermott was trying to emulate the Giants' defensive line (playing ends inside often). He posted three sacks and two forced fumbles in 13 games before suffering a significant knee injury.  This injury greatly impacted his 2011 season as well since it happened at the end of 2010 and he was never really fully recovered. Then he gets pushed back in the rotation because of the whole Washburn/Babin/Wide-Nine crap.  Now that he's actually getting playing time in his proper position, he's producing.  In the last three weeks since taking over for Babin, he's recorded four sacks and a forced fumble. If you were to project that over a full season, he'd end up with 20 sacks and five forced fumbles (roughly).  I'd say let's not call him a bust just yet and see what 2013 brings for him. More after the jump... The Eagles also took Nate Allen with their second pick in that draft.  I've called him out several times, but he's possibly suffering from similar circumstances as Graham. Like Graham, Allen suffered a major injury in his rookie year.  Prior to the injury, he was looking pretty good...particularly in coverage.  The injury wasn't really an excuse for his poor play in 2011, but now it's coming out that perhaps it was the wide-nine system that was doing him in. Maybe we didn't realize what kind of effect that system was having on the secondary because we were too focused on the affect to the linebackers.  However, Nate Allen has had a mini-resurrection these past few weeks ever since the wide-nine was scrapped. Allen might also be a "system player", as in he needs to be in the right defensive system to excel.  Four weeks ago I was ready to cut him and the entire secondary.  However, now I'm having second thoughts on that and perhaps Allen deserves another shot to prove himself. The rest of the 2010 draft class had some pure busts, but they also got a few "okay" role players late such as Riley Cooper and Jamar Chaney.  But, keep in mind that this was Howie's "rookie year." The 2011 draft is probably one more to forget than to remember.  However, first-round pick Danny Watkins was the best guard on numerous draft pundits' board.  He was taken where most people thought he'd go so unless you want to fault Roseman for not having a crystal ball, you can't say he "reached" for a guy here. Plus, I still have hope for Watkins if he can get his head in the game.  I think that is what's holding him back...his desire to play the game. Are general managers, scouts and all other evaluators supposed to be able to predict a player's future desire? That's an easy thing to do a snow-job on for a player, they just have to act excited and professional. Besides Alex Henery, Jason Kelce and maybe Stanley Havili, the rest of that draft was a disaster, I'll give you that.  However, everyone focuses on Watkins and I just can't fault him for not being able to tell if a guy will not want to play football in two years. Furthermore, that was just Roseman's "sophomore year." 2012, Roseman's junior year in the big leagues, he had a draft that everyone in Philly loved.  And so far, it looks like the 2012 draft class could eventually be the best in Philadelphia Eagles history! Only two of their nine picks in last year's draft haven't panned out (McNutt and Washington), but everyone else looks promising. Therefore, of Roseman's three drafts, we have one mediocre (but could turn out to be better, 2010), one "bad" draft (2011) and one excellent draft.  And the fact that the last draft was the excellent one, why would you want to can him now? Furthermore for Howie...Everyone was feeling pretty good last summer when the team was making all the right "feel good" moves by extending and/or re-signing certain players.  Remember that?  Yes, everyone was unanimous about the Eagles doing the "right thing" by their players. You can argue that Reid may have been the reason for that, but Roseman is the guy that made it happen.  Roseman was also the guy who orchestrated all those deals for all those free agent signings in 2011. That was a great failure, but that's not Roseman's fault.  That was Reid's fault. Some people right now may point to the recent Mike Patterson issue.  I don't know the full extent of the role Roseman played in that, but I'll agree, it was badly mishandled and usually the GM oversees those things. However, at least they did the right thing by correcting it. To me, it seems Roseman has done a pretty good job for the most part.  You have to let him grow into being a GM and overall, I think he's doing just that.  I have no qualms about him going forward...for now. The other thing I don't get is the anger at Jeff Lurie.  People think he's weak and/or being disrespectful to fans for not addressing the media about the brutality of this season. To that, I say, what the hell do you expect the guy to say?  Let's think about this for a minute... In all likelihood, Lurie made the decision a long time ago that he was going to let Reid finish out this year no matter what.  Reid deserves to have that respect anyway.  Let the man go down with the ship if he chooses to do so. Therefore, why would Lurie subject himself to a barrage of questions from the media about firing Reid right now?  What's he going to say, "yeah, I'm going to fire him in the locker room after the last game?" What purpose would that serve?  It would only serve the purposes of those hot-head individuals who need instant gratification.  We all know Reid is going to be fired at the end of the season, there is no need to do it now and there is definitely no need for Lurie to publicly state that he will be doing just that at the end of this month. It would be indignant for Lurie to say anything to the public about Reid's fate before it happens. You may not care, but Reid deserves better than that. Follow Dave Stoessel on Twitter for more Eagles news and discussion!
Original Story:
http://www.buzzonbroad.com/2012/12/sh...
THE BACKYARD
BEST OF MAXIM
RELATED ARTICLES
One of the longest tenured head coaches in the NFL has a pretty solid resume with 5 potential destinations for Philadelphia Eagles head coach Andy Reid and you'll be surprised by some, shaking your heads at others, but all we know he'll end up somewhere. These are the 5 potential destinations for Andy Reid in 2013 5. Oakland Raiders Do the Oakland Raiders have a head coach...
For weeks now, everywhere I turn I hear about how the Philadelphia Eagles should fire Howie Roseman along with Andy Reid and everyone else at season's end.  I also hear a lot of people seemingly angry at Jeff Lurie for not coming out and addressing the media about the state of the franchise (or firing Reid before the end of the year). Just this morning, these two subjects were...
Apparently we missed a heluva game while we were getting drunk at the company Christmas party last night. The Bengals outscored the Eagles 24-0 in the second half en route to a 34-13 road victory. The goat? Eagles running back Bryce Brown who had a solid night, going for 34 yards on 16 carries. Oh, and a pretty big fumble which got returned for a TD. Eagles fans were not happy. ...
The Philadelphia Eagles, who were riding a temporary high after a 23-21 win over Tampa Bay last week, quickly crashed landed on the cold, hard ground in Lincoln Financial Field Thursday night, losing to the Cincinnati Bengals 34-13. Turnovers were once again the story of the night, and the Philadelphia Eagles had five of them. On top of that, they had a punt blocked. The rest is...
Tweet   The season can't end soon enough for the Philadelphia Eagles. They've lost eight of their last nine games. Fans have been spotted wearing brown bags paper bags over their heads. Speculation about Andy Reid's future with the team is almost a daily topic of discussion. The same can be said for Michael Vick. Injuries [...]
The Philadelphia Eagles will once again be without quarterback Michael Vick and running back LeSean McCoy tonight when they take on the Cincinnati Bengals as they recover from head injuries, and tight end Brent Celek will be joining them on the sidelines after sustaining a concussion of his own last weekend. Vick and McCoy were cleared to return to practice earlier this week...
 Now if that's not a helmet to helmet penalty I don't know what is.  This went down in the Thursday night football game between the Philadelphia Eagles and Cincinnati Bengals.  It was ugly last night and Eagles' Brandon Graham and Bengals' Andre Smith made it even uglier.  Never seen anything like this before. Check out our Home Page for more stories and follow...
Categories: BREAKING NEWS Eagles NewsTags: Andy ReidBrandon GrahamBryce BrownNick FolesPhiladelphia EaglesA Return To Form Just a couple of days ago, we saw the Eagles play one of their strongest games of the season. Mistakes were kept to a minimum, Nick Foles took a major step forward, and the defense played with a little intensity. On Thursday night, we hoped to see the young...
The Cincinnati Bengals and Philadelphia Eagles will play against each other on Thursday night. Scheduled for kickoff at 8:20 PM EST this game can be seen on NFL Network. So whats the spread in the Bengals and Eagles game? The Bengals are 4 point favorites against the Eagles. The over/under for this game is 45 points, according to our friends at sportsbetting.ag Last week the Bengals...
Judge…audience…people of the jury.  What we have here today in front of us is a case so vile…so heinous…so uncomfortably dramatized by the writer that we must bring it to light so that others might find a way to ease this poor man's suffering.  BenJarvus Green-Ellis has been a stand-up RB2 for most of the year and his efforts have gone virtually ignored.  For every bright...
Best with "Yakety Sax" music It was nice of Jeremy Maclin to remind us, after last week's heroics, that he's still a profound disap- pointment > The Bengals got massive gains early from the startling strategy of Run Ben Jarvus Green-Ellis straight ahead > Dominique Rodgers-Cromartie gambled perfectly, then whiffed on what could have easily been a TaInt...
PHILADELPHIA (AP) -- A midweek trip to Philadelphia should keep the Cincinnati Bengals from focusing on another Pennsylvania team for a few more days. The Bengals (7-6) find themselves in a unique position where they're tied with the Pittsburgh Steelers for the last playoff spot in the AFC, but a loss to the Eagles (4-9) Thursday night wouldn't ruin their chances. "This...
Eagles News

Delivered to your inbox

You'll also receive Yardbarker's daily Top 10, featuring the best sports stories from around the web. Customize your newsletter to get articles on your favorite sports and teams. And the best part? It's free!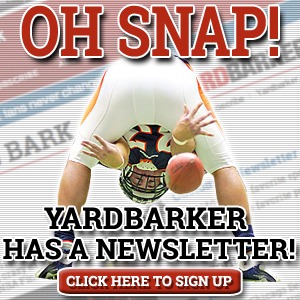 Latest Rumors
Best of Yardbarker

Today's Best Stuff

For Bloggers

Join the Yardbarker Network for more promotion, traffic, and money.

Company Info

Help

What is Yardbarker?

Yardbarker is the largest network of sports blogs and pro athlete blogs on the web. This site is the hub of the Yardbarker Network, where our editors and algorithms curate the best sports content from our network and beyond.