Found February 28, 2013 on SteelBlitz Steelers Blog:
Over the past two days the Steelers have restructured two contracts and they are planning on doing two more. This is all part of the plan to get the cap number where they need it to be so that they can do what they want in the draft and free agency. Restructuring contracts, likely, won't be enough on it's own, however, and the Steelers are expected to make some cuts over the next two weeks. So far during the off-season many, including myself, have included Willie Colon in the discussion when talking about players most likely to be cut. Colon moved from right tackle to left guard last season and played well despite some penalty issues. However, it was Colon's third straight season that ended on injured reserve. In 2009 Colon played in all 16 games for the Steelers, but since that point he has only played in 14 total games over a three year span. That injury history, along with a large cap number, makes Colon an easy target to cut. There are a few problems with cutting Colon, though. Currently the Steelers don't have a sure fire replacement for him at left guard on the roster. Ramon Foster, the best potential replacement, is a free agent and Kelvin Beachum is a natural tackle that would be switching positions to play guard. Not to mention the fact that Beachum was a seventh round pick last year and the Steelers may not be ready to trust him as a starting guard in the NFL. Keeping Colon would mean having a veteran presence on the line and he may be the best option of those three listed. The problem is that the Steelers new offensive line coach, Jack Bicknell Jr., has said he wants lineman that are athletic and can move in space. Colon is more of a mauling offensive lineman and doesn't have the athleticism and agility to excel in a zone blocking scheme, which is what Bicknell primarily used in Kansas City. So again it comes down to looking like Colon is expendable, but then you have to look at the Steelers running back situation and figure out who will start in 2013. The Steelers will most likely be drafting a running back in April, but will they start a rookie running back in 2013? It's hard to say; if they choose not to they will be starting either Isaac Redman or Jonathan Dwyer, who are both restricted free agents. If Redman or Dwyer get the nod as the starting back for 2013 it may make sense to keep Colon around. Dwyer and Redman are bigger backs that can be used between the tackles and some believe they won't excel in a zone blocking scheme because they lack top-tier speed. Dwyer can be a speedy back if he trims down, but his conditioning has been in question since he was drafted so it would be risky for the Steelers to expect him to show up in elite shape. Therefore, if Dwyer is determined to be the starter, or Redman for that matter, the Steelers might as well keep Colon because they will probably be running more between the tackle runs than outside runs. Those between the tackle runs are most effective with big strong lineman that can move defenders out of the way one-on-one. During the Steelers best three running games of the season they ran primarily between the tackles behind Colon, Maurkice Pouncey, and Ramon Foster. In 2013 that line-up could be Colon, Pouncey, and David DeCastro which could be an upgrade as DeCastro was a first round pick in 2012. DeCastro would have been part of that group if not for a knee injury suffered during the pre-season, but the Steelers have high hopes for his future and he should be considered an instant upgrade over Ramon Foster, who played right guard in 2012. The main reason the Steelers may be better off keeping Colon around is the money that they owe him. If the Steelers cut Colon outright they will save $1.2 million against the cap in 2013. However, they can also cut him with a June 2nd designation which would then free up $5.5 million against the cap in 2013. That sounds pretty good right? Well, that would also mean a dead money hit of $4.3 million in 2014. So basically the Steelers couldn't spend that extra $4.3 million in savings on contracts longer than one year because it will be taken as a cap hit next off-season. Colon may have injury concerns and yes he struggled with penalties in 2012, but he continued to improve at guard as the season went on and he is probably the best current option for the Steelers. Cutting him only saves $1.2 million in the long run and they will most likely get more than $1.2 million worth of play out of him during next season. Keeping him around for another year would also mean not having to worry about losing Foster in free agency and would allow them to wait until the later rounds to draft a lineman. I have been saying for weeks that the Steelers are going to have to make a lot of tough decision this off-season. As we get closer to March 13th, the day when all 32 teams have to be compliant with the cap, we will see just what the Steelers plans are based on who they cut and who they keep around. Right now it wouldn't surprise me either way to see Colon and multiple other veterans cut or retained in the coming weeks. The post Should the Steelers Cut Willie Colon this Off-Season? appeared first on SteelBlitz Steelers Blog.
Original Story:
http://steelblitz.com/should-the-stee...
THE BACKYARD
BEST OF MAXIM
RELATED ARTICLES
2013 Steelers Mock Draft: Round 1.) Damontre Moore, OLB, Texas A&M Moore was considered a top five pick just a week ago, but Dion Jordan, Barkevious Mingo, and Ezekial Ansah are rising up draft boards. That also means that Moore is falling. Moore has a solid frame at 6'4″ and 250 pounds, but only 12 reps in the bench press and a slow 40 time are going to drop his draft stock...
Another day and another $3.08 million has been trimmed off of the Pittsburgh Steelers 2013 salary cap as wide receiver Antonio Brown had his contract restructured on Wednesday. When you couple that savings with the $5,343,750 million created on Tuesday by the contract restructure of linebacker Lawrence Timmons, you will see that $8,423,750 million has been trimmed in the last two...
Following in the foot-steps of Antonio Brown, Ben Roethlisberger and Lawrence Timmons, Pittsburgh Steelers linebacker LaMarr Woodley will reportedly also re-structure his contract this week or next. For those of you keeping score at home, the re-structuring of a players' contract is not a pay cut. It's actually a way to convert salary money into signing bonus money. This reduces...
IT'S ALL HUNKY DORY
After signing a restructured contract, Steelers quarterback Ben Roethlisberger attempted to put the kibosh on rumors that the locker room is in disarray.
Pittsburgh Steelers quarterback Ben Roethlisberger spent the first 80-percent of his NFL career as a magnet for controversy.   Now he is trying to keep the offseason peace as his group bounces back from a disappointing season.   Please click here to read this story. The post Ben Roethlisberger defends Pittsburgh Steelers chemistry appeared first on Players View.
According to Ed Bouchette of the Pittsburgh Post-Gazette the Steelers have restructured the contract of Antonio Brown and ProFootballTalk reports that LaMarr Woodley will restructure his contract as well. Browns restructure will clear around $3 million in cap space for the 2013 season. Yesterday the Steelers restructured Lawrence Timmons contract and saved themselves around $5 million...
Former Steeler William Gay, 28, was released today by the Arizona Cardinals after on season with the team. During the 2012 off-season Gay left the Steelers for more money as an unrestricted free agent. He played in fifteen games with the Cardinals, but was cut today to help the team work out their salary cap issues. Right now Gay is being labelled as a free agent bust from 2012,...
The Pittsburgh Steelers struggled through a disappointing 8-8 season last year, which is quite uncharacteristic for one of the NFL's most successful franchises. As if the team did not already have enough issues to work through in order to get back to the playoffs next season, the coaches and players have also had to deal with anonymous teammates ripping one another. Last week,...
Mike Florio of ProFootballTalk.com reports that a source has informed him that the Steelers and WR Antonio Brown have agreed restructure his contract in order to create some extra cap space. According to a "source with knowledge of the transaction," Browns base salary of $4.5 million has been reduced to a minimum salary of $650,000. Pittsburgh will convert the remaining...
Ed Bouchette of the Pittsburgh Post Gazette reports that the Steelers have restructured QB Ben Roethlisberger's contract on Thursday. Bouchette adds that this will free up an extra $6 million in cap space for the 2013 season. Roethlisberger had a staggering cap figure of $19.595 million, so it makes sense that they would try to get that down to a more manageable number. So far...
Ben Roethlisberger is set to make $19.5 million in 2013. The Pittsburgh Steelers are hoping to move some of that money another year or so into the future to provide immediate salary cap relief.
Similar to what Tom Brady did for the Patriots earlier this week, Ben Roethlisberger freed up cap room for the Steelers by agreeing to restructure his contract.Fantasy Spin:Pittsburgh can use the extra money to re-sign free agent wideout Mike Wallace later this offseason. Roethlisberger racked up 26 touchdowns and 3,265 passing yards in 13 games in 2012.
Steelers News

Delivered to your inbox

You'll also receive Yardbarker's daily Top 10, featuring the best sports stories from around the web. Customize your newsletter to get articles on your favorite sports and teams. And the best part? It's free!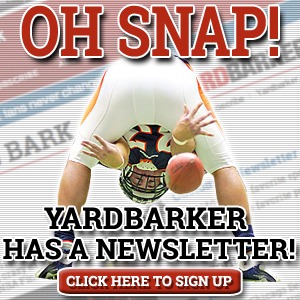 Latest Rumors
The Backyard

Today's Best Stuff

For Bloggers

Join the Yardbarker Network for more promotion, traffic, and money.

Company Info

Help

What is Yardbarker?

Yardbarker is the largest network of sports blogs and pro athlete blogs on the web. This site is the hub of the Yardbarker Network, where our editors and algorithms curate the best sports content from our network and beyond.