Found December 12, 2012 on Fox Sports Ohio:
PLAYERS:
Pat Shurmur
,
Pierre Garcon
,
Kirk Cousins
,
Josh Cribbs
,
Colt McCoy
,
Travis Benjamin
,
Donovan McNabb
,
Ben Davis
,
Trent Richardson
,
Phil Taylor
,
James-Michael Johnson
,
Michael Johnson
,
Billy Winn
,
John Hughes
,
Ahtyba Rubin
,
Brad Smelley
,
Ronnie Cameron
,
Josh Morgan
,
Robert Griffin III
TEAMS:
Cleveland Browns
,
Washington Redskins
,
Minnesota Vikings
BEREA Pat Shurmur downplayed the fact that Robert Griffin III might not play this week and said the Browns will prepare the same way regardless of who the quarterback is. There has been uncertainty whether Griffin III will play or not this week after suffering a grade one strained lateral cruciate ligament (LCL). Redskins wide receiver Pierre Garcon said on ESPN that Kirk Cousins would likely start. However, Griffins father said in an interview that his son expected to play this week. Im sure were going to hear a lot of different things this week, Shurmur said. We have to prepare for the Redskins. We cant get caught up in preparing for just one player. Griffin was participating in practice during the portion that was open to the media, but it was unclear if he took part in team drills. Shurmur was asked if he would use Josh Cribbs to simulate Griffin III in practice to try and duplicate Griffin IIIs speed. Im not sure we have anyone to simulate his speed, Shurmur said. He said no to the question on Cribbs, but did say that Colt McCoy would run the scout offense. Wide receiver Travis Benjamin could be a possibility. It is no secret the Browns tried to obtain the rights to draft Griffin III and that element brings more excitement to the game. Shurmur said the Redskins have done a good job of tailoring the offense to use Griffin IIIs skills. When you bring talent into the league, you try to use the talent that you have and thats why youre seeing some of the things youre seeing, he said. Shurmur was asked if he wouldve changed his offense if Griffin III had come to the Browns. I promise you we would have had more structured runs (for the quarterback). Shurmur was asked if there is any concern as a coach when you have a quarterback who runs a lot. (The Redskins coaches) are doing all the right things, he said. Shurmur said when you have great athletes who try to make plays, you cant talk them out of running. Shurmur was the quarterback coach with the Eagles when Donovan McNabb came to the NFL and he was an elusive scrambler early in is career. You cant have those conversations with those guys, Shurmur said. We trained Donovan as a drop back passer, but he was a great runner. Griffin III is the second-leading rusher for the Redsins with 748 yards on 112 carries (6.7 avg.) with six touchdowns. Hes not doing too bad as a passer either, as hes 233-of-351 for 2,906 yards with 18 touchdowns and only four interceptions. His rating is 104.2 for the season. Shurmur was asked how to slow down Griffin III as a runner. Youd like to stop him before he gets going, Shurmur said. Thats a joke. Griffin IIIs backup, Kirk Cousins, is also a rookie and he replaced Griffin III last week and led the Redskins on a touchdown drive (and two-point conversion) to send the game into overtime. The Redskins eventually won. (Cousins) was able to come in and execute and thats a credit to him, Shurmur said. I assume that hes getting little to no reps with the offense during the week and thats a credit to him. Cousins is just 7-of-11 for 137 yards on the season with two touchdowns and two interceptions and a rating of 107. Benjamin Wins Award Rookie WR Travis Benjamin was named the AFC Special Teams Player of the Week for his performance in the last weeks win over the Chiefs. Benjamin returned a punt 93 yards for a touchdown to spark the Browns win. Thats a tremendous effort by him to be part of a winning effort, Shurmur said. Benjamins touchdown return was the longest punt return in Browns history, breaking a record set by Eric Metcalf, who had a 92 yard return for a score in 1994. Benjamin was the first Browns rookie to return a punt for a touchdown since Ben Davis did so in 1967. In addition to the punt return, Benjamin had a 15-yard run on a double reverse that was followed by a touchdown run by Trent Richardson. Benjamin is the first Browns special teams player to win the award since Josh Cribbs did so in the second week of the 2011 season. He is the first rookie to win the award for the Browns since Andre Davis dis so in the eighth week of the 2002 season. Cribbs Captain WRKR Josh Cribbs was named as the fourth captain for this week. Shurmur was asked if both Cribbs and Benjamin can be effective together on kickoffs and punt returns. They both can be very effective, Shurmur said. Josh isnt the fastest guy in the world and he never has been, but hes found ways to return a lot of kicks. On the season, Cribbs has 33 punt returns for 424 yards (12.8 avg.) with a long of 60 yards. He has no touchdowns this season. Benjamin has three returns for 149 yards (49.7 avg.) with a long of 93 yards for a touchdown. Cribbs has returned 32 kickoffs for 885 yards (27.7 avg.) with a long of 74 yards. Benjamin has returned two kickoffs for 47 yards (23.5 avg.) with a long of 24 yards. Shurmur says its a good thing. Weve used both guys back there and its a good problem to have. Healthy Troops The Browns had no players held out of last weeks game due to injury. The only two players that were mentioned as injured during the Chiefs game was DL Phil Taylor (ankle) and LB James-Michael Johnson (thigh bruise). Both players returned to the game and no update was given by Shurmur. Still Productive Rookie DL Billy Winn and John Hughes have been relegated to reserve roles since the return of DL Phil Taylor and DL Ahtyba Rubin. However, Shurmur said they are still producing well and are part of the rotation. Their role has changed with Rubin and Taylor back, but theyre still showing up, Shurmur said. Theyre getting fewer snaps, but they are more explosive snaps. Hughes picked up a sack against the Chiefs. Smelley Up The Browns signed TEFB Brad Smelley to the active roster and released DL Ronnie Cameron. Shurmur was asked the reason for the move. Weve liked what weve seen from (Smelley) throughout training camp and on the practice squad, Shurmur said. We wanted to make him active and bring him up. Smelley was a seventh-round draft choice from Alabama. Missing Out The Browns said they tried to sign unrestricted free agent WR Pierre Garcon and Josh Morgan during free agency. However, both players signed with the Redskins. Those were two big-time targets in free agency, Shurmur said. Pierre is a very big, fast player and Josh is a tough, gritty guy. They picked up two fine players. Garcon had four receptions for 109 yards, including an 88-yard touchdown in the season opener before injuring his foot. He was inactive for six of the next eight games. Since returning on Nov. 18 he has caught 20 passes for 284 yards and three touchdowns. On the season, he has 28 receptions for a 15.6 average per catch. Morgan has 42 catches for 429 yards (10.2 avg.) and a touchdown.
Original Story:
http://www.foxsportsohio.com/12/12/12...
THE BACKYARD
BEST OF MAXIM
RELATED ARTICLES
Here's a look at Brandon Weeden's stats as Browns quarterback through 13 games in 2012 next to Colt McCoy's in the same job through 13 games in 2011 (click images to enlarge). Note that Colt had just one fewer completion in the exact same number of attempts (!!!), for a total of 304 fewer yards than Weeden, but one more touchdown and four fewer interceptions, with a slightly...
BEREA, Ohio (AP) -- The Browns are still mathematically alive in the AFC playoff hunt. It's a long shot, but they haven't been eliminated with three games remaining. And with every win, Pat Shurmur's odds of returning as Cleveland's coach improve. With his team riding a three-game winning streak -- the Browns' longest since 2009 -- Shurmur feels good about the...
Browns rookie running back Trent Richardson is close to 1,000 yards rushing, but his yards-per-carry average has some wondering if the injuries to his knee and ribs are causing his skills to regress.
Browns quarterback Brandon Weeden returned from practice to find a green XXXL Baylor University golf shirt hanging in his locker. Another sign of Robert Griffin III's impending visit. RG3 and America's most-watched knee were the main topics of conservation as the Browns (5-8) began getting ready for Sunday's game against the Redskins (7-6), who are hoping their starting...
Will he or won't he? If he does, how effective can he be? With a healthy Browns defense as healthy as they've been all year seemingly every week, does it matter? All these questions and more are applicable to this week's matchup between the Browns and the Redskins. Most importantly, the Browns have won three in a row headed into this game. The Redskins are riding a four game...
Thanks to all for participating in the giveaways this year. We've had a record year at WFNY, and we're saying the thanks the best way we know how. Yesterday's winner of a Cavs prize pack was brownstown! Congratulations. The contest rolls on… Just a reminder how the giveaway works. Each weekday we will give away a Cleveland themed prize. To enter, you need only to respond...
It's like a WFNY episode of "The Real World." "What happens when people stop being polite and start getting real? A guy who grew up with Christmas and a guy who grew up Hanukkah discuss their holidays to gain a better understanding of each other and also unite in the universal creepiness of The Elf on the Shelf." Anyway, that was only the first couple minutes. Then we...
Robert Griffin III's father told USA Today Tuesday that the quarterback "definitely" plans to start at Cleveland in Week 15. "He's doing great," Robert Griffin II said. "He definitely said he plans to start. I haven't seen him (the last two days). But he told me (today) everything has gone well. … Monday he said he felt really good. Today he felt better. Every day...
Last week: 25 (-1) Record: 5-8 Net points per drive: -0.03 (16th) DVOA: -10.3% (25th) Weighted DVOA: -6.5% (20th) Cleveland's been better than their record all season and they're finally catching up with 3 straight wins against the Charlie Batch led Steelers, the Raiders, and the Chiefs. However, the Redskins, the Broncos, and the Ben Roethlisberger led Steelers are different...
BEREA A big reason the Browns won their third game win in a row was due to the contributions of rookies. Pat Shurmur was asked if it was the confidence theyve gained or the opportunity to show their skill set. Its probably a combination of both, Shurmur said. When they have the confidence and opportunity and when those two meet they have the chance (to make plays). There was probably...
As is typical this time of year, rumors are constantly being thrown around about what NFL coaches will be canned for a variety of reasons. Whether it's an underachieving team, a disastrous tenure, or because they've completely lost their team, we hear about how pretty much any coach from a team that doesn't make the playoffs is somehow on the hot seat. Depending on what and...
NFL News

Delivered to your inbox

You'll also receive Yardbarker's daily Top 10, featuring the best sports stories from around the web. Customize your newsletter to get articles on your favorite sports and teams. And the best part? It's free!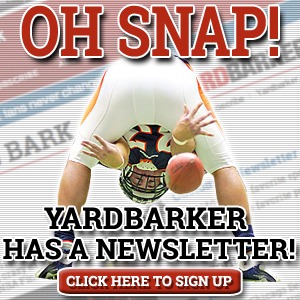 Latest Rumors
The Backyard

Today's Best Stuff

For Bloggers

Join the Yardbarker Network for more promotion, traffic, and money.

Company Info

Help

What is Yardbarker?

Yardbarker is the largest network of sports blogs and pro athlete blogs on the web. This site is the hub of the Yardbarker Network, where our editors and algorithms curate the best sports content from our network and beyond.