Found October 15, 2012 on Fox Sports North:
PLAYERS:
Jerome Simpson
,
Leslie Frazier
,
Adrian Peterson
,
Percy Harvin
,
Christian Ponder
,
Kyle Rudolph
,
John Carlson
,
Michael Jenkins
,
Devin Aromashodu
TEAMS:
Minnesota Vikings
,
Cincinnati Bengals
,
Detroit Lions
EDEN PRAIRIE, Minn. Receiver Jerome Simpson stood at his locker in the Minnesota Vikings' facilities at Winter Park on Monday as members of the media assembled around him.Fresh off a surprise inactive status in Monday's 38-26 loss, Simpson offered several one-word answers to questions about his health, and how tough it was to sit out Sunday's loss. Simpson, a week after waking up with a strange injury that caused weakness and numbness in his leg, thought he had improved enough during the week to be able to play.Minnesota coach Leslie Frazier felt otherwise. Frazier said he talked with the energetic and athletic receiver the night before and told Simpson what he was thinking. By the time Sunday's game rolled around, Frazier wasn't ready to let Simpson loose. A day later, Simpson still clearly wasn't happy with the decision."Terrible," Simpson said of how tough it was to sit Sunday, one of four one-word answers to start his interview session with the media.Simpson was brought to the Vikings to be one of the final pieces for an offense built around stars, running back Adrian Peterson and receiver Percy Harvin with quarterback Christian Ponder ready to take a step in his second season. Peterson had returned from his severe knee injury and Harvin had proven to be one of the most unique, versatile big-play weapons in the NFL. Minnesota also had emerging second-year tight end Kyle Rudolph and signed John Carlson to be another receiving threat at tight end.Simpson, off a breakout 50-catch, 725-yard season for the Cincinnati Bengals last year, was the receiver with the speed and athleticism to stretch the field. Just the type of plays the Vikings could have used in Sunday's loss to the Redskins when they trailed 24-9, 31-12 and 38-26 in the second half.It was the type of game Simpson had been waiting to make an impact in due to his three-game suspension at the start of the season. But Frazier told Simpson Saturday he would make a decision before Sunday's game and Simpson was on the outside looking in when the active roster was announced."Me being a competitor, I always want to play the game, play in the game," Simpson said. "So I just have to go with his decision and what he thinks is best for the team."Frazier, on Sunday, felt giving Simpson more time for his injury to heal was the best solution. Frazier has said Simpson is dealing with a back injury that radiates down his leg and keeps the explosive receiver from pushing off like normal. Simpson said Monday he feels "great" and all the symptoms have subsided, adding: "I feel good. I feel like Jerome Simpson.""He's a competitor, which is what you appreciate about him," Frazier said. "He wanted to be out there. But we'll see how it goes this week. He's a competitor. He wants to play. He wants to help our team win and we'll evaluate it this week."Without Simpson on the field, Minnesota again failed to establish any kind of deep passing attack in a game where it was trailing by double-digits early in the second half. At times this season, backups Michael Jenkins and Devin Aromashodu have come up with big catches, but they don't offer the same threat as Simpson does with his speed and exceptional leaping ability. In his first game back from the suspension, Simpson had four catches for 50 yards against the Detroit Lions, and also accounted for another 57 yards in penalties while getting pass interference calls against Detroit. He was then limited the next week as the leg and back issues popped up after he woke up the morning of the game and he was out Sunday.Simpson went through a week of tests, which discovered the back problem, and treatment. He missed Wednesday's practice last week, but returned in a limited role on Thursday and Friday."I felt like it loosened up a lot," Simpson said, just calling the issue tightness and said he doesn't have trouble with his back. "I felt like I was ready but coach is just going to do what's best for the team."Playing catchup the entire second-half proved difficult with quarterback Christian Ponder misfiring and not able to get the ball down field for big plays. Of Ponder's career-high 52 pass attempts on Sunday, only seven were considered deep, passes traveling 15 or more yards in the air. He connected on three of those, and drew an important pass interference in the end zone. Ponder threw for 352 yards, but only averaged 6.77 yards-per-attempt. His 6.83 yards-per-attempt for the season ranks 25th in the NFL.The short passing game was working while the defense dominated opponents and Minnesota was in close games. Needing to play catch-up, the Vikings couldn't get downfield Sunday. Frazier said Ponder isn't reluctant to take shots downfield."No, he'll put it out there if the coverage will allow him to throw it," Frazier said. "There are times that their coverage is good enoughit depends a little bit on the coverage. If they've got good coverage, the ball may not go down the field. It may go to a checkdown or it may go to the sideline or it may go out of bounds. We'll continue to take shots when they're available."Simpson is ready to play Sunday and says he "can do everything." He could get that chance against Sunday, and believes, like Minnesota did when they signed him, that he could offer the missing piece to the offense."Yeah, just with my speed," Simpson said. "I feel like with my speed I just can do that by helping this team get that extra man out of the box and that's what I'm just going to try to continue to do to my best ability."Follow Brian Hall on Twitter.
Original Story:
http://www.foxsportsnorth.com/10/15/1...
THE BACKYARD
BEST OF MAXIM
RELATED ARTICLES
Jerome Simpson believes he was ready to play Sunday, but Vikings coach Leslie Frazier made the decision to sit him because of a back injury.
EDEN PRAIRIE, Minn. The Minnesota Vikings will be earning quite a few more frequent flier miles next season.The NFL officially announced Tuesday that the Vikings will play one of two games next season in London's historic Wembley Stadium. Minnesota, which had previously announced interest in being one of the teams to play a home game in London, will host the Pittsburgh Steelers...
The Minnesota Vikings won't be leaving Washington with the good feelings they've felt that past two years after wins over the Redskins. A highly erratic performance Sunday snapped Minnesota's three-game winning streak in a 38-26 loss to the Redskins. The Vikings had the chance to take decisive control early following a dominating first quarter, but failed to capitalize...
The Minnesota Vikings will play a home game at Wembley Stadium in London next September, ESPN reported Monday. An official announcement is expected at Tuesday's NFL owners meetings in Chicago. The Vikings are not moving into their new $975 million stadium until 2016, so they could play a series of games in London before then. The league, however, wants to see how next year...
Jerome Simpson's deactivation Sunday cost him a chance to help the Minnesota Vikings against the Washington Redskins. It also cost the receiver a pretty good chunk of change. Simpson says every time he is deactivated from a game it costs him $60,000 in bonus money. The Vikings built that clause into his contract because the former Cincinnati Bengal was coming off a drug arrest...
EDEN PRAIRIE, Minn. Veteran cornerback Antoine Winfield is credited with a speech that helped turn around the Minnesota Vikings, especially the defense, following the Week 2 loss at the Indianapolis Colts this season.Winfield pushed his teammates to be more physical and not fall into the same traps they did during last year's 3-13 campaign. Minnesota suffered its first loss...
According to ESPN's Adam Schefter, the Minnesota Vikings will be playing a home game at London's Wembley Stadium in September of next season.With the Jaguars already playing a game in London next season, this would be the second game being played over seas next season for the NFL.
The Vikings were looking for solutions to their red zone problems after starting their 38-26 loss to the Redskins with three straight field goals. Leslie Frazier said they would go through their red zone struggles "with a fine-toothed comb."
EDEN PRAIRIE, Minn. The Minnesota Vikings will be headed to London. According to a report by ESPNs Adam Schefter, Minnesota has been selected by the NFL to play a home game at Londons Wembley Stadium as part of the continuing series by the league. The Vikings presence in the 2013 game is expected to be announced as part of the owners meetings on Tuesday, Schefter tweeted Sunday...
It would have been easy for the Vikings' veterans to associate the youth movement with a season of struggle ahead. But, thanks to the steady influence of Leslie Frazier and players knowing preseason predictions are often pointless, the Vikings aren't just in the hunt, they're one of the lead dogs in the pack.
Before today's Washington Redskins/Minnesota Vikings affair, some questioned whether or not Robert Griffin the 3rd should play after suffering a concussion. Those questions were soon answered after Robert Griffin accounted for three touchdowns in Redskins blow-out win. One of those scores was this 76-yard touchdown run to seal the victory: (Courtesy of The Big Lead)
It was announced on Tuesday at that the Minnesota Vikings have agreed to host a home game in London in 2013 against the Pittsburgh Steelers at Webley Stadium on Sept. 29, 2013. It will be considered an away game for the Steelers. The Steelers have been linked as a team that could possibly play in Ireland in the future, but that game has yet to materialize and will not take place...
NFL News

Delivered to your inbox

You'll also receive Yardbarker's daily Top 10, featuring the best sports stories from around the web. Customize your newsletter to get articles on your favorite sports and teams. And the best part? It's free!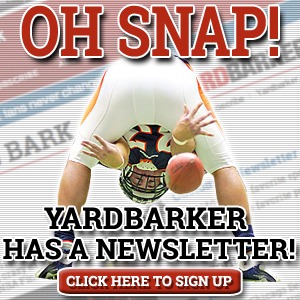 Latest Rumors
The Backyard

Today's Best Stuff

For Bloggers

Join the Yardbarker Network for more promotion, traffic, and money.

Company Info

Help

What is Yardbarker?

Yardbarker is the largest network of sports blogs and pro athlete blogs on the web. This site is the hub of the Yardbarker Network, where our editors and algorithms curate the best sports content from our network and beyond.