Found May 28, 2012 on Buddy Nixon:
PLAYERS:
Rex Ryan
,
Sione Pouha
,
Mike Devito
,
Muhammad Wilkerson
,
Quinton Coples
,
Kenrick Ellis
,
Calvin Pace
,
Aaron Maybin
,
Bryan Thomas
,
Garrett McIntyre
,
David Harris
,
Bart Scott
,
Demario Davis
,
Steve Johnson
,
Antonio Cromartie
,
Kyle Wilson
,
Isaiah Trufant
,
Ellis Lankster
,
Jim Leonhard
,
Yeremiah Bell
,
George Wilson
,
Eric Smith
,
LaRon Landry
,
Fred Jackson
,
Cordy Glenn
,
T.J. Graham
TEAMS:
New York Jets
,
Buffalo Bills
As lackluster as the offense was in 2011, the Jets defense was again a strength and a top 10 unit by most measures a pretty good unit. Rex Ryan's reputation has been primarily built on a strong defense, and I'd say that's been the biggest reason for the Jets relative success in his time in New York. Any signs that the foundation could be cracking? Let's take a look.
Defensive Line
I've heard everything when describing the Jets defense, from a 46, to a 3-4, to a 4-3 under. The truth is, the Jets will run all 3 at times because all 3 are predicated on having at least 3 very tough defensive linemen, and the Jets will yet again have a strong base. Not only did they re-sign NT Sione Pouha, Mike DeVito returns.
And for the second straight year, it looks as if the Jets may have gotten great value with their defensive line selection. Muhammad Wilkerson, the 2011 selection, was an excellent fit and started every game. This April, the Jets grabbed one time top 10 prospect Quinton Coples. Unfortunately for Bills fans, I think this was a great selection for the Jets. Coples was viewed as an elite talent who could dominate when motivated (see this year's senior bowl), but also as someone who didn't always play with a high motor. I think Coples would have had a really hard time coming on to a team and immediately receiving the responsibility of being the best player. Instead, Coples will join a team already stacked with 3 very solid linemen, so he should thrive. It looks like the fact that Kenrick Ellis is in jail might not be a huge deal.
None of these players are elite pass rushers, however, as they combined for 5 sacks altogether in 2011. But they should be very stout against the run up the middle, forcing teams to run off tackle. It's clear by the investment made into this unit with high draft picks that Ryan views the line as the cornerstone to his defense.
Linebackers
At linebacker, things get a little cloudier. We'll start with the OLB/ rush end position, which has been manned by Calvin Pace in the Rex Ryan era. Pace has been a solid contributor, but in 2011 saw his lowest sack total for New York, so the 31 year old's days may be numbered. Jets fans see him as a good edge setter, but more as a complimentary pass rusher than a feature rusher, which has been his role in the past few seasons.
Behind him is our old pal Aaron Maybin. Good Ole Aaron actually found some success with the Jets, leading the team with 6 sacks after getting cut from ours. This has caused some Jets fans to raise their expectations to ridiculous levels, but once you take a look at how the Jets used him, it's a lot more easy to understand why. Maybin still is a liability on run downs, can't cover, play above 240, or really do anything more than speed rush on passing downs. The Jets defense is established enough to squeeze the value out of a player like that, where ours wasn't.
The Jets also re-signed 33 year old Achilles injuree Bryan Thomas, who was generally good for 4-6 sacks a year, but had none last year. I wouldn't count on much from him, and he is backed up by special teams type guy Garrett McIntyre.
At the more traditional linebacker positions, David Harris will return, and was probably the best player on the defense other than Revis. Harris is truly a dual threat, as he notched 5 sacks last years and 4 interceptions, the very definition of an every down linebacker. Bart Scott, on the other hand, is yet another Jet who despite solid credentials, is showing signs of age. Scott was solid against the run and a good blitzer, but was described as "old, slow, and limited." This may pave the way for 3rd round pick Demario Davis to get major playing time. Davis is very athletic and fast, and will probably be expected in on passing situations, where Scott struggled. Jets fans have yuuge expectations for this guy, so he's probably worth keeping an eye on, because he could be the difference between the Jets linebacking corps being old and slow or serviceable.
Cornerback
Derelle Revis had another outstading season, shutting down just about everyone but Steve Johnson (which I think is a think is a testament to Johnson's excellent route running). So outstanding, that Revis is toying with the idea of holding out again (just like in 2010). This would be great news for us, as last time Revis did this it took him a few games to regain elite status..
Across from Revis, Antonio Cromartie seems to have focused on the important things in life like playing good football and memorizing his kids names. Cromartie had one of his best seasons ever, and probably made the Jets CBs the best tandem in the league last year.
As far as depth goes, the Jets have a really good nickel corner in Kyle Wilson. Kyle had a couple rough goes of it against the Super Bowl teams, but overall did a good job against slot receivers. After Wilson, things get a little dicey. Isaiah Trufant didn't play much last year, nor did Ellis Lankster. The Jets have 3 really good corners at the top of their depth chart, but they might get into some trouble against teams that can effectively spread the line of scrimmage, or if any of the top 3 gets hurt.
Safety
Safety is another big question mark, as the Jets are expected to start two new players, neither of whom were particularly effective last year. Still unsigned is Jim Leonhard, a guy who always got high reviews despite not being able to cover particularly well. Instead, it looks like Yeremiah Bell will take his place. Bell is kind of a more extreme version of George Wilson: A veteran leader who's very good in run support, but is aging , and it's starting to show up in coverage. In fact, some have said Yeremiah Bell was the worst cover safety in football last year for Miami. And the Jets are expected to start him at free safety, so sounds good to me. If not it will be Eric Smith, who also does not have the "jets" to play the deep middle for New York.
Opposite Bell will be, or perhaps could be, Laron Landry. Landry was once a top ten pick, and is a great talent. However, underwhelming performance and the injury bug have kept him from logging full seasons. In fact, Landry is still not on the field for OTAs.  If Landry is able to make it on the field by camp, he will provide a much needed talent infusion, but is still far from a proven commodity.
Outlook
Despite a few glaring problems, the Jets defense had a very productive year in 2011. They were top 10 in fewest yards allowed both on ground and through the air, and were particularly stingy with regard to passing touchdowns, allowing less than one per game. They were able to do this with a strong, difficult to move defensive line and elite athletes at both corner positions. Barring a holdout from Revis, both areas should be strengths again in 2012, which is how they were able to control our offense week 7 last year.
However, the weak areas of the JetsD have potentially gotten worse. The LBs were old and slow last year, and may continue to be this year. The Jets also failed to generate much of a pass rush, and despite drafting a DE in the first round, it might be an even bigger issue this year. Coples was never considered an elite pass rusher in college, and the Jets sack leaders last year are either on the wrong side of 30 or Aaron Maybin. Finally, the Jets don't have a proven cover safety, leaving them susceptible over the top.
All this points to one fact: in order to beat the Jets, we're going to need to be able to hurt them deep. Last year they were able to neutralize Fred Jackson and play physical on our WRs, which effectively eliminated our two main offensive strengths: quick passing and a spaced out rushing attack. Since Buffalo couldn't attack over the top, they were able to beat us up.
With a non elite pass rush, and huge question marks at safety, the Bills are going to need to find a way to occasionally sit back and chuck the ball down field. If Buffalo can get contributions from rookies Cordy Glenn and TJ Graham, this is a possibility. If not, the season may not start out so well.
Original Story:
http://www.buddynixon.com/uncategoriz...
THE BACKYARD
BEST OF MAXIM
RELATED ARTICLES
A former 1st round pick, Dustin Keller is heading into the final year of his 5 year rookie deal and will make 3.0525 million. According to ESPN New York, Keller and the Jets are not in talks about a long term deal. Keller had a breakout season in 2011 with 65 catches for 815 yards and 5 touchdowns, but the Jets probably want him to prove it again before they pay him. They have the...
Maybe we have our answer to why Tim Tebow has apparently turned down so many women eager to be with him. Olympian Lolo Jones, who has joked about the possibility of dating her fellow virgin, told Jets center Nick Mangold that she heard the quarterback has a secret girlfriend. Things started when Mangold tried playing matchmaker between the two athletes. He tweeted the following...
Believe it or not, it's not just ESPN that is obsessed about Tim Tebow.  The (in)famous New York media is already stepping up to the plate with TebowMania and we're still over 3 months away from the beginning of the 2012 NFL season.  Deep within Peter King's Memorial Day edition of Monday Morning Quarterback was this interesting tidbit about Tim Tebow being covered...
New York Jets linebacker Bart Scott says he will do everything he can to stop his son from playing football because of the concussion issue that has engulfed the sport. In the wake of the recent suicides of former NFL stars Junior Seau and Dave Duerson -- and in a time when thousands of former players are suing the league over claims it did not do enough to prevent the long-term...
Back in 2007 heading up to the NFL Draft I had an obsession with 3 players on defense.  I thought there were 3 game changing guys in that draft.  Those three players were Patrick Willis, LaMarr Woodley and Darrelle Revis.  The rest of the draft was solid but these three guys were going to be the biggest studs in the draft.  They have shown that is the case. As the draft came...
The New York Jets have signed veteran offensive tackles Stephon Heyer and Ray Willis. The 6-foot-6, 330-pound Heyer entered the NFL as an undrafted free agent with Washington in 2007 and started 33 games for the Redskins from 2007-10. In 2011 he was active for 12 games, including two starts, with the Oakland Raiders after signing as an unrestricted free agent on Aug. 3.
NEW YORK (AP) -- The Miami Dolphins will appear on "Hard Knocks" this summer. HBO announced Tuesday that the Dolphins would be the newest subject of its popular reality series documenting NFL training camps. The seventh season premieres Aug. 7, with four more one-hour episodes airing on subsequent Tuesdays. Coming off a 6-10 season, Miami has a new coach in Joe Philbin...
After a drawn out process, the Miami Dolphins will appear on this HBO's latest season of 'Hard Knocks', the popular series that follows NFL training camps. It was reported at first that the New York Jets and the Atlanta Falcons were wanted for the job but both teams said no thank you.  I'm sure everyone would have wanted to follow around Tim Tebow, Mark Sanchez and...
Following months of speculation, it appears that HBO has finally found a team to follow around during training camp this summer. The Miami Dolphins announced that they would be hosting HBO's wildly popular series, Hard Knocks. New episodes begin airing on Tuesday, August 7th. HBO has been shot down over the past few months by notable team after notable team. The only team that...
The Buffalo Bills have the second-best offense in the AFC East, according to one expert. James Walker, a blogger for ESPN, recently ranked the offenses of the New England Patriots, Buffalo Bills, New York Jets and Miami Dolphins. The Patriots were ranked number one, followed by the Bills, Jets and Dolphins, respectively. Walker said the Bills could be solid offensively, but there...
The New York Jets are only the 19th most popular team in the NFL according to a recent ESPN poll. The Jets are ranked behind the Seattle Seahawks, Kansas City Chiefs and Miami Dolphins. The Jets may be media darlings, but not many Americans identify them as their favorite team. At least you can say it's not a bunch of bandwagon fans cheering on the green and white every Sunday...
NFL News

Delivered to your inbox

You'll also receive Yardbarker's daily Top 10, featuring the best sports stories from around the web. Customize your newsletter to get articles on your favorite sports and teams. And the best part? It's free!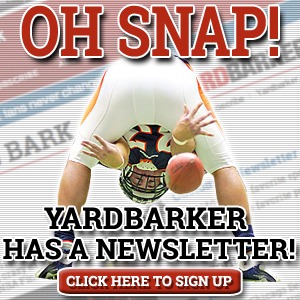 Latest Rumors
Best of Yardbarker

Today's Best Stuff

For Bloggers

Join the Yardbarker Network for more promotion, traffic, and money.

Company Info

Help

What is Yardbarker?

Yardbarker is the largest network of sports blogs and pro athlete blogs on the web. This site is the hub of the Yardbarker Network, where our editors and algorithms curate the best sports content from our network and beyond.