Found February 17, 2013 on Ravens Football Machine:
As the scouting combine approaches, the Ravens face their biggest "makeover" challenge at both inside and outside linebacker. This ought to be an interesting draft for the Ravens as they face the possible free agency loss of not only OLB Paul Kruger and ILB Dannell Ellerbe, but also the increasing age of OLB Terrell Suggs. Of course, future HOF-er Ray Lewis is already gone by virtue of retirement.         Suggs will not undergo surgery to repair torn biceps... The good news is Suggs will forego surgery to repair his torn biceps, an injury he suffered with all the way through the AFC playoffs and the Super Bowl. "After getting a second opinion on his torn right biceps, Suggs is planning on rehabbing the injury rather than having it surgically repaired, according to sources familiar with the situation," wrote Jeff Zrebiec of The Baltimore Sun. Suggs missed just one game after initially suffering the injury and also rested in the regular-season finale to give his body some extra time to heal for the playoffs. Other than those two games, Suggs played through the pain wearing a compression sleeve on his right arm to provide some protection. Suggs finished the regular season with 22 tackles and two sacks, but he stepped up his play in the postseason and registered 21 tackles, two sacks and a forced fumble. He acknowledged leading up to the Super Bowl that he wasn't completely healthy and that the injury had hindered his productivity to some extent. Suggs also missed the first six weeks of the season because of a torn Achilles tendon. With a full offseason to recover, Suggs hopes to return to form in 2013. When asked before the Super Bowl where he ranks among the top pass rushers in the NFL, Suggs just smiled and responded, "Ask me next year when I'm healthy." Even if Suggs can return to form, there are still concerns about the Ravens need to develop young linebackers for the near future and the longer picture. ESPN draft expert Mel Kiper Jr. examined players in the 2013 draft whom the Ravens could target to develop as future linebackers in their 3-4 system... "There's not much to summarize about what these guys are capable of, but given how long they played, the Ravens can draft believing they may actually upgrade at those positions, as much as that sounds like sacrilege," Kiper wrote. "It's not a shot at the players, just the reality of what you'd expect from them in 2013 versus a good young player at each spot. One popular option mentioned as a replacement to Lewis is Notre Dame linebacker Manti Te'o, who has potential to slip to the end of the first round.  The Ravens are scheduled for the 32nd pick in Round 1---but of course that could change if Ozzie makes a deal or three. "Manti Te'o really could be around late in the first if things break right for Baltimore," Kiper wrote. "I don't expect it, but it could happen. [LSU linebacker] Kevin Minter might be an even better fit." Kiper currently has the Ravens taking Minter with the No. 32 pick, but there is expected to be some significant shuffling of the mock drafts after the combine next week. The challenge for the Ravens to develop a young linebacker is exacerbated by the unfortunate "bust" of Sergio Kindle, the high draft pick from Texas in 2010. Nothing seemed to go right for Kindle from the moment he was drafted in the first round. And now the Ravens have even more pressure to get one right at LB.  
Original Story:
http://www.ravensfootballmachine.com/...
THE BACKYARD
BEST OF MAXIM
RELATED ARTICLES
Baltimore Ravens wide receiver Jacoby Jones is the latest professional athlete to get a championship tattoo, and it's a big one. As you can see from the photo above that he posted on his Instagram account on Monday, Jones recently got a tattoo of the Ravens logo and the Vince Lombardi Trophy on his back. The artwork has been ongoing for a while now, and the logo and trophy appear...
The Baltimore Ravens have an opportunity to place the franchise tag on Super Bowl MVP Joe Flacco, but will they use it? It seems when the Ravens use the franchise tag on a player, that player usually signs a major contract by the end of the offseason. Terrell Suggs in 2009, Haloti Ngata in 2011, and Ray Rice in 2012 are just a few examples of what could happen to Joe Flacco... Read more
According to ESPN's Adam Schefter, the Baltimore Ravens and Joe Flacco's agent Joe Linta will meet in Indianapolis this week at the NFL Scouting Combine to work on getting a contract extension done. We all know Flacco and his agent are going for jack pot.  They're going to ask for a contract that will pay Flacco around $20 million per season now that he brought a Super Bowl...
Spinal cord injuries require more caution than most other injuries.  In Jameel McClain's case, the signs are all positive.  Right now, though, the Baltimore Ravens' linebacker has still not been cleared medically.   According to Aaron Wilson of the Baltimore Sun, McClain continues to undergo tests surrounding a spinal cord contusion he suffered last season.  McClain...
Aaron Wilson of the Baltimore Sun reports that the although there hasn't been any discussions between the Ravens and QB Joe Flacco regarding a long-term contract extension in recent weeks, the two sides are expected to meet at this year's NFL Combine. Baltimore is almost certain to use their franchise tag on him in the next few weeks, and the only consideration in that regard...
 Jacoby Jones had one heck of a 2012-13 NFL season. After dropping a crucial return the following year twice with the Houston Texans, Jones found a new home with the Baltimore Ravens, the same team who beat his Texans to get to the AFC Championship game. In addition to finding a new home, Jones made NFL history with extremely long kick returns, and ended an impressive individual...
Today marks the first day that teams can place the franchise tag on players around the NFL. Last season, a record 21 players were slapped with the tag with 12 of those players agreeing to multi-year deals before the July 16th deadline last year. Fresh off a Super Bowl victory and MVP award, Baltimore Ravens quarterback Joe Flacco has played the final year of his rookie contract and...
Now that Charles Woodson is a free agent, ESPN's John Clayton believes that two potential landing spots are the Patriots and the Ravens. I'm not sure how the Ravens would be able to afford Woodson since they're going to have a hard enough time trying to keep their own free agents.  Unless Woodson is willing to play in Baltimore at a discounted rate. The Patriots are another...
Of course, the Ravens' biggest priority this offseason is to figure out how to keep defending Super Bowl MVP Joe Flacco in a Ravens uniform. He's been asking for big money (Howard doesn't believe Flacco deserves it) but the Ravens have other options. They can negotiate him down to earth considering he has had one great postseason and does not deserve Tom Brady/Drew Brees/Aaron...
• Cops called on T.O.! • Brooklyn Decker shaving Ray Rice • WTF has Delmon Young been eating? • NSFW: Lindsey Vonn's knee is disgusting • Alex Ovechkin's hair has been on fire • Alexa Vega Is Legal & Loaded • The Week in Hot Chick GIFs • Macedonian Supermodel OTD: Katarina   Everyone Celebrate Like LeBron When Guy Hits Half-Court Shot Video of the Day Filed...
NFL News

Delivered to your inbox

You'll also receive Yardbarker's daily Top 10, featuring the best sports stories from around the web. Customize your newsletter to get articles on your favorite sports and teams. And the best part? It's free!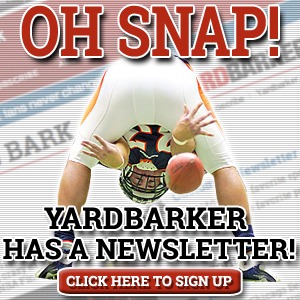 Latest Rumors
The Backyard

Today's Best Stuff

For Bloggers

Join the Yardbarker Network for more promotion, traffic, and money.

Company Info

Help

What is Yardbarker?

Yardbarker is the largest network of sports blogs and pro athlete blogs on the web. This site is the hub of the Yardbarker Network, where our editors and algorithms curate the best sports content from our network and beyond.