Found October 09, 2012 on CJ Sports NFL Talk:
PLAYERS:
Michael Vick
,
Mike Tomlin
,
Ben Roethlisberger
,
Antonio Brown
,
Shaun Suisham
,
Troy Polamalu
,
James Harrison
,
Mike Wallace
TEAMS:
Pittsburgh Steelers
,
Philadelphia Eagles
,
Baltimore Ravens
,
Houston Texans
,
Tennessee Titans
,
New England Patriots
This past Sunday the Pittsburgh Steelers came out on top versus the Philadelphia Eagles 16-14.  It was an intriguing game that included a lot of hard-hitting, sloppy play, and resilience from each of the two quarterbacks late in the game.  Michael Vick fumbled the ball twice during the game which prevented the Eagles offense to produce more points than what they did.  However Vick, once again, led the Eagles down field late in the fourth quarter to score a touchdown and give the Eagles a 14-13 lead with 6:33 remaining in the game.  After trailing the entire game, you would think the Eagles were on the verge of winning another nail bitter by one point.
Knowing Mike Tomlin, Ben Roethlisberger, and the Steelers, we all knew that no one on that sideline would panic.
The Steelers methodically drove the ball down field with a mixture of passing and running.  The biggest play on the drive was a third and 12 on the Steelers own 18 yard line, when Big Ben found Antonio Brown for a 20 yard completion.  The Steelers patiently burnt out the clock as they ran it with Rashad Mendenhall and a few more plays made by Ben, while setting up Shaun Suisham for a game winning 34 yard field goal.  GAME. 16-14 Steelers.
That game seemed to sum up who the Pittsburgh Steelers are.  They are a team who never gives up during a drive, game, or season for that matter.  They define what having the "heart of a champion" really means.  Since 2004, when Ben Roethlisberger entered the league, the Pittsburgh Steelers are a combined 91-41 which = a 69 % winning percentage.  They have made three trips to the super bowl, winning two, and they have only missed the playoffs twice in that time frame.  An amazing feat.
When the Steelers are healthy, they are a team to be reckoned with, and no one would want to face them come playoff time.  Safety Troy Polamalu has struggled with injuries over the past years, and he is the anchor of that potent defense.  When Polamalu is on the field, the Steelers overall become a better team.  Not only does their defense become 10 times better, but their offense seems to feed off of his energy as well.  This past Sunday Polamalu played despite a calf injury he's dealt with, and the Steelers won the game(of course).  Pittsburgh has dealt with key injuries to key pieces so far this season.  From running back Rashad Mendenhall, to linebacker James Harrison, to Troy Polamalu,  and not to mention the holdout by Mike Wallace this offseason.  However, when those key pieces are on the field as a unit, the Steelers are difficult to deal with.  Mike Tomlin seems to have that same confidence in his team, as he possesses a calm, cool, collective swagger about himself to insinuate that he expects his team to be there when it's all said and done.
People haven't been talking too much about the Steelers this season, but I wouldn't rule them out.  They have been overshadowed in the AFC by the play of divisional rival Baltimore Ravens, the undefeated Houston Texans, and the New England Patriots.  But, they're coming off a big victory over the Eagles and that may lead to them going on a roll.  Troy Polamalu is ruled out this upcoming Thursday night as they face off versus the Tennessee Titans on Thursday night football, and linebacker Lamar Woodley is doubtful.  Once again, the defense taking big blows, but like they've always done, I'm sure the Steelers find a way to get it done and be in the conversation come December and January.
Pittsburgh at Tennessee on NFL Network 8:20pm Thursday night.
Josiah Turner
Twitter: @EspnsJsiah
Original Story:
http://110sportztalk.com/staying-on-t...
THE BACKYARD
BEST OF MAXIM
RELATED ARTICLES
Another Eagles game is in the books, and so is another close outcome. However, the Eagles ended up on the wrong side of the scoreboard this game.For the first time this season, the Eagles came into the game as an underdog. Despite being the dogs, I still felt this was a very winnable game for the Birds.It's hard to win a football game when you don't protect the football though...
It was another close game for the Philadelphia Eagles, who lost their second game in three weeks, 16-14 to the Pittsburgh Steelers. This loss stings for a few reasons; it was a big rivalry game against the in-state rival and it was a game the Eagles really should have won. This loss puts the Eagles at 3-2, which is still good enough for first place in  the division.Offense:Michael...
Philadelphia Eagles quarterback Michael Vick has been mum on whether or not he owns a dog. He's now come out and released a statement admitting that he owns one."I understand the strong emotions by some people about our family's decision to care for a pet. As a father, it is important to make sure my children develop a healthy relationship with animals.""I want to ensure...
Eagles QB Michael Vick"The fumbles" if the football gods were not looking down on the Eagles this season, they would be 1-4 and not 3-2. The reality of a 1-4 start would have been calls for Reid to be fired and/or the benching of Michael Vick. To dispute this fiction would be difficult as the calls for Nick Foles have been heard since the pre-season.Andy Reid's "the fumbles...
Categories: BREAKING NEWS Eagles News QuarterbacksTags: Michael VickPhiladelphia EaglesRecently, Michael Vick tweeted a picture of himself studying his some football tapes on his IPad while his daughter did her homework.  In the background on the kitchen table you could see a bag of Milk-Bone dog biscuits. It started people wondering if Vick and his family had acquired a do...
Categories: BREAKING NEWS Eagles News"Something that baffles understanding and cannot be explained; a difficult problem". That's how the dictionary describes an enigma. That is what Eagles quarterback Michael Vick has developed into, this year particularly. The biggest question in this 2012 season after four games is why Michael Vick can't hold onto the football.  No...
It's time for the week 6 start em' sit em' article. Keep in mind once again the "start em" WRs are sleepers. So let's get right into it for the week 6 NFL start em and sit em picks. One again, if you need any last minute help and their name is not below, you can tweet me @pacman3323. QBs Studs – Aaron Rodgers, Drew Brees (bye), Tom Brady, Matthew Stafford, Cam Newton...
At their best, Matthew Stafford and Michael Vick rank among the NFLs top quarterbacks, a notch below the elite-level stars. They excel in much different ways, with Stafford standing in the pocket to exploit a secondary with his rifle arm, and Vick scrambling around to frustrate defenses with his athleticism. Neither, however, has been living up to expectations early this season...
A number of designers have taken their shot at redesigning the Philadelphia Eagles helmets and uniforms to their liking. Could you imagine Michael Vick, LeSean McCoy, or DeSean Jackson wearing something like this? Featured are a number of Philadelphia Eagles helmets and uniform designs. Some are interesting options that fans may like and others may strike  a nerve with some fans... Read more
PITTSBURGH (16) d PHILADELPHIA (14)The Headline: Steelers escape on a last second field goalThe Story: In the battle of Pennsylvania the Steelers managed to come out on top in a tough, scrappy battle. The Steelers defense handled the Eagles offense limiting them to 246 total yards on offense and forcing two Michael Vick fumbles while gaining nearly 100 more yards themselves and avoiding...
What isn't there to say that's already been said about this victory for the Colts? Indianapolis played on emotion and had the heart of a champion to get the "W."
NFL News

Delivered to your inbox

You'll also receive Yardbarker's daily Top 10, featuring the best sports stories from around the web. Customize your newsletter to get articles on your favorite sports and teams. And the best part? It's free!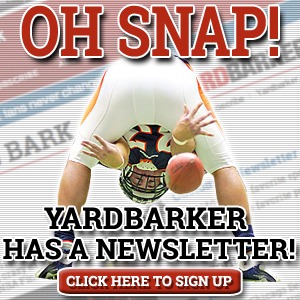 Latest Rumors
Best of Yardbarker

Today's Best Stuff

For Bloggers

Join the Yardbarker Network for more promotion, traffic, and money.

Company Info

Help

What is Yardbarker?

Yardbarker is the largest network of sports blogs and pro athlete blogs on the web. This site is the hub of the Yardbarker Network, where our editors and algorithms curate the best sports content from our network and beyond.