Found February 29, 2012 on Sports Blog Net:
  The Pittsburgh Steelers first priority of the 2012 NFL offseason was to get under the salary cap, which they've now done after trimming$25 million from their cap according to Jamison Hensley of ESPN.com' AFC North Blog, by restructuring the contracts of players such as Ben Roethlisberger, Lawrence Timmons and Lamar Woodley among others recently. Yet, the salary cap is no longer their primary concern, as they now face the potential loss of star wide receiver Mike Wallace, if he's allowed to test the market as a restricted free agent. In the National Football Leauge, restricted free agency and unrestricted free agency are very different. Normally there is very little movement in the restricted market, yet unfortunately, for the Steelers restricted free agency figures to have much more movement and  intrigue than in year's past. First in order for a player to be a restricted free agent, he needs to be tendered as a restricted free agent and there are various level of tenders that have different salary figures and different amounts of compensation should another team choose to sign the player to an offer sheet. In the case of Wallace, should the Steelers decide to make him a restricted free agent, they would place the first round tender on him which comes with a salary of just under $3 million if the players signs it. This tender also gives Pittsburgh the right to match any offer Wallace receives from another club.  If they refuse to match, the club that signed him, would give the Steelers their 2012 first-round pick as compensation. The tender is similar to what it's been in year's past with one key difference. In previous years, teams had the choice of  using the first-round tender or the high tender, which yielded compensation of a first and third round selection. This option is no longer available, meaning top restricted free agents can be acquired without having to surrender two draft picks, something few teams have been willing to do. What does this mean for the Steelers? It means that if they decide to make Wallace a restricted free agent they could very well lose him to a rival team such as the Ravens, Patriots, Bengals, Browns or 49ers. Wallace is a talented receiver, with explosive speed that caught 72 passes and 1,193 yards to go along with eight touchdowns for a team that went 12-4 and made the postseason.  He's also just 25 years old and entering  his fourth in the league, so he's yet to realize his full potential as a player. Therefore, Wallace would definitely be in play for the Patriots, Bengals and Browns, who all own multiple first-round picks, have a need at receiver and picks outside the top 20 that could be used as compensation for Wallace. The 49ers and Ravens are also in need of help at receiver and sit near the bottom of the first round, making them potential candidates as well. After all there doesn't figure to be a receiver at the end of the first round that could help a team right away more than Wallace, who is arguably the best deep threat in pro football. Teams like the Ravens, Patriots, Browns and Bengals have even more motivation to take Wallace from Pittsburgh because not only does it make them better, it makes the Steelers worse. Remeber, Pittsburgh can match any offer Wallace agrees to with another team, yet the contract would likely be so front-loaded it'd be almost impossible for the cash-strapped Steelers to match. The thought of Wallace in a Patriots or Ravens uniform (the Steelers chief rivals in the AFC) is a nightmare scenario that would drastically change the makeup of a Pittsburgh offense that shifted this season from a run-based offense to more of an aerial attack. Fortunately, the Steelers do have some recourse. They could choose to place the franchise tag on Wallace, which would give him a guaranteed salary of $9.4 million this season (if a contract extension can't be reached) and force any team to surrender two first-round picks to acquire him. The team could also sign Wallace to a long-term extension but Pittsburgh has a history of being stingy with money and aren't in the greatest position salary cap wise, so that seems less likely at this point. Therefore, the Steelers have two options at their disposal, give Wallace the first-round restricted tender and face the real possibility of losing him or place the franchise tag on him, essentially ensuring he will be in Pittsburgh in 2012. Right now the ball is in Pittsburgh's court.  Wallace is a rare and players with his kind of speed and explosive ability don't grow on trees. Thus with the deadline for applying the franchise tag (Monday March 5th) right around the corner,  it's up to the Steelers to determine if they want to retain Wallace or not, cause their decision could well determine where he plays in 2012.              
Original Story:
http://winyourleage.sportsblognet.com...
THE BACKYARD
BEST OF MAXIM
RELATED ARTICLES
Super Bowl XLV MVP Hines Ward. (Photo from Sports Illustrated) When the Pittsburgh Steelers walked off the field in Denver after losing to the Broncos in the AFC Wild Card round, it was well known that the team was heading into an offseason unlike any other in club history.  The Steelers stood more than $22 million over the 2012 salary cap while needing to sign WR Mike Wallace,...
Adam Schefter of ESPN reported Thursday morning that the Pittsburgh Steelers will not use the franchise tag on restricted free agent Mike Wallace should they not get him signed to a new contract in the next few days. The news comes as no surprise as the Steelers do not have the cap room to accommodate a projected $9.4 plus million franchise tag amount. The Steelers have been in...
Fresh off their second AFC Championship in three years the Pittsburgh Steelers were a strong favorite to repeat once again, but no one expected a first round loss. Expectations for Ben Roethlisberger and company were much higher than getting knocked out of the playoffs by a miraculous touchdown pass by Tim Tebow. The Steelers continuously have one of the leagues best defenses and...
EPSN's Adam Schefter is reporting that the Steelers will not use the franchise tag on Mike Wallace.  Wallace will be given the first round tender offer as a restricted free agent.  If any team were to sign him away we would receive their original first round pick in return. The Steelers had to make this move.  The tender for Wallace looks to be around $2.75 million for the...
Per a report from ESPN's Adam Schefter,  the Pittsburgh Steelers will tender coveted receiver Mike Wallace in preparation for the upcoming free agency period rather than placing a $9.4 million franchise tag on him. With yesterday's news that they intend to release Hines Ward and Ben Roethlisberger's contract restructuring, the Steelers now find themselves close to $3 million...
Adam Schefter of ESPN noted that the Steelers won't place the franchise tag on restricted free agent receiver Mike Wallace. Fantasy Spin: So Pittsburgh will instead tender Wallace, hence leaving the risk of losing him to a receiver-needy team willing to pay a hefty price (namely a first-round Draft pick as compensation) for the ulta-talented speed demon.
Adam Schefter at ESPN reported this morning that according to a source, the Steelers are not going to use their franchise tag on restricted free agent Mike Wallace.  The Steelers plan to place a first-round tender — and not the franchise tag — on restricted free agent Mike Wallace, a source close to the wide receiver told ESPN NFL Insider Adam Schefter. Even with Hines Ward...
  Steelers fans everywhere just started chewing their fingernails a little more frantically, as ESPN's Adam Schefter reported earlier today that the Steelers will not be placing the franchise tag on star wide receiver Mike Wallace. Instead the team will tender him as a restricted free agent, which makes his return to Pittsburgh less than a sure thing. According to Schefter...
Out with the old and in with the new, we presume.  The Pittsburgh Steelers are not only releasing the franchise's all-time leading receiver Hines Ward, but also look to cut veteran linebacker James Farrior and aren't expected to franchise tag star receiver Mike Wallace, either. "It's not a done deal, but the percentages just aren't there," Ralph Cindrich tells Scott...
Steelers News

Delivered to your inbox

You'll also receive Yardbarker's daily Top 10, featuring the best sports stories from around the web. Customize your newsletter to get articles on your favorite sports and teams. And the best part? It's free!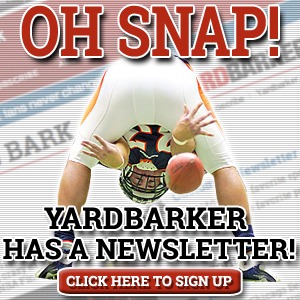 Latest Rumors
The Backyard

Today's Best Stuff

For Bloggers

Join the Yardbarker Network for more promotion, traffic, and money.

Company Info

Help

What is Yardbarker?

Yardbarker is the largest network of sports blogs and pro athlete blogs on the web. This site is the hub of the Yardbarker Network, where our editors and algorithms curate the best sports content from our network and beyond.