Found December 01, 2011 on Fox Sports Carolinas:
CHARLOTTE, N.C. (AP) -- Steve Smith's locker is filled with dozens of boxes of new cleats, photos of his family, letters from fans and a small duffel bag containing a list Smith has carried with him for more than a decade. On that list are the names of the NFL's top receivers -- guys like Jerry Rice, Tim Brown and James Lofton -- and where they stand in terms of career receiving yards. Beneath it there's a note Smith wrote to himself that reads: Where will you be at the end? Currently the Carolina received is 56 yards shy of 10,000 When Carolina plays at Tampa Bay Sunday Smith will be looking to join that list of receiving legends by becoming only the 35th player in NFL history to reach 10,000 career yards receiving. He stands 56 shy of that mark. It is a milestone not lost on Smith. "It probably means more to me that it probably should," Smith acknowledged. "It's a moment where time stops and you get to be selfish. It's not selfish where it's out in the open, but it's where you take a moment and, honestly ... it brings me to my knees. It's one of those where I stop and get on my knees and say thank you to God. If it's His will it will happen. If not, I'm OK with it." Smith has carried the list with him since joining the Carolina Panthers as a third-round draft pick from Utah in 2001, an ever-present challenge to himself and a reminder, lest he forget, of the goals he set as a rookie. From time to time he still brings it out. During his 11 NFL seasons, Smith has reached a number of personal milestones. He holds just about every Panthers franchise receiving record including most receptions, touchdowns and 100-yard games. But Smith said the milestone he's approaching this weekend means more to him than any of those others combined. Smith said no matter how much he's tried to mature as a person off the field, there will always be some who'll remember him for altercations off the field that have resulted in some negative press. "You know, it doesn't matter how many articles are written about me -- about how I'm a bad character guy, or erratic or moody -- no matter how many negative things are written, the power of public opinion doesn't win on this one," Smith said. "This is a stat that I've earned, with the help of a lot of other people, that can't be taken away. "It's a milestone that I would say really counts. It really matters." Smith remains fiercely competitive and proud. At times, that has gotten the best of him. For good or bad, he has a reputation that precedes him. Just ask Cam Newton. The team's rookie quarterback said when he was at the Scouting Combine he was peppered with questions about playing with Smith. And, quite frankly, he was a little scared. "I was thinking Steve Smith was the biggest monster," Newton said. "I'm thinking Steve was a person who gets on everybody's nerves. So I have this image of him in my head -- that he's not a team player, he's a bonehead and he won't work hard. All of this is in the back of my mind." Then Newton got drafted by the Panthers and had a chance to meet Smith. He found him completely different than what he expected. "I met him and sitting there thinking this guy must be pulling my cord, because I've heard so much about he may go off, whatever," Newton said. "But Steve has been unbelievable. Not just him but Jordan Gross, guys who have been established in this league for a long time. They have opened up and made it blunt and clear that they're here for me and if I have any problems, on or off the field, they're willing to help." And yet it's that feisty, ferocious attitude that has gotten Smith to the brink of 10,000 career yards. At 5-foot-9 and 186 pounds and growing up in inner city Los Angeles Smith had no choice but to grow up tough. Gunshots were a common background noise where he lived. So sure, he had an attitude. He still remembers being in high school and one of his coaches looking at him and saying, "If you're going to have the attitude we'll just replace you because there are a number of kids out there that are bigger and faster." Under his breath, Smith mumbled, "Well, I not going to give you that opportunity." And he never has. Smith went to a junior college in Santa Monica before transferring to Utah where his career really took off. He still makes it back to his old neighborhood from time to time. It serves as a reminder of how far he's come, not just as a football player but as a person. "To me it's so much bigger than the paycheck, so much bigger than being on TV," Smith said of his personal success. When he was a kid, Smith said he'd go to Fox Hills Mall in Los Angeles on Saturday nights to hang out with friends and meet girls. He went back to the mall in 2004 after the Panthers reached the Super Bowl. "They have a few Foot Lockers there and I remember walking back in there and they had four of my jerseys on the rack," Smith said. "That's kind of when I knew I had made it." Now the only question left is the one Smith posed to himself so many years ago -- where will you be at the end? It's hard to say, but at 32 he's showing no signs of slowing down. He's still as fast, quick and dangerous as ever. He has 22 receptions this season of 20 yards or more. After enduring two years of inconsistent quarterback play in John Fox's run-first offense, Smith is enjoying a renaissance of sorts in a new offense featuring a downfield passing game led by the strong-armed Newton. Smith leads the NFC with 1,060 yards receiving. The motivation? Well, that's never left, just like the list in his duffel bag. If he can reach 10,000 yards, Smith said he'll turn his attention to even bigger goals. "My ultimate goal since I've been in the league was to win a Super Bowl and be in the Hall of Fame," Smith said. "That's what I want."
Original Story:
http://www.foxsportscarolinas.com/12/...
THE BACKYARD
BEST OF MAXIM
RELATED ARTICLES
Yes, Steve Smith said this week that Cam Newton is the third-best quarterback he's played with, behind Jake Delhomme and Vinny Testaverde. No, Smith was not dissing Newton, the No. 1 overall pick whose arrival in Charlotte has helped rejuvenate Smith's career. Smith was merely giving props to guys who had long, productive careers. (Delhomme's was extended this week when...
Steve Smith likes Cam Newton, but the rookie has some work to do before the star receiver will consider him a better Panthers QB than Jake Delhomme or even Vinny Testaverde.
(By Joseph Person, jperson@charlotteobserver.com) Carolina Panthers linebacker Jordan Senn has the same pre-game meal every Sunday – two filets, a bowl of walnuts, berries, green beans, a vegetable drink and a couple bottles of water.Once he gets to the stadium, Senn sets out his equipment and uniform at his locker stall in the same, orderly fashion – much to the amusement of...
The Panthers broke a three game losing streak last weekend when the won on the road, 27-19 against the Colts.  The Buccaneers have lost five games in a row, as they have been pretty lousy.  Here is a look at the matchups of what could be a very high scoring game this Sunday: When the Panthers have the ball:  The Panthers are starting to be more balanced offensively as of late...
The Panthers know they're going to face a Tampa Bay quarterback named Josh on Sunday. They're just not sure which one. Bucs starting quarterback Josh Freeman remains questionable due to a sore shoulder that has significantly limited his practice time this week. Most of the first-team reps in practice have been taken by Josh Johnson, who has not started an NFL game since 2009...
   The Tampa Bay Buccaneers are going old school for the Panthers visit on Sunday.    The Bucs will wear their orange throwback uniforms, a nod to the early days of a franchise that struggled to find its footing before eventually winning a Super Bowl in less garish uniforms.    Local fans won't get to see the throwbacks because the game is expected to be blacked out in...
(By Scott Fowler, sfowler@charlotteobserver.com) The Creamsicles are back!Tampa Bay will wear its throwback Creamsicle orange uniforms Sunday when the Panthers play the Bucs in Tampa, harking back to those glorious days when the Bucs once lost 26 games in a row and head coach John McKay, when asked about his team's execution, quipped that he was in favor of it.
(source feed provided no summary content for this entry)
NFL News

Delivered to your inbox

You'll also receive Yardbarker's daily Top 10, featuring the best sports stories from around the web. Customize your newsletter to get articles on your favorite sports and teams. And the best part? It's free!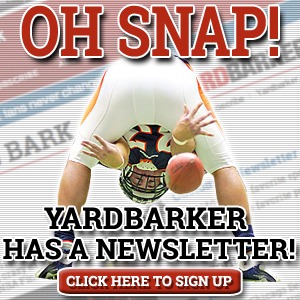 Latest Rumors
The Backyard

Today's Best Stuff

For Bloggers

Join the Yardbarker Network for more promotion, traffic, and money.

Company Info

Help

What is Yardbarker?

Yardbarker is the largest network of sports blogs and pro athlete blogs on the web. This site is the hub of the Yardbarker Network, where our editors and algorithms curate the best sports content from our network and beyond.