Found October 08, 2012 on Denver Sports Chat:
New Orleans, LA. The entire NFL, and the men who run this sports juggernaut, have to be very happy about which players are responsible for the continued success of the league. The guys who are currently the most popular ones in this sport are guys who couldn't be any classier than they already are. Whether it's somebody like Aaron Rodgers, who has done everything right, even during a tough situation taking over for Brett Favre. Or maybe someone like Peyton Manning, who always knows what to say in any given situation, and is never in any kind of off-field trouble. Or Tom Brady, who exudes class and has a genuine respect for the game where he may currently be its biggest star. But the classiest guy in the entire league may be the QB down in New Orleans who continues to shatter records, those of which that have sometimes literally stood for decades. Drew Brees is not only one of the best quarterbacks the NFL has ever seen, he may very well be the most respected player this league currently has to offer. The National Football League is very lucky to have a guy now holding some of the games biggest individual records, who anyone, from child to adult, can admire. Drew Brees just gets it. He gets that he is just part of the beast that is the NFL. He gets that he would not encounter his individual success if it weren't for everyone else on his offense and his team doing their jobs as well. He also gets that he is only enhancing his own legacy as he continues to be humble, even when he is smashing QB records who were held by guys like Dan Marino and Johnny Unitas. The things that Brees has done on the field during the past twelve months or so has been eye-popping. His mastery of his position and his smarts for the game of football is apparent even if you just watch him play for a very short period of time. In 2011, he destroyed the record for passing yards in a season, which had been in tact for 27 years. Now in 2012, he has broken the record for having at least one TD pass in 48 consecutive games and counting, which was a record that hadn't been touched in 52 years. Brees is simply revolutionizing the passing game in the NFL, during an era where it seems every team is throwing the ball far more than running it. As great as Brady, Rodgers, and Manning are, and have been, Drew Brees is the guy breaking some of the most hallowed QB records of all-time. And the best part is….he is doing it with an unprecedented amount of class, and a respect for the game and the players who laid the foundation before him. If you ever hear Drew Brees in any sort of interview, he comes off as a regular guy. There is not an ounce of narcissism, or any sort of attitude that he is better than anyone else. He has always maintained a level of pure class and respect for the game that he plays. When things come up like records he has broken or may break in the future, without fail, he quickly mentions something about not being in the position he is in without the efforts of his team, or not being able to play this game today if it were not for the countless players who have played it before him. In an age where the sports world is littered with athletes who have an entitled attitude, and think their sport and their team cannot live without them, it is remarkably refreshing to hear guys like Drew Brees speak. He is never part of any sort of drama off the field, and always knows the right things to do and say. He seems to be a great teammate as well, as he has stood up for several of his teammates during this bounty scandal over the last several months. He is not afraid to speak his mind either, even if is not in accordance with what the almighty commissioner of the NFL thinks. The Saints have been through the wringer this year, as 2012 has been one of the most difficult years any team has ever had to deal with. But during all of the drama and events that have filled the headlines off the field, there has been one guy who has really been the backbone for this organization through it all…..Drew Brees…..if the Saints are able to bounce back in future seasons and be a contender again, or even win another Super Bowl, the signal caller wearing #9 will be the main reason why. Denver Sports by J Simp The post Still breaking records, Drew Brees as classy as ever appeared first on Denver Sports Chat.
Original Story:
http://feedproxy.google.com/~r/Denver...
THE BACKYARD
BEST OF MAXIM
RELATED ARTICLES
According to Larry Holder of the New Orleans Times-Picayune, Saints linebacker Jonathan Vilma expects to come off the PUP list this week and play against the Buccaneers.#Saints' Jonathan Vilma said on WVUE he will be off PUP list Tuesday. "I'll be allowed to practice, I'll be allowed to play vs. Tampa Bay."— Larry Holder (@LarryHolder) October 15, 2012Vilma said the appeal...
Week 7 will see six different teams with a bye week, including notable QB's like Matt Ryan.  Here is your weekly dose of quarterbacks for week 7 of fantasy football 2012 Get involved in the forums, help answer other owners fantasy football quarterback questions so they can help with yours These are our top 25 QB's for week 7, not for the rest of the season. Rank QB ...
The New Orleans Saints have been quiet regarding the injury of two key players on offense; tight end Jimmy Graham and wide receiver Lance Moore. The Saints are expected to shed light on their conditions today, reports Mike Triplett of nola.com. #Saints coach Aaron Kromer declines to update injuries. We'll get first practice report Wednesday on Jimmy Graham, Lance Moore...
According to Mike Florio of ProFootballTalk.com, New Orleans Saints tight end Jimmy Graham won't miss any games despite a rumor going around that he will be out for several weeks because of a sprained ankle.This is certainly good news for Saints. Graham has been their lone bright spot so far this season.
The Saints should be well rested and somewhat healed going into their game this upcoming Sunday in Tampa following a bye week. But is the bye week a blessing? Sometimes teams come back rejuvinated and other times teams come back rusty. I figured this would be a good time to look back at how the first game back from the bye week has gone for the Saints in the Sean Payton era. Below...
Saints defensive coordinator Steve Spagnuolo says he believes Jonathan Vilma will be able to return to practice on Wednesday, although it is not yet certain whether linebacker will play at Tampa Bay on Sunday. Vilma, who is appealing a season-long suspension in connection with the NFL's bounty investigation of the Saints, remains on the club's physically unable to perform...
New Orleans Saints linebacker Jonathan Vilma told a TV station in New Orleans that he will come off the physically unable to perform list and will play this Sunday against the Tampa Bay Buccaneers. Vilma, who has been recovering from a knee injury, is one of four players who appealed their suspensions related to the "bounty" scandal. Vilma's lawyers filed a motion...
Jonathan Vilma might suit up this season after all. Vilma, who is currently appealing the season-long suspension he was given for his alleged involvement in the Saints' bounty scandal, said in an interview with WVUE-TV that he will come off the physically unable to perform (PUP) list on Tuesday, and he expects to play Sunday against the Buccaneers. Vilma was...
Saints LB Jonathan Vilma Plans To Make Season Debut On Sunday - The New Orleans Saints middle linebacker and defensive captain, who is currently appealing his season-long suspension (again) for his role in the team's alleged bounty program plans to be activated off the physically unable to perform list this week and play Sunday against the Tampa Bay Buccaneers. "I'll be allowed...
After showing up late because he won his tennis club title and received a trophy so hideous his wife mocks it, Andrew Juge of The Saints Nation discusses why Steve Spagnuolo being flexible is a good thing for the Saints. Ralph wonders if an overlooked key to the rest of 2012 is the Saints getting their running game cranked up. Andrew explains why Jonathan Vilma playing might be more...
As the Saints began their pre-practice stretch on Wednesday, receiver Lance Moore hopped up, looked over at linebacker Jonathan Vilma, and hollered, ''Glad you're back! We missed you!'' while the entire team offered a round of applause. ''Hello!'' Vilma responded with a smile, still seated on the field, one leg pulled over another. Vilma then...
QB | RB | WR | TE 1. Drew Brees at TB 2. Aaron Rodgers at STL 3. Tom Brady vs NYJ 4. Eli Manning vs WAS 5. Robert Griffin III at  NYG 6. Andrew Luck vs CLE 7. Tony Romo at CAR 8. Ben Roethlisberger at CIN 9. Andy Dalton vs PIT 10. Cam Newton vs DAL 11. Matthew Stafford at CHI 12. Carson Palmer vs JAC 13. Jay Cutler vs DET 14. Joe Flacco at HOU 15. Matt Schaub vs BAL 16. Brandon...
Saints News

Delivered to your inbox

You'll also receive Yardbarker's daily Top 10, featuring the best sports stories from around the web. Customize your newsletter to get articles on your favorite sports and teams. And the best part? It's free!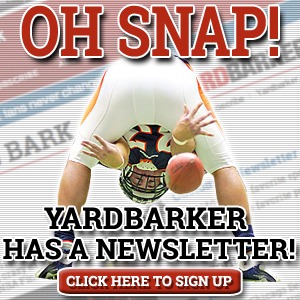 Latest Rumors
The Backyard

Today's Best Stuff

For Bloggers

Join the Yardbarker Network for more promotion, traffic, and money.

Company Info

Help

What is Yardbarker?

Yardbarker is the largest network of sports blogs and pro athlete blogs on the web. This site is the hub of the Yardbarker Network, where our editors and algorithms curate the best sports content from our network and beyond.