Found April 23, 2012 on Fox Sports:
I've never seen a fighter like Jon "Bones" Jones. He's a classically trained wrestling champion. He throws elbows with the deceptive ease of a jab. His kicks are reminiscent of the great old karate fighter, Bill "Superfoot" Wallace. The difference is, Superfoot went 5-10, 166 pounds. Jones is nimble and spidery at 6-4, 205. But the real difference, that which separates Jones from the current competition and most of his predecessors, is what you can't see. It's psychological, or perhaps, spiritual. Fighters typically lie to themselves. They tell themselves they are bigger, better, bolder and faster than they actually are. If the fighter himself believes it, then there's chance the opponent will, too. Show me a loud guy talking s--- before a fight and I'll show you a guy who needs to supplement his self-belief. (Yes, that includes Muhammad Ali). The more savage the sport (and let's not pretend MMA is anything but), the more vulnerable the fighter, the more fractured his pre-fight imagination can become. But Jones indulges in none of it, really. Where other fighters engage in tactical braggadocio, Jones stays relatively silent. He does not seethe, for he knows it's an admission of weakness. Rather, his pre-fight routine includes twice a day meditation sessions. In successive defeats of Ryan Bader, Mauricio Rua, Quinton "Rampage" Jackson, Lyoto Machida, and most recently, his former stable-mate, Rashad Evans, Jones has established more than mere dominance over the UFC's glamor division. His next foe is Dan Henderson, but Jones has also put himself on the short list for even greater glories: impending recognition as the Baddest Man on the Planet. That title first belonged to Mike Tyson, famous for his own rhetorical flourishes, like citing other fighters' "primitive skills" and vowing to "eat your children," were uttered to cure his own cowardice. Jones is the opposite of that. He grew up in a hardscrabble neighborhood in Rochester, N.Y. But there's no hint of the street in his voice. He has no interest in taunting. Perhaps modesty itself can become unnerving, as it caused his foe Evans to bitterly accuse Jones as a "fake" and a "phony." I didn't' see it like that. Rather, this would-be Baddest Man is preternaturally calm and humble. He has one defeat -- by disqualification. It came against Matt Hamill, a hail of illegal elbows in a fight Jones was dominating. Still, Jones never calls it anything but a loss. "I'm not undefeated," he likes to say. "I'm not invincible." More striking were his post-fight admissions on Saturday. He came to the interview podium in a gray suit and a shirt just pale and purple enough to be accurately described as lilac. Again, it wasn't typical MMA, where those dreadful faux-fierce T-shirts are considered the height of fashion. "Excuse me, I know this is off-point," said Jones, interrupting UFC boss Dana White, "but Dana, you wear black on black better than anybody." "Thank you, Jon." In short order, Jones was issuing an extraordinary sort of confession. It had been a decisive victory, but much to the fans' dismay, not a violent one. "I didn't do a good job," said Jones. "I didn't do the things I think I could have done. I felt gangly and a little uncoordinated." He spoke of how Evans used to "big brother me" when they worked out in Albuquerque. "I think I was a little intimidated," he said, hoping to rekindle his friendship with Evans. "Tonight I know that came from slight insecurity." It wasn't a slight admission. I wondered where this comes from. Jones is possessed of a rare temperament, rarer still in a fighter. Then I see Arthur Jones, pastor of Binghamton's Mount Sinai Church of God in Christ, holding his wife, Camille. They are the parents of four: Jon; Arthur Willis Jones III, a defensive end for the Baltimore Ravens; Chandler, who'll be drafted this week; and Carmen, a teenager when she died of brain cancer several years ago. "We've been tried by fire, our family," says pastor Jones, understatedly dapper in a blue pinstripe suit with an old fashioned Windsor knot in his tie. By temperament, physicality, even sartorially, the resemblance is clear. "Jon used to take his daddy's suits," says Camille. "And shoes." "Size 14," says the pastor, pointing at his well-heeled heels. "What was he like as kid?" "He was born like that," says Arthur pointing toward his son on the podium. "Even when he was a baby. He didn't have to say 'pick me up.' You knew. Even when he cried, he would look you in the eye. Even then, he just had a commanding presence." Like a preacher? "I wanted him to preach," says Arthur, himself a high school wrestling champion out of Rochester. "I tried to discourage him from being a fighter. I told him you don't want to do that. You can do other things. Be a pastor." It must have been odd then, for Jon to become a fighter. If the church life is sacred, then the UFC is profane and violent. "In biblical times," says the pastor, "there was always warfare: David and Goliath, Sampson, the enemies of the Israelites. They fought in the valleys, on the hills, in the mountains... "My son trains for every fight, not just physically but spiritually." Arthur Jones stops for a moment, considering Jon's request to resume a friendship with Rashad Evans. "In a way," he says. "I think Jon is preaching."
Original Story:
http://msn.foxsports.com/ufc/story/jo...
THE BACKYARD
BEST OF MAXIM
RELATED ARTICLES
Contract negotiations between the Baltimore Ravens and quarterback Joe Flacco have continued and have been cordial, but the two sides are not close to a deal and it's unlikely something will get done soon, according to NFL.com's, Jason La Canfora. It's been well documented and chronicled that both sides want to work out a long-term [...]
Kevin Cowherd, a writer for the Baltimore Sun, as well as a syndicated author and talk show host for ESPN radio, wants the Baltimore Ravens to draft Dont'a Hightower as a possible successor to middle linebacker Ray Lewis. A member of the BCS National Championship team in Alabama, the high-motored 6-2, 265 pound Hightower had an especially strong senior campaign last season, recording...
After the Baltimore Ravens have made their decision on who they will draft in the second-round and third-round on Day Two of the draft Friday night, the franchise's all-time leading scorer, will announce the team's picks. Former Ravens kicker Matt Stover, 44, will take to the podium at New York's Radio City Music Hall to [...]
The Baltimore Ravens follow a difficult 2011 ending to a very difficult 2012 start. There has been much talk in the offseason about the disappointing finish that happened in the AFC Title game which dreams were shattered in a matter of seconds when a Billy Cundiff field goal sailed wide left. The clock is ticking on an aging defense that is hoping for one more shot at a Super Bowl...
I've had many applications for the privilege to endorse the most credible Mock Draft (complete 7 rounds) for the Ravens...but after further review in the Booth, the call goes to birdwatcher and webmaster Jimmy O'Brien of Ravens24x7.com....Big Dont'a Hightower loses his helmet but not his bead on the running back... Jimmy O'Brien thinks he's the Ravens' #1...
Ravens News

Delivered to your inbox

You'll also receive Yardbarker's daily Top 10, featuring the best sports stories from around the web. Customize your newsletter to get articles on your favorite sports and teams. And the best part? It's free!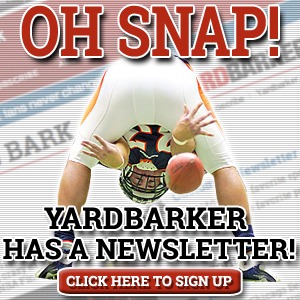 Latest Rumors
The Backyard

Today's Best Stuff

For Bloggers

Join the Yardbarker Network for more promotion, traffic, and money.

Company Info

Help

What is Yardbarker?

Yardbarker is the largest network of sports blogs and pro athlete blogs on the web. This site is the hub of the Yardbarker Network, where our editors and algorithms curate the best sports content from our network and beyond.