Found February 01, 2013 on Fox Sports Arizona:
NEW ORLEANS -- Baltimore Ravens outside linebacker Terrell Suggs fancies himself a gentleman, a father, a brother and a son. His alter ego is the polar opposite. T-Sizzle hes a caveman, said Suggs, referring to his trademark nickname. Hes a barbarian. What did my little brother Donnie call me? An Anglo-Saxon, because we woke up one morning and I was eating cold steak. Sizzle, hes kind of a Neanderthal. Where the dividing line is drawn between those personalities is anyones guess. Terrell is a character beyond characters, Ravens linebacker Jameel McClain said with a wide smile. Ive been with him for five years and I still dont know what makes him tick. I still cant define it. But one thing I do know: There will never be a dry moment with Sizzle. If in the mood, Suggs can be thoughtful and articulate when dealing with the media. Away from football, Suggs co-wrote and produced a short film ("When Beautiful People Do Ugly Things") that was acclaimed enough to get shown at the 2011 Cannes Film Festival in France. Suggs also has business savvy with a clothing line promoting both his T-Sizzle and Ball So Hard University brands. What makes him so different as a person off the field is that he does have a great deal of intelligence, said Ted Monachino, who became Suggs position coach in 2010. He is quick-witted and thinks ahead. He responds in a way that I think a lot of people appreciate. And then there is T-Sizzle, a defensive terror who also fits many of the brutish stereotypes to which he alluded. The tattoo-covered Suggs often comes across as a goofball with outrageous comments and antics done either for attention or to amuse himself. For example, he sported teammate Haloti Ngatas jersey for a team photograph during the regular season. Suggs sings constantly. Hes awful. God awful, McClain said while wincing and laughing. Hes not going to stop, either. Suggs can trash-talk with the best of them, too. He made sure the world knew his feelings toward New England when screaming that the Patriots were a bunch of arrogant fers en route to the locker room following Baltimores AFC Championship Game victory. Every one of the answers he gives, very few of them are vanilla from the player-interview handbook, Monachino deadpanned. To explain why Suggs acts this way requires a psychology degree. Heck, even a trained medical professional may struggle with this diagnosis. But there is something everyone can agree about when it comes to Suggs: He is the type of football player who could be a game-changer Sunday in Super Bowl XLVII against the 49ers. At 6-foot-3 and 260 pounds, Suggs is sturdy enough to provide strong run support while fast enough to blow by left tackles. His 84.5 career sacks over the past 10 seasons make Suggs the most prolific pass rusher in the Ravens 17-year history. After suffering a partially torn Achilles tendon during offseason training, Suggs has finally regained much of his explosiveness off the edge. His output in three playoff appearances (19 tackles and two sacks) has been almost identical to what he posted during eight regular-season contests following his return off the PUP list. The offbeat reason he gave for the difference in play is typical SuggsSizzle. The second half of the season is always the best half of the season for me, Suggs said. In the playoffs, (there) arent too many teams playing. All your family members are watching. Most importantly, all of the people that ever doubted you are watching. Thats why the playoffs will always be my favorite. The return of Suggs and fellow linebacker Ray Lewis (triceps) from injury to accompany the emergence of Paul Kruger and Dannell Ellerbe in their absence has helped spur Baltimores unexpected playoff run. The Ravens have forced eight turnovers and held two of their three opponents (Indianapolis and New England) to nine and 13 points, respectively. Hes the most explosive and physically tough player Ive ever been around, said Monachino, whose coaching career began in 1991. Probably the most important thing -- his football IQ is through the roof. Hes been fortunate enough to understand for a long, long time that the line on a playbook page lasts for about a second and a half (during games). After that, its natural instinct. Ability takes over. Thats why hes capable of making special plays. With Lewis retiring after Super Bowl XLVII and free safety Ed Reed set to become an unrestricted free agent, Suggs may be asked to assume a larger leadership role. This means showing more maturity and keeping the violent Sizzle persona from trickling into his non-football life. Suggs has been involved in two ugly domestic-violence incidents since 2009. At one point last year, he was forced to surrender his firearms to local police by court order. Monachino believes the 30-year-old Suggs has turned the corner personally and professionally. Suggs married the same woman from those domestic violence incidents in late 2012 and has lovingly referred to her several times during this weeks Super Bowl media availability. Hes at an all-time high right now, Monachino said. Its fun to watch. Thats especially true when Suggs transforms into Sizzle for the Ravens on game day. Theyre like night and day. Jekyll and Hyde, definitely, Suggs said. I try to keep Sizzle contained, but theres something about when he puts the helmet and shoulder pads on. He becomes an animal.
Original Story:
http://www.foxsportsarizona.com/02/01...
THE BACKYARD
BEST OF MAXIM
RELATED ARTICLES
Baltimore Ravens linebacker Ray Lewis will retire in style with these gold-colored cleats that he'll wear against the San Francisco 49ers in the Super Bowl. Under Armour's FW13 cleats tell much of Lewis' story. Lewis' kicks have "Psalms 91" on the toe — just like the T-shirt he wore under his pads during his final home game on Jan. 6.
The Ravens are focused on the Super Bowl, but here's a look at the draft. Here is my first look at the NFL Draft.  There are a lot of teams that need quarterbacks this year.  The problem, there are not enough QB's in the draft. I expect to see teams trying to trade down, will they have any takers? 1. Chiefs - Bjoern Warner, DE, Florida State...
The Baltimore Ravens may be playing in the Super Bowl on Sunday, but there has been repeated talks of their offseason plans. Between signing Joe Flacco, and/or letting Ed Reed walk, the Ravens apparently have other plans; this time at the wide receiver position. On NFL Live today, Adam Schefter said that the team may "very well" choose to release Anquan Boldin. LarryBrownSports...
Unhappy with the hard artificial turf at Tulane University's baseball field, the Baltimore Ravens will hold their main practice Thursday at the Saints' facility instead. The San Francisco 49ers, their opponent in Sunday's Super Bowl, already are training at the Saints' complex in nearby Metairie. Because Tulane has broken ground on a new football stadium, the AFC...
In advance of the much-hyped Harbowl (or "Super Browl", if you will), Reddit brings us this absolute gem from the Harbaugh brothers' childhood. Check out young John and Jim decked out in their Baskin Robbins little league unis, with the elder John towering over the befuddled looking Jim: (via reddit) And after some incredible interweb sleuthing, we uncovered a few more classic...
After the dust had settled on the Baltimore Ravens shattering end to the 2011 season, there was plenty of reason to be confident that they could go one better in 2012. If not for a few unlucky breaks and poor execution, they would have been facing the Giants in Indianapolis so it was not farfetched to think the team was not far off a championship appearance. Instead of going out...
So, I have a serious internal debate going on right now. The Ravens minus 4 is straight up stealing. Like, there is absolutely no way I see SF winning this game. If they do, it's gonna be on a last second field goal where they don't cover. To be honest, I see something like 28-17 Ravens (yes, I am also thinking about the under of 47.5, but not completely confident on that...
  When news broke earlier this week that Baltimore Ravens safety Ed Reed could see himself playing for Bill Belichick and the New England Patriots, many took it and ran with it. Assuming that Reed already has one foot out the door ready to head to New England at the conclusion of the Super Bowl. The Ravens [...]
Super Bowl XLVII: #4 Baltimore Ravens (13-6) vs. #2 San Francisco 49ers (13-4-1) in New Orleans, Louisiana, San Francisco favored by 3 1/2 The Super Bowl brings in millions of casual fans, that will probably be watching their first football game of the season. For people not interested in matchups, or which team has the better offense or defense, there is still plenty to become invested...
For Ed Reed and Frank Gore, winning a Super Bowl is the final piece to each's impeccable resumes. The post Ed Reed, Frank Gore And Miami's Golden Children appeared first on The Sports Fan Journal.
Ravens News

Delivered to your inbox

You'll also receive Yardbarker's daily Top 10, featuring the best sports stories from around the web. Customize your newsletter to get articles on your favorite sports and teams. And the best part? It's free!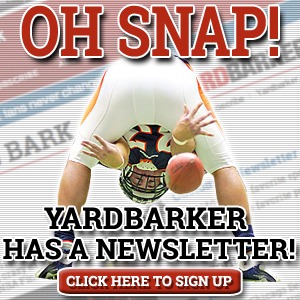 Latest Rumors
The Backyard

Today's Best Stuff

For Bloggers

Join the Yardbarker Network for more promotion, traffic, and money.

Company Info

Help

What is Yardbarker?

Yardbarker is the largest network of sports blogs and pro athlete blogs on the web. This site is the hub of the Yardbarker Network, where our editors and algorithms curate the best sports content from our network and beyond.