Found January 15, 2012 on Fox Sports Detroit:
Ndamukong Suhs offseason tour of redemption officially began Sunday on CBSs pregame show, "The NFL Today." The Detroit Lions defensive tackle was the programs special in-studio guest and was introduced by host James Brown as,Lions All-Pro D tackle Ndamukong Suh. Nattily dressed in a suit-and-tie combination that vaguely resembled the Lions' road uniform, without the black accents, Suh looked relaxed, even happy to be part of the shows panel of Dan Marino, Boomer Esiason, Shannon Sharpe and Bill Cowher. This is the same group that skewered Suh on Thanksgiving Day, after his now infamous stomp of Packers offensive lineman Evan Dietrich-Smith. After Browns upbeat intro, Marino asked the first question. The Hall of Fame QB lobbed a softball about it being a good year since the Lions made the playoffs and asked Suh what Detroit needed to do to bring them up to the next level. Suh began his answer by talking about the Lions' great passing attack, moved on to how injuries decimated the running game and concluded that next season Detroit needs a better running game. About the defense Suh said, I want to keep our room together. Cliff Avril had an amazing year this year. Hes a guy that we definitely need to make sure we get back. "Our front office has already started keeping all our coaches intact, which is a huge piece. Cowher was up next, and after complimenting coach Jim Schwartz on changing the Lions' culture Cowher asked, Does it bother you that in your style of play that you may be perceived as a dirty player, and is it going to change the way you play the game in the future? I think the biggest thing is that we need to make sure we stay physical, and thats what I pattern my game after, Suh said. "Being physical, a guy that always attacking fierce and getting after the ball, but its always whistle to whistle and make sure it stays there. Coach Schwartz is a guy that emphasized not being the Detroit Lions that we were just laying down and make sure that we continue to fight. Brown then stepped in and reminded Suh that the panel all played or coached the game and understands the mindset of a defensive player. He then went right after the stomping incident, telling Suh how insincere his apology came across, acknowledging that Suh has spoken with Dietrich-Smith since the incident and asking the Suh, what did you say and how do you feel now? I had a great conversation with Evan Dietrich-Smith, Suh said. Hes a great guy. I got to go against him the last game of the regular season, had a chat with him, hes a great guy. Obviously, I made a mistake. I definitely without a doubt understand that. Im held to a high standard, and I love being held to a high standard." Suh continued on but started to get a little tongue-tied. "Im a man that I believe that can continue to withhold (probably meant uphold) that high standard, he said. At the same time, I want that because I want to be an example for young kids. I want to continue to try and be a good example to be able to be followed after and give. "Everybody makes a mistake and just continue to learn from them and grow. Brown followed up by asking Suh if he could play within the rules and still be the dominate player that he desires to be. Suh said that he could do so without a doubt. He then went on to praise parents and said he believes that being African and Jamaican allows him to have balance. Suh cited education and football as each being equally important because his profession and education gave him the tools necessary to be a part of the pregame panel. After Brown informed the viewing audience that Suh was named the best athlete in terms of his charitable work and donations, Brown gave the floor to Sharpe, who praised Suh for showing up since Sharpe and Esiason were among his harshest critics. Sharpes question was direct. Is the guy that sells fast food that sells cars to America, is that the act and the guy thats on the football field, is that the real deal?" he asked. Is that the real deal? Suh repeated. I think that Im continuing to prove that Im a fierce competitor. Im going to do whatever in my power to help my team win. At this point in time, in having learned from this mistake, it has to be between whistle to whistle. Thats where Im going to continue to strive and to perfect that. Esiason brought up Suhs meeting with NFL commissioner Roger Goodell and wanted to know about their relationship and what they talked about. Suh said that Goodell understands the real Ndamukong Suh as being a hungry individual that wants to be the best. Suh added that he has a great relationship with the commissioner that dates back to his draft day and understands hes put Goodell in a tough position. During the rest of the interview, Suh talked about being a 5-year-old and meeting Charles Barkley at five years-old, how that encounter still inspires him to always reach out to children. Even though Suh would be part of the studio panel for the entire day, his interrogation pretty much ended there. Once the questions started, Suh appeared nervous, as if he knew what he wanted to say, but wasnt quite sure how to say it. Suh looked and sounded like a kid, which he is. It was good to see him finally start to grow up.
Original Story:
http://www.foxsportsdetroit.com/01/15...
THE BACKYARD
BEST OF MAXIM
RELATED ARTICLES
Lions defensive tackle Ndamukong Suh knows about the poll of NFL players that said he's the dirtiest player in the NFL. But he believes he's also one of the most respected players in the league. Suh said in an interview with NFL Magazine that he knows plenty of players admire the way he plays and…
Lions defensive tackle Ndamukong Suh was a special halftime guest Sunday on CBS for "The NFL Today."
Detroit Lions defensive tackle Ndamukong Suh's statistics decreased this season, but he still played well, according to Martin Mayhew (General Manager).
Production rises to playoff level -- But in the booth, not so muchOnce you got past the pre-game show and the outrageous attempt by CBS Sports to use the telecast to try to rehabilitate the reputation of Detroit Lions stomper Ndamukong Suh, TV coverage of the Baltimore Ravens 20-13 victory over the Houston Texans wasn't too bad at all Sunday.
Lions defensive tackle Ndamukong Suh tweeted today about trying to visit NFL commissioner Roger Goodell today in New York, though the commish wasn't around.
Before the new collective bargaining agreement, top five draft picks seriously weighed down a team's salary cap. The Lions are feeling that pain with Matthew Stafford, Calvin Johnson and Ndamukong Suh killing the team's cap space.
There's not much the Lions could have done to prevent the deals of Calvin Johnson, Matthew Stafford, Ndamukong Suh and Kyle Vanden Bosch accounting for nearly $60 million of a projected $120 million NFL salary cap.
After adding Detroit Lions star defensive tackle Ndamukong Suh for this weekend's divisional playoff games, CBS's The NFL Today is looking to add another current star to its lineup for the conference championship games: Denver Broncos quarterback Tim Tebow. According to Michael Hiestand at USA Today, CBS has a request in to Tebow's people in efforting a guest appearance...
NFL News

Delivered to your inbox

You'll also receive Yardbarker's daily Top 10, featuring the best sports stories from around the web. Customize your newsletter to get articles on your favorite sports and teams. And the best part? It's free!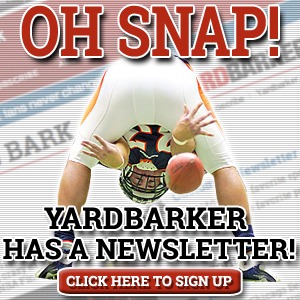 Latest Rumors
The Backyard

Today's Best Stuff

For Bloggers

Join the Yardbarker Network for more promotion, traffic, and money.

Company Info

Help

What is Yardbarker?

Yardbarker is the largest network of sports blogs and pro athlete blogs on the web. This site is the hub of the Yardbarker Network, where our editors and algorithms curate the best sports content from our network and beyond.