Found September 22, 2012 on Sports With Silverman:
I feel like I have a pretty strong stomach for the most part.  It takes a lot to make me queasy, but there a couple things that are just too much for me to handle.
Jose Cuervo?  Come on, I just ate!
Clubbing baby seals?  Just the thought of it makes me sick.
Tim Tebow media coverage?  ENOUGH!  I can't take it!  Please, make it stop!
The crazy thing about the current Tebow situation is that the media is not only forcing mainstream America to care about a backup quarterback, but the gut-wrenching amount of press is actually having an effect on how the Jets operate.  You may disagree, but I honestly believe that all of the unnecessary Tebow coverage has convinced Rex Ryan and the Jets that giving His Holiness some reps is a good idea.  The only other thing I can think of is that media outlets are paying the Jets to play him so they have something to talk about.
"Take me out one more time...I dare you..."
Think about it…Rex Ryan has been subbing Tebow in at the tail end of productive offensive drives…WHY?!  Clearly, the smart thing to do is take a capable passer (I'm being generous) out of the game and replace him with a guy who can't throw, right?  It makes so much sense to pull the guy who is in a groove and clicking with his teammates in favor of a backup quarterback who couldn't throw a spiral to save his life.  Oh wait…maybe that DOESN'T make sense.  It does make dollars and cents, though, so why not give it a shot?
If I was a defensive coordinator of a team preparing to play the Jets, I would probably spend a grand total of five minutes game-planning for Timmy.  Here's how my speech to my defense would go…
"Look…we all hate this guy.  Have you seen his interviews?  He just picks a word-of-the-day and repeats that word until the interview is over.  Oh, right…the game plan.  Um, the dude can't throw.  If he's in the game, he's running it."
That's it.  That's all you have to do.
It's just sad to see a formerly proud organization like the New York Jets become this team full of underwhelming gimmicks.  As if Rex Ryan wasn't gimmicky enough on his own…add Tim Tebow to the mix?  Goodnight!
The Jets have been reduced to a back-and-forth battle between Tebow and Ryan to see who can get the most unnecessary airtime.  Rex Ryan just announced to the media that he brings in "sleep specialists" to work with his guys. Really?  Is that a real thing?  I guess if the Jets players got more sleep they would spend less time watching their coach and backup quarterback dominate headlines every night.
I don't know if sleep specialists are real or not, but I do know that Rex's latest media ploy means one thing, and one thing only…
It's your move, Tim.  Go out there and…take off your shirt in the rain…or something.
There you go, kid!
Original Story:
http://sportswithsilverman.com/wordpr...
THE BACKYARD
BEST OF MAXIM
RELATED ARTICLES
WHEEL COOL
Tim Tebow hasnt been playing as much as he would have expected this season, so that of course leads to more time for things like photoshoots. VOGUE has released a behind the scenes look at Tim Tebow's photoshoot he did for the October edition of the magazine. Ladies, try and contain yourselves as shockingly Tebow is featured shirtless. Article found on: Cosby Sweaters
So this is what we've gotten to, huh? A backup quarterback making the front page of one of the most well-known newspapers in one of the world's biggest cities -- all because he took his shirt off. Tim Tebow, or "the world's most famous bench-warmer as the New York Post referred to him, made the front page of the tabloid on Friday. The Jets backup quarterback was...
Before the 2012 NFL season kicked off Tim Tebow was white hot…and now he is used as a decoy on punts.  However when he arrived to New York, the editors at Vogue hired world famous photographer Annie Leibovitz to capture Tebow for the upcoming October edition of their magazine. The most outrageous photo was Tebow holding this giant tire.  In the video, Tebow tells us that he...
Matt Cavanaugh has worked with lots of quarterbacks over the years. None have been anything like Tim Tebow. ''It's been a learning experience for me,'' the New York Jets quarterbacks coach said Thursday. ''Being around Tim and hearing about some of the other things he's done and what he's capable of doing, it's pretty exciting.'' ...
New York Jets quarterbacks coach Matt Cavanaugh says having Tim Tebow as the backup has been ''a learning experience'' and predicts a ''successful'' year for starter Mark Sanchez. Cavanaugh, addressing the media Thursday for the first time this season, had no concerns about how Sanchez would handle the arrival of Tebow when the Jets traded for the...
Yesterday, we featured of clip of New York Jets back-up quarterback Tim Tebow running a fake punt against the Miami Dolphins. Tebow later in the game had a chance to make a reception but comedy ensued when he got hit in the helmet with a pass from Mark Sanchez: (Courtesy of Bleacher Report)
Thanks to our friends from Black Sports Online for posting this funny video from yesterday's Dolphins-Jets game, in which Jets quarterback Mark Sanchez threw a pass towards Tim Tebow and hit him in the head.
A pass caromed off Tim Tebow's helmet, which is how things went much of the day for the New York Jets. Then in overtime, the ball bounced their way. First the Miami Dolphins missed a potential game-winning field-goal attempt, and then Jets kicker Nick Folk received a reprieve. After Folk's blocked field-goal attempt was negated by a timeout, his retry was a successful 33...
Ohio State quarterback Braxton Miller has some pretty big shoes to fill — and they're not even from his own school. Miller is only a sophomore, but he is already being compared to head coach Urban Meyer's best collegiate player from Florida — Tim Tebow.  Meyer compared Miller,  his current quarterback, favorably to Tebow — the three-time Heisman finalist — from...
This weekend, the New York Jets are on the road against the Miami Dolphins. Last week, Mark Sanchez and the Jets' offense were completely inept with the exception of an early touchdown drive. To put it simply, this is a make or break game for the Jets, and more specifically, Mark Sanchez. I'll be very frank here; I don't think Tim Tebow can succeed in the...
With the New York Jets sort of thriving under new offensive coordinator Tony Sparano, the Miami Dolphins' focus should be on how to stop whatever plays he's going to throw at them in what will most certainly be a big revenge game for the former Miami coach. But with the Dolphins, the focus is never what it should be, and is instead usually about something ridiculous. In this...
How about this weather in New York City? There is nothing like the autumn. It reminds me of getting ready for another breakout 3 catch, 26 yard performance at Muhlenberg as we got ready to whoop up on Union College (sorry Chris Gross). Anyway, The New York Daily News or as we call them around here, TMZ has had a fun week of stirring the quarterback controversy pot and talking...
Jets News

Delivered to your inbox

You'll also receive Yardbarker's daily Top 10, featuring the best sports stories from around the web. Customize your newsletter to get articles on your favorite sports and teams. And the best part? It's free!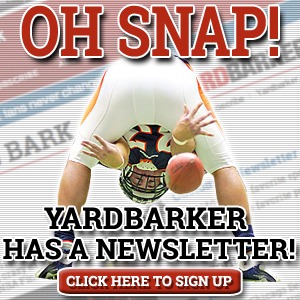 Latest Rumors
The Backyard

Today's Best Stuff

For Bloggers

Join the Yardbarker Network for more promotion, traffic, and money.

Company Info

Help

What is Yardbarker?

Yardbarker is the largest network of sports blogs and pro athlete blogs on the web. This site is the hub of the Yardbarker Network, where our editors and algorithms curate the best sports content from our network and beyond.