Found March 26, 2012 on Rams Herd:
PLAYERS:
Matthew Mulligan
,
Brian Schottenheimer
,
Billy Bajema
,
Torry Holt
,
Eli Manning
,
Danny Amendola
,
Cameron Wake
TEAMS:
New York Jets
,
St. Louis Rams
,
New England Patriots
,
New York Giants
,
Miami Dolphins
Perhaps only the Rams could bring in a block-first tight end who drew more penalties than all but two other players at his position and a broken-down receiver who caught only nine passes in eleven games, and give fans hope that both players might be clear upgrades at their position. 
That's the state of things for a 2-14 team that only cracked 14 points four times last season.
By bringing in "the other" Steve Smith, who is two injury-marred years away from his breakout season with the New York Giants, the Rams give themselves a Donnie Avery type reclamation project. But one that isn't, you know, Donnie Avery. And by bringing in the penalty-prone Matthew Mulligan from the New York Jets, offensive coordinator Brian Schottenheimer gets a familiar face and a clear upgrade over Billy Bajema. WR Steve "if healthy" Smith In his explosive 2009 season, Smith the younger caught 107 passes for 1,220 yards (11.4 avg) and 7 touchdowns -- all numbers unequaled by any Rams receiver since Torry Holt. But then, you probably could have guessed that. Unfortunately, the 57 passes for 653 yards and 4 touchdowns combined over the last two seasons seem to fit right in with out statistically underwhelming crew. 
That Giants 2009 season saw Eli Manning take a huge leap forward as a passer, bettering his career best by nearly 800 passing yards to crack the 4,000-yard mark for the first time. Add in Smith's surprising productivity and it's tempting to think of him as a "big play receiver." 
However, Pro Football Focus' usage stats paint a different picture. Smith was the Danny Amendola of that Giants team, running most of his routes from the slot, and doing most of his work underneath. 71 of Smith's 107 catches were made within ten yards of the line of scrimmage. 51 of those were delivered right up the middle. And he averaged 2.3 yards-after-catch per reception, ranking 100th of 107 players that season. 
While nearly every other Giants receiver went down to some sort of malady, Smith amassed 151 targets, fueling his big year. Just for fun, let's give 2010's Danny Amendola 151 targets and run a comparison. 
2009 Steve Smith: 107 catches. 1,220 yards. 7 TDs. 
2010 Danny Amendola: 113 catches. 915 yards. 4 TDs.  
Smith at his peak was clearly a better player. But the margin of difference is not as big as you might think.   TE Matthew "the human holding penalty" Mulligan Because Twitter is now officially the fastest news medium on the planet, here's how I first found out that the Rams had signed the former Jet tight end:  
Joe Caporoso @TurnOnTheJets
Find all your angry Mulligan tweets this year at @RamsHerd
Our old friend Joe is a long-time Jets fan and writer over at TurnOnTheJets.com, apparently sounding relief at Mulligan's departure. When I checked in on the matter, Joe clarified: "Angry as in you will forget his name and from now on know him as 'Holding Number 82 of the offense.' " 
Offensive holding may be something of a specialty for the young Mulligan, but it is by no means his sole occupation. He amassed 9 penalties in 473 snaps last season. 3 of them -- two false starts and a face mask -- came in 30 snaps in the Jets' final game against the Miami Dolphins. Tobe fair, Mulligan was lined up opposite Cameron Wake, one of the most fearsome pure pass rushers in the game. But then again, blocking players like that is in his job description. 
If there's a bright side to Mulligan, it's that he seems to be growing in Brian Schottenheimer's trust. The 473 snaps earned last season were a significant jump over the 126 earned over the previous two seasons combined. So perhaps there is untapped potential there.
By the third week in free agency, most teams are scraping the bottom of the barrel, and the Rams are no different. In these two acquisitions, we at least have a) a player with a proven track record of success, and b) a player with a known comfort level with our offensive staff. Any optimism you want to express, bottle that up and save it for August. Because neither of these two will change the Rams' offseason priorities, which now shifts firmly to the draft.  
Original Story:
http://www.ramsherd.com/2012-articles...
THE BACKYARD
BEST OF MAXIM
RELATED ARTICLES
Before the season began, Doug Farrar characterized the Rams' first round draft pick thusly: "Putting Chris Long and Robert Quinn alongside each other might just be illegal." I thought it would be interesting to check back in on Quinn's success last season in light of the PFF annual Pass Rusher Producitivity rankings. Chris Long began showing up well in these rankings...
The St. Louis Rams have agreed to terms with two players on Monday. Photo Via TheUrbanDaily.com Jim Thomas of the St. Louis Post-Dispatch reports ex-Jets tight end Matthew Mulligan has agreed to a two-year contract and former New York Giants star slot receiver and ex-Eagles wide out Steve Smith has agreed to a one-year deal. An undrafted rookie free agent out of Maine in '08, Mulligan...
According to Jim Thomas of the St. Louis Post-Dispatch, the St. Louis Rams have signed free agent wide receiver Steve Smith and tight end Mathew Mulligan. Smith played for the Eagles in 2011 and was very limited after attempting to recover from microfracture surgery. The Rams signed Smith to a one-year deal to find out if he's finally healthy enough to make an impact.
After witnessing Cowboys running back DeMarco Murray trample the Rams defense for 253 rushing yards during Week 7, it's difficult to ignore the gaping holes on the defensive side of the ball. That is, unless Rams offense is much, much worse. Which it is. The St. Louis offense was not just conventionally bad in 2011. They were inept even in comparison to some of the...
Courtesy: St. Louis Rams Media Relations ST. LOUIS, Mo. The St. Louis Rams have signed free agent WR Steve Smith, the team announced Monday. Terms of the deal were not disclosed. Smith enters his sixth NFL season in 2012. He spent last season with the Philadelphia Eagles after four years with the New York Giants. He caught 11 passes in nine games last season before a knee injury...
Wide receiver Steve Smith has agreed to a one-year deal with the St. Louis Rams. Financial terms were not disclosed. Fantasy Spin: Smith was one of the best possession receivers in the NFL with the Giants before undergoing microfracture knee surgery in 2010, and was worth taking a flier on as the Rams have one of the weakest receiving corps in the NFL, even more so after Brandon...
The St. Louis Rams have signed wide receiver Steve Smith, who spent last season with Philadelphia. Smith, a 2009 Pro Bowler after making a team-record 107 catches as a member of the New York Giants, had nine catches in 11 games with the Eagles last season. The five-year veteran has 231 career receptions and 12 touchdowns. Smith will fill a need at wide receiver for the Rams,...
St. Louis Rams owner Stan Kroenke and his attempt to purchase the Los Angeles Dodgers came up yesterday at the NFL owners meeting in Palm Beach. If Kroenke beats out the other two remaining bidders for the MLB franchise, the Stl. Rams could become the L.A. Rams once again. NFL commissioner Roger Goodell addressed the matter of the league's cross ownership rules and Kroenke's...
The St. Louis Rams made a signing today that they hope will boost their weak receiving corps. They signed former New York Giants star and Philadelphia Eagles scrub wide receiver Steve Smith. It's a one-year deal and probably at a very low salary. A deal that is without a doubt a give a recently injured, former star a chance to prove he's healthy and that he could still perform...
NFL News

Delivered to your inbox

You'll also receive Yardbarker's daily Top 10, featuring the best sports stories from around the web. Customize your newsletter to get articles on your favorite sports and teams. And the best part? It's free!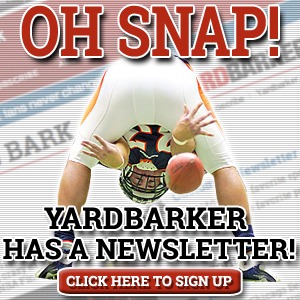 Latest Rumors
Best of Yardbarker

Today's Best Stuff

For Bloggers

Join the Yardbarker Network for more promotion, traffic, and money.

Company Info

Help

What is Yardbarker?

Yardbarker is the largest network of sports blogs and pro athlete blogs on the web. This site is the hub of the Yardbarker Network, where our editors and algorithms curate the best sports content from our network and beyond.