Found April 18, 2012 on Thoughts from the Dark Side:
PLAYERS:
Mike Brisiel
,
Ron Bartell
,
Philip Wheeler
,
Adrian Foster
,
Tommy Kelly
,
John Henderson
,
Robert Gallery
,
Rolando McClain
,
Mike Mitchell
,
Ray Lewis
TEAMS:
St. Louis Rams
,
Oakland Raiders
,
Houston Texans
,
Florida Panthers
,
New England Patriots
,
Baltimore Ravens
TFDS has already done tape evaluations of Ron Bartell, Philip Wheeler and Shawtae Spencer, as part of an effort to review the talent that the Raiders have signed this offseason.

Each of the aforementioned players signed one year contracts which means that none of them may be back in 2013.  One player that will be back was the most targeted player the Raiders signed, RG Mike Brisiel.  The Raiders signed him to a 5 year, $20 million contract.

Brisiel played in 13 games in 2011 and started all 13 at RG for the Texans.  I looked at 3 different games for Brisiel from 2011 to get an idea of his strengths and weaknesses.  The three games were week 5 against the Raiders, week 6 against the Ravens and week 7 against the Titans.


I started with the Raiders game because I'm most familiar with the Raiders' players, then watched the Titans game then the Baltimore game.

First of all, some background on the Texans' scheme.  The Texans play a pure zone blocking scheme.  That means that instead of the RT lining up and each player taking the man across from him or having one particular assignment, each player on the line will move in a particular direction or way and they will take whatever player or players that come into their assigned area – their zone.

Zone blocking is designed, on running plays, to move to the left or right and each lineman is to drive the player in their zone in that direction.  If the line does their job well, the opposing defensive line will be moving more laterally and not penetrating into the backfield.  The runner will then run the same direction as the line, usually, until he sees a good cutback lane in which the defender has been moved out of his spot and the running back will plant and run in the opposite direction of the line with one cut and burst through into the second level.

Many effective running schemes have used the zone blocking system including the Broncos under Mike Shanahan and the Texans with Adrian Foster having great success as a one-cut RB.

In the Raiders game, Brisiel lined up against Tommy Kelly, mostly, with John Henderson coming in as a backup.  Brisiel did a very good job of moving both.  Overall, Brisiel appeared to be one of the strongest points on the offensive line.

In a zone blocking scheme, the guards are frequently asked to pull both left and right, depending on the call.  That means that instead of engaging with a man at the snap, the guard steps back and hustles around the line in whatever direction the play is headed and then serves as a lead blocker for the running back against a linebacker or end that is positioned there.

Brisiel was asked to pull several times and went each direction.  While he isn't a burner he has good quick feet and was able to get to the line before the back needed him there and make a block.  He was able to do this around the RT and around the LT as well, which is a considerably farther distance and did both well.

He also showed a good ability to get to the second level as needed.  There were multiple occasions in which he engaged a DT at the initial snap and was able to seamlessly pass the tackle off to the Center while running and move into the next level of the defense to engage a linebacker and take him out of the play.

Brisiel is a big guy – he's listed at 6'5", 300 lbs – but he looks bigger in the upper body than, say Robert Gallery – who's listed at 6'7", 325lbs.  He has a good upper body and is able to hold large defensive tackles away from him.  That's important for a lineman because if the tackle can get into the OL player's body, he is better able to get around the OL and get to the QB.

Brisiel showed the ability to prevent an opposing defender from getting to the QB.  He doesn't stonewall or pancake an opponent but he doesn't need to.  He showed a great rhythm in his pass protection.  He commonly started with a push at the initial snap that broke the defenders charge, then he took one step back with either foot, replanted and shoved again.

This rhythm -  PUSH, plant, plant, PUSH, plant, plant, PUSH – caused him to give ground but not quickly and allowed the QB time to throw even in a seven step drop situation.  Because Brisiel has good arm strength his pushes really do cause the defender to stop momentum.  In a one on one situation I didn't see Brisiel give up a pressure on the QB or miss his man.

Also important – especially for the Raiders – I didn't see a single penalty on Brisiel in the games I watched.  The Raiders need to have lineman who can handle an aggressive opposing defense without false starting or holding, an area the line has struggled with for the last 8 years or so.

One area Brisiel struggled in was blitzing, especially when a linebacker blitzed on top of a DT.  I can't say for certain that it's all Brisiel because the scheme and line call may have something to do with it as well but I saw Brisiel struggle on at least 3 different blitzing situations with different players – Rolando McClain, Mike Mitchell and Ray Lewis – getting to the QB for a sack or pressure.

In all three situations he initially engages with the DT and gives that player a shove and then tries to get to the blitzer and give that man a shove but he wasn't able to knock the blitzer off his path enough.  In his defense if it was the scheme to have him have to take both players, stopping a 300+ LB DT and a large LB like Ray Lewis or McClain would be hard for most to handle.  This may be a downside to the zone blocking scheme where the opponents overload one area, causing the player there to struggle against multiple opponents.

On one on one situations, he did a good job of keeping his body between him and the QB even if the QB was moving in the pocket so that his man couldn't get to the QB.  His footwork seems to be a strength as he can plant quickly and efficiently but keeps his feet moving so that he doesn't get over balanced.

On the recognition side, he also showed good awareness in the running and passing game.  There was one particular example in the Raiders game where he slipped his man on a screen pass to lead block and saw that there was a player coming behind the running back on a backside pursuit that would get to the RB from behind.  He basically just stopped and blocked the pursuit with his backside, taking the opponent out of the play and allowing the RB to get 4 or so more yards than he would have, otherwise.

Overall, I think that Raiders fans will be very happy with this signing.  Brisiel has no character issues of which I'm aware, he has minimal injury history.  He's still relatively young at 29 as linemen can go into their mid to upper 30's as long as they don't have any serious injury concerns.

Brisiel seems like a good signing.  The $4 million is not overly costly for an effective starting lineman and his tape shows why the Raiders pursued him so aggressively at the start of Free Agency.

For more Raiders news and analysis throughout the day, follow me on Twitter @AsherMathews
Original Story:
http://www.tfdssports.com/2012-articl...
THE BACKYARD
BEST OF MAXIM
RELATED ARTICLES
Charles Davis, FOX Sports and NFL Network Analyst, recently took the time to talk to us about next week's draft. He answered our questions about some intriguing prospects, possible draft targets for the Raiders, some of their recent picks, and much more. Q: With Andrew Luck and Robert Griffin III set to be the top two picks in [...]
What's up RaiderNation? If you hadn't already noticed, you will find a link to my email at the bottom of every one of my articles. Please feel free to email me with any comments or questions and I will try to respond to them as quickly as I can. I also welcome requests for articles [...]
Steve Corkran of the Contra Costa Times expects wide receiver Darius Heyward-Bey to have a break out year in 2012, after a very strong 2011 season. Heyward-Bey put up some pretty impressive numbers in 2011 with 64 receptions for 975 yards and 4 touchdowns last season. If he can catch over 70 balls, gain over 1,000 yards and catch a few more touchdowns, he just might live up to...
According to Paul Gutierrez of CSNBayArea.com, Oakland Raiders general manager Reggie McKenzie has indicated that he believes quarterback Terrelle Pryor can emerge as a "viable" number two quarterback behind Carson Palmer. "Absolutely," McKenzie said without hesitation at the team's headquarters in a pre-draft media conference. "Yep. Hopefully, our quarterback coach...
Safety Matt Giordano has re-signed with the Oakland Raiders. Giordano was a teammate of Peyton Manning's in Indianapolis from 2005-2008 and now he'll get to face off against him twice in 2012, since Manning is now with the Broncos. Giordano played in 15 games in 2011, and recorded 70 tackles, 1 sack, 1 forced fumble, and 5 interceptions.
Angela Woodall of the Oakland Tribune has reported that AEG, which stands for Anschutz Entertainment Group, could take over operations of the Oakland Coliseum, where the Oakland Raiders play. Spectator Management Group, a worldwide entertainment and convention venue firm has been running the Oakland Coliseum for the past 13 years.  SMG's contract expires later this year and a...
The Oakland Raiders have re-signed safety Matt Giordano to a free-agent contract. The team announced the move Monday. Giordano played 15 games for Oakland last season. He led the team with five interceptions and added 66 tackles and one sack. The 29-year-old Giordano has history with the Raiders new hierarchy. He played one season in Green Bay, where new general manager Reggie...
The Oakland Raiders have re-signed safety Matt Giordano to a free-agent contract. The team announced the move Monday. Giordano played 15 games for Oakland last season. He led the team with five interceptions and added 66 tackles and one sack. The 29-year-old Giordano has history with the Raiders new hierarchy. He played one season in Green Bay, where new general manager Reggie...
I talk about the division, the schedule and the roster on my drive home.
Matt Peterson tracks the offseason needs of every team in the league. Today's franchise, the Oakland Raiders [full archive here]. Season Recap: The unfortunate passing of long-time owner Al Davis brought about a complete overhaul to the front office. New Head Coach Dennis Allen will have trouble adding much support in the upcoming draft with only five selections, the first coming...
Photo Credit: Raiders.com The Oakland Raiders announced the re-signing of safety Matt Giordano on Monday evening. The 5-11, 210-pound California alum racked up a career-high in starts (nine), tackles (70), passes defensed (five), interceptions (five), sacks (1.0) and forced fumbles (one) last season. A former fourth-round selection by the Indianapolis Colts in the 2005 NFL Draft...
NFL News

Delivered to your inbox

You'll also receive Yardbarker's daily Top 10, featuring the best sports stories from around the web. Customize your newsletter to get articles on your favorite sports and teams. And the best part? It's free!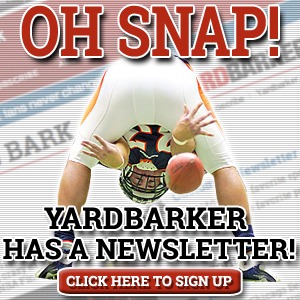 Latest Rumors
The Backyard

Today's Best Stuff

For Bloggers

Join the Yardbarker Network for more promotion, traffic, and money.

Company Info

Help

What is Yardbarker?

Yardbarker is the largest network of sports blogs and pro athlete blogs on the web. This site is the hub of the Yardbarker Network, where our editors and algorithms curate the best sports content from our network and beyond.