Found June 06, 2013 on isportsweb.com:
Following Ronde Barber's decision to retire , much debate has ensured over whether or not his career would be Hall of Fame worthy.  Barber has never been the spotlight guy. He spent most of career quietly dominating wide receivers, while other players at his position seemed to steal the national exposure. But there are three ways to judge a career when considering the Hall of Fame: statistics, longevity and a signature moment. While other players may have had their 30-seconds of fame–at the expense of Barber throughout his career–these three categories reveal that even though he was occasionally denied the attention he deserved, he won't be denied pro football's greatest honor. Statistics: During his 16-year NFL career, Ronde Barber had accumulated over 1,200 tackles, 28 sacks and 16 forced fumbles. Since he became a starting CB in 1998, he had only played one season in which he did not record at least 70 tackles. He also has the most sacks of any CB in NFL history with 28. In coverage, Barber ended his career with 47 interceptions, 205 pass deflections and 8 touchdowns. Adding to his NFL sack record, he is also the only CB in NFL history with 25+ sacks (28) and 40+ interceptions (47). Any time you can throw a few of those "only _____ in NFL history" phrases in there, your chances of finding your name in Canton, OH increase significantly. Longevity: As previously stated, Barber enjoyed quite the lengthy NFL career with 16 years in the league. He finished his career with 215 consecutive starts which is tied for the sixth-longest streak in NFL history. He was also a 5-time Pro Bowler, and a Super Bowl champion in 2002. Though these stats are impressive by themselves, the most impressive feat maybe be that Barber accomplished all this as a member of the Tampa Bay Buccaneers. Barber began and finished his career in Tampa, and was a team captain for the past nine years under three different head coaches. Signature Moment: In some instances, a career can be summed up in a single moment. For Ronde Barber–though his career was young at the time–that moment was the game-winning interception in the 2002 NFC Championship game that sent Tampa to its first and only Super Bowl. …So here they were again, in the same place where Tampa had its season end the past two years, Veterans Stadium in Philadelphia. This playoff rivalry was turing into one of the NFL's most bitter match ups; they didn't like us, and we didn't like them. But with new head coach Jon Gruden at the helm, it seemed like there was only one option for the league's best defense: Shut down McNabb, shut down the Vet, and book their tickets to San Diego (location of the 2002 Super Bowl.) With the Bucs up 20-10 and less than 5 minutes left in the 4th quarter, it seems like the Eagles were running out of time. But McNabb began to do what he did best and marched Philadelphia down into the red zone for what looked liked another game-winning comeback. But this year felt different, this year the Bucs would not be denied, and with 3:12 left in the game, the history of Tampa football changed forever… (McNabb) Hooks, dropping, oh, it's intercepted! At the 10, to the 20, gone coast-to-coast! Ronde Barber! To the 50, to the 40, (5), and to the 30, nobody's going to touch him! Ronde Barber! 10, 5, touchdown Tampa Bay! A 95-yard interception return, Bucs lead 26-10! … The Buccaneers are the Champions of the NFC! How about that! We're going to the Super Bowl! - Gene Deckerhoff The greatest moment I have in my life is seeing No. 20 hustling down their sidelines to send us to the Super Bowl. That was, uh…. I don't know what the word is, uh…. joy? - Jon Gruden So let's put this Ronde Barber Hall of Fame question to rest, shall we? In summary: he is the only CB in NFL history with at least 28 sacks and 47 interceptions, he is sixth all-time in consecutive starts with 215, and he had one of the most iconic moments in franchise history when he picked off Donovan McNabb to send the Buccaneers on their way to winning their only Super Bowl. There aren't many defensive backs–let alone NFL players in general–that will be able to say they had the kind of career he was able to have. Ronde Barber will one day have his name immortalized in the halls of Raymond James Stadium, and will eventually have his name immortalized in the halls of Canton as well. The resumé confirms: it's not a matter of "if", but "when".
Original Story:
http://feedproxy.google.com/~r/isport...
THE BACKYARD
BEST OF MAXIM
RELATED ARTICLES
After signing his rookie contract in 2010, Bucs defensive tackle Gerald McCoy finally saw his first full season of play injury-free in 2012. Finally playing in a full season, McCoy played exceptionally well and made it to his first Pro Bowl. But many say he has been unable to live up to his contract. In fact, Jason La Canfora of CBS Sports writes that his contract is one of the worst...
Newly acquired running back Jeff Demps has received a lot of negative feedback regarding his decision to put his track and field life before football. After being traded to the Bucs in April, many fans and the media wondered whether or not the former Florida Gator speedster would decide to play for Tampa Bay. Appearing on the David Baumann Show on 1040am and 1080am on Tuesday, Demps...
After signing his rookie contract in 2010, Bucs defensive tackle Gerald McCoy finally saw his first full season of play injury-free in 2012. Finally playing in a full season, McCoy played exceptionally well and made it to his first Pro Bowl. But many say he has been unable to live up to his contract. In fact, Jason La Canfora of CBS Sports writes that his contract is one of the worst...
Some thought Mike Glennon had an outside shot of being a late first round selection.Obviously, they were wrong. But by slipping to the third round, where Tampa Bay and head coach Greg Schiano scooped up the North Carolina State product, he may have found the best situation he could be in. According to Curt Popejoy of Rantsports.com, by being drafted by the Bucs, it serves as a...
Mike Florio is a genius, stirring up Pro Football Passions in June when its the absolute dead time! So we will dig in with it! My Tampa Bay Buccaneers Mt. Rushmore would be... Lee Roy Selmon Derrick Brooks Ronde Barber Mike Alstott   Lee Roy Selmon was the first Bucs player ever picked. He was the first Buc in the Hall of Fame (still is for another month...
While he's received clearance to run and cut on his surgically-repaired ACL, Tampa Bay Buccaneers cornerback Darrelle Revis has yet to be cleared to practice with his new team. Still, Revis told Rick Stroud of The Tampa Bay Times that he's confident he will soon get back on the practice field to test his new ACL. "I'm confident,'' Revis said following the Bucs'...
There is no doubt that Ronde Barber had a positive effect on many players inside the Bucs locker room. Although his play on the field was louder than his words, players like second year safety Mark Barron appreciated Barber's presence. After learning about Barber's retirement, Barron was not a fan of his decision to step away from the game. I was not excited about him not coming...
Just like with the Tampa Bay Buccaneers, John Lynch has beaten Ronde Barber to his new team by a few years. Barber, who was drafted by the Bucs in 1997, retired after this 2012 season, and is now officially headed to FOX SPORTS where he will probably work with FOX 1 which launches in August. Lynch has been a Fox analyst for a couple of years now, and much like he beat Ronde to...
Buccaneers News

Delivered to your inbox

You'll also receive Yardbarker's daily Top 10, featuring the best sports stories from around the web. Customize your newsletter to get articles on your favorite sports and teams. And the best part? It's free!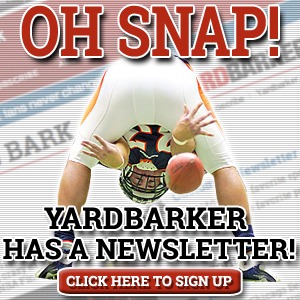 Latest Rumors
Best of Yardbarker

Today's Best Stuff

For Bloggers

Join the Yardbarker Network for more promotion, traffic, and money.

Company Info

Help

What is Yardbarker?

Yardbarker is the largest network of sports blogs and pro athlete blogs on the web. This site is the hub of the Yardbarker Network, where our editors and algorithms curate the best sports content from our network and beyond.