Steven Means and UB Head Coach Jeff Quinn (photo Johnathan Snyder – QCS) You get a call from the Tampa Bay Buccaneers.  You've just been selected in the fifth round of the 2013 NFL Draft.  What is the first thing you do? Write a paper? "I just went and visited all of my family members.  A lot of people have draft parties and stuff like that.  That's not my forte," said former UB defensive end and newest member of the Tampa Bay Buccaneers Steven Means.  "Actually I had to do a paper the same night so I was up pretty late doing that.  Just seeing everyone smile was my way of celebrating." Nothing better could describe the personality of Means – A low-maintince kind-of-guy who enjoys seeing the success of others, teammates, and his team more than his own. The four-year member of the UB football program, and graduate of Grover Cleveland High School had just stepped outside to play catch with his younger brother when he got the call from Tampa Bay. "I had kind of just took a break from it," said Means.  "I actually went outside and started playing catch with my little brother and I was out there with my father and I got the phone call and we looked at each other.  So I answered it and it was them and we all ran back in the house and ever since then it's been crazy." Although Means' on-field play speaks for itself as he registered 78 tackles and 7.5 sacks last season as a senior, it's his work off the field that makes him the person he is today. Grades and the importance of school was always stressed to him growing up by his parents but it was no sure thing that Means was going to even be able to attend Grover Cleveland High School.  It took a call from his grandfather to get the final OK.  He says the struggle to be accepted in college was another challenge put in front of him. Working hard is just in the 6'3″ 265 pounder's DNA.  Nothing has been given to him in his life and he's continuing to act like that will not change. "My grandfather had to talk to somebody for me to even get in Grover," said Means.  "Coming to college, my SAT scores weren't real high at first so a lot of people shied away from me except Buffalo so that definitely helped my pick.  Them being loyal to me always.  Even this process.  I wasn't invited to the combine, I wasn't invited to the top all-star games so those obstacles always kept a chip on my shoulder and always kept me driving and kept me motivated." At UB, head coach Jeff Quinn says that he and his staff stress attitude to the NFL.  Along with the attitude and high character of Means, it's a combination that has a great chance to be successful at the next level. While in high school, Means knew that he had potential and the ability to play football at the college level.  There was one thing that separated him from the rest of his teammates. "There was a lot of people just as good as me but my parents did a good job forcing me into the books; Forcing the academic side of it," he said. Means will graduate in a few weeks with a degree in sociology after he gets back from the Buccaneers rookie mini-camp. There were 19 teams that were interested in Means including the Philadelphia Eagles, Minnesota Vikings, Chicago Bears, San Diego Chargers, and obviously the Tampa Bay Buccaneers. It's unsure what position Means will play in the NFL.  He primarily played defensive end at UB but has been training at linebacker since last year and got some action there this season.  He will most likely find a spot on the special teams unit as well as he consistently shined in that category throughout his career. "I'm comfortable at both," Means said.  "I've been playing defensive end my whole life.  I've been training for OLB since the beginning of last season just in case.  So Im comfortable either way.  It's not a transition for me It's just a matter of me going out and playing." Quinn coached against current Tampa Bay head coach Greg Schiano when they were both at Cincinnati and Rutgers respectively.  For a defensive guru in Schiano, Quinn was happy that the Bucs took a chance and moved Means up to snag him in the fifth round. Quinn expressed the tremendous growth that Means has made on and off the field over his career and even has text messages saved between the two regarding the direction they were heading as a team and staying together. "I still saved a bunch of our text messaging between the two of us," he said.  "It was very interesting because you build these relationships with our young men and I couldn't be more proud of him for listening and really following our plan." Although Quinn was unable to get Means from 220 pounds all the way to their goal weight of 270, a dinner owed by Quinn to Means will surely solve that problem and account for the five pounds. Means' grandmother gave him advice that has stuck with him throughout his entire journey that fits perfectly with what kind of person he is described to be by his coaches, teammates and peers. "Stay humble.  Stay driven," he said.  "My grandmother, she told me something before I came to college that I've been holding with me this whole time and that's to stay goaled and keep God in your life and that's where I've been." Whether he was picked in the first round, fifth round, or not drafted at all, the Tampa Bay Buccaneers are getting a man of high character in Steven Means.  The combination of academics, football, and high character on and and off the field makes Means easy to root for as the "local guy" begins his journey in the National Football League. I'll always bleed blue.  Now I'm just wearing red and grey." The post Tampa Bay Shoots for High Character in Means appeared first on Queen City Sports.
Original Story:
http://queencitysports.net/tampa-bay-...
MORE FROM YARDBARKER
NFL News

Delivered to your inbox

You'll also receive Yardbarker's daily Top 10, featuring the best sports stories from around the web. Customize your newsletter to get articles on your favorite sports and teams. And the best part? It's free!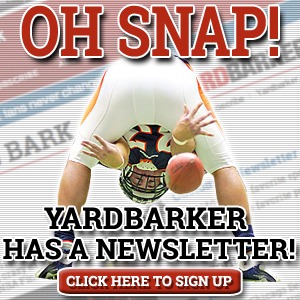 Latest Rumors
Best of Yardbarker

Today's Best Stuff

For Bloggers

Join the Yardbarker Network for more promotion, traffic, and money.

Company Info

Help

What is Yardbarker?

Yardbarker is the largest network of sports blogs and pro athlete blogs on the web. This site is the hub of the Yardbarker Network, where our editors and algorithms curate the best sports content from our network and beyond.