Originally written on
Buddy Nixon
| Last updated 10/21/14
Yesterday morning, the Bills cut QB Tavaris Jackson. When I first saw the text from "Buddy Nix" (how the Bills texts show up on my phone), I only saw Jackson's name and didn't really give it any thought considering the QB was almost never active for the team. But quickly the angry/mocking tweets started to emerge and it became clear that no, Tavaris Jackson was re signed, not re leased. There are a few things that should be known before the hate gets dished out. T-Jax is rated as the 3rd best free agent QB by Roto World, 2nd if you don't count Joe Flacco. A third of the league still doesn't have a resolved QB situation, so there would likely have been a market for him. The next 3 names on that list are injury prone David Gerrard, Jason Campbell, and Josh Johnson. Slim pickins, so might as well keep the guy we already have. As far as Gailey not playing him, I'd say a few things. First of all, Gailey seemed to be all about whether or not a QB could understand the offense at a high level, which was what provided the coach's unfailing faith in QB Ryan Fitzpatrick (and to a lesser extent, Tyler Thigpen).  Jackson, on the other hand, was probably a guy Buddy liked from his scouting days, and saw an opportunity to get him for cheap. Now, he enters an "open competition" with Ryan Fitzpatrick, according to Head Coach Doug Marrone. All that means is that Ryan Fitzpatrick is not going to be given the job, which is a step forward. It doesn't mean that Fitzpatrick will definitely be on the roster either. At this point, he is on the roster and isn't guaranteed a job. So don't read into it too much, this could all be contingent on a restructuring, or the Bilss simply may have not made a decision on Fitzpatrick at this point. And hey, the open competition thing worked out for Seattle pretty well, although Jackson was a participant and not the winning one. What Seattle did have, however, was a non first round rookie QB. It seems pretty obvious at this point the Bills will be drafting one. While there may not be any top end options this year, there are plenty of late first/second round type guys to pick from, so it'd be a huge shock if a team as thin at the position as the Bills don't have their eye on one or more of them and walk away with that guy. Finally, should Jackson get on the field, he does have a few abilities that could be interesting. Let's not forget that Jackson is a pretty good athlete that could potentially give the Bills a zone read QB alternative that can actually throw the ball on occasion, unlike Brad Smith. With the success of Kaepernick's pistol plays, Hackett's experimentation at Syracuse with idea (with Ryan Nassib as the zone reader, no less), I wonder if the coaches aren't thinking about such possibilities. In any event, Jackson has extensive experience with west coast concepts that should be prevalent in the Bills offense this year, so worst case he'll be a serviceable backup. -After booting George Wilson and Nick Barnett, the Bills also cut Terrence McGee. This one was a little bit more upsetting to me than Wilson because McGee had been at various points an excellent cornerback for the Bills. When he was healthy, Terrence was generally the best cornerback on the roster providing some of the most solid open field tackling you would ever see from the edge of the defense, which was emphasized particularly in the cover-2 zone Jauron years. In coverage, McGee was reliable enough to never really get picked on (other than slow games coming back from injury) and was capable of the big play as well. All that said, releasing McGee was a no brainer. The vet CB was reportedly "blindsided" by the move; he must not have been aware of the 4.5 million dollar cap number the Bills will save by not bringing McGee back. Frankly, it was hard to watch him play last year as he clearly didn't have the agility to play the position at a high level any longer.  Also, it's another move that shows the harsh reality of the business end of football for players: McGee provided 10 years of service and generally did all the Bills asked of him to get unceremoniously cast aside when it became evident he was no longer capable of holding his own. Thus, the sad churn of pro football continues. -Finally, the Bills brought back QB Aaron Corp, signed OL Hutch Eckerson, and re signed Colin Brown. Aaron Corp apparently wasn't good enough for a training camp spot (much less roster spot), but is good enough for a second look. I'd imagine it being another case of Buddy liking a player, but Chan not agreeing. Hutch Eckerson is a 2nd year O linemen who's big and talented enough to stick on various teams all of last season. Finally, by bring Colin Brown back, the Bills have a little more depth in the middle of their line, and a guy with some experience playing center. Maybe this gives them flexibility in the Andy Levitre situation? We'll see.
Original Story:
http://www.buddynixon.com/roster/tarv...
MORE FROM YARDBARKER
NFL News

Delivered to your inbox

You'll also receive Yardbarker's daily Top 10, featuring the best sports stories from around the web. Customize your newsletter to get articles on your favorite sports and teams. And the best part? It's free!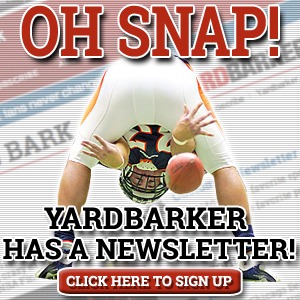 Latest Rumors
Best of Yardbarker

Today's Best Stuff

For Bloggers

Join the Yardbarker Network for more promotion, traffic, and money.

Company Info

Help

What is Yardbarker?

Yardbarker is the largest network of sports blogs and pro athlete blogs on the web. This site is the hub of the Yardbarker Network, where our editors and algorithms curate the best sports content from our network and beyond.