Found February 29, 2012 on BroncoTalk:
PLAYERS:
Tim Tebow
,
Von Miller
,
Eddie George
,
Daunte Culpepper
,
Marshall Faulk
,
Michael Vick
,
Ray Lewis
,
Donovan McNabb
,
Shaun Alexander
,
Vince Young
,
Troy Polamalu
,
Larry Fitzgerald
,
Drew Brees
,
Peyton Hillis
TEAMS:
Denver Broncos
,
Tennessee Titans
,
Minnesota Vikings
,
Detroit Lions
,
Atlanta Falcons
,
Philadelphia Eagles
,
Baltimore Ravens
,
Seattle Seahawks
,
Pittsburgh Steelers
,
Arizona Cardinals
,
New Orleans Saints
,
Cleveland Browns
,
St. Louis Rams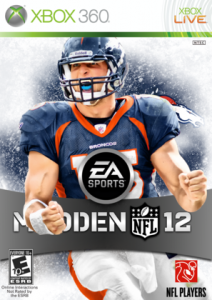 To help them select the Madden NFL 13 cover player, EA Sports is turning to the fans.  EA will select two players to represent each team in a vote-off which will lead to the final thirty-two man bracket.
Once the voting is down to thirty-two players, fans will vote in player face-offs until the Madden NFL 13 cover player is chosen.  Voting begins on March 7th on SportsNation's Facebook page.
EA's Madden Facebook page announced on Tuesday that quarterback Tim Tebow and linebacker Von Miller will be the two players representing the Denver Broncos in the voting. Since 2001, the Broncos have never had one of their players grace the cover of the popular video game.
Before the Super Bowl, Tebow won Madden Bowl XVIII and he was the cover of EA's NCAA 11 two years ago.  With Tebow's massive following, there is a good chance that he could receive enough votes to become the next Madden cover boy.
Then again, Tebow fans might think twice before voting for him.  In fear of the Madden Curse, many Gator and Bronco fans have encouraged fellow fans to not vote for Tebow or Miller. 
When asked about the curse, the folks at EA usually note that when a player has a career year, it is highly unlikely for him to have back-to-back career seasons, which explains player's performance drop offs after gracing the cover of Madden.  As for the injuries, those just happen in football.
But is there more to it?  Since 2001, ten players have been on the cover and a majority of them have seen jinx-like occurrences the following season.
After Tennessee Titans running back Eddie George was the 2001 cover boy, the Titans lost in the Divisional round of the playoffs and George's performance declined as he averaged no more than 3.4 yards per career the rest of his career.
A year later, Minnesota Vikings quarterback Daunte Culpepper was named the 2002 cover athlete.  The following season, Culpepper threw 23 interceptions, broke the record of most fumbles in a single season and the Vikings limped to a 5-11 season.
The 2003 athlete was St. Louis Rams running back Marshall Faulk.  After Faulk made the cover, his performance declined and multiple knee injuries ultimately ended his career two years later.
Former Atlanta Falcons quarterback Michael Vick was the 2004 cover player, before he broke his fibula in the pre-season.  The Falcons would go on to have a 5-11 season and Vick ultimately went to jail for participating in an illegal dog-fighting ring.  However, Vick has since bounced back and was named the 2010 Comeback Player of the Year.
In 2004, Baltimore Ravens linebacker Ray Lewis was the Madden NFL 2005 cover athlete.  Lewis missed the final two games of the season with a wrist injury but the "curse" did not effect him beyond that.
The 2006 cover athlete, Philadelphia Eagles quarterback Donovan McNabb, would go on to tare his ACL and missed half of the season.
Former Seattle Seahawks running back Shaun Alexander was the 2007 Madden cover athlete.  The following season was his final with the Seahawks as he posted career lows in yards, average and scores after suffering a foot injury which caused him to miss six starts.
Former Titans quarterback Vince Young made the 2008 cover, and his career went down hill after that due to injuries and poor play.  Currently, Young is a free agent.
In 2009, Madden mixed it up and put two players on the cover: Pittsburgh Steelers safety Troy Polamalu and Arizona Cardinals wide receiver Larry Fitzgerald.  The following season Polamalu played in only five games due to injury.  Fitzgerald however seemingly bucked the curse and posted career highs.
In 2010, New Orleans Saints quarterback Drew Brees graced the cover and went on to play the entire season.  Brees did throw 22 interceptions though and the Saints lost in the first round of the playoffs to the 7-9 Seattle Seahawks.
Last year, Cleveland Browns running back Peyton Hillis was the cover athlete.  During the 2011 season, Hillis missed six games and rushed for only 587 yards after rushing for 1,177 yards in 2010.  The Browns are not expected to re-sign Hillis this off-season.
What's your take on the curse? Will you vote for or against Tim Tebow and Von Miller?
Original Story:
http://broncotalk.net/2012/02/30605/b...
THE BACKYARD
BEST OF MAXIM
RELATED ARTICLES
Last week Tim Tebow, the Jeremy Lin before Jeremy Lin, signed with mega-agent Ari Emanuel, whom, fun fact, Entourage's Ari Gold is based on. That gave Tebow clearance for an invite to Emanuel's star-studded pre-Oscars party Friday night in Emanuel's mansion. Most of the who's who of Hollywood was in attendance, and yet Tebow was perhaps the most popular guy there. From...
  It wasn't supposed to happen. Tim Tebow wasn't supposed to be drafted in the first round. He wasn't supposed to turn the Denver Broncos' 1-4 start into a division championship. He wasn't supposed to throw for 316 yards against the Pittsburgh Steelers' No. 1 ranked defense. A quarterback that completes only 47 percent of his passes isn't supposed to win professional...
. . . January 8, 2012 The Denver Broncos shouldn't even be in this position. The momentum has shifted decisively in favor of the Pittsburgh Steelers, a superior team and last year's AFC champs. Indeed, overtime seems a mere formality for the latter, despite the fact that the home team's managed to win the coin flip and will thus have first crack at winning the game and advancing...
Could a romance be brewing between Denver Broncos quarterback Tim Tebow and country songstress Taylor Swift? The New York Post's Page Six reported that Tebow was the toast of a pre-Oscars bash on Friday night, where he spent some time chatting up Swift. The pair then had dinner Monday night at Toscanova Italian restaurant in Century City, according to the website Clevvertv...
Denver Broncos quarterback Tim Tebow was spotted having dinner with country songstress Taylor Swift on Monday. The meal at Toscanova Italian restaurant in Century City has caused the tabloids to go into overdrive on the possibility of a new wholesome couple. "After dinner, he walked her out," a source told Clevvertv.com. "Then he walked back in to join two other...
Tim Tebow has been spotted with Taylor Swift on multiple occasions over the past month or so, igniting rumors of a romance brewing between the Denver Broncos quarterback and the country music singer. After first being spotted together last month, Tebow and Swift were once again seen together in what was reported as a "romantic dinner date" in Los Angeles on Monday...
Just months after Tim Tebow and the Broncos knocked off Chicago in a heartbreaking overtime stunner, Bears RB Kahlil Bell encountered the QB at a UCLA workout session, and couldn't help but be won over.
INDIANAPOLIS -- Denver Broncos V.P. John Elway answers a variety of questions about Tim Tebow and much more. Look inside for the video from the 2012 NFL Combine.
Looks like we will know who Taylor Swift's next song is about. The country singer was spotted on a dinner date with Tim Tebow. The New York Post is reporting the the pair had dinner at Toscanova Italian restaurant in Century City, California on Monday night. A source told Clevvertv.com, who first reported the story, "After dinner, he walked her out," a source told the website...
Running back Kahlil Bell bumped into a familiar face while working out at his former school, UCLA: Broncos QB Tim Tebow, the man partly responsible for the Bears' most gut-wrenching loss of 2011.
Yep. There you have it. Perhaps without of conscious awareness, the person or people who created this poster for the Fifth Annual Anderson Christmas Sweater Festival correctly predicted that yes, one day in the near future, Denver Broncos quarterback Tim Tebow would go out on a dinner date with country pop songstress Taylor Swift. And [...]
While not as "interesting" as rumored potential paramours Katy Perry and Jenny McCarthy and certainly blows the patently absurd news that Kim Kardashian had reportedly set her sights on him, the rumor mill is spinning at full tilt with the gossip that Denver Broncos quarterback Tim Tebow and pop-country songstress Taylor Swift were seen on [...]
NFL News

Delivered to your inbox

You'll also receive Yardbarker's daily Top 10, featuring the best sports stories from around the web. Customize your newsletter to get articles on your favorite sports and teams. And the best part? It's free!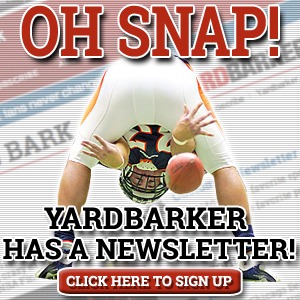 Latest Rumors
Best of Yardbarker

Today's Best Stuff

For Bloggers

Join the Yardbarker Network for more promotion, traffic, and money.

Company Info

Help

What is Yardbarker?

Yardbarker is the largest network of sports blogs and pro athlete blogs on the web. This site is the hub of the Yardbarker Network, where our editors and algorithms curate the best sports content from our network and beyond.