Posted August 09, 2012 on AP on Fox
PLAYERS:
Tim Tebow
,
Rex Ryan
,
Mark Sanchez
,
Patrick Turner
,
Abdul Hodge
,
Kyries Hebert
,
Carlos Dunlap
,
Dre Kirkpatrick
,
Marvin Lewis
,
Andy Dalton
TEAMS:
New York Jets
,
Carolina Panthers
,
Cincinnati Bengals
It's Tebow Time. Finally. After months of hype, a summer highlighted by a shirtless jog through the rain and constant media scrutiny, Tim Tebow is set to make his playing debut for the New York Jets in their preseason opener against the Bengals on Friday night in Cincinnati. ''I just want to get in there, try to execute the offense and get in and out of checks,'' Tebow said. Coach Rex Ryan plans to have Mark Sanchez and the rest of the starters play about one quarter, and Tebow could play about two quarters with the backups. Tebow has worked mostly with the second-team offense throughout training camp, but took two snaps with the starters Wednesday and threw a pretty 60-yard touchdown pass to Patrick Turner. New offensive coordinator Tony Sparano and the Jets (No. 17 in the AP Pro32) have kept their plans for Tebow in their wildcat-style package mostly under wraps, unveiling only a brief look at a play or two in camp while they continue to work on his mechanics and footwork. ''I think we'll see how Tony uses him,'' Ryan said. ''Generally, the (second team) gets extended and sometimes they play a half or two quarters, so we'll see if that's in Tony's plan or not. Then, Ryan broke out into a smile. ''Wildcat,'' he said, ''is something that Cincinnati needs to prepare for right now.'' Which means the Bengals (No. 14 in the AP Pro32) probably won't see much of it. Ryan said ''I doubt'' Tebow will get any snaps with the first-team offense Friday night. Since it's still so early in the preseason, the Jets are still installing their offense and just want to get a feel for some of the fringe players on their roster. ''It's going to be vanilla,'' Sparano said. ''We didn't plan at all here. We didn't sit in that office and game plan at all. We're talking about personnel right now. We're going to go out there and we're just going to line up and let the guys play and get a chance to evaluate young players. I think that's what the preseason's all about.'' But the Bengals know they'll probably see plenty of Tebow in Cincinnati - which was actually the site of his first NFL game: Denver's preseason opener in 2010. He went 8 of 13 for 105 yards in the second half of the Broncos' 33-24 loss in that one, but it was the final play that was the most memorable. He scrambled 7 yards for a touchdown, getting blasted by linebacker Abdul Hodge before running over safety Kyries Hebert to score. Tebow said he tore an oblique muscle and thought Hebert got a concussion on the play. ''Yeah, I remember, just because I'm super competitive, the meaningless last play of the game,'' Tebow said, smiling. ''Maybe 4 seconds left, 3 seconds left on the clock, and we're at maybe the 8-yard line going in and I drop back and I don't have anyone and so I'm scrambling around and I run and I dive in the end zone and have a big collision.'' Tebow remembered thinking: ''I've got to be the first one to get up.'' He was, and it was all worth it. ''Absolutely,'' he said, laughing. ''I mean, that's who I am. So, yeah it was fun.'' Bengals defensive end Carlos Dunlap knows all about the Jets quarterback after they were teammates at the University of Florida. ''It will be pretty good to actually get my hands on him and get him down,'' Dunlap said, joking that he never got to touch him during practice as Gators teammates. ''It will be friendly after the game and before the game, but during the game, we'll compete.'' Tebow has worked as the punt protector on special teams throughout camp, so he could be in position to actually tackle someone himself. ''I don't know, I've never done it before,'' Tebow said with a laugh when asked what he'll be expecting on that first punt. ''It'll be fun. We'll figure out what they're doing and hopefully have something good ready for them.'' The Jets are just happy to be hitting a team in different colors after a testy week of practices that included a 20-player melee on Monday and Ryan ordering his players to run laps as punishment Tuesday for some more skirmishes. Add in all the media attention Tebow's presence has garnered - especially when he ran shirtless from the practice field in the rain early in camp - and the Jets have owned the preseason headlines. Meanwhile, the Bengals have had a very quiet summer, with the only major news being cornerback Dre Kirkpatrick, the team's top draft pick, not being cleared yet for practice after hurting his left knee before camp. Coach Marvin Lewis even ordered his players not to use Twitter during training camp, and the players have gone along with the quiet approach. ''We are going to play the headline team, so it's good,'' Lewis said. ''But they deserve it, they are a good football team that is well coached, they have very good players. They were disappointed in their season last year just like we were disappointed in our 2010 season. They didn't fall back like we did, but were disappointed. Now they've got something to prove just like we feel we've got something to prove.'' Last year, Lewis played his starters for the first half of their opening preseason game, but mainly because he was trying to get rookie quarterback Andy Dalton ready to take over as the starter. Dalton and the rest of the Bengals' starters won't play as much this time against the Jets. ''We'll give them certain goals to reach, and if they reach them, they can earn their way out or in, whatever way you want to look at it,'' Lewis said. ''But I do think it's a great opportunity for us to look at some guys who haven't played as much. We'll get a chance for sure to do that on Friday night.'' And the Bengals will likely see plenty of Tebow, too. ''I think with us, it's a new offense and I think everybody needs reps,'' Ryan said. ''Will we extend the first offense more than a quarter? We'll see. I think Tim and everybody else needs the opportunity to go against live competition. I think that's where he excels.'' --- AP Sports Writer Joe Kay in Cincinnati contributed to this report. --- Online: http://bigstory.ap.org/NFL-Pro32 and http://twitter.com/AP-NFL
Original Story:
http://msn.foxsports.com/nfl/story/Te...
THE BACKYARD
BEST OF MAXIM
RELATED ARTICLES
Last night, some guy named Tim Tebow got his first live action as quarterback with the New York Jets. During New York's week one preseason affair against the Bengals, Tim threw an incomplete pass on a 3rd and 2 in the second quarter that ended up hitting a Bengals cheerleader: (Courtesy of Throw The Flag)
After receiving some criticism for saying he'd cut Tim Tebow, Boomer Esaison has decided to do what any rational human being would do: Find people that agree with his position on Tim Tebow. And that's what he did on Wednesday when Howie Long joined Esaison and co-host Craig Carton on WFAN. In the typical way the subject of Tim Tebow is handled these days, Long begins by praising...
CINCINNATI - Tim Tebow's New York Jets preseason debut showed us that The Most Popular Backup Quarterback Ever can run when he needs to and isn't afraid to take a hit or try to stick a pass into traffic. Nothing's changed there. And nothing's changed with the Jets' plans, either. Rex Ryan has been adamant that Mark Sanchez is his starter and Tebow is his backup...
Since Tim Tebow joined team, the New York Jets have been the most popular and unpopular team in the NFL. Between Tebowmania, the QB controversy, training camp brawls and cornerback's receiving, I really don't know how anyone cannot pay attention to the Jets. All eyes are on them and that is why the preseason matters. Here are three [...]
Tim Tebow had one of his best days of training camp, throwing two long touchdown passes in practice as the New York Jets had their final on-field preparations for their preseason opener at Cincinnati. Coach Rex Ryan says quarterback Mark Sanchez and the rest of the starters will play ''a quarter or so,'' while Tebow could play about two quarters against the Bengals...
Tim Tebow picked up some yards by running around a few times. Other than that, there wasn't much in his Jets debut. Certainly nothing to spark any mania back in New York. Tebow had his best moments while scrambling behind reserves on the Jets' line Friday night. He completed only four passes and threw an interception during the Cincinnati Bengals' 17-6 preseason victory...
Friday night was the much anticipated debut of Tim Tebow in a New York Jets uniform as the           J-E-T-S, Jets, Jets, Jets opened the NFL pre-season against the Cincinnati Bengals. Here's the highlights of Tebow's first possession at quarterback. (Thanks NFL/WCBS-TV) Not a bad first act as a Jet quarterback leading the offense to a field...
This week the New York Jets were their own worst enemy, getting involved in pushing and shoving matches several times during practice. For backup quarterback Tim Tebow, Friday night's preseason contest is about building in the right direction.
Of all the rhetoric, hoopla and nauseating coverage over the arrival of quarterback Tim Tebow, the one thing that I rarely hear discussed is what happens if starting Jets quarterback Mark Sanchez gets hurt? The Jets' offense looked putrid in their preseason loss to the Cincinnati Bengals, 17-6.  Yes, we know a legitimate workhorse running back has yet to show his face. Yes...
TJ Rosenthal checks in with another strong take about the current state of the New York Jets. Make sure to follow TJ on Twitter. Jets/Bengals is only two days away…watch the game in style. Check back later this afternoon for TOJ's weekly beat writer rankings.   They brawl with each other, when they aren't busy saying whatever they feel like, whenever they they feel like...
NFL News

Delivered to your inbox

You'll also receive Yardbarker's daily Top 10, featuring the best sports stories from around the web. Customize your newsletter to get articles on your favorite sports and teams. And the best part? It's free!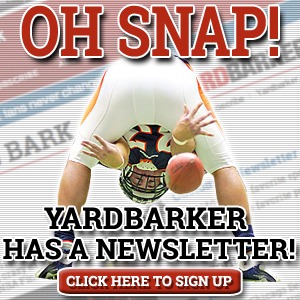 Latest Rumors
The Backyard

Today's Best Stuff

For Bloggers

Join the Yardbarker Network for more promotion, traffic, and money.

Company Info

Help

What is Yardbarker?

Yardbarker is the largest network of sports blogs and pro athlete blogs on the web. This site is the hub of the Yardbarker Network, where our editors and algorithms curate the best sports content from our network and beyond.