Defense has too many marginal players like Jones Ted Thompson avoids free agency the way the cast of the Jersey Shore avoids books, but Green Bay's "draft and develop" GM may have no choice but to get involved in the NFL's version of March Madness. That's because the Packers are coming off a historically bad defensive season and the current roster is devoid of talent in the front seven. Clay Matthews is a perennial All-Pro, but he's the only difference-maker among the defensive linemen and linebackers. B.J. Raji has the talent to be a disruptive force, but he's been pretty ordinary for the majority of his three-year pro career. Desmond Bishop and Ryan Pickett are solid players, but both are too one-dimensional to be considered among the best at their respective positions. And the only thing special about A.J. Hawk is his paycheck. After those five players, the roster is filled with a bunch of defensive linemen and linebackers that might've been plying their trade in the AFL last season had the Packers not been so desperate for warm bodies. Mike Neal is the most talented of the potential future Arena Leaguers up front, but he hasn't been healthy since middle school and now he's dealing with a four-game suspension for using performing enhancing drugs. His career with the Packers is in jeopardy. Jarius Wynn isn't athletic enough to overcome his lack of size. C.J. Wilson makes just enough plays to tease the coaches, but he'll probably never be more than a No. 4 or 5 end due to a lack of explosiveness. Howard Green really helped the Packers in their run to the Super Bowl, but he looked nothing like that guy last season. And Lawrence Guy, a seventh-round pick a year ago, didn't play a down as a rookie after suffering a concussion early in training camp. At linebacker, the best of the bunch is D.J. Smith, the instictive but undersized rookie. Unfortunately for him – and for Packer fans everywhere - he figures to be stuck behind Hawk on the depth chart for at least one more season. Frank Zombo, Vic So'oto and Jamari Lattimore all went undrafted. That doesn't mean they can't become quality players; it just means the odds are very much against that happening. Brad Jones was drafted, but not until the seventh round, and he's already proven to be nothing more than a decent backup. Robert Francois excited the masses with a pair of athletic interceptions last season, but other than those two eye-popping plays, his overall perfromance wasn't particularly impressive. So there you have it – the defensive linemen and linebackers on the current 80-man roster. Excited? Of course not, and it's hard to believe anyone associated with the Packers would be. That's why it's a virtual certainty that the team will select a number of players at these positions in next month's draft. But that's not good enough. The draft has always been Thompson preferred way to improve the roster. but he's never been in this exact situation before. He's put together one of the best offenses in the history of the NFL, but his defense sabotaged the team's chances at getting to the Super Bowl in 2011 and that could very well happen again next January. Expecting the draft to produce two quality starting front seven players is simply too much to ask. That's why, in my opinion, it's imperative for Thompson to go outside of his comfort zone and sign either a proven defensive end or outside linebacker in free agency. I'm not suggesting that Thompson should break the bank for someone like Mario Williams. That would be foolish, considering how many key veterans will need to be re-signed in the next two years. But there should be a number of solid second-tier free agents ripe for the picking once teams flush with money use up the bulk of their cap space in the first week or two. Players like Miami's Kendall Langford and Oakland's Kamerion Wimbley (expected to be cut any day now) aren't stars, but they're proven veteran starters who would significantly ugrade a position of need prior to the draft. Thompson would then have one less hole to fill at the end of April. Maybe Thompson is simply biding his time before springing into action. This strategy worked with Charles Woodson in '06, but that was a somewhat unique situation. The former Heisman Trophy winner was still available in April because few teams were interested in spending big money on a perceived injury-prone malcontent. With few suitors, Woodson eventually – and reluctantly – accepted the Packers offer. Things obviously worked out extremely well, but no GM can ever expect to be that fortunate again. History suggests it's very difficult to find a quality starter after the first couple of weeks of free agency. That means the clock is ticking on Ted.
Original Story:
http://packerupdate.net/?p=16733
PLAYERS:
Ted Thompson
,
Clay Matthews
,
B.J. Raji
,
Desmond Bishop
,
Ryan Pickett
,
A.J. Hawk
,
Mike Neal
,
Jarius Wynn
,
C.J. Wilson
,
Howard Green
,
Lawrence Guy
,
D.J. Smith
,
Frank Zombo
,
Jamari Lattimore
,
Brad Jones
,
Robert Francois
,
Mario Williams
,
Kamerion Wimbley
,
Charles Woodson
TEAMS:
Green Bay Packers
,
Houston Texans
,
Oakland Raiders
MORE FROM YARDBARKER
NFL News

Delivered to your inbox

You'll also receive Yardbarker's daily Top 10, featuring the best sports stories from around the web. Customize your newsletter to get articles on your favorite sports and teams. And the best part? It's free!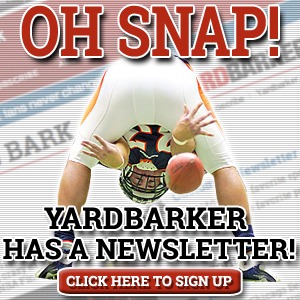 Latest Rumors
Best of Yardbarker

Today's Best Stuff

For Bloggers

Join the Yardbarker Network for more promotion, traffic, and money.

Company Info

Help

What is Yardbarker?

Yardbarker is the largest network of sports blogs and pro athlete blogs on the web. This site is the hub of the Yardbarker Network, where our editors and algorithms curate the best sports content from our network and beyond.