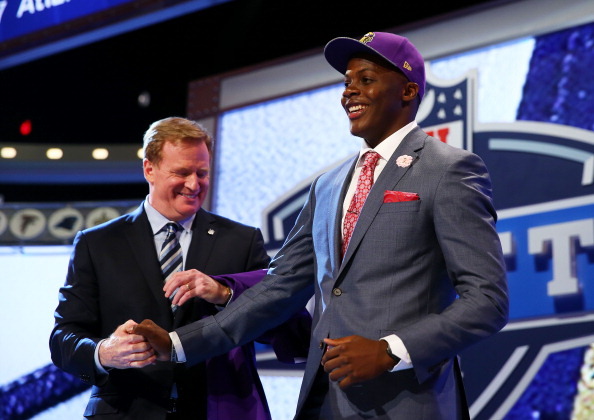 As expected, Louisville quarterback Teddy Bridgewater fell big time on draft night. The Minnesota Vikings finally selected him at No. 32 after trading back into the first round. But that's not the only Bridgewater news to surface Thursday night. Apparently Bridgewater was diagnosed with an abnormal heartbeat in his pre-draft physical. Tom Pelissero reports that Bridgewater apparently didn't know he had a heart issue. The Vikings actually discovered it and drafted him anyway, which probably means it's not that big a deal. Still it's pretty crazy news that we didn't find this out until after he was drafted. Usually this kind of stuff is caught at the NFL scouting combine. Vikings general manager Rick Speilman claims that the ability to get a fifth-year team option on Bridgewater was part of the reason his team traded back into the first round to get the Louisville quarterback instead of trying to wait for Day 2. Bridgewater should immediately compete with veteran Matt Cassel for the starting job in training camp, while it's probably a safe bet that Christian Ponder's time with the team is done. Clearly new head coach Mike Zimmer and new offensive coordinator Norv Turner are comfortable with what Bridgewater brings to the table and think he can be a successful NFL quarterback. Mentally, he's easily the most-prepared guy in this draft. As I've said throughout the process, I'm not sold on Bridgewater, but there's no doubt he's a great kid, so I hope he succeeds. The 21-year-old will have weapons around him in Minnesota, with Adrian Peterson at running back, Cordarrelle Patterson at wide receiver and Kyle Rudolph at tight end. He's been drafted, now all he has to do is prove those who doubted him wrong.
MORE FROM YARDBARKER
Vikings News

Delivered to your inbox

You'll also receive Yardbarker's daily Top 10, featuring the best sports stories from around the web. Customize your newsletter to get articles on your favorite sports and teams. And the best part? It's free!