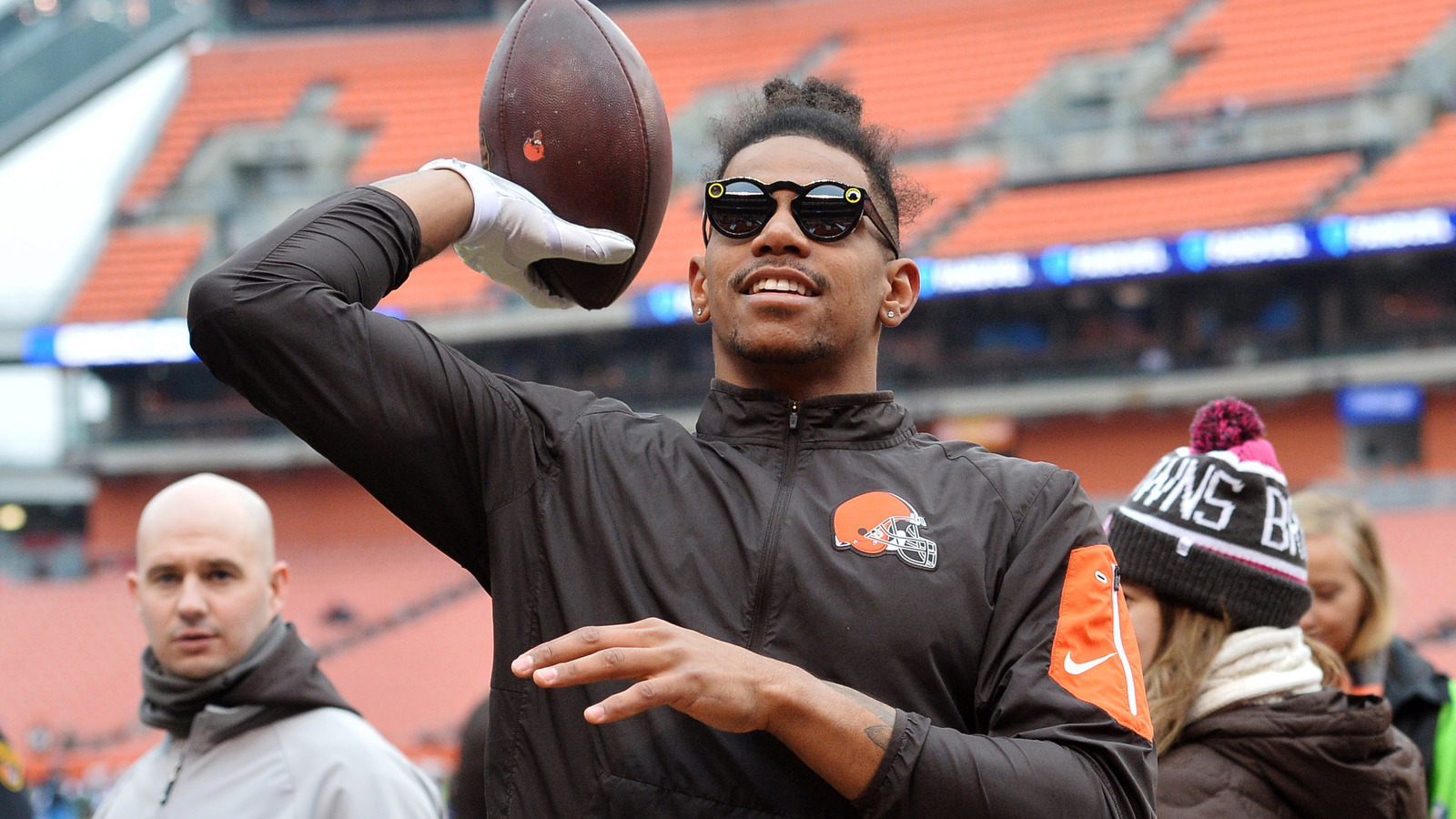 Dec 24, 2016; Cleveland, OH, USA; Cleveland Browns wide receiver Terrelle Pryor (11) throws a football to fans before the game between the Browns and the San Diego Chargers at FirstEnergy Stadium. 
Ken Blaze-USA TODAY Sports
With millions upon millions of cash to spend on top players coming out of contract years, teams spent big during the first week of NFL free agency.
Not all that money was spent wisely. And not all big signings came with massive price tags. Sorting through the league's transaction logs this past week we can certainly say some teams made out better than others, while some didn't do much of anything at all.
One thing we know for sure at this point is that what the Super Bowl champs have done just isn't fair to the rest of the league.
Meanwhile, another team that's been a top dog on the NFC side of the league seems to be regressing.
Leading off on the winners side of things is an NFC North team that appears to be on the upswing after a couple of huge moves to upgrade its offensive line.
Winner: Lions upgrade offensive line
Before injuring his finger last season, Matthew Stafford was having one of his finest seasons as a pro. But uncertainty loomed as the team looked ahead.
Entering free agency, the Detroit Lions had to decide how to address the offensive line, which had two starters set to hit the market. Rather than re-invest in guard Larry Warford and offensive tackle Riley Reiff, however, general manager Bob Quinn made the decision to let both of them walk, targeting two others instead.
That decision, on paper, appears to have been a stroke of genius.
While Warford and Reiff were both very solid players, the two men who come in to replace them at left guard and right tackle are even better, especially when it comes to pass protection.
First, Quinn landed the best right tackle on the market in Rick Wagner, whose value priced him out of re-upping with the Baltimore Ravens. Then, in a move that acts as a two-fold victory for Detroit, the Lions hauled in left guard T.J. Lang, which also weakened their NFC North rival Green Bay Packers (more on that in a bit).
These moves by themselves make Detroit a big winner this year. The Lions also added tight end Darren Fells, linebacker Paul Worrilow and defensive tackle Akeem Spence, all of whom could contribute in significant ways next season.
Loser: Seahawks miss out on prime target
After watching Russell Wilson get tossed around like a rag doll the past couple of seasons, it was abundantly clear the Seattle Seahawks' first order of business this offseason was upgrading their offensive line.
And for a little while, it looked like a huge step in the right direction was going to be taken, as the aforementioned T.J. Lang was targeted and appeared to be headed to Seattle.
Pete Carroll on @710ESPNSeattle on T.J. Lang: "We thought we had him." Said team isn't done with OL, but not many starters available.

— Sheil Kapadia (@SheilKapadia) March 14, 2017
Missing on Lang was a pretty big deal, and the guy they landed instead isn't going to inspire any confidence. Luke Joekel, who is officially a first-round bust at this point in his career, signed a one-year deal that won't likely improve Seattle's offense much, if at all.
On top of that, the Seahawks' only other move so far in free agency was to bring in Eddie Lacy to improve their running game. There are two problems with this, despite the low-risk nature of the one-year deal they signed him to.
First, Lacy weighed as much as 267 pounds within the last week. That's not good news, given his weight issues in the past. The second issue is that he's been injury prone the past two years.
We shouldn't expect much out of Lacy in 2017, and neither should the Seahawks, even if Pete Carroll does want Lacy to be "big."
On a different note, what does it say about Adrian Peterson that Seattle chose Lacy over him?
Winner: Browns unveil first steps in long-term strategy
It's been somewhat of a mystery what the Moneyball crew in Cleveland had up its sleeve as a long-term plan since Sashi Brown and Co. took over in the personnel department in January of 2016.
We got a taste of what was deemed important when the Browns traded for and then re-signed linebacker Jamie Collins, previously a member of the New England Patriots.
Then, in a bit of a surprising move, receiver Terrelle Pryor was deemed as expendable. And in the end it seems the rest of the NFL agreed to a degree (more on that in a bit).
When free agency opened up, so also did the personnel play book of Brown and Co.
Offensive guard Joel Bitonio was given a massive extension that includes $23 million guaranteed. Then Kevin Zeitler was signed to a huge deal worth up to $60 million with $31.5 million guaranteed. On top of that, center J.C. Tretter — a starter for the Green Bay Packers last year before suffering an injury — signed a three-year deal.
The interior of Cleveland's offensive line now resembles a 6,000-pound rhinoceros on 25 cups of coffee (aka the Sylvester Stallone diet).
Clearly, the Browns are building from the inside out on both side of the ball. The next step, of course, is landing that ever-elusive franchise quarterback and providing him with weapons to thrive. And if they don't feel he's going to be found this year in the draft, then landing Myles Garrett at No. 1 and building up the rest of the roster goes hand in hand with that strategy.
Furthermore, if that's the case, then letting Brock Osweiler do what he does best will only further help their cause in landing another high pick in 2018.
It's going to be fascinating to see what happens next.
Loser: Running backs continue to be shunned
Being a free agent running back is no fun at all these days.
Consider this list of unsigned free agents: Adrian Peterson, Jamaal Charles, Latavius Murray, LeGarrette Blount, Chris Johnson and Darren McFadden. All of these guys have been successful starters in the NFL, and one is coming off a career year.
Now consider that the running back who has hauled in the best contract this year is 32-year-old change-of-pace back Danny Woodhead, who landed $4.25 million guaranteed with the Baltimore Ravens. The next-best contract landed by a running back is the $3 million guaranteed the Seahawks foolishly paid Eddie Lacy.
The Woodhead angle is interesting, because it continues to reinforce the idea that teams are going further and further away from paying big money to traditional power backs. Instead, they are opting to reward players who can make an impact on the passing game as well.
This bodes very well for the likes of Christian McCaffrey, who should be a first-round pick in April during the 2017 NFL Draft.
Speaking of the draft, the influx of talent at the running back position means that veteran backs just aren't going to get much play financially. Charles and Peterson, both coming off injuries, won't land big-money deals, even though they might have huge seasons in 2017 for the teams they ultimately will end up signing with. Neither will any other running back in free agency this year.
Winner: Cornerbacks making big money
Three cornerbacks hauled in contracts worth $10 million or more on average per season. In a year that wasn't exactly chock full of elite talent at this position, it's not surprising that big money was thrown at the ones who did qualify as the top-end targets.
That said, we're still a bit taken back at how much Stephon Gilmore and A.J. Bouye, in particular, can earn on their new deals.
Gilmore's deal was stunning. He's set to bring home $40 million guaranteed, with potential dead cap penalties strung across all five years of his deal. While Gilmore is definitely a good corner, many would argue he wasn't even the best of this year's free-agency class.
Bouye, who was seen by many as the best corner, still came into free agency with just 19 career starts. Yet he landed a huge deal with the Jacksonville Jaguars worth up to $67.5 million, with $26 million guaranteed.
Logan Ryan also scored on a shorter deal, a three-year contract with $20.5 million guaranteed.
Players who can affect the passing game are clearly going to get paid huge sums of money in today's NFL. These three were clear-cut winners because of this.
Loser: Terrelle Pryor overvalued himself
The Cleveland Browns made quite the statement before free agency when they decided against using the franchise tag to secure Terrelle Pryor.
Pryor made it known through people close to him that the Browns weren't serious enough about making him an offer. While the Browns maintained they wanted to sign him to a long-term deal, they also maintained that they wouldn't panic if he did leave.
Leave, Pryor did. But in no way did he end up as a big winner. Instead, he signed a one-year prove-it deal with Washington. And it was worth far less money than he likely thought was possible ($6 million) after catching 77 balls for 1,000-plus yards in 2016 — especially in a cash-flush year like this one.
Also, we're not buying him saying he actually wanted a one-year deal, especially at the price he was paid.
Perhaps making this even more of an eye-opening experience is the simple fact that Cleveland signed Kenny Britt to a four-year deal worth up to $32.5 million, with $17 million guaranteed.
Clearly, Pryor overvalued his worth. One has to believe he might have gotten a much better deal if he had stayed in Cleveland. Now he's headed to one of the biggest dumpster fires in the NFL and might end up playing with Colt McCoy if Kirk Cousins finds a way to get himself traded.
Winner: Buccaneers land big fish
The Tampa Bay Buccaneers were on the cusp of playoff relevance last year. They feature one of the game's most promising young quarterbacks in Jameis Winston and one of its best young receivers in Mike Evans. The defense also showed tons of promise and was able to retain defensive coordinator Mike Smith this offseason.
Then free agency began, and the team made two huge moves to get even stronger.
The first and most obvious was landing receiver DeSean Jackson, who should be a perfect fit playing opposite Evans on the perimeter. His quickness and pure speed will stretch defenses, which had a hard enough time keeping Evans from going ham last year when the Bucs didn't have another top option going. Throw in Adam Humphries and tight end Cameron Brate and the Bucs really have something going on offense.
Then the Bucs added an underrated defender, Chris Baker, who should make a huge difference in the trenches. He's logged 10.5 sacks as a 3-4 defensive end the past two years in Washington and will play next to another disruptive interior lineman in Gerald McCoy as a nightmare defensive tackle combination for Tampa Bay.
Loser: Green Bay continues to fail Aaron Rodgers
Conventional wisdom preaches that teams featuring an elite quarterback must make sacrifices to the rest of the roster because of salary cap restrictions. But given the tremendous rise in cap figures in recent years (and a continued rise in years to come), this isn't as true as it once was. It certainly isn't true at all in the case of the Green Bay Packers, who have Aaron Rodgers at a bargain rate of under $21 million against the cap the next two years. Heck, his base salary for the 2017 season is just $12.55 million.
Furthermore, Green Bay has plenty of cap space with which to make moves. And they've done it to a degree. They retained pass rusher Nick Perry on a five-year deal worth up to $60 million and signed tight ends Martellus Bennett and Lance Kendricks to free agent deals.
But landing tight ends won't really help protect Aaron Rodgers, who took some big hits during the playoffs this past postseason and has endured 81 regular-season sacks the past two seasons.
Making matters worse is that Green Bay watched T.J. Lang sign with inter-divisional rival Detroit and also let center J.C. Tretter leave to join the Cleveland Browns. Losing Tretter won't hurt so much, because Corey Linsley was solid last year at center. But losing Lang (especially to the Lions) was a bitter pill we're sure Rodgers, who sent Lang a heartfelt message of thanks afterwards, didn't want to have to swallow.
Winner: Patriots somehow emerge so much stronger 
Okay, this just isn't fair.
After winning their fifth Super Bowl in the past two decades, somehow the New England Patriots are entering the 2017 NFL season stronger than ever before, at least on paper.
It started with a trade with Indianapolis in which the Pats landed tight end Dwayne Allen, who should be beastly next to Rob Gronkowski next year, if Gronk can stay on the field. Then New England shocked everyone by signing cornerback Stephon Gilmore to a lucrative deal, then shocked again by scoring receiver Brandin Cooks in a trade with New Orleans.
They also traded with the Carolina Panthers to nab up-and-coming pass rusher Kony Ealy, moving down in the draft less than 10 spots to do it.
Then, just to add insult to injury as it concerns the rest of the AFC, New England brought back linebacker Dont'a Hightower on a four-year deal.
Incredibly, there is still a way for the Patriots to get even richer. If they trade Malcolm Butler and/or Jimmy Garoppolo, then there is a good chance New England will be in a position to take a gluttonous approach to the upcoming draft, which is ripe with talent, especially on the defensive side of the ball.
Loser: Steelers remain stagnant 
The Pittsburgh Steelers have some incredible talent on offense. Le'Veon Bell and Antonio Brown are both tremendous, and what they do every week is must-watch television.
Unfortunately, the Steelers are led on offense by an aging quarterback who seriously contemplated retirement after the season. Furthermore, there is a huge gap in overall talent between this team and the top dog in the AFC. This was clearly seen when the Steelers were dismantled by the Patriots in the AFC Championship Game.
Defensively, they were solid last year but lost starting linebacker Lawrence Timmons to the Miami Dolphins. And they need cornerback help but haven't gotten any in free agency to this point, striking out on a couple of targets.
The Steelers also lost offensive talent when Markus Wheaton left to join the Chicago Bears. Signing Justin Hunter might soften that blow, but he's been extremely inconsistent in his career.
Essentially, Pittsburgh is still right back where it started in free agency, and that's not a win by any measure.
PLAYERS:
Akeem Spence
,
Pete Carroll
,
Sylvester Stallone
,
Stephon Gilmore
,
A.J. Bouye
,
Aaron Rodgers
,
Lawrence Timmons
,
Markus Wheaton
,
Justin Hunter
TEAMS:
Carolina Panthers
,
Seattle Seahawks
,
New England Patriots
,
Jacksonville Jaguars
,
Green Bay Packers
,
Miami Dolphins
,
Chicago Bears
,
Detroit Lions
,
Baltimore Ravens
,
Cleveland Browns
,
Pittsburgh Steelers
,
Tampa Bay Buccaneers
,
Central Arkansas Bears
MORE FROM YARDBARKER
NFL News

Delivered to your inbox

You'll also receive Yardbarker's daily Top 10, featuring the best sports stories from around the web. Customize your newsletter to get articles on your favorite sports and teams. And the best part? It's free!