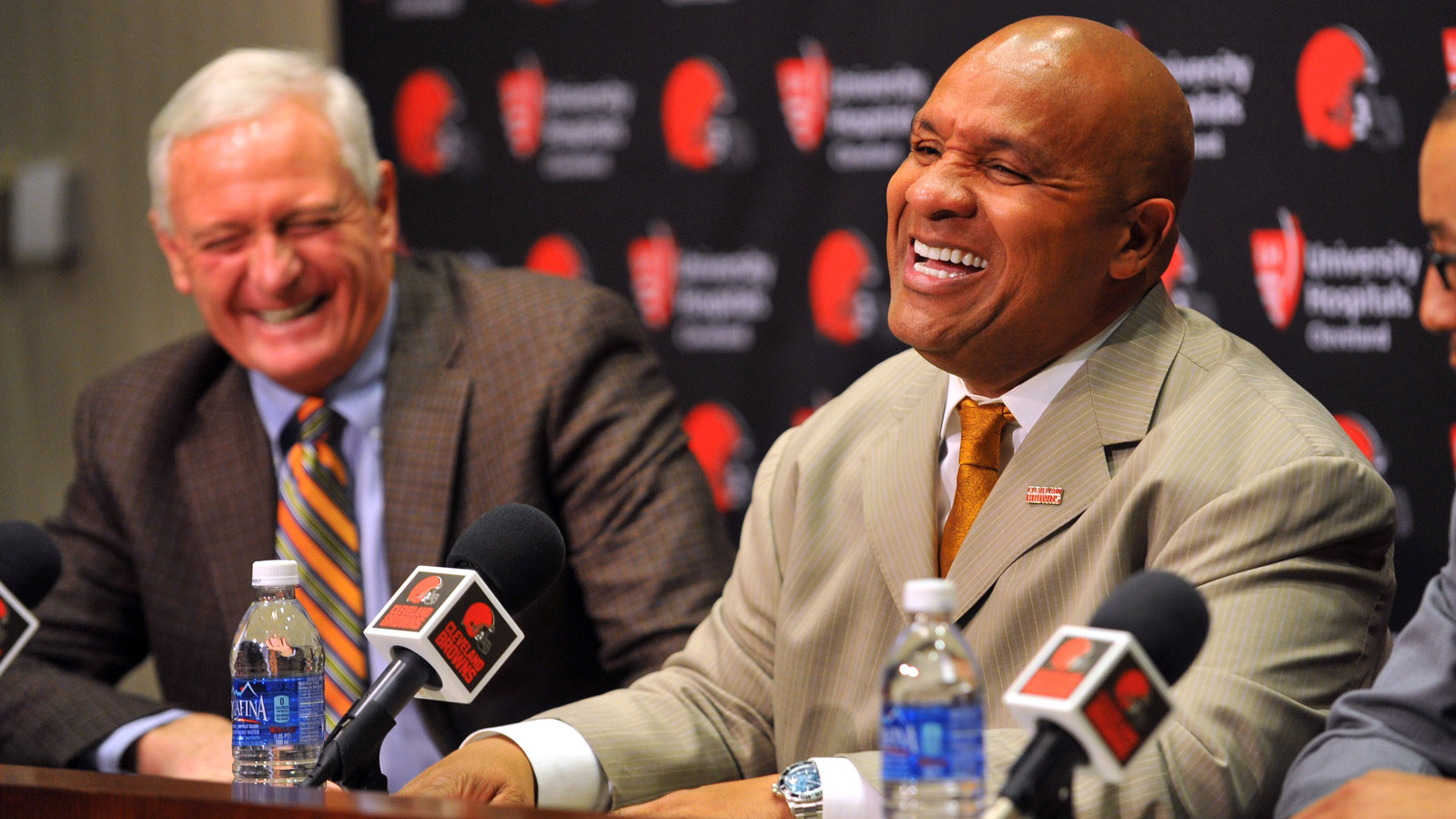 Jan 13, 2016; Berea, OH, USA; Cleveland Browns owner Jimmy Haslam (left) and new head coach Hue Jackson talk during a press conference at the Cleveland Browns training facility.
Ken Blaze-USA TODAY Sports
Let's get this over with right out of the gate: This is one man's vision of an absolutely bonkers opening round in the 2017 NFL Draft.
It's not a careful, measured look at what will likely happen. It's quite the opposite. It's a nightmare scenario in which teams panic and reach for quarterbacks, where teams abandon reason and take huge risks in the hope of an even bigger long-term payoff.
These are some Flaming Hot Cheetos-style predictions. They'll make your eyes water, and then you'll be back for more. Here's a bold look at what could potentially happen on Thursday during the first round of the 2017 NFL Draft.
Browns land Mitch Trubisky and Myles Garrett
The idea that the Cleveland Browns will look to trade up from No. 12 isn't new. This is a team that has the draft assets to move up and still have plenty left over to fill its roster with young talent. It's also a team that needs a quarterback and covets Mitch Trubisky, per reports.
In this scenario, we're buying the idea that Cleveland is willing to let Myles Garrett slide in favor of Trubisky with the notion that San Francisco would take Garrett at No. 2.
The franchise has reportedly been waffling back and forth over the two players, but a recent interview by ESPN's Tony Grossi indicates the Browns are being manipulated into a bit of panic about losing Trubisky, and that they would trade up to No. 3 to land Solomon Thomas to ensure they still land their defensive star.
But as you're about to see in a moment, the 49ers aren't going to be selecting Garrett at No. 2.
So, with Garrett still on the board, the Browns will push hard to trade up to No. 3 and land Garrett. These two moves would give them a huge boost in terms of fan excitement and plain old talent.
Jets trade up to No. 2 for Patrick Mahomes
So how in the world would Garrett slide to No. 3? In this scenario, the New York Jets — masters of the quarterback carousel — are desperate to finally get it right at this key position and secretly covet Mahomes, who's been rocketing up draft boards in recent months.
The 49ers are reportedly "desperate" to trade down out of the No. 2 overall pick. This is something that's been talked about for a while now, and general manager John Lynch has made it clear the 49ers are "open for business" as it concerns this pick.
New York currently owns the No. 6 overall pick and could be nervous about losing Mahomes to the 49ers or Chicago Bears at No. 3.
What we're envisioning here is a trade that is similar to the one pulled off by the Philadelphia Eagles, who traded up from No. 8 to No. 2 last year (details here). It's expensive, no doubt. But teams desperate for a quarterback — the Jets certainly qualify, having Josh McCown, Christian Hackenberg and Bryce Petty at this time — do desperate things.
Titans snag John Ross at No. 5
The Tennessee Titans have some needs on defense, but they also need a dynamic receiver to pair with possession pass catcher Tajae Sharpe.
There are a few receivers who could go high in the draft. But Mike Williams isn't exactly the blazing speedster the Titans need, and Corey Davis will almost certainly slip a bit due to concerns about his ankle injury. So if the Titans — a team that is serious about upgrading its receiving corps — do want to land a top receiver, we're betting it's Ross.
Though he also has a history of injuries that has some teams nervous, Ross will be an exceptional pro if he can stay healthy.
Last year at Washington, he caught 81 passes for 1,150 yards and 17 touchdowns. He also broke the NFL Scouting Combine record in the 40-yard dash, running it in 4.22 seconds to beat Chris Johnson's record (watch here). In addition to his world-class speed, Ross has incredible quickness off the line and is a burgeoning route-running specialist. He can track deep balls effortlessly and routinely made defensive backs look silly at the college level.
Based on his tape, we're betting Ross can do the same in the NFL. And in this scenario, the Titans are on board with that bet.
49ers select Christian McCaffrey No. 6
Anyone who has watched Kyle Shanahan's offenses knows he loves running backs who can do it all. Whereas Leonard Fournette (more on him later) is a battering ram who is pretty one-dimensional, McCaffrey is a do-it-all stud who is a legitimate three-down back, despite what some scouts trying to pigeonhole him as a third-down specialist would have you believe.
Just watch practically any Stanford game in which McCaffrey played. Not only was he a bell-cow back who accounted for a huge chunk of the Cardinal offensive productivity, he routinely made moves inside the tackles that resemble Barry Sanders or LeSean McCoy.
The 49ers have stated they are willing to wait until next year to find their franchise quarterback. They have a very solid bridge in Brian Hoyer, who has excelled in Shanahan's system in the past, and are building for the long term with the rookie head coach and general manager John Lynch.
With that in mind, they would have no issue taking a cornerstone offensive player in McCaffrey, who would be an excellent complement to Carlos Hyde, if he can stay healthy. The two of them have the potential to be at least as good as the two backs Shanahan had last year in Atlanta, Devonta Freeman and Tevin Coleman.
Saints abandon defensive needs, select Deshaun Watson at No. 11
Now, this is truly a wild prediction, but bear with us here.
Watson, out of all the quarterbacks in this draft, has shown an ability to rise to the occasion and play at his best when the pressure is at its peak. He's also a leader of men who comes from a program that established its recent winning tradition partly because of his intangibles, not to mention his exceptional physical traits. Heck, one scout told Bob McGinn of the Milwaukee Journal Sentinel that Watson is better than Dak Prescott.
He's the perfect young quarterback for Sean Payton and Drew Brees to mold into the future franchise passer for the Saints. The draft is deep with defensive talent, and we know the Saints need to improve their defense to have a chance to compete for a championship.
But guys like Watson don't come along every year. He is flawed in that he doesn't feel comfortable in the pocket and struggles with his mechanics, but all the physical tools are there. Furthermore, he'd have a golden opportunity to learn from a Hall of Famer and improve upon those lacking skills in New Orleans.
Given his top-level physical tools and invaluable intangibles, Watson would do well to sit behind Brees for a few years, a la Aaron Rodgers sitting behind Brett Favre. It's a long-term play for a team that has short-term needs, but crazier things have happened on draft day.
Cardinals use No. 13 on would-be Carson Palmer successor, Davis Webb
The buzz surrounding Arizona this offseason is that the Cardinals are dead set on finally finding a successor to Carson Palmer, who pondered retirement this offseason. Heck, general manager Steve Keim recently made a funny comment about how his job might depend on it.
As we've seen, though, there could be a run at the quarterback position in the top half of the draft. In our bold look here, we've already taken Trubisky, Mahomes and Watson off the board. Keeping in line with the theme of teams reaching for a quarterback, we're projecting the Cardinals see enough promise in the Cal product to take a gamble on Webb at No. 13.
This is a kid who looks the part, at 6-foot-5, 229 pounds, and who has a gun for an arm — a trait head coach Bruce Arians absolutely adores.
Landing here with the Cardinals would give Webb at least a year on the sideline to learn about how NFL offenses work. He has no experience with a pro-style offense, coming from Sonny Dykes' Air Raid at Cal. So sitting behind Palmer for a year would be extremely beneficial.
Leonard Fournette falls to Eagles at No. 14
Wait. What?
Yeah, that's not a misprint. In our scenario of bold predictions for the first round, Fournette will still be available at No. 14 when the Philadelphia Eagles pick.
Many believe the Jacksonville Jaguars would take him at No. 4, but we're projecting cornerback Marshon Lattimore there. The Los Angeles Chargers (Malik Hooker) and Carolina Panthers (Jamal Adams) both look to bolster their secondaries. The Cincinnati Bengals (Derek Barnett), Buffalo Bills (Solomon Thomas) and Chicago Bears (Jonathan Allen) would all look to build their defensive trenches in this scenario.
This leaves the Eagles with a no-brainer decision at No. 14. Philly, after signing Torrey Smith and Alshon Jeffery in free agency, isn't in dire need of receivers but is desperate for a running back.
Fournette pairing up with second-year quarterback Carson Wentz would give the Eagles a potent backfield combo with the potential to dominate for years to come.
Ravens take gamble on Reuben Foster at No. 16
There is a lot of negative stuff floating around Foster right now. He exploded at a hospital worker while he stood in line for his medical at the combine in February, failed his drug test thanks to a dilute sample and reportedly could need a second surgery to repair a rotator cuff.
Because of all that, he might take a huge tumble on draft day.
But turn on the tape and you see a top-five talent who has the potential to transform an NFL defense.
The Baltimore Ravens have a veteran-led locker room and a veteran head coach in John Harbaugh. They are equipped to help a young man stay on the straight and narrow and also have a need to improve their linebacking corps.
Foster would play next to fellow Crimson Tide star C.J. Mosley in Baltimore. They would make for quite the dangerous tandem on the inside of Baltimore's 3-4 attack.
Texans reach for DeShone Kizer at No. 25
How badly do the Houston Texans need a quarterback? This should clue you in: They're reportedly still thinking about potentially bringing Jay Cutler in if they don't land one during the draft.
Tom Savage has two NFL starts to his name, and they weren't particularly good ones, at that. For his career, which consists of five total games the past two years, he's completed 60.9 percent of his passes with no touchdowns and one interception.
Now that we've sufficiently set the stage as to why the Texans are desperate, enter DeShone Kizer. He's the best quarterback left in the draft at this point in our rundown of what could potentially happen. And the Texans (especially general manager Rick Smith) are absolutely screwed if they don't land a quarterback this year.
Given the teams picking behind Houston in Round 1 and at the top of Round 2 could be looking at a quarterback, the pressure will be on for Smith to make a move. We're predicting he does reach for Kizer, who has the physical tools to become successful at the next level but by all accounts isn't ready to step in from Day 1 and be a functional NFL starter.
In this scenario, Savage can be to Kizer what Case Keenum was to Jared Goff last year for the Los Angeles Rams.
Cowboys take T.J. Watt at No. 28
The Dallas Cowboys need serious defensive help, and most of that help needs to come on the back end. But they also need help up front on the edge, which is right where Watt fits into their plans.
A veritable baby in terms of experience as a defender, this former tight end and younger brother of J.J. Watt has the makings of a dynamo at the NFL level. He showed off his wares with great success last season for Wisconsin, racking up 63 total tackles, 15.5 for a loss, 11.5 sacks and an interception that he returned for a touchdown.
Watt also blew the hinges off his combine workout, posting numbers comparable to those of his brother's from 2011.
Still, many mock drafts and big boards have the younger Watt as a second-round player.
You can be sure Jerry Jones and Co. will be chomping at the bit to acquire some of that Wattage. The 'Boys didn't hesitate to buck conventional wisdom on center Travis Frederick a few years back and won't hesitate to do the same with Watt this time around if they are enamored with him.
We're betting they are.
PLAYERS:
Josh McCown
,
Corey Davis
,
Christian McCaffrey
,
Kyle Shanahan
,
Leonard Fournette
,
LeSean McCoy
,
Sean Payton
,
Drew Brees
,
Aaron Rodgers
,
Brett Favre
,
Carson Palmer
,
Bruce Arians
,
Jamal Adams
,
Derek Barnett
,
Jonathan Allen
,
Reuben Foster
,
John Harbaugh
,
Jay Cutler
,
Case Keenum
,
Jared Goff
,
T.J. Watt
TEAMS:
Cleveland Browns
,
Buffalo Bills
,
New Orleans Saints
,
Green Bay Packers
,
Arizona Cardinals
,
Baltimore Ravens
,
Chicago Bears
,
Los Angeles Rams
,
Philadelphia Eagles
,
Tennessee Titans
,
Jacksonville Jaguars
,
Carolina Panthers
,
Cincinnati Bengals
,
Houston Texans
,
Dallas Cowboys
,
New York Jets
,
Los Angeles Chargers
,
Stanford Cardinal
,
LSU Tigers
,
Tennessee Volunteers
,
Alabama Crimson Tide
,
Wisconsin Badgers
MORE FROM YARDBARKER
NFL News

Delivered to your inbox

You'll also receive Yardbarker's daily Top 10, featuring the best sports stories from around the web. Customize your newsletter to get articles on your favorite sports and teams. And the best part? It's free!